Pear Stuffed Biscuit Waffles For An Upscale Brunch At Home
Mar 15, 2023, Updated May 15, 2023
Easy, quick, sweet, buttery with an outside crisp — need we say more? Pear-stuffed biscuit waffles are the best invention since the air fryer. This simple yet decadent-feeling recipe is made from premade biscuit dough and comes together in 20 minutes. You'll love how effortless it is, and your family won't leave any leftovers. Perfect for Easter Sunday brunch.
Sundays are typically lazy days at our house. We sleep in and make a nice brunch to enjoy as a family.
But sometimes, you still have places to be on Sunday.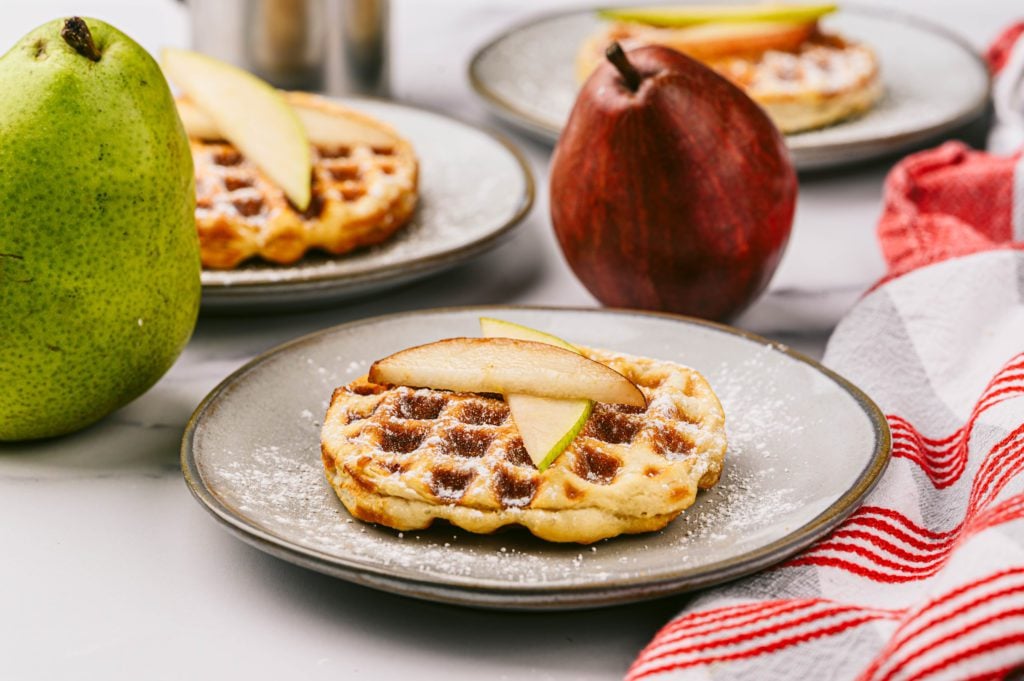 Pear Stuffed Biscuit Waffles is sponsored by USA Pears.
Pear Stuffed Biscuit Waffles is a new brunch recipe we've fallen in love with. It's easy to make, like Sunday morning, and ready in a flash. So you can still keep your relaxed morning routine while everyone is fed and ready to go.
This recipe is sure to be a new family favorite for everyone in your house too.
Time to get in the kitchen!
What Are Pear Stuffed Biscuit Waffles?
Put simply, it's a little pocket of joy at brunch. It's exactly how it sounds — biscuits filled with sweet, caramelized pears and cooked until golden in your waffle maker. Sweet and crispy on the outside with a caramel-covered pear filling that overflows from the center when bitten. It's a luscious brunch item for Easter Sunday that barely requires any work from you. 
That's just one of the reasons you'll love pear-stuffed biscuit waffles. Let's get into the ingredients you need to make this new staple in your household.
Must-Have Ingredients
Green and Red Anjou Pears
Pears are the star of this dish. We recommend using red and green anjou pears. Their dense flesh holds up well when you cook your stuffed biscuit waffles. Green Anjou pears have a hint of a lemon-lime flavor. The red and green colors are a nice colorful surprise when you bite into your "waffle." 
Butter
Unlike oil, butter prevents your pears from sticking to the pan and adds a ton of flavor for a melt-in-your-mouth bite. Plus, you can't caramelize your pears without butter and sugar. So cook your pears in butter before you add in your brown sugar.
Brown Sugar
After your butter has bubbled a little bit and your pears are cooked and softened, add your light brown sugar. As the sugar heats up, it dissolves in your butter and makes a light amber color. The sauce thickens as the two cook together to create a thick, sweet sauce for your pear filling.
Biscuits
Get refrigerated biscuits to save yourself a whole lot of time. This cuts back on dirty dishes and prep time and helps you keep your sanity (you're welcome). Simply pop open your biscuits, separate them at the precut edges, roll them out, and assemble them. Easy, simple, and oh-so-yummy.
Remember to add the vanilla and salt to your sauce before you assemble your stuffed biscuit waffles for extra flavor.
How to Make Pear Stuffed Biscuit Waffles
Step 1
Dice ¾ of your red and green Anjou pears.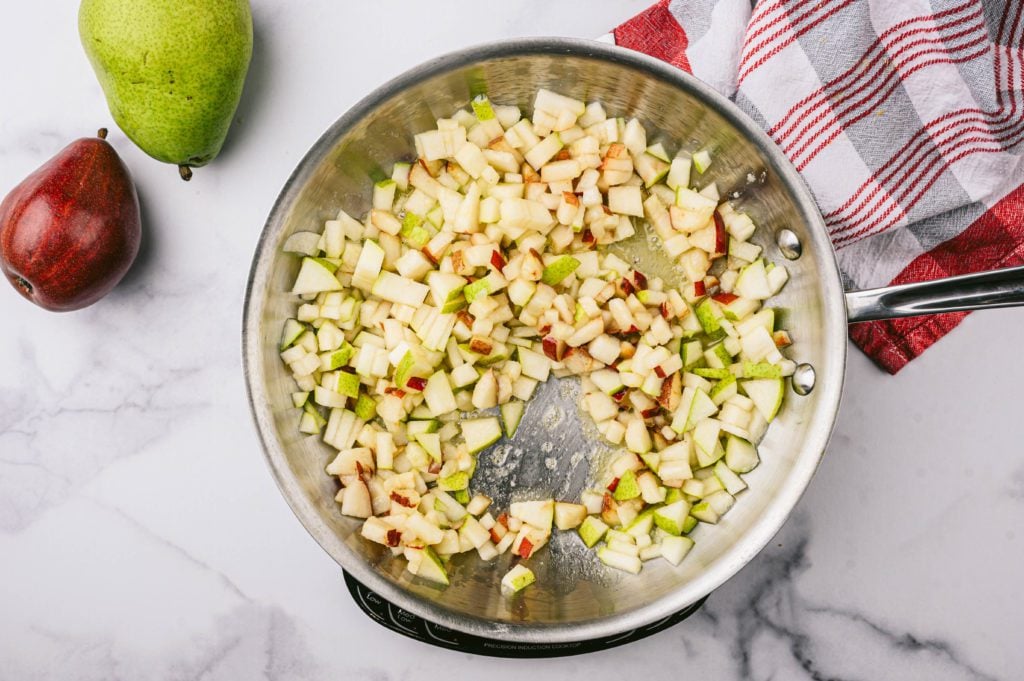 Step 2
Cook diced pears in butter over medium heat for about five minutes.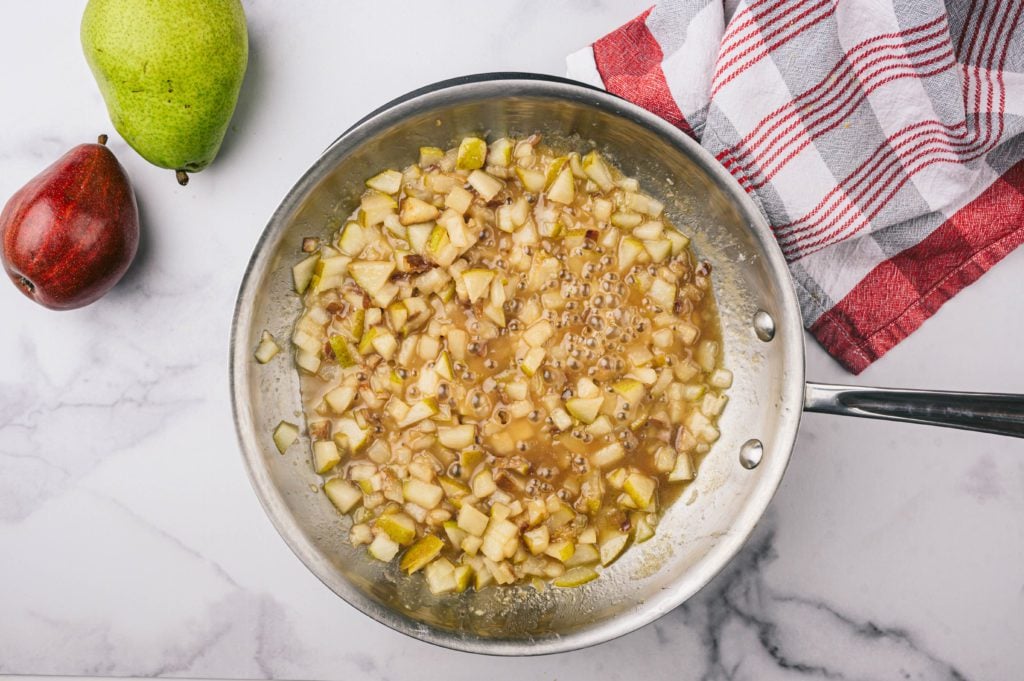 Step 3
Add sugar and water and stir for two minutes until the sauce thickens. Then stir in vanilla and salt.
Step 4
Stretch out the biscuits. Scoop some of your pear filling into half of the biscuits. Put another biscuit on top of each pear-filled biscuit and seal the edges.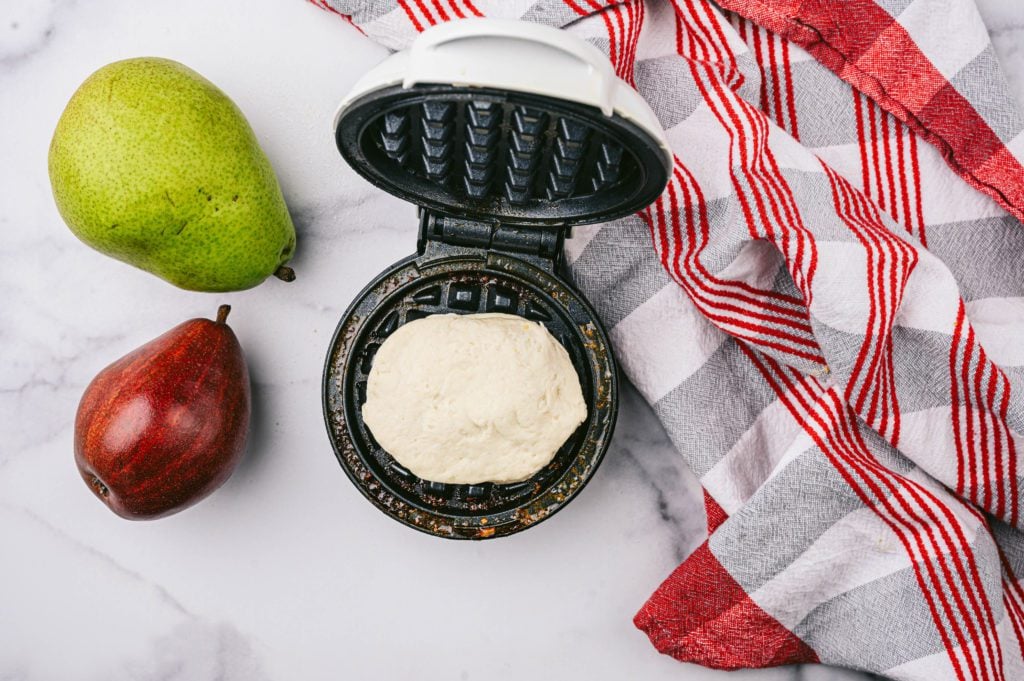 Step 5
Preheat your waffle maker and spray it with cooking spray. Cook for 3-4 minutes until golden brown.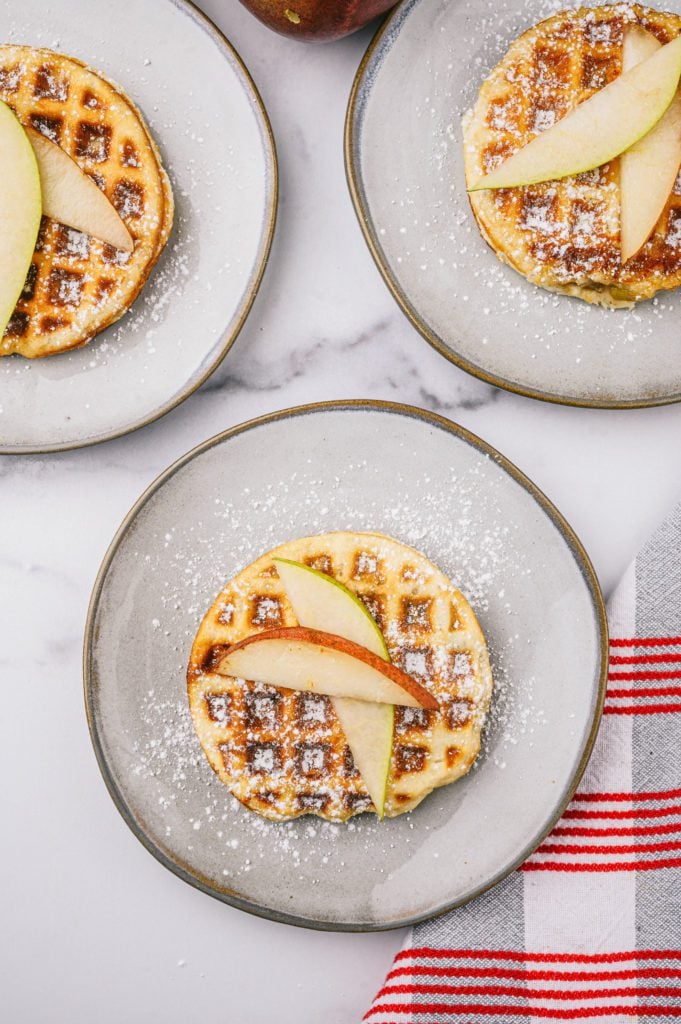 Step 6
Top with fresh sliced pears and serve!
Can You Put Biscuits in a Waffle Maker?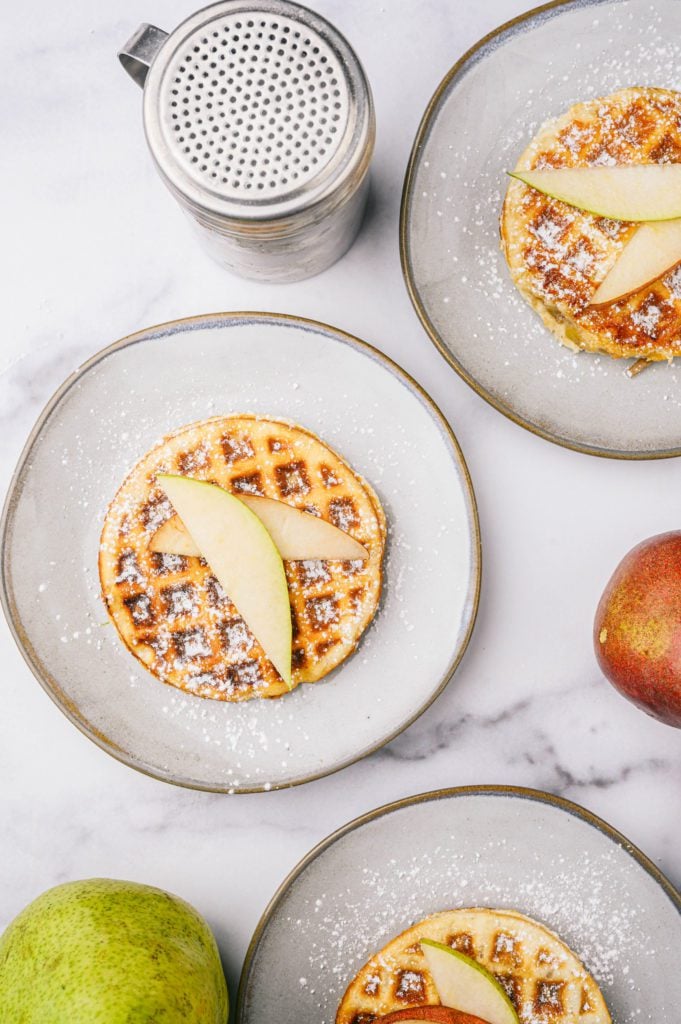 You betcha! You can actually make all kinds of things with your waffle maker, like grilled cheese, eggs, and even desserts. Traditional waffle batter is runnier, while biscuits are thicker with more fat content. Biscuits tend to come out as good, if not better, than waffles, with less chance for mistakes. That's good news when you have tired, hungry mouths to feed.
Why Are My Stuffed Biscuit Waffles Sticking to the Waffle Maker?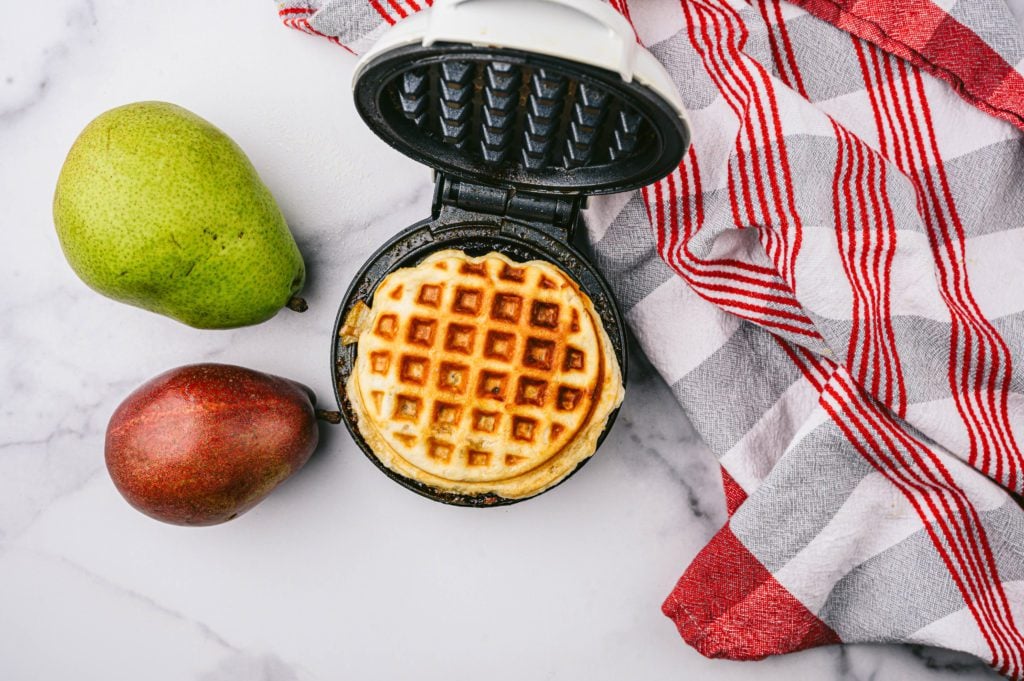 Either your waffle maker isn't hot enough, or you need more nonstick cooking spray. Since we're using pre-made biscuits, we can rule out things like not enough cooking fat like butter or thin batter. Neither of those are an issue when you take the brunch shortcut with premade biscuits.
Be sure your iron is done preheating before you start cooking your waffles, and spray it with cooking spray — you should be all set.
Does It Matter Which Brand of Biscuits?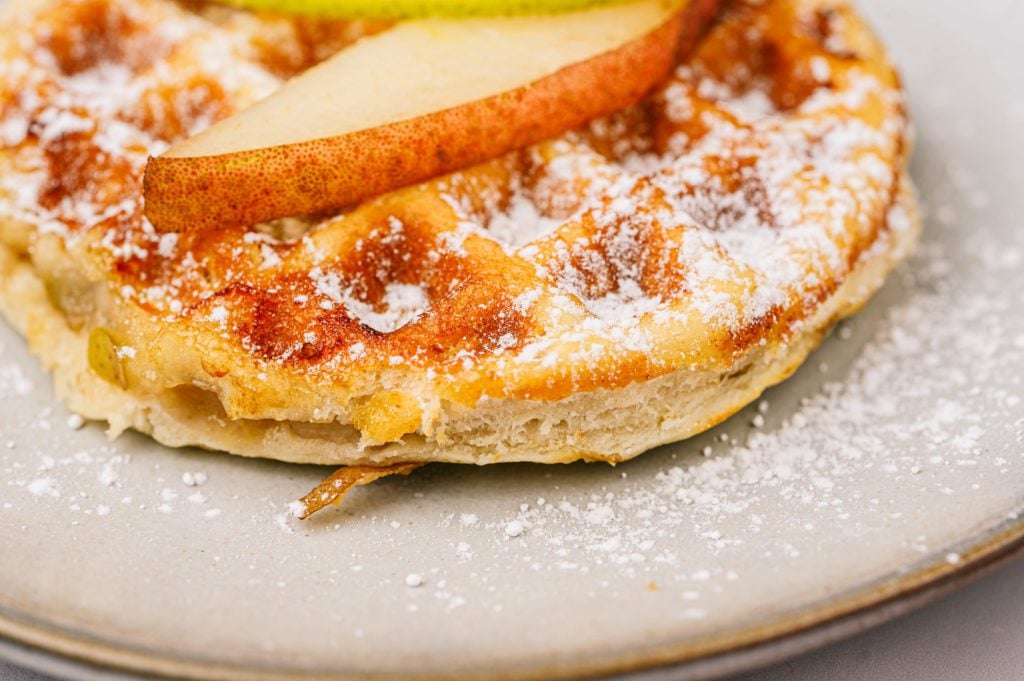 Nope, feel free to use your favorite brand of biscuits or grab whatever is on sale. All brands make their biscuits with similar dough thickness and fat content, so your Pear Stuffed Biscuit Waffles come out great every time you make this recipe.
Why We Love USA Pears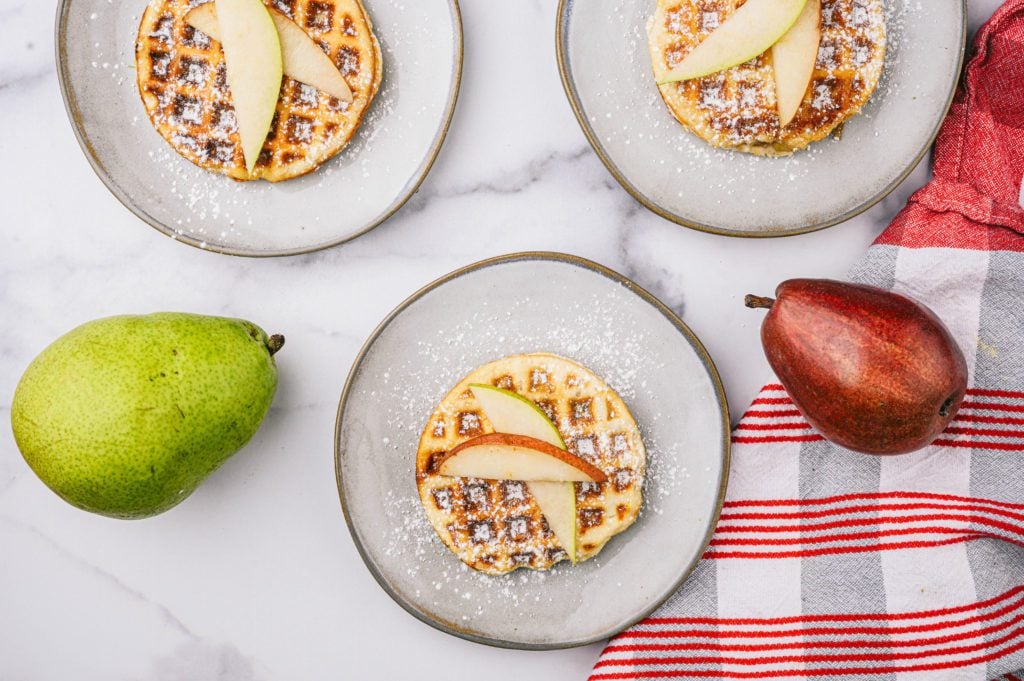 Locally grown in the Pacific Northwest, USA Pears represents over 800 growers who take great care in providing you with aromatic, colorful, sweet, and juicy pears all year.
Fresh Pear Recipes You'll Love
Air Fryer Sausage and Pear Empanadas
Time for Sunday Brunch
Let's get brunch hot and ready so you can get on with your day and enjoy an easy Sunday morning. Because you deserve both. All you need is a handful of ingredients including premade biscuits (for a handy shortcut) and your waffle maker — you'll be the brunch superhero.
We can almost guarantee stuffed biscuit waffles will be your and your family's most requested recipe for it's simple preparation and satisfying flavor.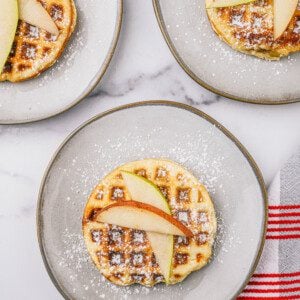 Pear Stuffed Biscuit Waffles
Pear stuffed biscuit waffles are an easy Sunday brunch with minimal effort for loads of praise from your family. Filled with sweet caramelized pears and finished off with a golden brown crust, it's ready in just 20 minutes!
Ingredients
1

Green Anjou Pear

3/4 diced + 1/4 thin slices (for topping)

1

Red Anjou Pear

3/4 diced + 1/4 thin slices (for topping)

3

Tablespoons

unsalted butter

1/4

cup

packed light-brown sugar

1

teaspoon

pure vanilla extract

salt

to taste

1

package

refrigerated biscuits
Instructions
Caramelize Pears
In a large skillet, melt butter over medium-high. Set the sliced pears aside for later and add the diced pear to the skillet. Reduce the heat to medium and cook the pears for about five minutes.

Add sugar and 1 tablespoon of water. Hold the handle of the pan with your dominant hand and gently move the pan in a circular motion to swirl the ingredients together. Use a spoon to stir the sauce until it becomes slightly thicker, like a caramel sauce. It should take about two minutes.

Stir in the vanilla and pinch of salt with your spoon, repeatedly coating the pears in sauce with your spoon as you stir. Then set your caramelized pears aside.
Waffles
Preheat the waffle maker and spray with nonstick spray, so your waffle comes out easier later on.

Open the biscuits and separate them along the pre-cut lines into individual biscuits. Use your fingers to gently stretch each biscuit, as you would with pizza dough until they are about four to five inches across.

Put one biscuit in front of you and fill it with caramelized pears. Then, place another rolled-out biscuit on top of the filling. Use your finger to pinch the edges together and seal your "waffles".

Place the biscuit in your waffle iron and gently close the lid, so it rests on top of your biscuit waffle. Let it cook for a minute, and then press the lid down all the way. Cook for 3-4 minutes or until you don't see any more steam from the waffle iron and the waffle is golden brown.

Fill and seal your remaining biscuits and cook them in your waffle iron.

Top with sliced pears for an upscale brunch treat.
Notes
Use a rolling pin to quickly and easily roll out each biscuit.
Cook one stuffed biscuit per quadrant in a large waffle iron or one at a time in a small waffle iron. 
Nutrition
Calories:
241
kcal
|
Carbohydrates:
33
g
|
Protein:
3
g
|
Fat:
11
g
|
Saturated Fat:
3
g
|
Polyunsaturated Fat:
3
g
|
Monounsaturated Fat:
4
g
|
Trans Fat:
0.1
g
|
Cholesterol:
9
mg
|
Sodium:
438
mg
|
Potassium:
154
mg
|
Fiber:
2
g
|
Sugar:
10
g
|
Vitamin A:
115
IU
|
Vitamin C:
2
mg
|
Calcium:
31
mg
|
Iron:
2
mg
Nutrition information is automatically calculated, so should only be used as an approximation.
Like this? Leave a comment below!