Now In Season: The Plumsicle™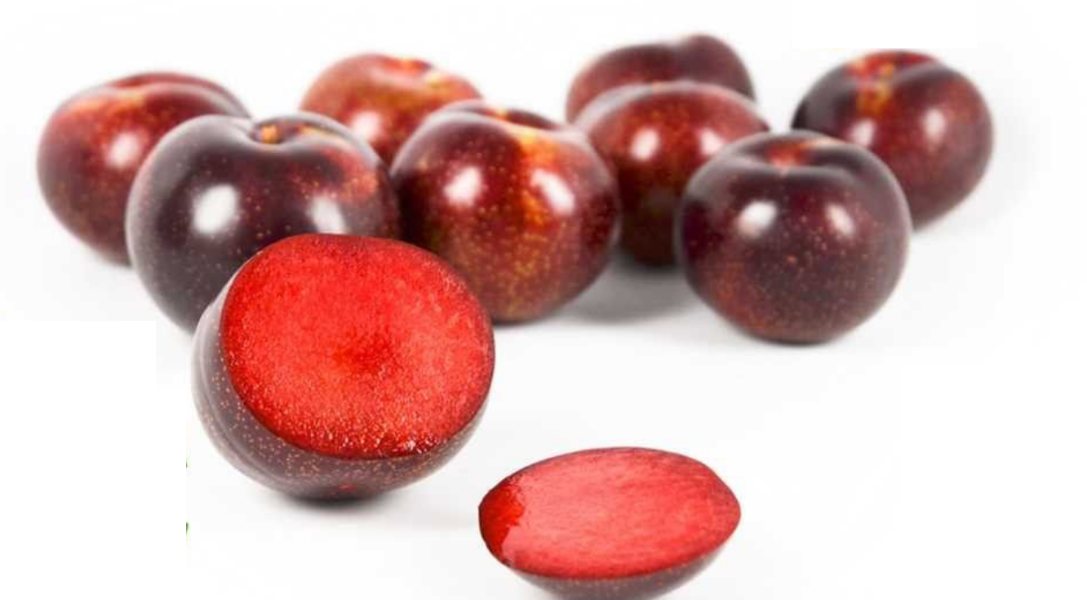 This post is sponsored by HMC Farms.
Summer is officially here, and we are so excited because one of our favorite seasonal fruits is hitting the market! The Plumsicle™ from HMC Farms just screams summer flavor and bursts with sweetness that you will love. It is like no other plum on the market! We promise that once you take a bite, you will want more!
Plums are a huge focus of HMC Farms, we often refer to them as the Plum People! In fact, they are the only company with a packing facility dedicated solely to plums and plumcots. Whether they're sweet or tart, plums are always a juicy and delicious choice.
Plums and plumcots have potential to be recognized as an emerging super-food. They contain fiber, Vitamin A, Vitamin C, Iron and Potassium. Their naturally occurring sugars help regulate gut digestion and move food through the intestinal tract. Plums are a low glycemic index food, and are a healthy additional to almost any diet. Learn more about HMC Farms and their plums here.
Plumsicle™
How will you know a Plumsicle™ when you see one? It's one of the most eye-catching plums around! Look for a yellow starburst of speckles dotting a deep, rich skin. Bite into one and you'll find juicy reddish-purple flesh that's ideal for adding vibrant color to your recipes. And of course, look for the HMC Farms logo!
Look for the Plumsicle™ at your local grocery store between late-June and late-July in one pound clamshells and two pound stand-up bags. If you don't see them on shelf, don't be afraid to ask for them by name. We even have a great resource that can help you ask for products at your grocery store.
What You need to Know about the Plumsicle™
People often ask if the Plumsicle™ is technically considered a plum or plumcot. And the answer is both. Which is partly why it's its own variety. The Plumsicle™ was developed through selective breeding and not through GMOs. You can also learn more by visiting HMC Farms' website devoted only to the Plumsicle™. You can also listen to Drew and Chelsea Ketelsen on The Produce Moms Podcast talking about their latest variety.
While we enjoy just eating Plumsicles, we also feel strongly about adding Plumsicles to any dish to make it oh so sweet and flavorful! You can find a few of our favorite recipes below, or you can visit hmcplumsicle.com for more great recipe inspiration!
Plumsicle™ Recipes
HMC Farms
HMC Farms are the parents of Plumsicle™. They named it, nurtured it, and are the only farmers in the world who grow this fun and flavorful fruit.
Their farms have been in their family since 1887. While they are traditional farmers, they are also innovative and fully-integrated: they grow, pack, ship, and market all of their fruit. They take great pride in doing it all from the ground up. Every fruit is farmed sustainably, protecting the land, the water, the environment, and the people for generations to come. Above all, HMC Farms grow fruit that they are proud of, year after year, generation after generation.
Sustainability at HMC Farms
HMC has spent generations adapting the growing and handling practices to reliably provide the simple pleasure of great tasting fruit.
The Farms and Facilities
HMC Farms has grown great tasting produce since 1887. Their family has passed down vineyards and orchards for five generations. Today, they grow fruit on over 6,000 acres which support their facilities, allowing them complete control of the product from the ground up.
Environmental Responsibility
From utilizing solar power to precision irrigation techniques aimed at water conservation, they use our resources in a way that protects the land and people. They also protect the soil through a multifaceted approach, including integrated pest management, cover crop planting, and lab analysis of oil and tissue samples.
Agriculture Technology
Technological advancements in agriculture offer increased efficiencies and solutions to issues such as water and labor scarcity. They maintain an active approach, researching the newest developments in ag technology, and pursuing those which make the most sense for their farming practices.
Social Responsibility
They believe that supporting the industry and community benefits us all. HMC Farms partners with local food banks, colleges and universities, industry organizations, and healthcare facilities to offer support and leadership. And, they also fund a free-to-employee healthcare facility to ensure that their employees always have acess to quality healthcare.
Life Cycle of Plum Activity Sheet
We truly believe in the motto, "teach 'em young." We have put together an activity sheet for kids to learn about the life cycle of a plum. This free, downloadable sheet has kids coloring the plum and the 6 life cycle stages before cutting them out and gluing or taping them in order on the sheet.
Download here.
If you enjoyed the Life Cycle of a Plum Activity Sheet, you will love our free, downloadable eBook filled with activity sheets, STEM projects, experiments, recipes and much more from HMC Farms.