All About HMC Farms' Plums
Jul 07, 2020, Updated May 20, 2021
Plums are a criminally underrated fruit. Apples, oranges, strawberries, and bananas all get lots of love at grocery stores, as candy flavors, and as snack or dessert options… but where are the plums? They deserve better! Whether they're sweet or tart, plums are always a juicy and delicious choice. We're here to spread the word about HMC Farms' plums and help give this fruit the spotlight!
As the COVID-19 pandemic continues, farmers are more important than ever. In their fields and packaging facilities, the people behind HMC Farms work hard to make sure you can bring home the best and freshest fruit.
And it's a good thing, too: refreshing and juicy plums are the perfect snack to beat the summer heat. Here's everything you need to know about HMC Farms' plums!
What is HMC Farms?
Generations of family farming and a sense of responsibility are what drive HMC Farms. The company was established in California in 1987, though the founders' ancestors began farming the original Central San Joaquin Valley ranch a century earlier. It's still in the family to this day!
At its farms near Kingsburg, California, HMC grows plums and plumcots alongside peaches, grapes, and nectarines, offering both conventional and organic produce. They are completely vertically integrated. The family works together with an amazing team of individuals to ensure the fruit is given the care and attention it deserves from the time it is planted to the moment it ships to a grocery store near you. HMC Farms utilizes cutting-edge technology in all aspects of their business to reach a high standard of food safety and low environmental impact.
Learn about how HMC Farms is handling the COVID-19 pandemic in this open letter from CFO Sarah McClarty!
But HMC is concerned about more than just it's produce. They're helping the community and reducing food waste by donating hundreds of thousands of pounds of produce each year to local food banks through the Farm to Family program. The HMC Farms family knows the value of investing in the future through education and has donated to and funded programs at schools across their state. They've invested in the future of their employees, too, with scholarship programs that give priority to them and their families.
Find out more about HMC Farms here!
What makes a plum, a plum?
From red and yellow to purple and black, plums come in many shapes, sizes, and flavors. Different varieties of plums are suited to different purposes: one kind might be great for cooking, for example, while another is best sliced and chilled, and still another is perfect for simply eating out of hand. Grab a napkin, it's going to be juicy!
Plums are a kind of stone fruit, the family that also includes apricots and peaches. Stone fruits are so named for the single hard seed or pit inside the flesh of the fruit known as the "stone." Plum trees are native to the Americas, Europe, and Asia, and have been farmed in these places for thousands of years. There is archaeological evidence that plums may have been the first fruit domesticated by humans!
Today, almost all of the plums grown in the United States are grown in California.
How are plums grown?
Plums are in season between May and October, meaning you can sink your teeth a juicy plum all summer long. Once they begin flowering in early spring, the whole tree will soon be covered in blossoms. The white blossoms distinguish plums from the pink flowers of their peach and nectarine relatives during bloom time.
Another notable difference is that plums require a pollinator.  While peaches and nectarines are self pollinating, meaning one variety can pollinate itself, plums need a pollinator, meaning the pollen must come from a different variety than the flower being pollinated.  Because of this, all plum orchards are planted with two different varieties. About half of the flowers develop into plums after pollination.
HMC Farms' plums are harvested by hand before they are sent to be graded and packaged.
Plum trees need a few months off after the growing season to get what are called "chill hours." These are periods of resting time during which the temperature is below 45 degrees between the beginning of November and the end of February. Each tree needs between 800 and 1000 chill hours to remain healthy during the next growing season. That's a lot of chilling!
The trees need more care than that, of course. HMC Farms regularly tests ground and tissue samples to determine which nutrients are needed to keep the trees and the soil healthy year after year.
And like any other crop, pest management is a necessity. Whenever possible, HMC uses pheromones as opposed to pesticides to keep insects and other pests away from their crops.  This is better for the plums and for the orchard as a whole.
Soil nutrition and pheromones are just a part of their sustainable farming initiative.  HMC Farms utilizes drip irrigation in all of their orchards to conserve water. They utilize recyclable packing materials whenever possible. And when you drive into the facility you will see an orchard – not of trees, but of solar panels! There are enough solar panels to power their office, packing house and cold storage facilities.
What's in a plum?
No matter the variety, plums are a great grab-and-go snack. They're a tasty way for your kids to get a nutritious treat! Plums are high in vitamin C and antioxidants which help reduce cell damage. And you know what prunes do, right? Well, prunes are a form of dried plum! Plums are full of soluble fiber, which is great for boosting digestive health. They can also help improve heart health and lower your risk of diabetes. Not to mention they're only about 30 calories apiece!
What kinds of plums does HMC Farms grow?
HMC Farms' plums are sorted into categories by PLU. These are the categories noted by the barcode you find on the fruit sticker at the grocery store. The most common categories are red and black, but you may also come across purple, red interior, yellow and green plums.  Plumcots varieties fall into even more categories due to their unique colors and shapes.
Yummy Beaut, Red Dawn, Fortune, Holiday, Westerner and Red Yummy are all kinds of red plums. Varieties of black plums include Black Splendor, Black Majesty, Owent T, Catalina, Friar, and Angeleno.
But HMC takes plums a step further with hybrid varieties. We mentioned that plums and apricots are related, but as a matter of fact, they can be combined! Fruits that are part plum and part apricot are called plumcots, while a fruit that is grown by a specific nursery or breeder is called a pluot. Each of these has its own varieties, too. A few kinds of pluots, for example, are the Dapple Dandy, Festival, and Honey Punch.
The exterior color is not the only distinguishing feature between all of these delicious fruits.  If you're curious about all the different plum and plumcot varieties available for you to try, check out their Plumpedia to learn more!
If you like HMC Farms' plums, you'll love their Plumsicle™. It's incredibly sweet, juicy, and flavorful, perfect for snacking or using in a fun summer recipe. In fact, we have one right here: the Plumsicle™ Wine Pops and Ice Pops! Whether you cool off with them on a hot day or enjoy them with a summer sunset, they're sure to be a hit.
What else can I make with plums?
Plums are one of our favorite fruits to cook with here at The Produce Moms. Here are a couple of recipes to whip up with this delightful fruit:
Try baking with plums or throwing one or two in your next smoothie concoction. And of course, plums are perfect for salads, like this one: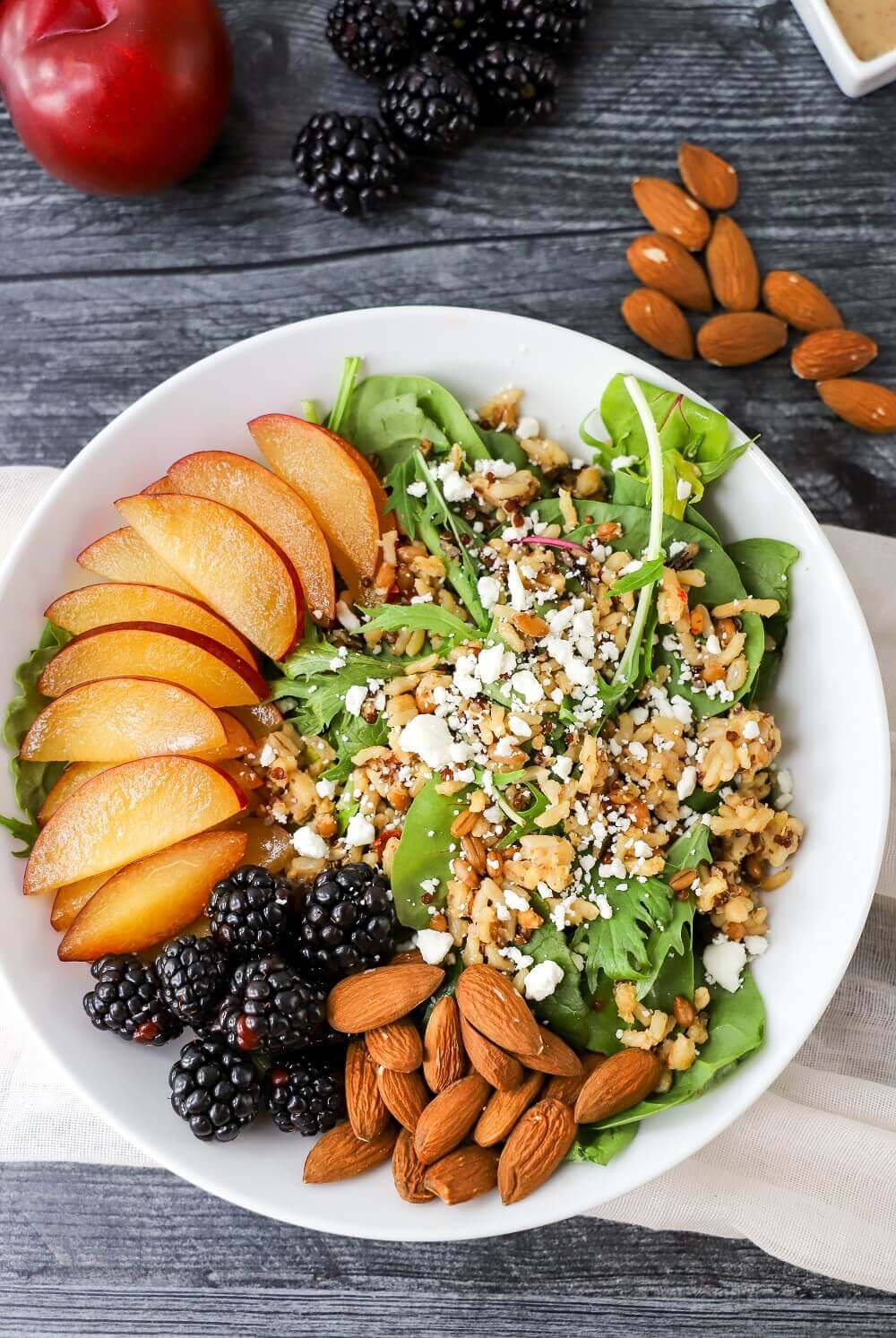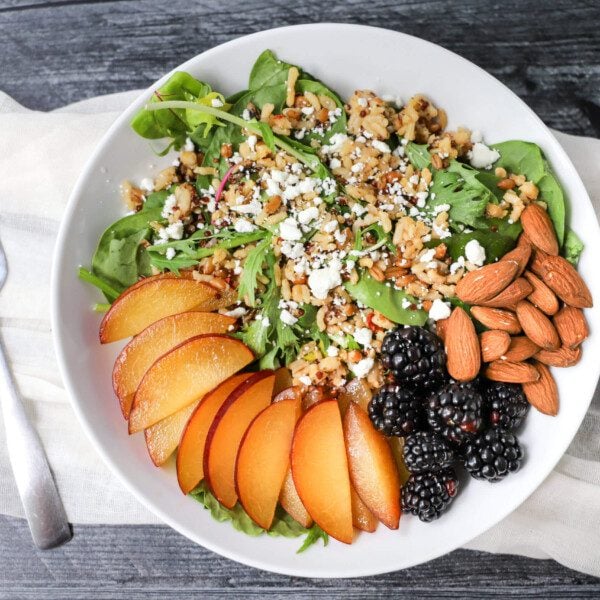 Plum and Blackberry Grain Salad
Ingredients
mixed salad greens

quinoa

HMC Farms plums

sliced

blackberries

almonds

goat cheese

red wine vinaigrette

or salad dressing of your choice
Instructions
Toss together salad greens and quinoa.

Place plum slices, blackberries, and almonds onto salad base.

Sprinkle with goat cheese and drizzle with salad dressing.
Nutrition information is automatically calculated, so should only be used as an approximation.
Like this? Leave a comment below!
Use HMC Farms' plums in these recipes and you're sure to get plum-azing results! What are your favorite ways to eat plums? Share in the comments below or tag us in your recipe photos on Instagram @theproducemoms and @hmcfarms!