Episode 172: Drew and Chelsea Ketelsen
Jul 21, 2021, Updated Jul 28, 2021

Family is at the center of HMC Farms, which has been owned and operated by the McClarty Family since 1887. Starting with just 40 acres of land more than a century ago, HMC Farms now grows, packs, ships and sells tree fruit and table grapes. After falling in love with plums and plumcots, HMC has discovered a new proprietary variety and aptly named it – Plumsicle.
As a fifth-generation farmer, Chelsea's roots are deep in agriculture, but the same can't be said for her husband, Drew Ketelsen. The two met in college while Drew was studying civil engineering. After graduation, Chelsea chose to move home to work with the family, while Drew went to San Francisco to begin his engineering career. After two years of dating long-distance, Drew made the decision to follow his heart and join Chelsea. While looking for jobs in the Central Valley, he was given an opportunity to work on the family farm.
"I was looking for engineering jobs when Chelsea's brother and dad said, 'Hey, do you want to be a grape farmer?'" – Drew Ketelsen (07:42 – 07:52)
Growing up in Lake Tahoe, Drew knew nothing about agriculture or farming, but the family took a chance and threw him straight in. Just as he started, a table grape partner left the business, opening up an opportunity for him to redesign their table grape business from the ground up. With engineering in mind, Drew had to break out of that "shell" of wanting to map everything out so it was perfect, however his background did help him with the more technical aspects of the business and inspired him to introduce new technology into the field. To Drew, the challenge is what's most rewarding about farm management, and now he is going into his 12th season with HMC Farms.
An ever-growing issue in agriculture is lack of labor, with people moving away from labor-intensive jobs. Less labor means less harvesting, which leads to less of a selection of produce in grocery stores.
Automated harvesting is still in the early stages of development, but in the meantime agricultural innovations like harvest platforms are helping to remove ladders from the field and make the harvest process more efficient. Ag technology is one focus for Drew, utilizing his engineering experience to bring HMC Farms toward more mechanized crops. Moving this direction is vital not only to keep farms like HMC in business, but also to keep the food supply going to consumers.
One of HMC Farms' newest and most exciting fruits is called Plumsicle. It is unlike any other plum or plumcot, with an incredibly sweet fruit punch flavor, and it's only grown by HMC Farms. Plums are a huge focus of HMC Farms. They are, in fact, the only company with a packing facility dedicated solely to plums and plumcots. With so many exiting new varieties and incredible health benefits, plums and plumcots, especially Plumsicle, will soon start to receive the attention they deserve.
With Plumsicle, almost everyone at HMC Farms had a chance to be involved in the process of getting this proprietary variety off the ground. When choosing the new variety, employees were able to taste test and choose their favorites. Most people in the office contributed options to name the new variety, and ultimately the selection came down to an old-fashioned vote. Both Drew and Chelsea agree that the name Plumsicle is fitting, as they describe it being sweeter than candy (just a healthier option).
"Somebody asked me 'if you can put any fruit tree or vine on your property, what would you do?' and I said 'I didn't grow up in Ag, but I'm 12 years into this and it would be the Plumsicle because it's so amazing.'" – Drew Ketelsen (02:24 – 02:42)
HMC Farms is currently in the thick of Plumsicle season, so make sure you head to your local store and grab some before they're gone!
How to get involved
Join The Produce Moms Group on Facebook and continue the discussion every week!
Reach out to us – we'd love to hear more about where you are in life and business! Find out more here.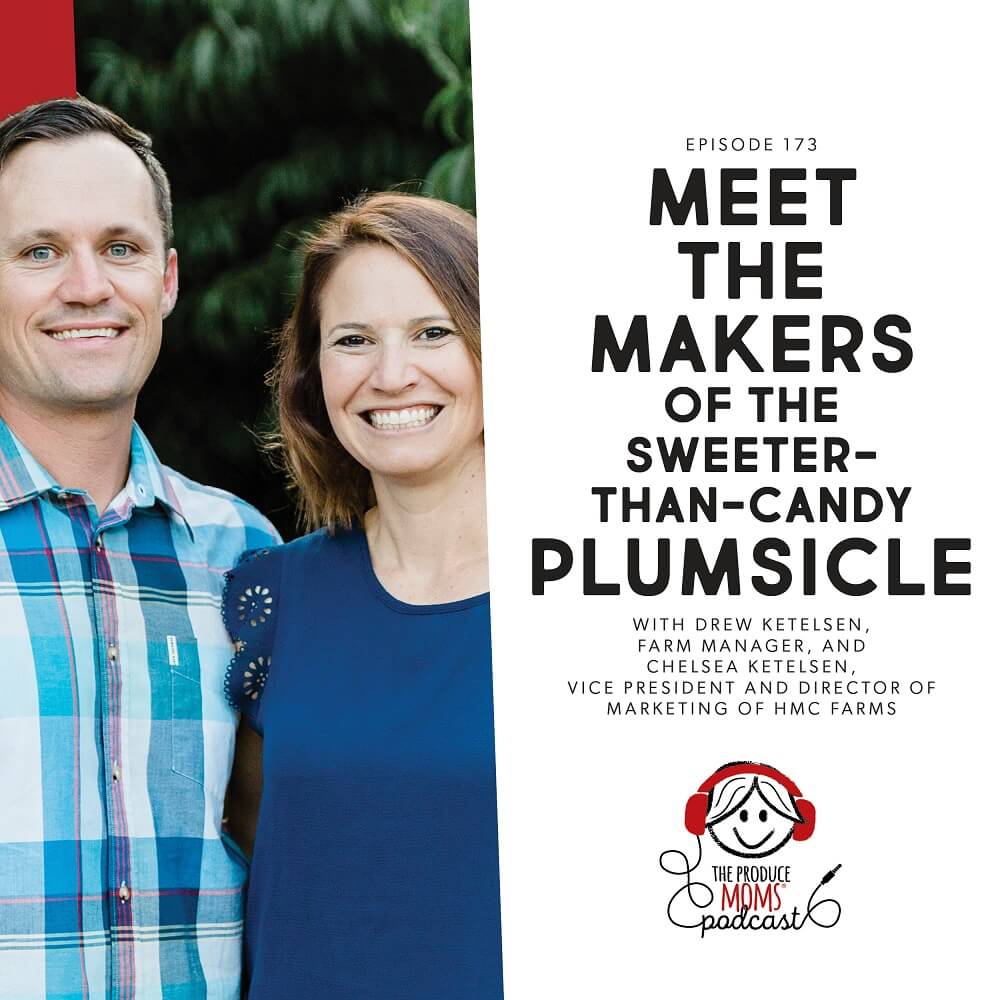 Previous episodes you may enjoy