North Bay Produce Blueberry Farms Tour
North Bay Produce is a member of The Produce Moms' family of partners. 
Take a tour of the North Bay Produce Blueberry Farms with us!
Recently, The Produce Moms embarked on an exciting tour visiting a North Bay Produce blueberry farm and packing house in Ottawa County, Michigan. From the patch to packing, we got to see where America's favorite little blue fruit comes from and how it makes its way to our table.
North Bay Produce is a grower owned fruit and vegetable cooperative nestled in Traverse City, MI. Grower members from around the world including Argentina, Chile, Mexico, Peru, the United States, and Uruguay provide year-round fresh commodities like apples, asparagus, blueberries, blackberries, raspberries, snow peas, and sugar snap peas. Many of North Bay Produce's growers are second, third, and even fourth generation farmers. 
Collectively, Michigan grows nearly 65 million pounds of juicy blueberry goodness each year. That is just over 32% of the total North American crop! Blueberry season usually runs late June through early October in Michigan, so summer is the perfect time to visit a blueberry farm. Packed full of antioxidants, vitamin C, and potassium, blueberries are considered a superfood. They are also anti-inflammatory. Eating blueberries can help lower your risk of developing heart disease, cancer, and other diseases too. 
Bowerman Blueberry Farm in Holland, MI was our first tour stop. They have been farming since 1954, and currently tend to over 90 acres of blueberries. Varieties grown on their farm include early-season sweet 'Blue Crop' blueberries, late-season slightly tart 'Elliott' blueberries, and super-sized sweet 'Spartan' blueberries. Visitors in July and August can enjoy a fun U-Pick experience. Bowerman's farm market store is stocked daily with fresh donuts, breads, pies, ice cream and more. We can attest, they really know how to bake up some yummy blueberry delights!
We also visited Lakeside Pic-N-Pac in Grand Haven, MI. Owner Brent Baumann gave us an exclusive behind the scenes tour. We were able to see blueberries arriving from local farms, where they are labeled and placed in cooling storage, and the production line where berries are sent on the conveyor belt for sorting. Bruised, off-color, and berries with defects are sorted for seconds while top-quality berries go on to be packed into North Bay clamshells for storing in the warehouse before shipping to retailers.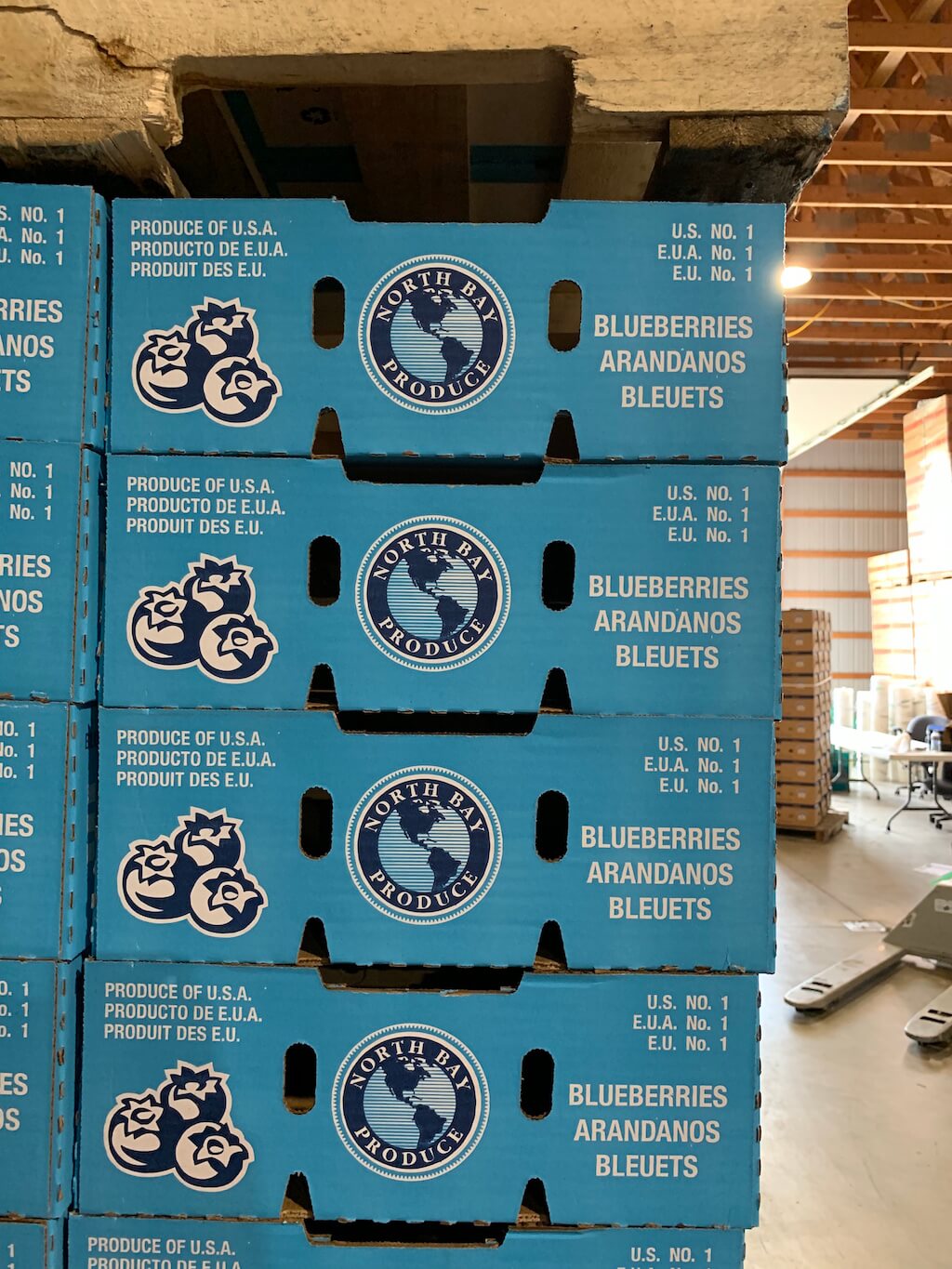 Is all of this blueberry talk leaving you hungry for more? One of favorite blueberry recipes is Lemon Ricotta Blueberry Pancakes. It's a fresh way to wake up your day! Also try Ancient Grain Salad with Blueberries and Blueberry and Corn Salad from North Bay Produce's recipe collection. Blueberries are a sweet addition to so many meals — try adding a handful of fresh or frozen berries to baked goods, smoothies, yogurt parfaits, or even as an ice cream topping. Don't leave your pup out, dogs love blueberry treats including these easy to make Banana and Blueberry Pupsicles! 
RELATED: Check out our Indy Style appearance featuring North Bay Produce berries.  
If you are like us and just can't get enough of their deliciousness, consider freezing blueberries to extend the season. It's easy to do! First, remove blueberry stems, wash, and dry berries. Then, place berries on a clean baking sheet. Try not to let fruits touch, and do not stack berries. Place the baking sheet in the freezer for a few hours, or until frozen through. Remove the baking sheet and transfer berries into a freezer bag. Tightly seal the bag of berries and freeze for up to 12 months. 
When an invite to blueberry country comes our way, we simply can't pass it up! We hope you enjoyed a sneak-peak into the wonderful world of blueberries.