March 2022 Life.Style.Live!: Taste of TikTok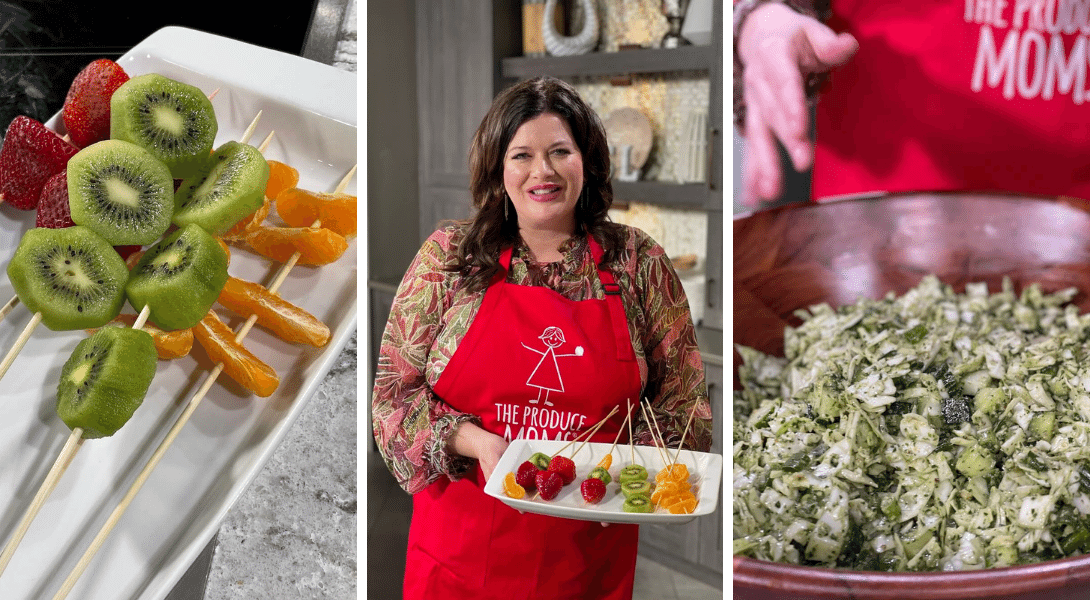 We've been glued to our phones watching TikToks lately, and for good reason: there are tons of delicious recipes going viral! For our second Life.Style.Live! appearance for March 2022, we decided to showcase the taste of TikTok with a few of our favorite recipes: Green Goddess Salad and Tanghulu. We'll show you how to make these tasty, trendy recipes on the set of Life.Style.Live!

TikTok Green Goddess Salad
This is the salad that caused cabbage to sell out at in grocery stores around the country. And when you try it, you'll see why! This light, airy Green Goddess Salad is perfect for feeding a crowd. We first saw it on @bakedbymelissa's TikTok, where she eats it using some tortilla chips. And that's really the perfect way to enjoy this salad-salsa hybrid.
The key to a good Green Goddess Salad is to use fresh herbs – and lots of them. We love cabbage, but… it doesn't have a lot of flavor. That's why the herbs are so important. They provide all the flavor this salad needs while cabbage provides a delightfully crunchy base.
Combine chives, basil, and Italian parsley with cabbage, green onion, and seedless cucumber. Next, add walnuts, cashews (if you have them on hand – we didn't!), shallots, and three cloves of garlic. Top it off with parmesan or vegan parmesan cheese to complete this flavorful, dippable salad.
This is a free-form salad and the perfect way to make "boring" veggies more exciting. If you don't like cabbage, substitute any other crunchy veggie. We recommend trying it with kale. You can swap out any of the other ingredients for ones that you and your guests prefer or give it a new twist with different herbs, flavors, and presentations. Try it out in some tacos!
Tasty Tangulu
We love street food at The Produce Moms. It's fun to both make and eat, and it's also a great way to learn about different cultures from around the world. When we come across cultural barriers, we find that food is something that brings people together, no matter who they are or where they're from.
If you've been paying attention to foodie TikTok trends, you might have seen people trying a street food called Tangulu. This fruity treat is popular in China and other nearby Asian countries. And it's incredibly easy and soothing to make! All you need are some skewers, some very hot sugar water, and your favorite fruits.
To make Tangulu, first, bring your sugar water to a rolling boil. After using a shallow pan on the set of Life.Style.Live!, we think that a deeper pot would probably work best. To check if the water is hot enough, scoop out a small amount of the sugar water and pour it into a bowl of cool or room temperature water. If the sugar solidifies, it should be hot enough.
Next, cut your fruits into bite-size pieces and skewer them, about three per stick. Dip the skewer into the boiling water and make sure that the water covers the entire fruit. Use a spoon to splash the water over the fruit if you need to. Remove the skewer from the water and place it on a dry plate. The sugar in the hot water should solidify over the fruit, giving it a candied effect. When they're cool enough, enjoy these sweet, fruity treats right off the skewer!
Try the Taste of TikTok
One of the reasons we love TikTok is for all of the creative and delicious recipes that are trending there. TikTok creators make these unique dishes accessible to their followers, and it can be very satisfying to watch them put a tasty dish together. What recipes come to mind when you think of the taste of TikTok? Tell us in the comments or give us a follow and send them to us on TikTok!