March 2022 Life.Style.Live!: CELERYbrating Spring Recipes
Mar 15, 2022, Updated Apr 20, 2022
Spring is here – and that's a reason to celebrate! Break out the light, flavorful, veggie-filled spring recipes to celebrate the beautiful weather. March is National Celery Month, so we've put together some recipes that incorporate crunchy celery from Dandy® as well as other nutritious, oft-forgotten ingredients like crab meat. Our partners at Salad Savoy® also offer some colorful veggies that you won't want to miss this season. Let's get cooking some spring recipes in the Life.Style.Live! kitchen!
Crab Cakes
A lot of people are hesitant to use crab in their home cooking, but it's actually quite easy to cook with. And the results are delicious! We used Dandy® Celery to craft these crab cakes, along with an egg, mayonnaise, Dijon mustard, hot sauce, Worcestershire sauces, parsley, and of course delicious crab!
If you can find blue crab meat in your grocery store, that is best. However, we are in the midwest and can't get fresh crab like our friends in Maryland can! For this crab cake recipe, we used claw crab meat. If that isn't an option, you can also use canned lump crab meat. If you do, be sure to squeeze any extra moisture out of the crab meat before mixing it in with the other ingredients.
There's one secret step to making great crab cakes (or other seafood patties, for that matter) that other recipes might not mention: Pop the cakes in the freezer before cooking them! Once you've mixed the ingredients together and formed the patties, freeze them for 15 minutes to keep them from falling apart while you cook them.
Cold Bell Pepper Crab Dip
This light, elegant dish comes to us straight from the celery farmers at Dandy® and is featured in our Dip It to Win It eBook. With spring weather on the way, we're all looking for dishes with flavor to match. Serve this Cold Bell Pepper Crab Dip at your next spring celebration for an instant hit! It's the perfect dip for graduations, baby showers, holidays, and any other occasion you'll be spending with friends and family.
This dip doesn't actually contain any celery. Instead, you'll use it for dipping! Chop up some celery sticks to dip into this sour cream, cream cheese, bell pepper, and lump crab dip. Our Cold Bell Pepper Crab Dip has the consistency of a cheese ball with a light, fresh seafood flavor.
Cold Bell Pepper Crab Dip
Ingredients
 4 oz cream cheese (softened)
3 tbsp sour cream
½ cup finely diced green bell pepper
½ cup finely diced red bell pepper
1 tsp lemon juice
 ¼ tsp Old Bay seasoning (adjust more or less to taste)
8 oz lump crab meat (squeezed to remove any water/moisture)
 2 tbsp chives (chopped)
Dandy® Celery for dipping
Dandy®  Radishes for dipping
Directions
Blend together the cream cheese, sour cream, lemon juice, and seasoning in
a blender or food processor, until smooth.
Fold in the crab meat, bell peppers, and chives using a spatula. (Do this gently and don't over-mix. You want some lumps of crab throughout.)
Transfer to a bowl, cover in plastic wrap and chill until ready to serve.
Serve with Dandy® Celery & Dandy® Radishes!
Sea Bass on Salad Savoy®
Looking for easy, classy spring recipes to serve your family for a special occasion? Try some sea bass! We plated Sea Bass on Salad Savoy® as a family-style dish. After pan-frying the sea bass and seasoning it with some trusty Old Bay spices, we placed each filet on a bed of colorful ribboned Salad Savoy.
Next, we used what was left in the pan for a zesty lemon glaze. One lemon, some white wine, capers, and two tablespoons of butter are all you need to make a dressing that's perfect for both the fish and the Salad Savory. These flavors come together for a one-of-a-kind, restaurant-quality meal that your family will ask for on every occasion!
Roasted Garlic and Parmesan Lollipops
The minds behind Salad Savoy went on to create more incredible veggies, including Lollipops, a hybrid kale sprout. This cross between kale and brussel sprouts is bursting with flavor and a versatile ingredient for cooking. We've paired it with garlic and parmesan for this mouth-watering recipe.
Roasted Garlic and Parmesan Lollipops
Ingredients
Lollipops
6 whole garlic cloves, peeled and halved
2 tablespoons olive oil
sea salt and freshly ground black pepper
2 tablespoons fresh grated parmesan cheese
Directions
Preheat the oven to 400F.
Trim the Lollipops. Cut in half, lengthwise. The larger Lollipops may need to be cut into thirds or quarters, so they cook evenly.
Place cut Lollipops and the garlic cloves on a baking sheet. Drizzle and toss with olive oil.
Roast for 10 minutes, give everything a good toss on the baking sheet. Return to the over and roast for another 10-15 minutes.
Season with sea salt and pepper, toss with grated parmesan cheese.
Air Fryer Roasted Cauliflower
Here's another colorful vegetable from Salad Savoy: Carnival® Cauliflower! Your family will love these rainbow veggies that come in fun shades of green and purple. This Air Fryer Roasted Cauliflower is tender, crisp and packed full of flavor. We think this yummy cauliflower recipe will become a side dish staple in your meals.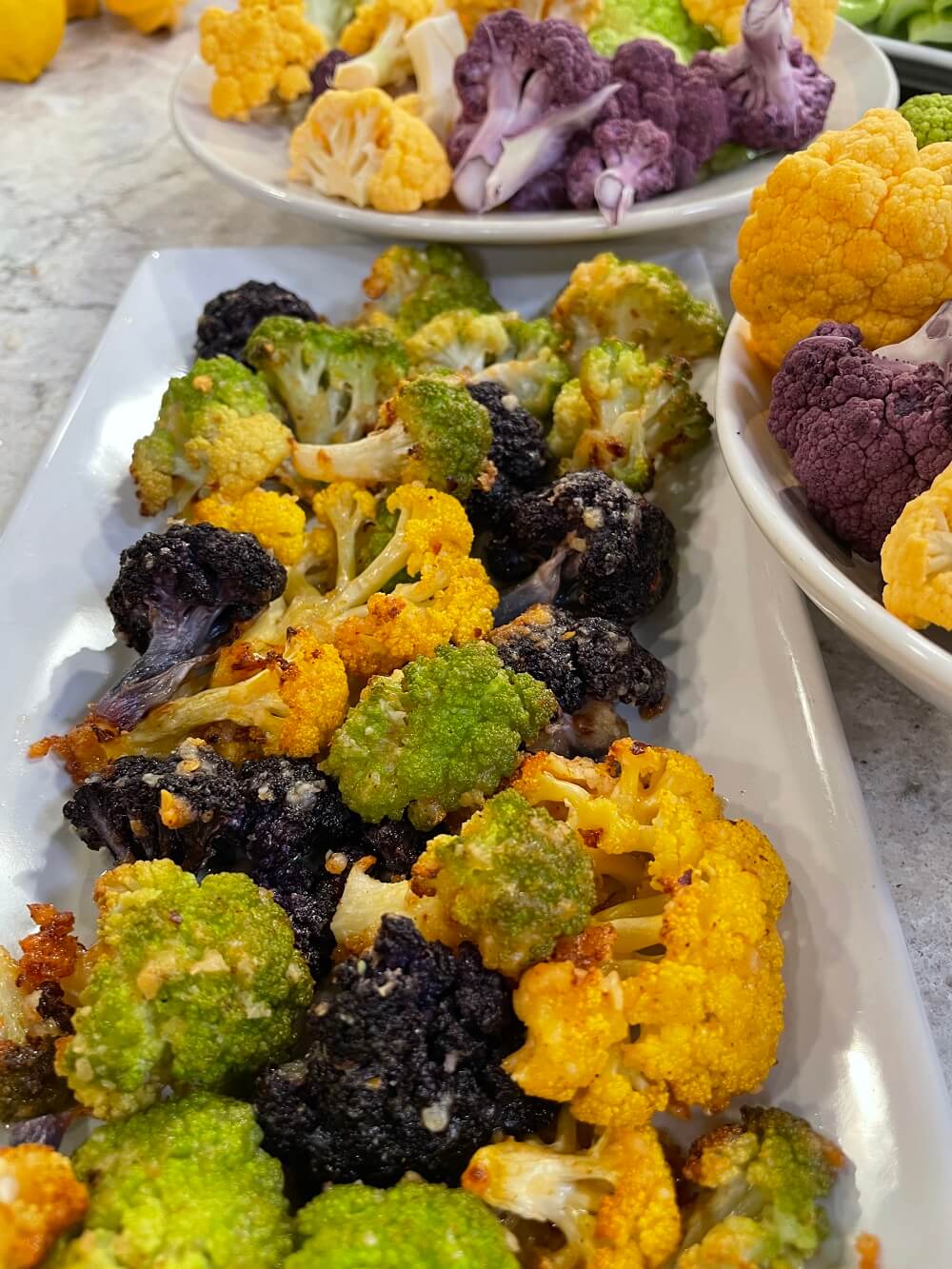 Air frying vegetables has become one of our favorite ways to enjoy veggies. They are perfectly roasted, crispy on the outside, and delightfully tender. Even better, you don't have to stand over the cauliflower as it cooks! The air fryer literally does the cooking for you, allowing you to focus on the main course. If you have yet to make vegetables in the air fryer, we highly recommend you give it a try.
Get the recipe for Air Fryer Roasted Cauliflower here! 
How will you CELERY-brate National Celery Month?
March is a great time to start cooking with this year's fresh, flavorful vegetables. The grocery stores are stocking up on fresh greens and the farmers markets are back in business. Whether you're looking for celery, kale, cauliflower, or other veggies, we have incredible spring recipes that put them to good use. What will you cook to celebrate spring and National Celery Month? Let us know in the comments!