June 2022 Life.Style.Live!: Celebrating Flavors of Summer
Summer is back, and it's time to unwind with some fresh fruit-and-veggie recipes! Whether you're hitting the road, the beach, or the backyard barbecue, you'll need some recipes to share and enjoy. We brought our favorite classic flavors of summer to the set of Life.Style.Live! to share with you, so you can share them with your friends and loved ones.
Summer is for Cherries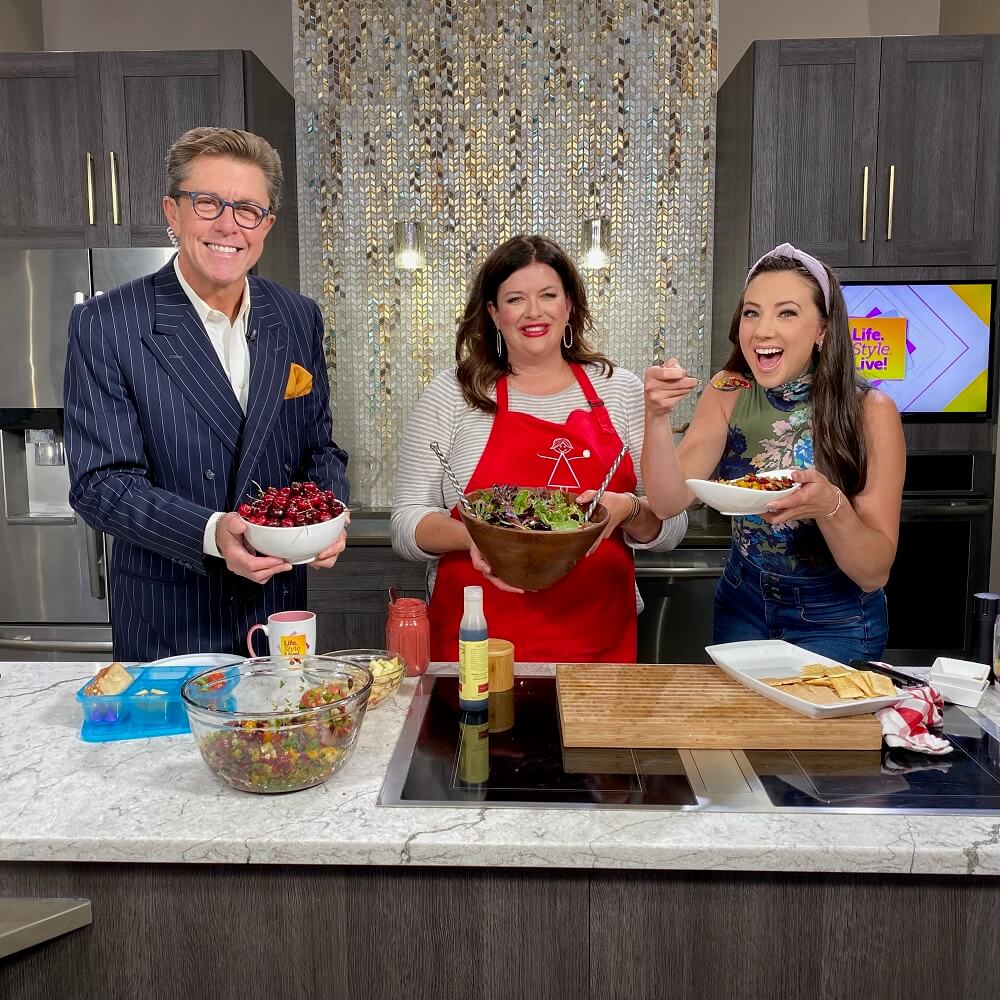 It's cherry season again and we couldn't be more excited! Cherries make a great snack by themselves, but they're so much more than that. This is peak cherry season for the Northwest, where the world's best cherries are grown and shipped around the world.
Cherries are fun and easy to eat by themselves. Just pop one in your mouth and spit out the pit! But if you want to use them in recipes, you'll need to remove the pits first. We think a cherry pitter is an essential tool to keep in your kitchen. With one of these, you can easily pit a bowl of cherries in 15 minutes or less!
With the help of our partners at Sage Fruit, we've come up with some unique ways to put cherries to use in your recipes that are both refreshing and flavorful:
Fresh Cherry Salsa
This Fresh Cherry Salsa is perfect for hot days when you need a cool, refreshing snack with a little kick. We'd love to dip some club crackers into this out by the pool. It's also great on tortilla chips and makes a tasty topper for grilled meats.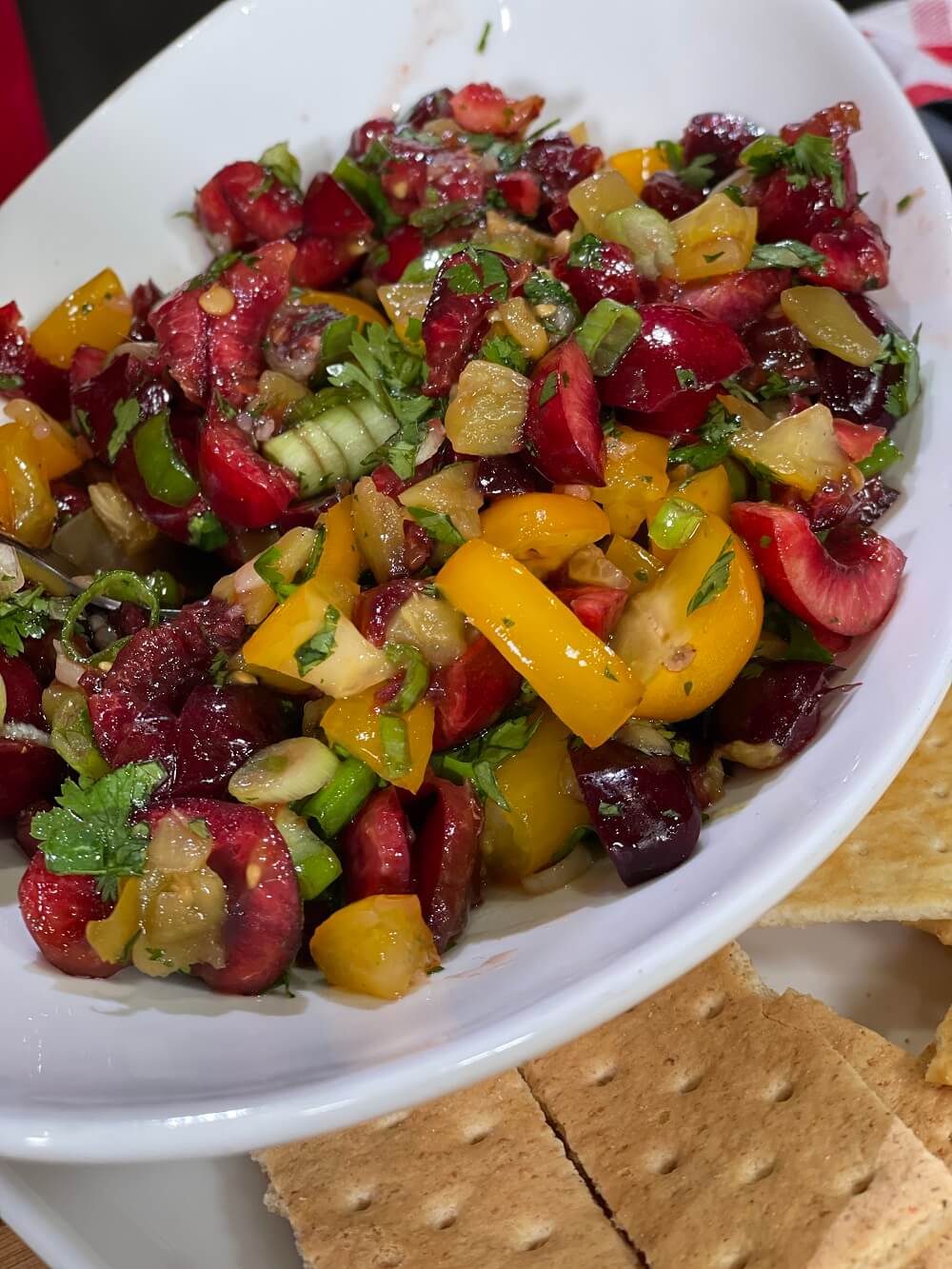 Full of both color and flavor, this salsa just gets better as it sits while the ingredients rest together. Make a big batch of it and let it sit in the fridge until your salsa craving hits. Featuring green onions, lime, chili peppers, yellow cherry tomatoes, and of course fresh juicy cherries, this cherry salsa has all the flavors of summer. Cilantro-averse salsa lovers will find that fresh basil makes a great substitute.
Fresh Cherry Salsa
Ingredients
4 cups of Sage Fruit Dark Sweet Cherries (stemmed and pitted)
4 green onions, chopped
1 bunch of fresh cilantro, chopped
The juice of 1 lime
1 4-oz can of chopped chilies (undrained)
¼ tsp crushed garlic
2 cups yellow cherry tomatoes
⅛ cup balsamic vinegar
Salt and pepper to taste
Directions
In a medium size bowl, mix all the ingredients together. Add salt and pepper to taste.
Store covered in the refrigerator until ready to use.
Apple Pecan Salad + Sweet Cherry Vinaigrette
Many cherry growers in the Northwest, including those at Sage Fruits, are also famous for their apples. The climate and soil conditions are ideal for both fruits, but we think they pair nicely outside of the orchard too!
We've turned our Apple Pecan Salad into a blend of the flavors of summer! Typically you might find this kind of salad served during the fall. But any fall salad can be turned into a summer one with a splash of fruit-forward dressing. We added our Sweet Cherry Vinaigrette to the mix to make this a summertime treat that can be served as an appetizer, a side, or a meal in itself.
This vinaigrette is basically a balsamic dressing with cherries added. Sweet and tangy, this easy vinaigrette is simple to make and quick to disappear once your family gets a taste of it! All you need to do is reduce cherries in a saucepan, then combine them with the rest of the ingredients in a blender. It's that easy!
The Peachiest Flavors of Summer
Just like cherries, peaches have a flavor we associate with summer. If you've ever enjoyed a ripe, juicy peach on a warm summer evening or a peach cobbler by a campfire, you know exactly what we mean! This is prime peach season across the country, so we're taking advantage by picking up some California peaches from our partners at Prima Wawona.
We've been cooking peaches in our Blackstone this year and we think you'll love to as well! This is a great way to get the full flavor from your peach on the grill. Natural caramelization from the peach sugars really brings out the best in this summertime classic.
How to Grill Peaches:
Heat your Blackstone or grill to medium-low heat.
Wash and cut Prima peaches in half and remove the pits. Many peaches available now are considered cling peaches, meaning the pits will cling to the flesh when cut open. You'll have to remove these by hand. Brush the peach halves with olive oil.
Place the peach halves on the Blackstone or grill. Cook each side until grill marks form, about 3-4 minutes. Remove from the grill.
Cut each half into 3-4 wedges.
Grilled Peach Salad
Put your grilled peaches to work in this flavorful salad! Their incredible sweetness pairs perfectly with rich goat cheese and crunchy roasted pecans. A sweet-and-savory honey dijon vinaigrette ties it all together in a salad that works on its own or as a starter for your meal.
Grilled Peach Salad
Ingredients
For Salad:
6 large Prima Wawona peaches, ripe and firm
1/4 cup olive oil
5 oz Arugula
1/4 cup roasted pecans
1/2 cup goat cheese
For Vinaigrette:
1 1/2 Tbsp honey
3 tsp Dijon mustard
3 Tbsp white wine vinegar
1/4 cup extra virgin olive oil
kosher salt and pepper to taste
Directions
For the Dressing:
In a small bowl, whisk together honey, Dijon mustard, white wine vinegar and olive oil. Add kosher salt and pepper to taste.
For the Salad:
In a salad bowl, add arugula, roasted pecans, and goat cheese.
Add the grilled peach wedges.
Drizzle with dressing.
Salad can be served immediately or stored in the refrigerator until ready to serve.
Grilled Shrimp, Peach, and Nectarine Kabobs
Add seafood to your favorite flavors of summer with these Grilled Shrimp, Peach, and Nectarine Kabobs. The minds at Prima came up with this unique kabob, and we absolutely love it! In these times of inflation, we're seeing great prices on stone fruits like peaches, making these a fun, affordable way to serve a delicious dinner to your family or guests.
Grilled Shrimp, Peach, and Nectarine Kabobs
Ingredients
¼ cup extra-virgin olive oil
2 cloves garlic, minced
2 tablespoons chopped fresh herbs (a combination, such as basil, marjoram, rosemary, and thyme)
1 Prima peach, pitted
1 Prima nectarine, pitted
1 California plum, pitted
1 pound large peeled and deveined shrimp
1 lemon, halved and thinly sliced
Freshly ground salt and pepper to taste
Directions
Heat oil in a small skillet until very hot. Add garlic and cook briefly until aromatic; do not allow the garlic to brown. Remove from heat immediately and stir in herbs; set aside.
Cut peach, plum, and nectarine into 1-inch chunks and thread onto skewers alternately with shrimp and lemon slices. Brush lightly with garlic-herb oil. Grill over medium-high heat for 3-5 minutes per side or until shrimp is pink and cooked through. Remove from grill and drizzle with remaining oil.
Hit the Road (Or Sky) With Our Free eBook
Ready to travel this summer? Keep the kids occupied with our free eBook, Road Trip Activities with Sage Fruit! Inside you'll find coloring pages, a license plate game, mazes, puzzles, and much more. Print it out and give your kids a quiet, screen-free source of entertainment.
Give kids some tasty nutrients that they can enjoy throughout the trip with some well-stocked snack boxes. We showcased some bento-style boxes on Life.Style.Live! filled with treats like cherries, apple slices, and crackers. Just find some sealable, compartmentalized boxes and fill them with your kids' favorite snacks. It's a great way to keep them energized, satisfied, and eating fruits and veggies no matter where your family is headed.
What Are Your Flavors of Summer?
We've shown off all kinds of summertime treats in the Life.Style.Live! kitchen, from fruit-filled salads to sweet and savory kabobs and more. We think you'll love serving up these dishes this season. Does your family have any favorite flavors of summer? What dishes do you make to beat the heat and incorporate more fresh produce? Let us know in the comments!