How to Make Parrot Fruit Art Tray
May 31, 2022, Updated Aug 22, 2022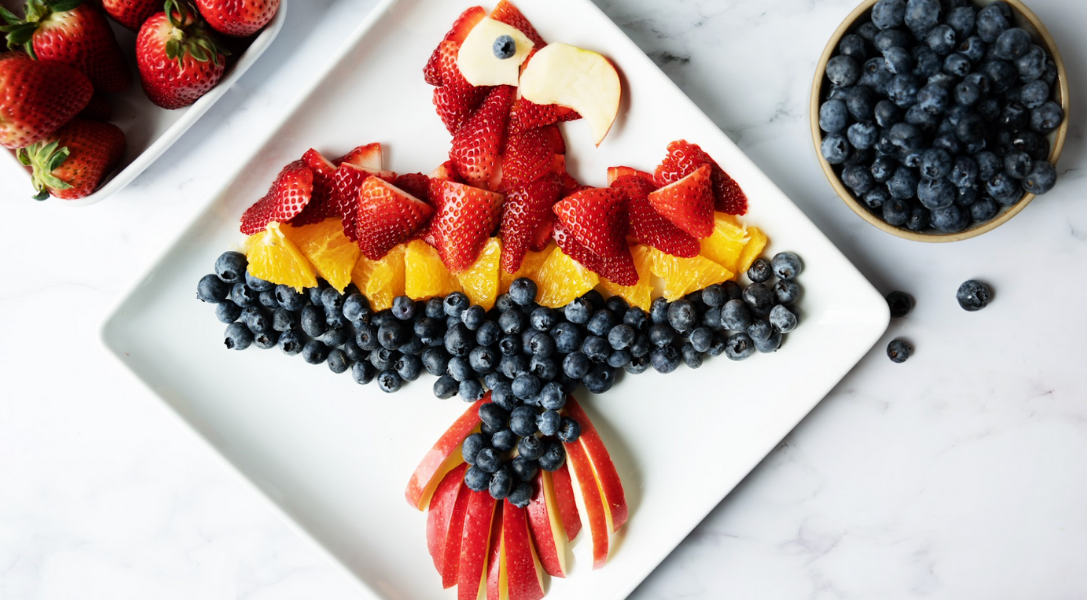 Create a tropical masterpiece with this Parrot Fruit Art Tray! This fruit tray is the perfect way to show off your imagination and impress your guests. Not only does it look like a parrot, but it's also easy to put together. All you need is a little creativity! With vibrant colors and an easy assembly, this tray is perfect for any occasion.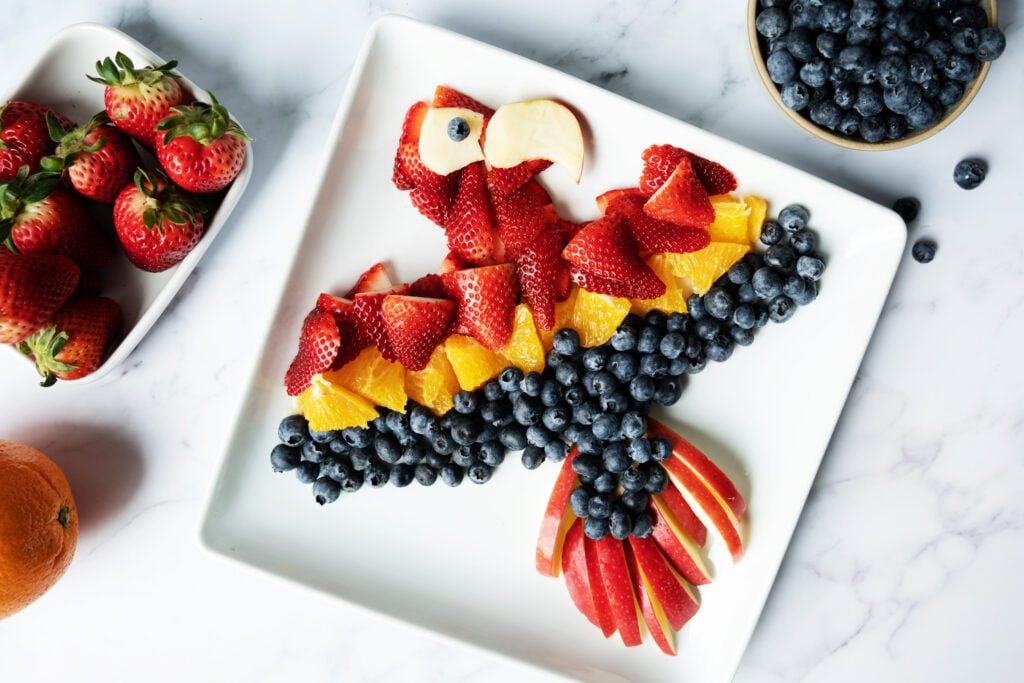 How to Make Parrot Fruit Art Tray
This simple Parrot Fruit Art Tray is so simple to make and it will look fantastic on your party table. The bright and vibrant colors of the fresh fruit make this parrot look stunning on a white platter.
If you're looking for a fun and unique way to serve fruit, look no further than this parrot fruit art tray! Create a beautiful design using your favorite fruits, then enjoy eating them afterwards. This tray is perfect for a party or other special occasions.
What Fruit works best for the parrot fruit tray?
We use strawberries, oranges, blueberries and apples. You can change any of these fruits to something else if you prefer. The oranges can be replaced with pineapples or the blueberries can be replaced with raspberries or cut grapes. Pears will work if you want to create a white area. Kiwi can also be sliced up to make feathers for the parrot. As long as you stick to the rough shape idea, the fruit will make the parrot. Since parrots come in different colors, you can easily make this resemble whatever colors (or fruits) you like.
You could also add in some vegetables. Carrots, cucumbers or even avocado would work great.
How to Cut the Fruit for the Parrot Fruit Art Tray
First, you want to decide how big or small you want your parrot fruit art tray to be. Once you know that, then you can start cutting the fruit. We made our parrot a little on the larger size, so we cut the oranges in half and then sliced them into thin half-moon shapes. For the apples, since they are going to be feathers, we like to cut them into long, thin slices.
How to Store Leftover Fruit
This dish is best served immediately after creating it. If you have leftovers, store them in an airtight container and keep them in the fridge for up to 2 days. The fruit may start to brown after that, so it's best to eat it sooner rather than later.
What Other Fruit Art Could I Make
You can make any type of animal that you can imagine. If you can imagine or see the shape or design of the animal, you can create it using fruit. To add a bit of realism to the fruit art, try to use fruit that resembles the colors of the animal. This is why making the parrot is easy. The bright colors resemble the bright color of the parrot.
More easy animal fruit art ideas are:
Toucan – Use orange slices for the beak, blackberries or blueberries for the eyes and small banana slices for the feathers.
Butterfly – Use two large strawberries for the wings, blueberries or blackberries for the eyes and small banana slices or grapes for the body.
Elephant – Use a large slice of watermelon for the body, blueberries or blackberries for the eyes, small banana slices or grapes for the tusks and leaves from a strawberry for the ears.
You could also make flowers, trees or any other type of design that you can imagine The options are endless when it comes to fruit art. Get creative and see what you can do!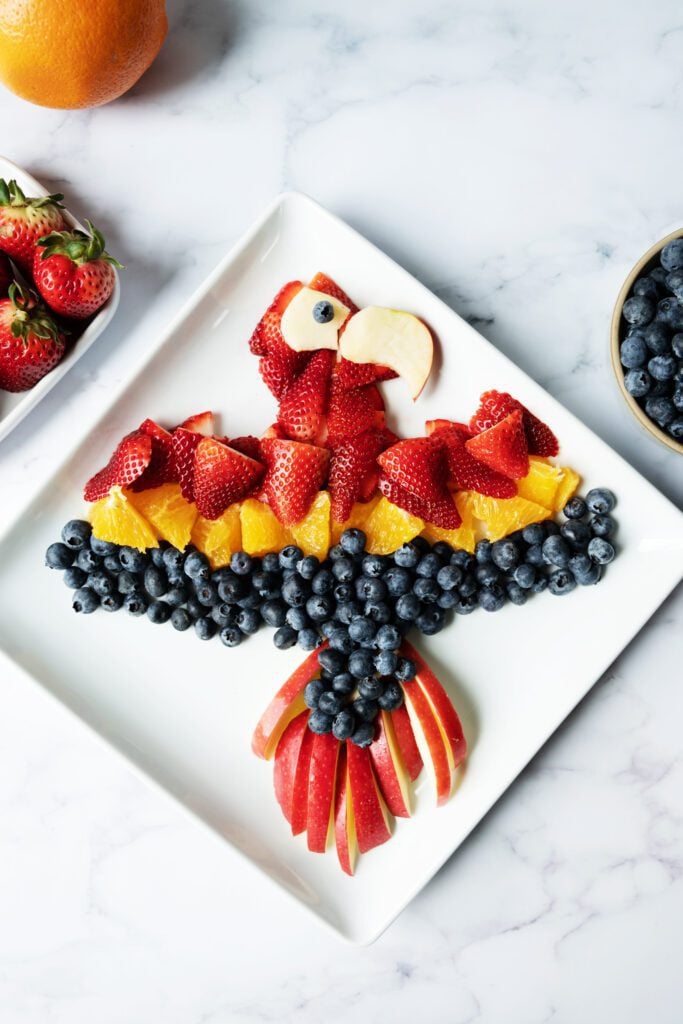 Other Food Art Ideas We Love
Did you make a parrot from fruit? Please share a pic on Instagram and tag us @theproducemoms.