How To Eat Dates
Dec 06, 2017, Updated Aug 31, 2022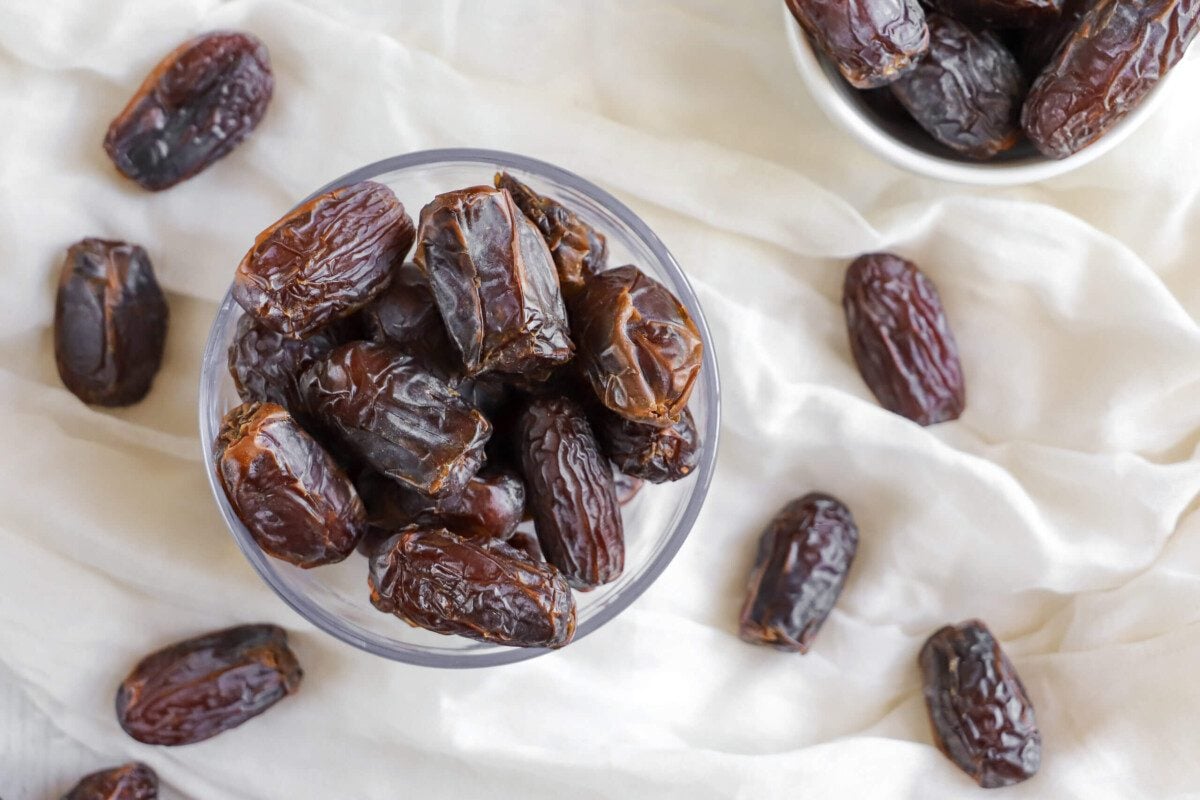 Brown and wrinkly, dates aren't going to win a beauty prize anytime soon but don't let this deter you. Dates are also sticky and sweet and ridiculously delicious! They have a deep caramel flavor that is sure to make your taste buds rejoice!
This ancient fruit is a product of date palms, a flowering palm tree found in arid places like the Middle East, Northern Africa, India, and California.
Dates are easy to come across, especially Medjool dates around the holidays (you can find them at your local grocery store) but we're betting that many of you have never tried this delightful fruit.
Today we're challenging you to change that. Grab some dates from the store and give one of these ideas a try! Don't know how to eat dates? Don't worry… we're giving you eight delectable ideas to try!
8 Delicious Ways to Eat Dates
1. In a Fruitcake
If you have tried dates before, there's a good chance they were in a fruitcake. Fruitcake is one of the most common ways to use dates in the U.S.
Thanks to a lot of bad recipes out there, fruitcake doesn't have the best reputation. But there are really good fruitcakes, too! Here's our favorite way to make a fruitcake with dates:
2. In a Smoothie
Add pitted dates to your morning smoothie. Just one or two will really sweeten things up! We especially love dates blended with banana and cardamom spice. Dates, orange, banana, and coconut milk is another great combination.
The smoothie below mixes mango, walnuts, kiwi, banana, and dates for a powerhouse combination. Get the recipe here.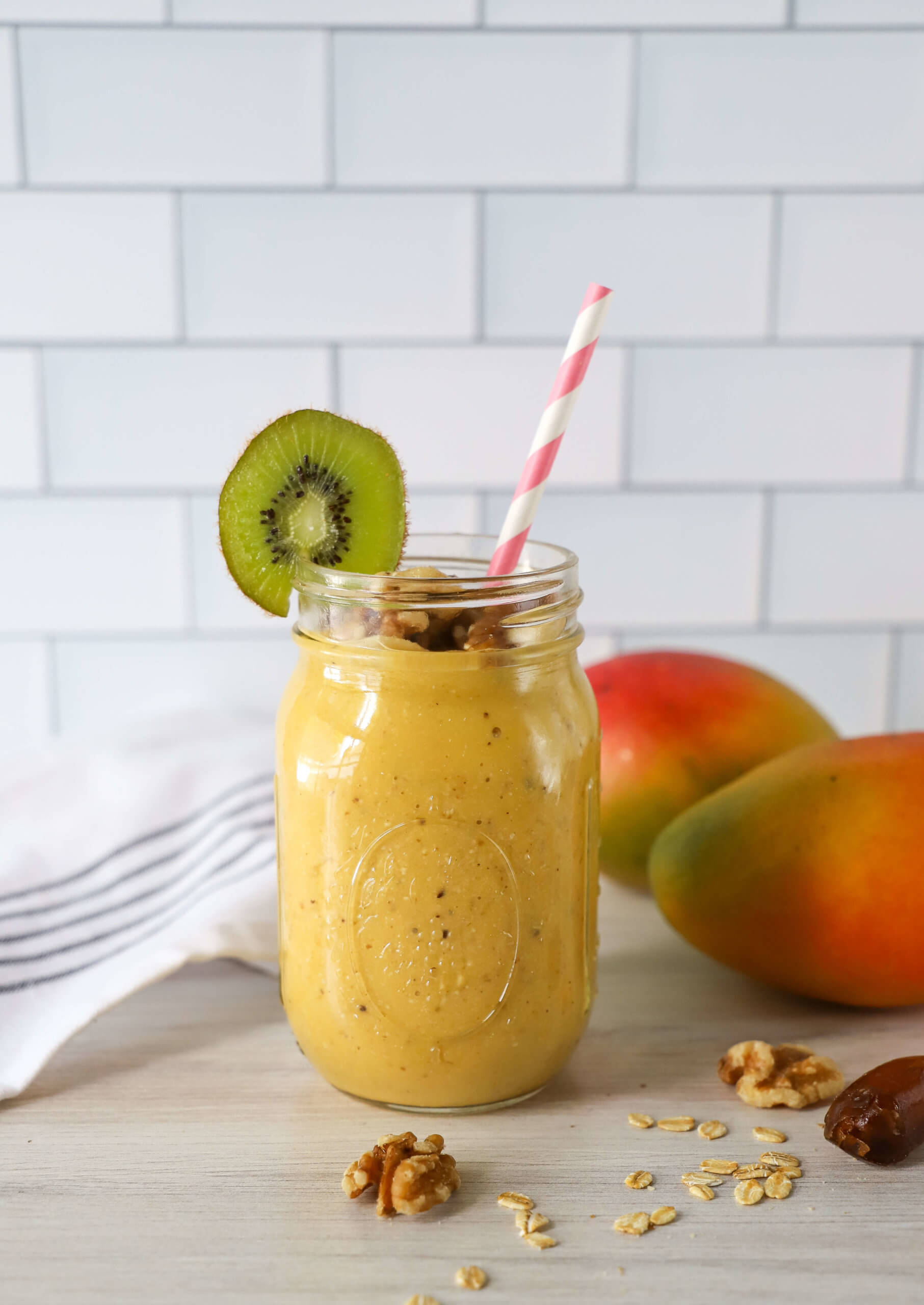 3. Added to Salads
Maybe one of the easiest ways to enjoy dates is to add pitted and chopped dates to salads. Try this combination: Salad greens, dates, walnuts, pears, and blue cheese crumbles. You won't be sorry!
4. Stuffed
Dates can be stuffed with all kinds of goodies! Try stuffing them with goat cheese or cream cheese. Add a little garlic and herbs to the goat cheese mixture and honey and walnuts to the cream cheese mixture.
Love sweets? Stuff dates with peanut butter and you'll swear you're eating a candy bar! Get the recipe for Chocolate-Dipped Peanut Butter Stuffed Dates.
Get creative with your flavors or search Pinterest for mouthwatering ideas!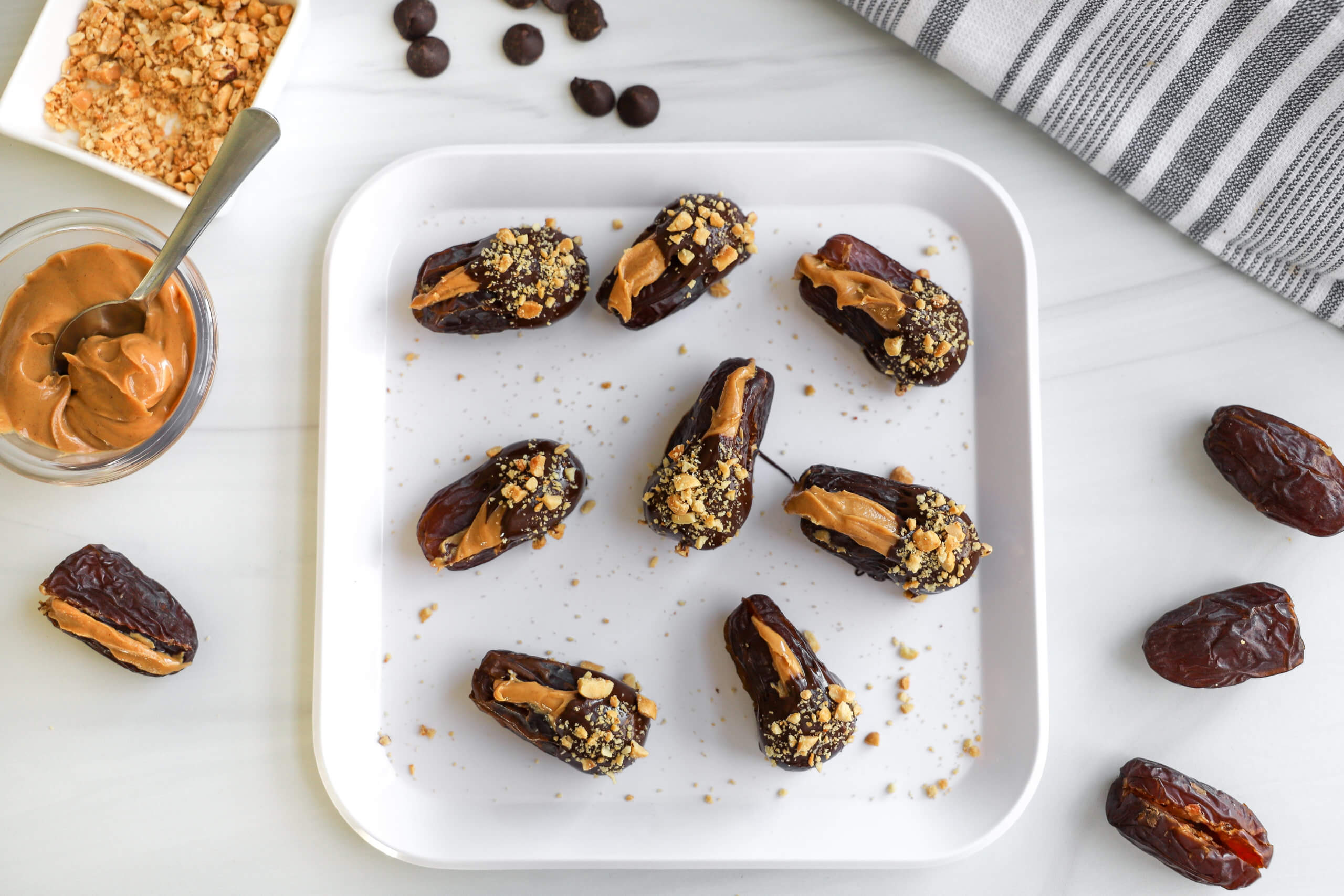 DID YOU KNOW: Dates are one of the sweetest fruits? And because of their high sugar and low water content, they have a very long shelf life. When kept in an air-tight container, they can be stored in the refrigerator for up to 8 months or in the freezer for up to 1 year!
5. Wrapped
Stuffed or unstuffed dates are particularly delicious wrapped in bacon or prosciutto. Serve these on a toothpick at your holiday party and watch your guests swoon!
6. Baked (or not!)
We already discussed that dates are commonly found in fruitcakes, but that's not the only dessert they are delightful in. Dates can also be baked into other types of cakes, cookies, breads and scones.
Dates also work wonders in no-bake desserts, like these No-Bake Mini Caramel Apple Tarts.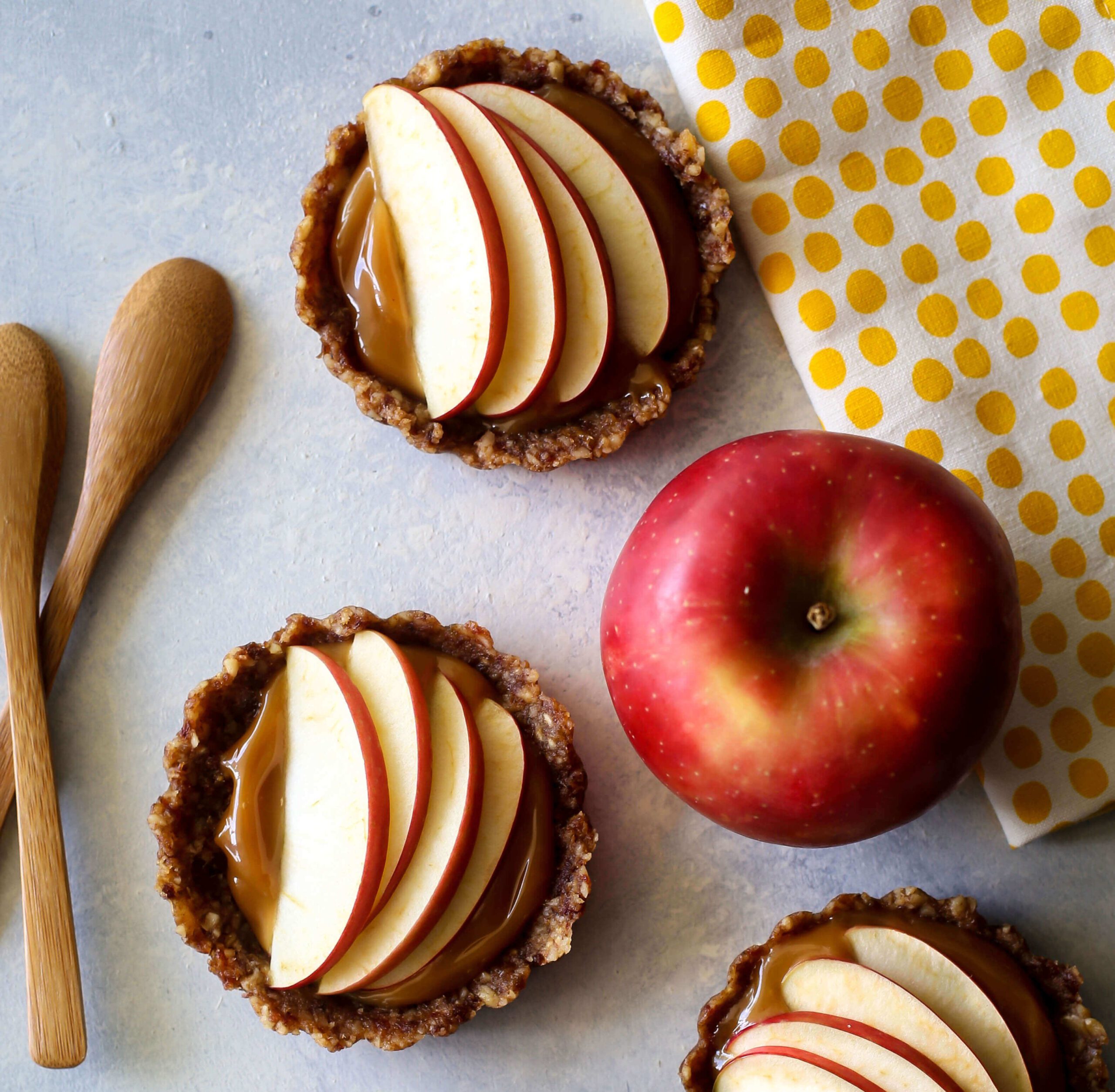 7. On Top of Ice Cream or Frozen Yogurt
Sticky sweet dates on top of ice cream? Yes, please! Pit, chop, and sprinkle them on top for a true ice cream treat.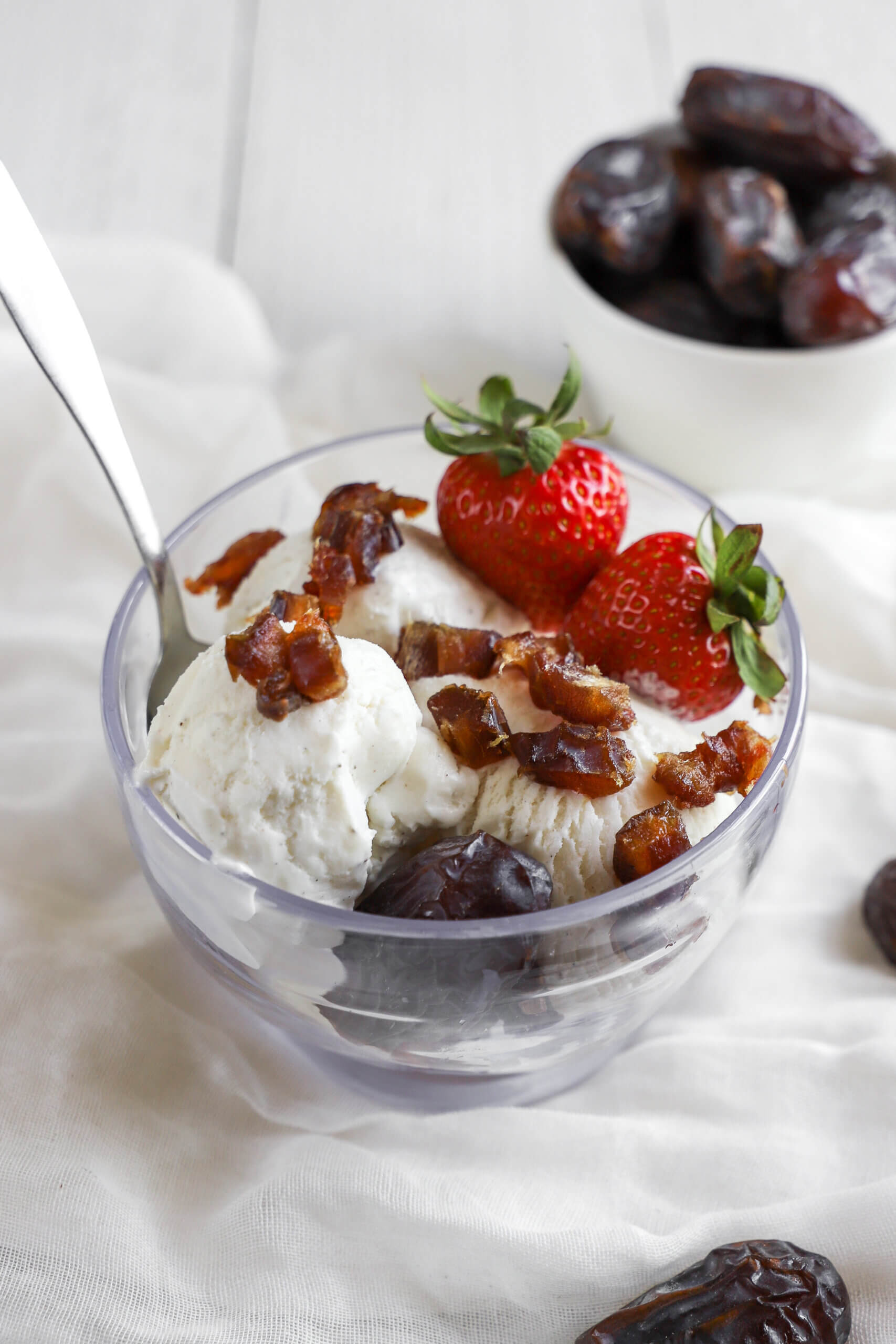 8. Added to Your Breakfast
Who needs little hard marshmallows in their cereal when you can have naturally sweet, sticky dates instead! Dates are also great added to oatmeal, plain Greek yogurt, or on top of pancakes.
A great way to start your day is with these No-Bake Energy Balls featuring raspberries, dark chocolate, and dates. They make for a delicious afternoon pick-me-up too!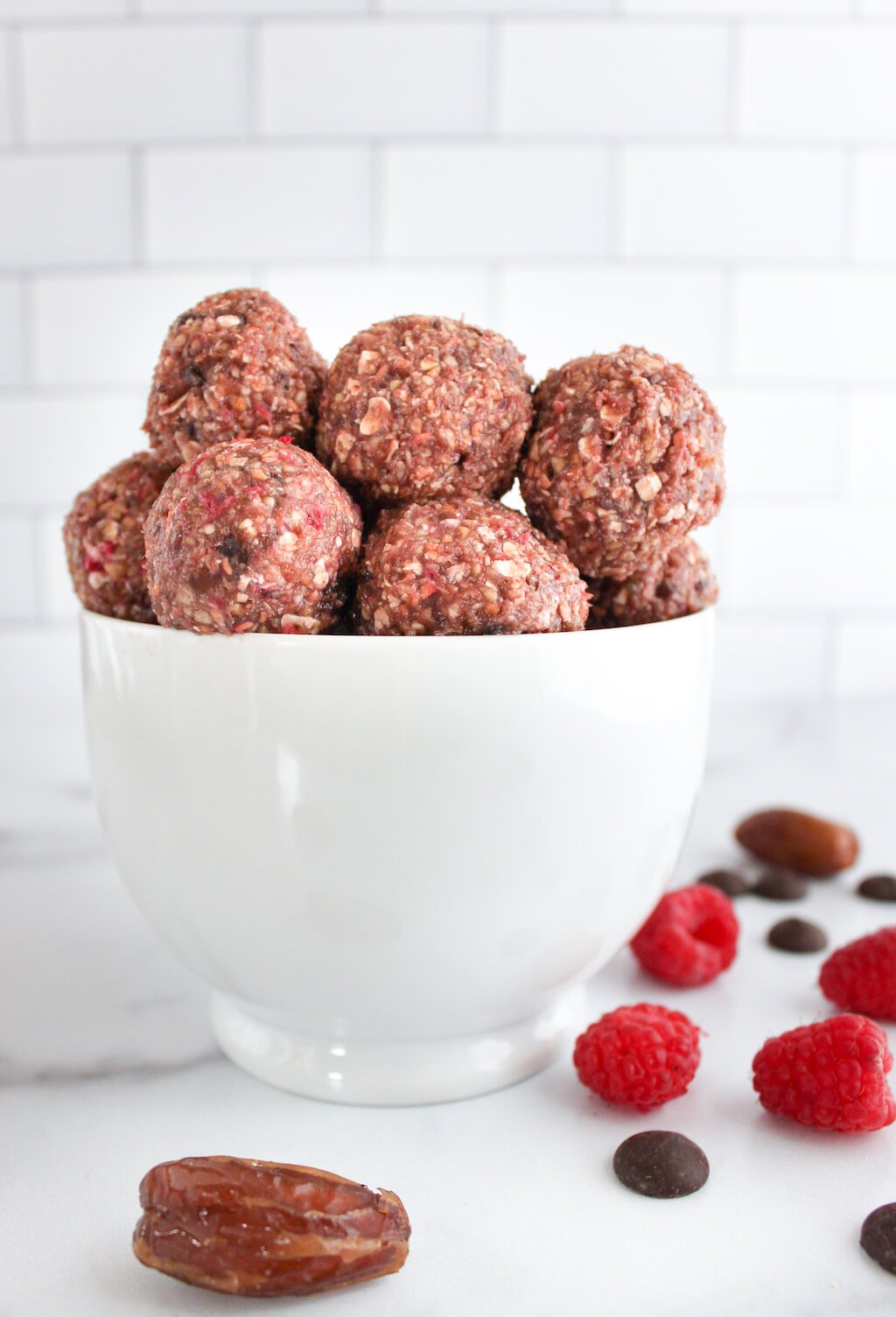 No matter which of these eight ideas you try, we bet you'll end up a big fan of dates!
Which of these ideas will you try? Already a date fan? Share your favorite way to eat dates in the comments below.