Episode 37: Food Safety – Truth, Evidence and Facts with Sonia Salas of Western Growers
The Produce Moms Podcast
Episode 37: Food Safety – Truth, Evidence and Facts with Sonia Salas of Western Growers
"Food safety is an issue that affects all consumers of fresh food across the USA and the world."
As consumers, it is crucial to have confidence in the fresh produce that we are purchasing and consuming. As I'm sure you remember, two days before Thanksgiving in 2018 there was a recall that left consumers without access to romaine lettuce. There has been total chaos and misunderstanding surrounding the E. Coli outbreak that occurred. As a result, it can be difficult to know who to trust, and the appropriate course of action to take when these recalls occur.
Sonia Salas, the Senior Director of Science and Technology at Western Growers, was right in the midst of the action during the outbreak. Western Growers is an association representing local and regional farming families in Arizona, California, New Mexico, and Colorado. Their members produce nearly half of America's organic produce and 94% of the leafy greens grown in California and Arizona. Their members are working hard to find long-term solutions to navigating recalls and outbreaks while building assurance with consumers.
"Last year was very difficult for Romaine producers …  the industry basically closed down resulting in millions and millions of dollars in losses to crops that weren't necessarily implicated."
Romaine farmers are devoted to providing fresh, safe produce to consumers, and they take any potential effect on public health very seriously. The outbreak brought many issues regarding not only public health but food waste and massive economic loss. It is important to understand that this outbreak affected a highly perishable crop. Within three weeks, any contaminated lettuce was decomposed and no longer edible. When a food supply is contaminated it most definitely must be handled in a serious manner and pulled from the shelves. However, the threat to public safety is short-term. In this situation, the threat was managed, but in late December it was still difficult to find romaine in many grocery stores.
Being educated is a key to navigating food recalls as a consumer. Let's break down the facts.  It only takes two individuals who have become sick due to the consumption of a specific food to insight an "outbreak." Once a situation is designated as an outbreak by the CDC and FDA, an investigation is launched to determine whether or not a recall is necessary. There are times when recalls aren't related to an outbreak, but to quality, safety , mislabeling, or a potential for cross-contamination. When the investigation confirms that a particular food item is responsible for the illness, the public is notified through an advisory and/or a recall.  
There has been substantial action taken since the romaine outbreak. A Leafy Green Taskforce was assembled before the official FDA report was even released. There is also a Romaine Lettuce Taskforce that is continuing to identify areas for improvement. One such improvement is the implementation of a new labeling systems for leafy produce. This labeling process will increase traceability to help determine the region responsible for any future outbreaks.
"I do think the romaine labels are a step in the right direction, but we are far from a solution that's going to give consumers the restored confidence they need to have and that they, quite frankly deserve after an outbreak."
Our hope is that the produce industry is free from further outbreaks like the one experienced in November. However, in the event of another advisory and recall, the CDC and FDA will deliver the most up-to-date and reliable information. You can also reach out to trade associations like Western Growers. With an internet full of speculation, opinion, and hearsay make sure you are seeking out verifiable information.
Trade and leadership organizations such as Western Growers are actively working in unison with federal agencies to achieve the best outcome for growers and consumers. They believe in being proactive and focusing on preventative controls to reestablish confidence in the market. You can find more information about them on their website.
Some Topics we talk about in this episode:
Introduction // Sonia Salas – 01:49

Who are Western Growers – 02.44

How Does Food Safety Impact Members of Western Growers? – 05:20

How Does an Outbreak Start? – 08:07

What is the Difference Between Mandatory and Voluntary Recalls? – 11.30

How the Romaine Outbreak Affected Western Growers? – 13:48

Wrap-up – 23:47
How to get involved:
The Produce Moms Podcast is live on iTunes, Google Play, Stitcher and Spotify.  If you like what you are hearing on the podcast, reviews, subscriptions & ratings will help us keep this going!  It would mean the world to hear your feedback, and we'd love for you to help us spread the word!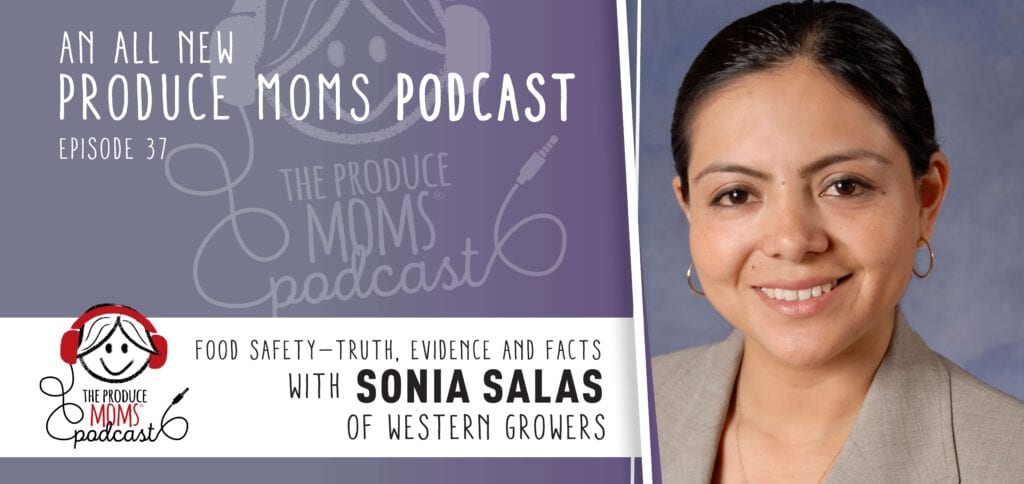 [bctt tweet="Episode 37 of #TheProduceMoms #Podcast features Sonia Salas of @WesternGrowers. Lori talks to Sonia about #foodsafety and the most recent #romaine outbreak that impacted the entire nation!" username="theproducemom"]
Other Episodes You May Like
Episode 36: Responsible Sourcing
Episode 35: Carrying On a Garlic Legacy
Episode 34: Getting Produce Into the Classroom
Episode 33: Looking Back at Episode 1 | Meet Lori Taylor