Episode 48: The Link Between Nutrition and Fertility with Elizabeth Shaw, RD
The Produce Moms Podcast
Episode 48: The Link Between Nutrition and Fertility with Elizabeth Shaw, RD
"There's quite a bit of scientific research that shows a diet rich in fruits and vegetables, whole grains, and lean plant-based proteins can be really conducive to fertility health."
– Elizabeth Shaw (4:15 – 4:45)
Elizabeth Shaw is a registered dietician (RD), a certified personal trainer, and the Founder of Shaw's Simple Swaps, where she provides fact-based nutrition advice. She is a regular contributor to major magazines like Parents Magazine, Fit Pregnancy, and more. Liz is extremely knowledgeable, and a real voice of authority when it comes to fertility nutrition. She is the co-author of the Amazon bestselling book Fertility Foods: 100+ Recipes to Nourish Your Body While Trying to Conceive. She is also the author of the brand new book The Stress-Free IVF Nutrition Guide.
Fresh fruits and vegetables can help you improve fertility health.
We know that proper nutrition is one of the primary foundations for a happy and healthy life. Eating a well-balanced diet that is rich in fresh fruits and vegetables has been linked to numerous health benefits like lower blood pressure, better heart health, improved digestion, and more. But what about fertility? Is it possible to boost your reproductive health by adjusting your diet?
"We already know that omega-3 fatty acids are vital for heart and brain health. Now we're seeing research connecting omega-3 consumption with fetal development and growth, especially in those first thousand days of life." – Elizabeth Shaw (9:15 – 9:31)
Just like many other aspects of your health, eating a wide array of fresh fruits and vegetables can, in fact, have a positive effect on your fertility. Some nutritionists even refer to fresh produce as "fertility foods." In this article, we'll explore some tips on how you can eat the right foods to boost your fertility, along with your overall health.
Both men and women can benefit from fertility foods.
A diet that is conducive to fertility can benefit both the father and the mother. Some studies have shown that foods that are high in antioxidants, like berries and kale, can boost sperm health in men. Although the research has been primarily focused on women so far, it takes both parents to create a life. With that in mind, future fathers would be well-advised to add antioxidant-rich fertility foods to their diets.
Three nutrients you can add to your diet to improve fertility.
Fertility is just one aspect of overall health. If you're eating lots of fresh fruits and veggies regularly, you're more likely to enjoy better health, which includes reproductive health. However, consuming more of the following three nutrients can specifically improve your fertility health.
Choline – Choline is an essential nutrient that is similar to vitamin B, but almost 90% of Americans aren't getting enough of it. It plays a critical role in promoting health in all stages of life, but choline is particularly vital for the development of the fetal brain health. Egg yolks are one of the best sources of choline, along with dark leafy greens. One of the ways you can include more choline in your diet is by adding some steamed collard greens or spinach to your omelet for breakfast.
Omega-3 fatty acids – We know that omega-3 fatty acids are essential for keeping the heart and the brain healthy. We're now discovering that it also plays a vital role in fetal health and development during the critical first thousand days of life. You can add more omega-3 in your diet by eating flax seeds and chia seeds, or by increasing your seafood consumption.
Fiber – Fiber is another vital nutrient when it comes to fertility health, but most Americans aren't getting enough. Consuming adequate fiber will help your body remove excess hormones and keep your blood sugar balanced, keeping you feeling full longer. You can add more fiber in your diet by eating more fresh produce, both raw and cooked.
Can supplements replace natural food sources for essential nutrients?
The answer will vary depending on the person, and the nutrient in question, because different people process certain nutrients differently. For example, some people have a gene mutation which makes it difficult for them to break down and absorb folic acid. They require a methylated form of folic acid to be able to process it and use it to support fetal development and growth.
That being said, the general rule to follow is to try to get all of your nutrients from food sources first. Then you can use supplements as a safety net to cover any nutrients that might be missing from your diet.
"One thing we always recommend at The Produce Moms is to simplify the process by choosing a diet that has an abundance of fruits and vegetables, both in volume and variety." – Lori Taylor (16:46 – 16:58)
With all the conflicting information we see on the news and on social media, it can be easy to get confused about nutrition. It is now more essential than ever to follow credible sources, and to only consume science-based information. You can simplify the process by eating plenty of fresh produce. Make sure to include a variety of different fruits and vegetables, along with whole grains and lean proteins. That is your best bet for getting a wide array of nutrients to support all the functions in your body, including fertility.
Connect with Liz
How to get involved with The Produce Moms
The Produce Moms Podcast is live on iTunes, Google Play, Stitcher and Spotify.  If you like what you are hearing on the podcast, reviews, subscriptions & ratings will help us keep this going!  It would mean the world to hear your feedback, and we'd love for you to help us spread the word!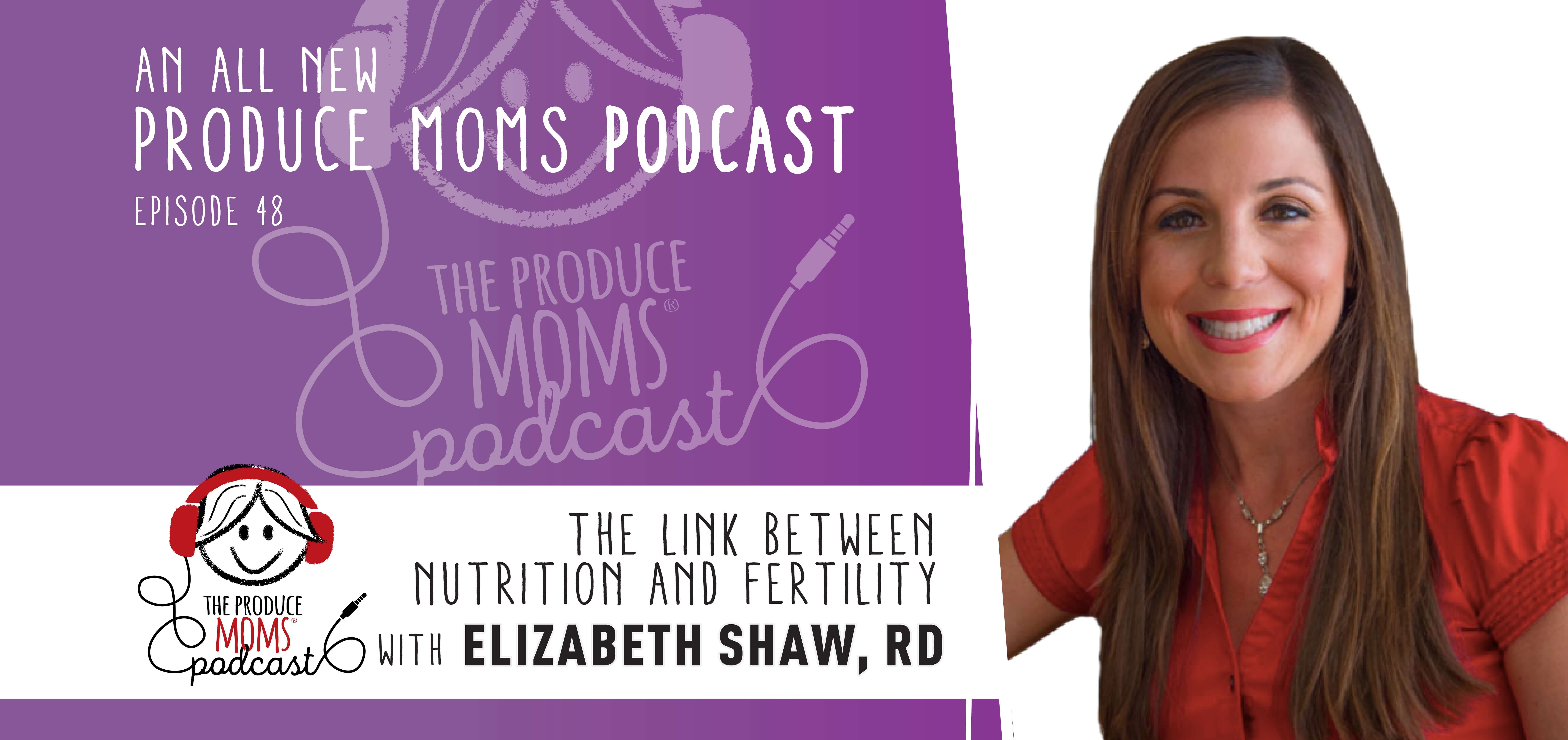 [bctt tweet="Episode 48 of #TheProduceMoms #Podcat features Elizabeth Shaw, RD founder of @shawsimpleswaps. Tune in to learn more about the link betweeen #fertility and #nutrition. " username="theproducemom"]
Other Episodes You May Like
Episode 47: Earth Day Special with Del Monte Fresh Produce
Episode 46: Top Healthy Meal Prep Hacks
Episode 45: How SitckyLickits Is Helping Children Eat More Veggies
Episode 44: Debunking the Myths Surrounding Fresh Produce