Episode 231: Wendy Reinhardt Kapsak
"We believe that eating more fruits and vegetables is the most important action Americans can take to live a happier and healthier life."
Wendy Reinhardt Kapsak (1:23-1:37)
One of our favorite guests, Wendy Reinhardt Kapsak, MS, RDN, President and CEO of the Produce For Better Health Foundation returns for National Fruit and Veggie Month along with some incredible insights on how to help consumers eat more fruits and veggies! If you're not familiar, the Produce for Better Health Foundation is a consumer education foundation dedicated to helping people eat more fruits and vegetables so we can improve public health nationwide. Not only are they focused on educating consumers, they're making great strides in initiating government policy changes and first-of-its-kind research that uses behavioral science.
This year's theme for National Fruit And Vegetable Month is "celebrating the roots of our food". As our supply chain and culture moves farther and farther away from the farm, it is essential we still make connections to the farmers and farmers who are at the root of getting fresh food and produce on our plates! Also, eating fresh fruits and vegetables is the foundation, or root, of healthy eating, and the PBH foundation is working hard to elevate fruit and vegetable consumption across the United States.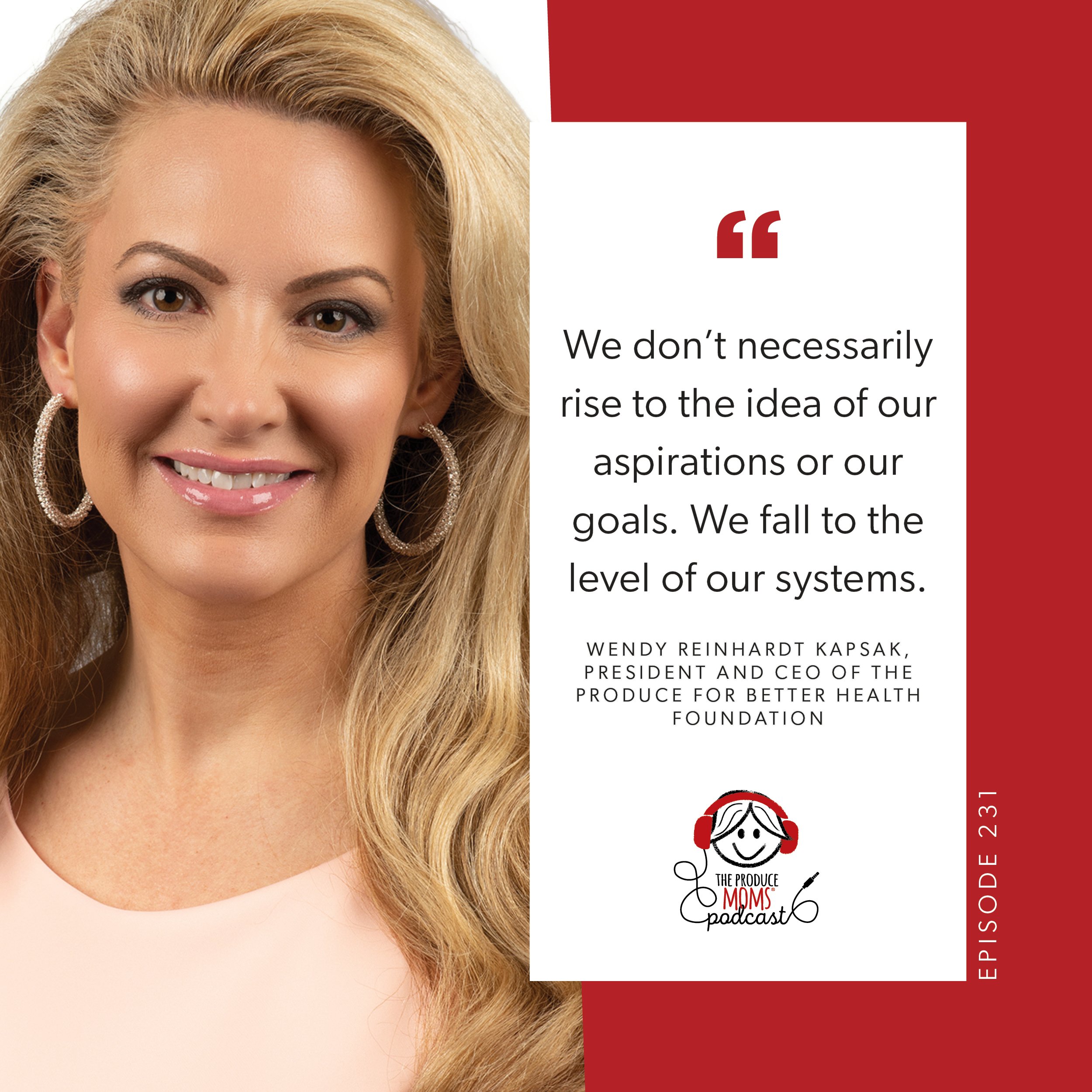 When Wendy spoke with The Produce Moms last time (see Episode 146), she opened our eyes to America's fruit and vegetable consumption and the research they found as a part of the State Of The Plate assessment. Even with the rise of plant-based and plant-forward lifestyles, the State Of The Plate has shown a decline in fruit and vegetable consumption in the last five years and Wendy's suspicions about habits (and lack thereof) had a lot to do with it. Roughly 90% of Americans are not eating enough fruits and vegetables, and that's a trend we're seeing worldwide. Even though we know fresh produce is the healthiest food we can eat, what's making us choose otherwise?
"The vast majority of us know that bite for bite, the healthiest foods you can find at the grocery store are right there in the produce department." Lori Taylor (10:50-10:58)
Lori and Wendy both agree one of the main reasons is because food is a huge part of our culture. We choose to eat certain foods based on the occasions we're going to eat it, the memories we have attached to it, and of course, how it tastes! That's part of why Wendy is committed to focusing on a concept of "food rooted in a better mood". PBH's research has found people reported a higher score for overall happiness the more days they were eating fruits and vegetables. We know that our cultural experiences create an emotional connection to food, so how can we create that same connection we have to, for example, cake and pizza to fruits and vegetables? With PBH's "know, feel, do" framework, we know that repeating an action over time can help make it become a habit, and it starts with an emotional connection. Once something is a habit, it's an ingrained part of our routine that's almost un-thought of, so if eating fruits and vegetables can be habitual, we'll increase our happiness and our overall health.
Part of the reason PBH is so dedicated to consumer research is to help impact government policy. The foundation released a gap analysis which analyzed the gap between dietary guidance and federal funding which indeed found a gap between funding and fruit and vegetable consumption being a priority. This is where PBH's behavioral science research comes into play, to create data-backed information that can be presented to Congress to show why and how fruit and vegetable consumption has been declining, and what we can do to change consumer behavior.
With the "know, feel and do" framework, PBH shows that the real impact comes when we "do" something, and if we want people to do something, it needs to be easy. It's "easy" to "say" we aspire to eat more fruits and vegetables, but actually implementing that on a regular basis is much different. "Easy" is also relative. What's easy for one person to do or turn into a habit might not be easy for another. Is a fruit or vegetable easy to cook? Purchase? Transport? Store at home? Serve to kids? At the end of the day, "easy" is what will help create a habit, and PBH has been researching different types of consumers and what's easy for each of them to help increase their rate of fruit and vegetable consumption.
PBH created a new habit index through their scientific advisory council that used academic research and found a major difference in fruit and vegetable consumption in relation to shopping habits and consumption habits. They found that consumers with a higher shopping habit created the most food waste, and didn't necessarily have a higher consumption of produce, which proves that each type of consumer needs a different strategy or approach to helping them eat more fresh produce. There are four components to a habit. First, a cue, such as an alarm clock going off, or something that is so habitual you don't even realize it. Then, there's the actual behavior itself, such as eating fruits and vegetables, or brushing your teeth at night. Next is a reward, such as flavor, an enjoyable experience, or good mood. Lastly, there's repetition. There needs to be a lot of repetition before something becomes a habit. Habitual opportunities for fruits are different than they are for vegetables, and vary depending on the age of the individual (ie. children versus adults).
"Habit opportunities for fruits are very different then the habit opportunities for vegetables." Wendy Reinhardt Kapsak (40:37-40:44)
Wendy sees a big opportunity for "piggy back behavior", such as creating a habit of eating fruits or vegetables on top of an already ingrained habit, such as "taco Tuesday" or "pizza Fridays". Instead of creating new and exciting ideas, Wendy says we need to focus on reaching more consumers with simple, easy ones. A great suggestion for making fruit and vegetable consumption a habit comes from Lori, who always preps her fruits and vegetables first when cooking, and serves them first too. This ensures that, even if she's still preparing the rest of the meal, or if someone is at the beginning of the serving buffet, they're eating fruits and vegetables at the beginning of their meal or snacking on them without really thinking about it.
It's hacks like this and many others that Wendy talks about that research has shown both low-consuming and high-consuming fruit and vegetable users will double their consumption! PBH will release an executive summary at the end of September with details on the data described above and plenty of statistics to show the undeniable correlation between fruit and vegetable consumption, behavior, mood and habits. You can find the summary and celebrate fruits and vegetables all month long by following @fruitsandveggies on Instagram, and visiting www.fruitsandveggies.org/research!
How to get involved
Join The Produce Moms Group on Facebook and continue the discussion every week!
Reach out to us – we'd love to hear more about where you are in life and business! Find out more here.
If you liked this episode, be sure to subscribe and leave a quick review on iTunes. It would mean the world to hear your feedback and we'd love for you to help us spread the word!
Previous episodes you may enjoy