Episode 225: Dana Gunders
When it comes to food waste around the world, the statistics are staggering. We all know it's a problem and almost every country is fighting it. What can we do to effectively decrease our food waste (and the carbon emissions that come with it), decrease food insecurity, and create the food system we desire? ReFED is the leader in data-driven solutions to fight food waste, working across the food system to cut food loss and waste in half by 2030.
Dana Gunders, Executive Director of ReFED says they can only accomplish this with massive participation. It's estimated that over 400 billion dollars' worth of food (about 2% of the GDP) is wasted, and if the food waste in America was eradicated alone, it would feed our country's food insecure population three times over! That's why ReFED is working in multiple ways to educate and inform and assist the individuals and companies who want to put their dollars towards efforts that are going to implement the most change in the quickest manner.
"When folks allocate financial resources for a macro issue like food waste, they need the guidance of an institution like ReFED to make sure that investment is going towards a noble cause." Lori Taylor (10:16-10:30)
The first pillar of work ReFED is focused on is collecting accurate data. No one's collecting data when they're throwing the garbage out, so a lot of estimating is still required. ReFED wants to paint an accurate picture of what's going on, so people know where to focus their efforts. One way they do this is through a data platform on their website that's analyzed 42 solutions and their efficiency rate. Their second pillar of work is in the investment space, where they also have a capital tracker that monitors investment on their website. There's been quite a recent explosion of innovative startups and investment directed towards food waste and ReFED wants to catalyze investment through public, philanthropic, and private dollars.
Did you know about 35% of food grown in the United States ends up in the trash? 37% of that food waste is created at the household level, with the number one product of that waste being produce, and the number two being leftovers.
Even though ReFED doesn't work to reach consumers directly, their role in connecting companies, small businesses, stakeholders, researchers, and local governments with one another has a greater impact. For example, there's over 200 companies globally who have made some sort of commitment to helping eradicate food waste, but they need ReFED's help in understanding how to reach that goal. They're also working to encourage federal agencies to create a consumer awareness campaign to spread this information further. Grocery retailers, like Kroger and their Zero Hunger Zero Waste commitment (which has already seen a 19% reduction in waste), have been doing a great job at driving forward sustainability initiatives, like educating consumers on how to use produce once it's wilted or bruised.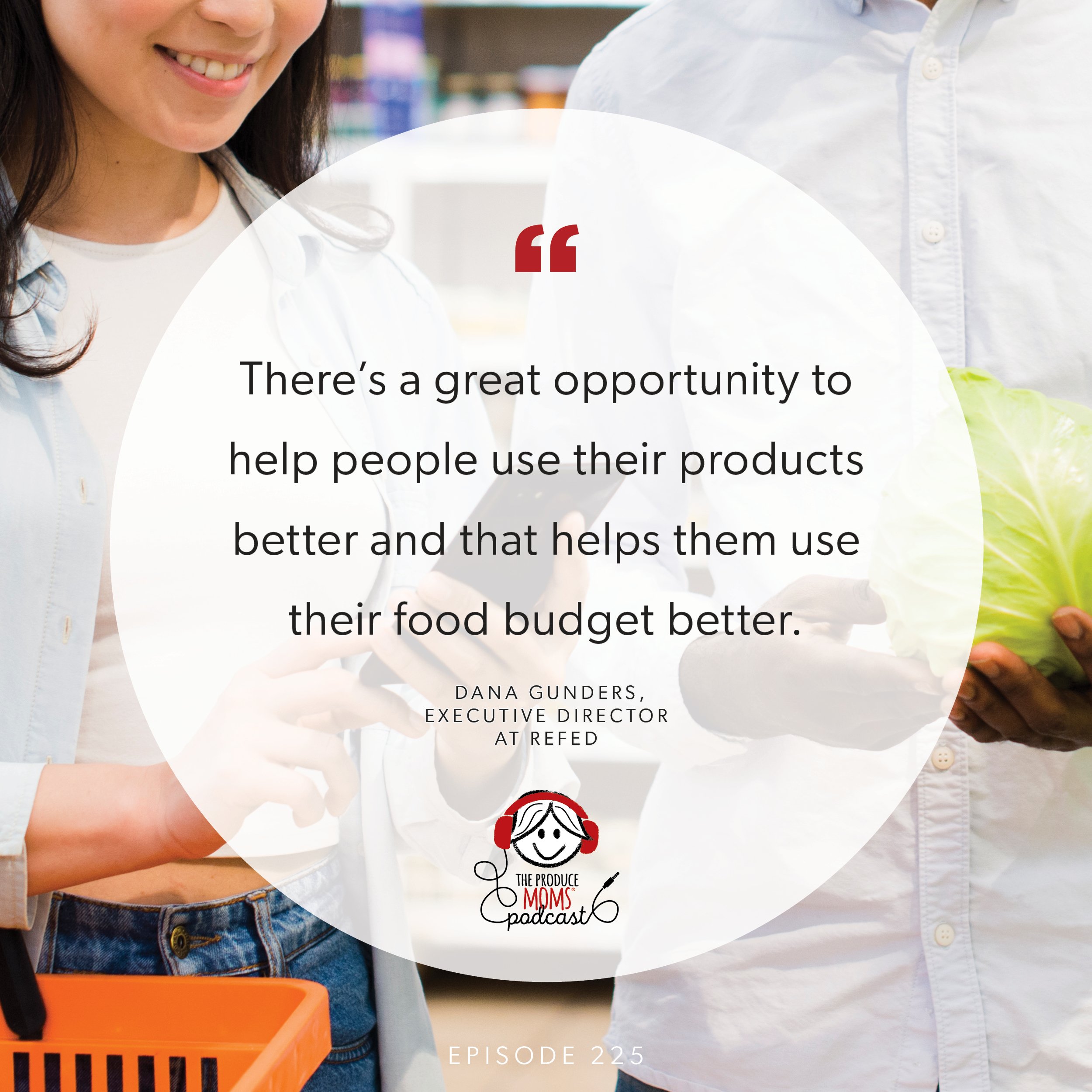 Considering the average family of four is spending ~ $2,000 on food they aren't actually eating, implementing changes that help reduce waste should be high on everyone's list! Outside of ReFED, Dana has written her own book called The Waste Free Kitchen Handbook, which you can learn more about on Episode 79, that offers strategies, references, recipes and a directory of produce which shows you how to use food items up in a clever way when you might've just thrown them out. For example, Dana's book has a delicious berry avocado chocolate mousse recipe that uses overripe berries and avocados that are brown! There's plenty of action for us to take across the entire food supply chain and starting with Dana's book or learning more on ReFED's website is how you can make a major difference in your kitchen at home. Visit ReFED's website at www.refed.org and listen to Episode 79 to learn more about the actionable strategies you can start implementing today with Dana's book.
How to get involved
Join The Produce Moms Group on Facebook and continue the discussion every week!
Reach out to us – we'd love to hear more about where you are in life and business! Find out more here.
If you liked this episode, be sure to subscribe and leave a quick review on iTunes. It would mean the world to hear your feedback and we'd love for you to help us spread the word!
Previous episodes you may enjoy