Episode 20: Feeding the Nation with Shara Merten, CEO of Yuma Food Bank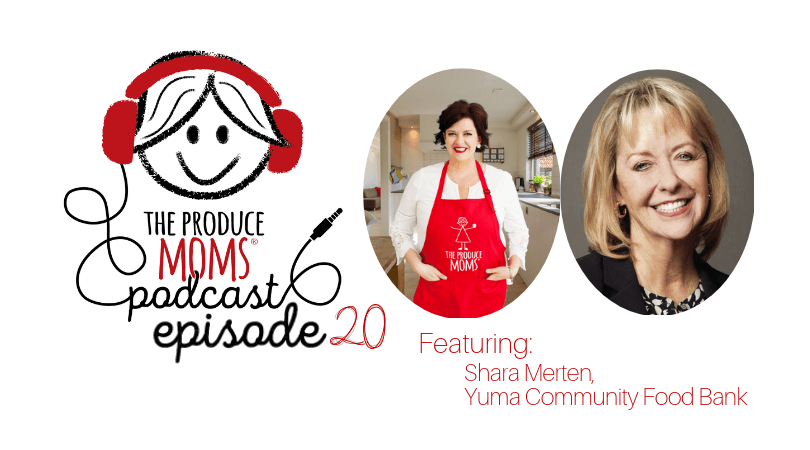 The Produce Moms Podcast Episode 20
Feeding the Nation with Shara Merten, CEO of Yuma Food Bank
"The solution to our food insecurity lies within the networking and donors. "
This week on The Produce Moms Podcast, Lori spends time talking to the CEO of the Yuma Community Food Bank. This community food bank is the largest food effort in all of Yuma and La Paz County, Arizona. To give perspective, Yuma itself has 205,000 inhabitants, and there are 200,000 individuals that benefit from the food bank! It truly is a vital part of the community.
"We are the end of the supply chain for all of the fresh-grown produce. That way it doesn't go into the landfill. We find places for it."
While the primary focus of the food bank is the community of Yuma, the produce that thrives there in the winter is the only source of US-based produce! Not only are they feeding the food-insecure in Yuma, but they are feeding America during the winter months. The most challenging time of year for the community is the summer when less produce is readily available, and children are out of school. During these months, the Yuma Food Bank partners with the Feeding America Network, to make sure the individuals in their community still have access to fresh produce.
"Volunteers are really the foundation of the work staff that we have. Getting people to volunteer their time is a treasure… Having community time with your family at the food bank has a double side. It teaches our youth that there is more to the world than what revolves around them."
The Yuma Food Bank is such an amazing example of a network of people who have joined together to help make the community and the world a better place.
Check out yumafoodbank.org to learn more! You'll also want to head over to feedingamerica.org, a partner in Yuma's efforts, and one of the nation's leading resources for providing hunger relief.
Some Topics we talk about in this episode:
Introduction // Shara Merten – 1:30

Where is the Yuma Food Bank – 3:40

The Impact of the Yuma Food Bank – 6:08

Yuma's Distribution – 10:41

About the Feeding America Network – 13:12

How to Get Involved – 17:06

Looking at the Legacy of Yuma and Moving Forward – 20:30

Wrap-up – 25:36
Get the Kroger OptUp App on the App Store and Google or visit www.optupapp.com for more info!
How to get involved
The Produce Moms Podcast is live on iTunes, Google Play, Stitcher, and coming soon to Spotify.  If you like what you are hearing on the podcast, reviews, subscriptions & ratings will help us keep this going!  It would mean the world to hear your feedback, and we'd love for you to help us spread the word!
[bctt tweet="In Episode 20 of #TheProduceMoms #Podcast, we learn how @YumaFoodBank is helping food insecure homes locally and nationally! Tune in to hear more about their mission and efforts!" username="theproducemom"]

Other Episode You May Like
Episode 19: Pulp Fact of Fiction
Episode 18: Spittin' Seeds with the Watermelon Board
Episode 17: Improving Fast Food Nutrition at Taco Bell
Episode 16: A Recap of Our Best Episodes and a Preview of What's to Come