Avocado Face Mask – Simple and Rejuvenating!
Jun 22, 2021, Updated Jan 03, 2022
We love avocados! We love spreading them on toast, on sandwiches, and now… on our faces? It's not as strange as it sounds! Skip the expensive store-bought face masks and give yourself a DIY home spa day with this Avocado Face Mask. We'll show you how to turn your avocados into a luxurious, creamy mask that will leave your skin feeling soft and refreshed!
How To Make An Avocado Face Mask
Whether you're trying to soothe wrinkles and age spots or deal with acne and oily skin, face masks can be an important part of any skincare routine. But spa trips can be costly and even the face masks in stores can come with a hefty price tag, especially with repeated use. This Avocado Face Mask is an inexpensive way to get a spa-worthy face cleanse. And you control the ingredients that go into it, meaning you won't be spreading any mystery ingredients on your face!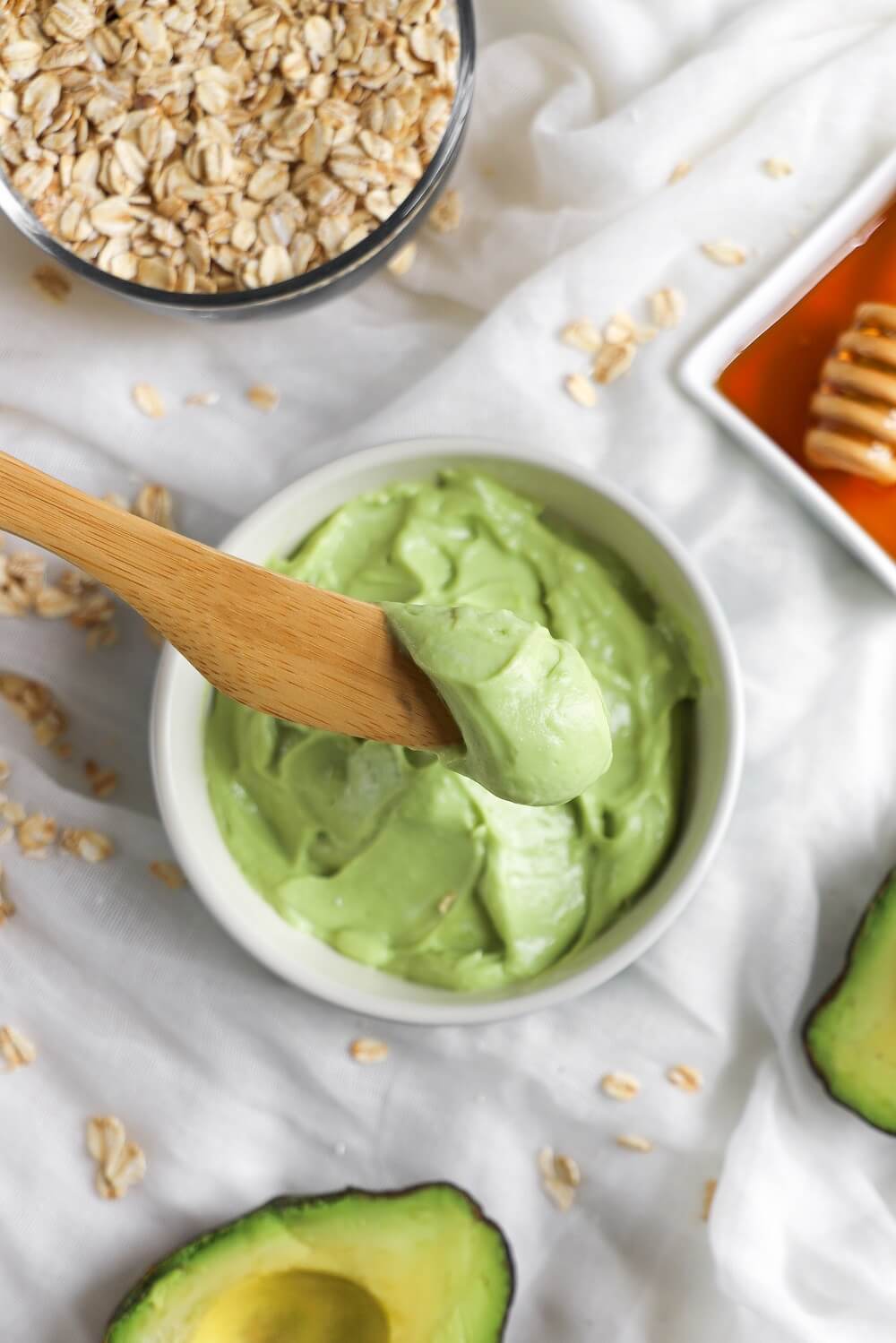 Our Avocado Face Mask includes plain Greek yogurt, honey, apple cider vinegar, and of course, creamy avocados! Use a blender to get a silky-smooth texture in your face mask. You can use either the typical Hass avocado or the larger tropical avocado in this mask.
When we eat avocados, we like them to be just firm enough to keep their shape. But you don't want to spread chunks of avocado on your face, right? This face mask is a great way to use overripe avocados that are just starting to go bad and are a little too soft for eating. They may not be good for sandwiches or guac anymore, but their soft and cool texture is still perfect for moisturizing your face.
Some masks include a coarse or rough material to help exfoliate your skin and clean your pores. Ours uses something you might already have in your pantry: rolled oats! With the help of soothing, rejuvenating avocado, oats will help clean your skin and remove sweat, dirt, and buildup that doesn't come off with a normal face washing. If you're looking for a smooth, creamy mask experience without the exfoliant, simply leave out the rolled oats.
Ingredients
1

avocado

1/3

cup

plain Greek yogurt

2

tbsp

honey

1/2

tsp

apple cider vinegar

2

tbsp

rolled oats

optional
Instructions
Place all ingredients in a blender and blend until smooth.
Nutrition information is automatically calculated, so should only be used as an approximation.
Like this? Leave a comment below!
Using Your Avocado Face Mask
Face masks are easy to use. Just apply them to your face and relax! This Avocado Face Mask is no different. This mask should only be applied to a clean face, so wash your face before you use it. While it can be used at room temperature, we recommend letting the mask sit in the refrigerator for an hour or two before you use it to make it even more cool and refreshing. A chilled mask will enhance your spa experience!
When you're ready to apply it, spread the mask thickly and evenly on your face, avoiding your eyes, lips, and nostrils. Sit back, relax, and let the mask mixture rejuvenate your skin. Optionally, show off your green face to your friends and loved ones – they'll get a kick out of it! After about 15 to 20 minutes, remove the mask by wiping your face clean with a damp washcloth or towel.
This mask can be used on all skin types and will leave your face feeling soft and refreshed afterwards, just as it would with a traditional store-bought mask. What did you think of this Avocado Face Mask? Tell us about your mask experience in the comments or tag us in your home spa photos on Instagram @theproducemoms!