Deviled Strawberries — A Bite-Size, Low-Carb, and Sweet Treat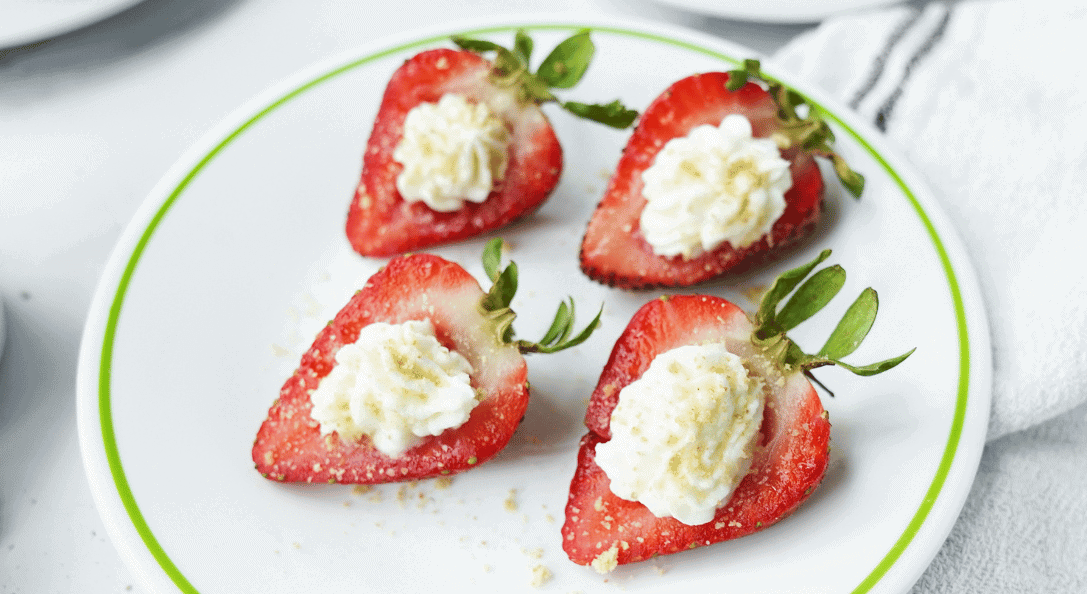 Deviled strawberries are blowing up on TikTok and now we know why. This sweet, juicy, fresh, and nutritious no-bake dessert is one that you and your kids will want over and over again. Ready in under 20 minutes, this makes the perfect party appetizer, kid-friendly dessert, or date night snack.
Sweet, healthy, juicy, and nutritious… As moms, we want all of the above for our kids when it comes to the food we give them.
But are we asking too much?
Nope. You can have it all, and so can your family.
The Deviled Strawberries recipe is sponsored by Naturipe®.
Deviled strawberries are packed with nutrients, natural sugars, and easy-to-work-with ingredients that don't require any baking.
In fact, if you decide to make this JUST for you and your partner, we won't tell.
You deserve it.
What Are Deviled Strawberries?
If you haven't seen this sweet little, no-bake dessert on TikTok yet, you're in for a treat. Deviled strawberries are:
Made with

gorgeous, fresh strawberries

as the base.

Piped with

a dreamy cream cheese filling.

Topped with

classic crushed graham crackers.
It's got all of the makings of a strawberry cheesecake without all the hassle.
No baking, no water bath, and no waiting.
What could be better than that?
Ingredients
To make deviled strawberries, all you need is a piping bag and six simple ingredients. Good quality ingredients, especially when it comes to fruits and veggies, can elevate a recipe from "meh" to "Can I have this recipe?" And, of course, if you can make something sweet for your kids with loads of vitamins and nutrients, that's the cherry on top.
Let's get your ingredients.
1. Strawberries
Naturipe® grows strawberries year-round right in California. That means that you can make these deviled strawberries whenever you get a hankering, even in the winter.
Strawberries have natural sugars and fiber in them. This is good news for us moms because the fiber helps our bodies slowly absorb the fructose (natural sugar) from strawberries. This delicious berry is also packed with vitamin C. Your kids get a sweet, juicy treat, and you can feel good about giving it to them.1 
Look for the Naturipe® label in the produce department of your local grocery store. 
Related: Ask the Produce Expert – Naturipe®
2. Cream Cheese
The classic creamy texture of cheesecake you love so much comes from the cream cheese. Cream cheese is a solid choice in baking because the more it heats up, the more it puffs up. On the nutrient side of things, cream cheese is a dairy product. It's full of protein and calcium for strong bones and teeth and for building and repairing muscles. All positive things we want for our kids as they grow.
Since we're not baking this delectable dessert, you can also fill your deviled strawberries with cottage cheese, ricotta cheese, or Greek yogurt to switch up the flavor and texture. No matter which cheese you use, always choose full-fat for the best results.
3. Sugar
Since strawberries already have natural sugars, you hardly need extra sugar added in. Instead, we're adding just enough sugar to the cream cheese, so it  has a good balanced flavor and is as smooth as butter. As the cream cheese and sugar are beaten together, the sugar melts, giving the cream cheese a light and fluffy texture. Be sure not to skip this step for a classic cheesecake topping on your deviled strawberries. 4
4. Lemon Juice
Just a quarter of a teaspoon is all you need to enhance the flavor of your cream cheese filling. The tart, acidic aspects from lemon juice can actually make your deviled strawberries taste sweeter and add a touch of brightness to your filling. Cream cheese has a bad habit of forming clumps, so we use lemon juice to help break those down for a smooth, creamy texture.
You can also use real lemons. They have the same acidic components, but it will likely change the taste of your filling. Just a heads up!
5. Vanilla Extract
Opposite to the rest of our ingredients so far, vanilla extract is entirely for taste and doesn't affect the texture of your deviled strawberry filling. We love to use pure vanilla extract because the flavor is much more intense, so you don't need as much. Just a quarter of a teaspoon brings out all of the sweet, creamy, and juicy flavors of this recipe.
6. Whipping Cream
Cream cheese isn't known for being light and airy… but heavy whipping cream is. Whip your heavy cream in a separate mixing bowl and add it to your cream cheese mixture. This is how you lighten up the texture and soften the cream cheese even more for the classic cheesecake taste. When combined, the filling can hold its shape better as you pipe it into the strawberries.
How to Make Deviled Strawberries
Step 1: Use a knife to cut your strawberries in half. Arrange them, cut side up, on a serving plate, and use a small spoon to scoop out the middle. Then, set aside.
Step 2: Add the cream cheese, sugar, lemon juice, and vanilla to a medium mixing bowl. Use an electric mixer to beat the ingredients until they are combined and smooth. Set that bowl aside.
Step 3: In a separate mixing bowl, beat the whipping cream with your electric mixer until stiff peaks form. If the peaks flop over, it needs more mixing time.
Step 4: Transfer the whipped cream to the bowl with the cream cheese mixture. Use a spatula to gently scoop from the bottom of the bowl and fold the two mixtures together. Continue folding until they are combined.
Step 5: Move the cream cheese filling into a piping bag and pipe each strawberry.
Step 6: Add a few graham crackers to a Ziploc bag and crush the crackers. Then, dust your deviled strawberries, as much or as little as you'd like, and serve!
Related: How to Make Deviled Strawberries – Tik Tok
How to Select Strawberries
Strawberries should be stored in a refrigerated section of your grocery store. Once you find the clamshell packaging of strawberries, here are a couple of things to look out for:
Check if the strawberries are

dry, clean, firm, and plump.

Ripe strawberries should be

fully red, without any white coloring at the top.
Don't pay too much attention to size because all of them, small or large, are sweet.
How to Store Deviled Strawberries
We recommend eating your deviled strawberries right away. However, if you've eaten one too many and don't have enough helpers to eat them, we recommend storing the strawberries and cream cheese filling separately.
If you already assembled your strawberries, place as many as you can in a single layer in an airtight container. Then, eat within a day or two.
Why We Love Naturipe®
Naturipe® is passionate about how they grow their berries so you and your family have high-quality, juicy berries all year long. They are a grower-owned operation of family farmers who are just as passionate as we are about caring for nature as we grow our food. These farmers have grouped together under the Naturipe® name to focus on quality and sustainability while producing delicious berries for you and your family year-round.
Look for the green or white Naturipe® label to help you make the best deviled strawberries.
Related: All About Naturipe Farms
Fresh Strawberry Recipes
Deviled Strawberries
Whip up a cheesecake filling and stuff your strawberries for easy, no-bake deviled strawberries. Dust with crushed graham crackers for the complete strawberry cheesecake bite.
Ingredients
24

large

Naturipe® strawberries

cut in half

1

package

cream cheese

softened

2

tablespoons

sugar

1/4

teaspoon

lemon juice

1/4

teaspoon

vanilla extract

1 1/2

cup

heavy whipping cream

graham crackers

crushed
Instructions
Slice your strawberries in half, arrange on a plate, and set aside.

In a medium mixing bowl, beat the cream cheese, sugar, lemon juice, and vanilla until combined, with a smooth texture.

In a separate bowl, use your electric mixer to beat the whipping cream until it forms stiff peaks.

Use a spatula to fold the whipped cream into the cream cheese mixture until the ingredients are combined. Transfer the cream mixture to a piping bag.

Pipe the cream cheese mixture onto each strawberry half.

Sprinkle graham cracker crumbs over the top of your deviled strawberries and serve.
Video
Nutrition
Calories:
48
kcal
|
Carbohydrates:
2
g
|
Protein:
1
g
|
Fat:
4
g
|
Saturated Fat:
3
g
|
Polyunsaturated Fat:
0.2
g
|
Monounsaturated Fat:
1
g
|
Cholesterol:
13
mg
|
Sodium:
17
mg
|
Potassium:
34
mg
|
Fiber:
0.3
g
|
Sugar:
2
g
|
Vitamin A:
174
IU
|
Vitamin C:
8
mg
|
Calcium:
12
mg
|
Iron:
0.1
mg
Nutrition information is automatically calculated, so should only be used as an approximation.
Like this? Leave a comment below!