All About Naturipe Farms' Strawberries
This post is sponsored by Naturipe Farms®
Now is the time to celebrate National Strawberry Month with  Naturipe® Farms!
If there's one fruit that's great for lifting spirits, it's the strawberry. This sweet, juicy, and versatile berry is the perfect snack or ingredient for your quarantine meals. And it's good for you, too!
During the COVID-19 pandemic, the people who get produce from the field to your shopping cart are more important than ever. We look to our partners at Naturipe® Farms to learn the story of the strawberries at your local grocery store.
DID YOU KNOW: May is National Strawberry Month!
What is Naturipe® Farms?
If every farm tried to manage shipping out their produce independently, you probably wouldn't see as many tasty strawberries in your local grocery store and the quality might vary. Naturipe Farms is a solution to that problem.
A partnership between four major fresh berry growers, Naturipe Farms is a grower-owned organization that promotes sustainability, responsible farming, and locally-grown produce. Steadily growing since 1917, their "Family of Farmers" now stretches across North and South America. You can find the Naturipe Farms label on strawberries, blueberries, raspberries, cranberries, blackberries, and avocados.
LISTEN: Naturipe is an innovator in eco-friendly packaging and sustainable practices. Learn more on The Produce Moms podcast. 
Where do my strawberries come from?
Strawberry plants thrive in coastal climates with warm days and cool nights, with growing season peaking between March and August. Locations in California and Mexico enable Naturipe strawberry farms to produce fruit year-round. This means you can find them in the grocery store no matter what season your craving hits!
In California, Naturipe strawberries are grown in Watsonville, Salinas, Santa Maria, and Oxnard at farms like the ones run by the Ito family. Bill Ito and his brother and cousins are second and third-generation strawberry farmers. They raise their strawberries in Ventura County in the cool Pacific climate. Ito Farms takes great pride in the family business of producing healthy strawberries that customers love.
How are strawberries grown and harvested?
Harvesters work hard all year round to bring the best fruit to strawberry lovers everywhere, even during this pandemic.
A strawberry field is made up of thick rows of plants separated by paths just wide enough for a small pushcart. The plants normally bloom as soon as the weather warms in the early spring. About four weeks later, bright red strawberries will be ready to harvest! They'll continue to flower and bear fruit throughout the growing season.
Picking strawberries at peak ripeness takes skill and experience. Harvesters check each plant in a row for the ripest strawberries based on their size and color. They leave less ripened berries on the plant to be harvested when they come back through the row about two to three days later.
Harvesters pick ripe strawberries by hand and place them in clamshell containers, right there in the field. That means the last person who touched your strawberry was the person who picked it! Once a clamshell is filled, it's inspected and sent to a cooler to await shipping. Temperature-regulated trucks then deliver the strawberries to grocery stores across the country.
Our founder, Lori Taylor, had a chance to visit the Naturipe strawberry fields in 2018. You can watch the tour below.
RELATED: How to properly wash produce
What's in a strawberry?
Strawberries contain many essential vitamins and minerals and are a great choice to help you eat healthy while you self-quarantine. They are high in vitamin C, an essential antioxidant, and potassium, which helps regulate blood pressure and promote heart health. The proper serving size of strawberries is one cup, which only contains 45 calories. Naturipe strawberry farms produce both conventional and organic fruit, giving you options in the produce section.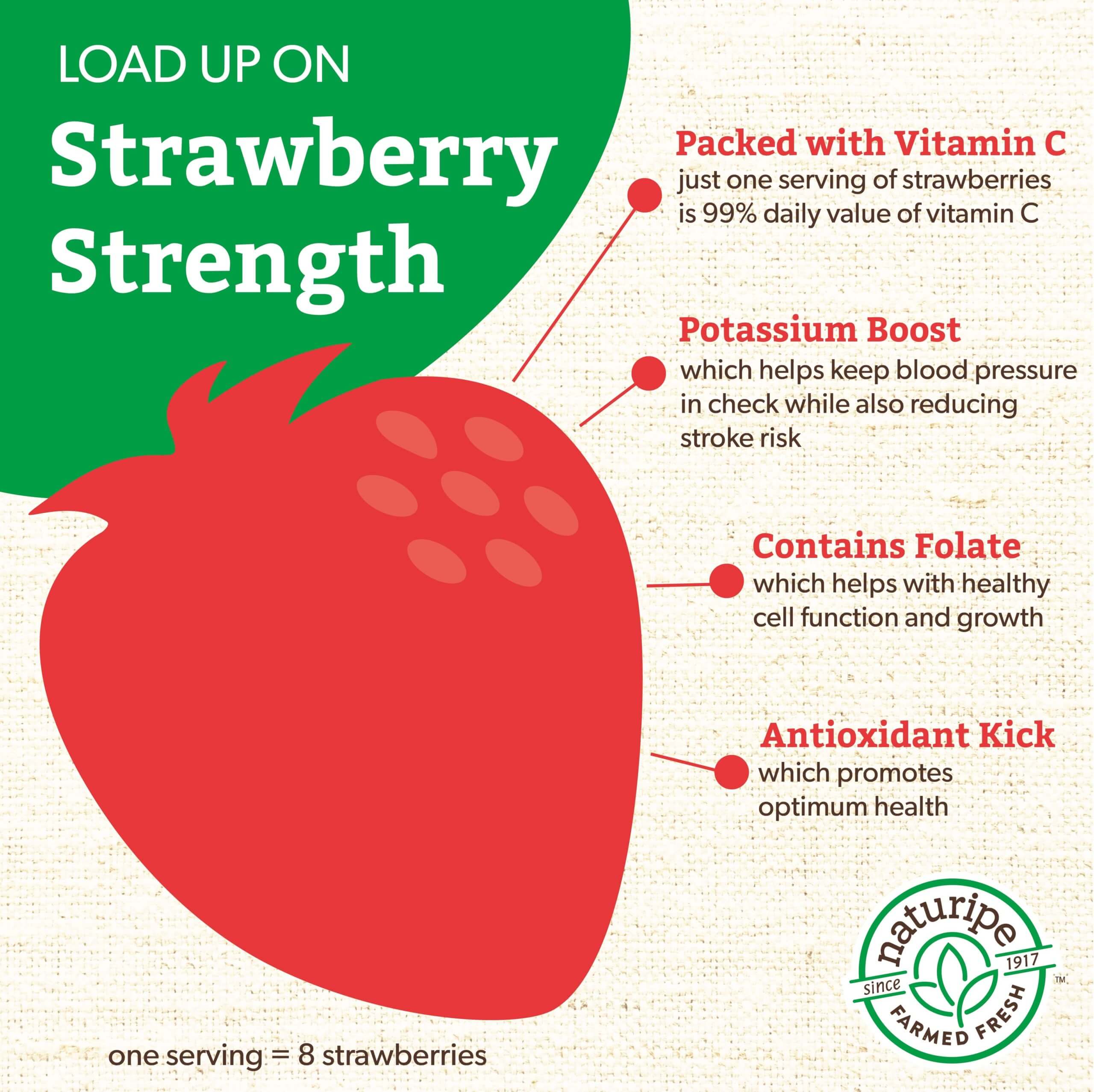 Strawberries are a staple ingredient here at the Produce Moms. Here are a few of our favorite strawberry-centric recipes:
Naturipe® Avocado Strawberry Blueberry Bread with Triple Berry Jam
Grilled Chicken and Strawberry Salad
Be sure to add Naturipe strawberries to your grocery list and whip up one of these berry-good recipes!
What is your favorite way to enjoy strawberries? Share in the comments below or tag us in your berry recipe photos on Instagram @theproducemoms and @naturipe and use the hashtag #NationalStrawberryMonth.