Cinnamon and Vanilla Poached Apples to Dress Up Your Favorite Dessert
Nov 30, 2022, Updated Jun 21, 2023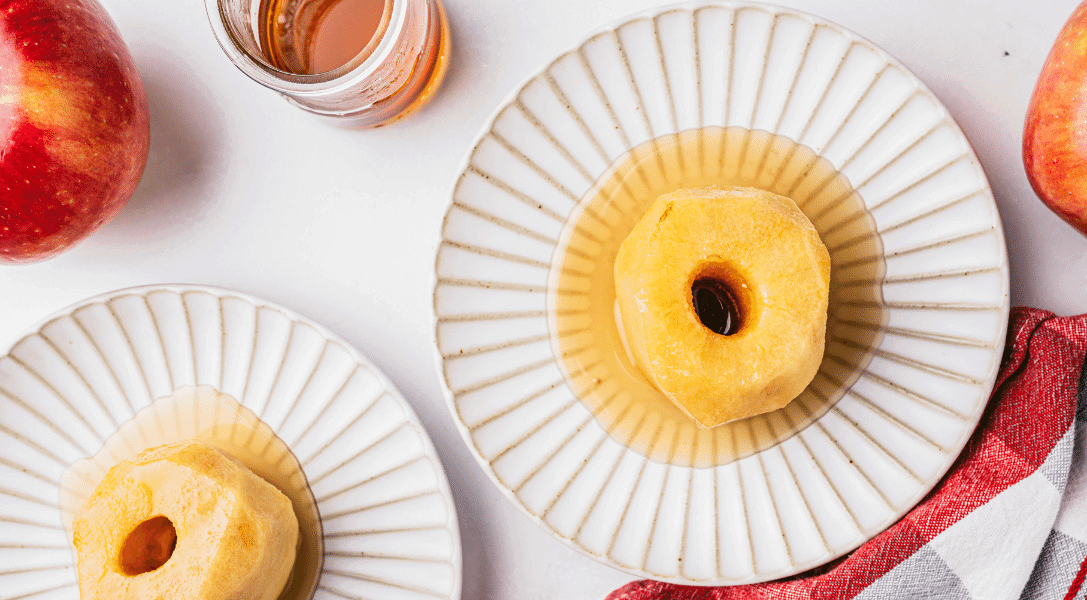 Poached apples are soft, subtly sweet apples with warm cinnamon and comforting vanilla syrup on top. It's the best dessert for fall and winter. 
These easy poached apples are easy to make and can be paired with many other desserts or breakfast recipes. You will be amazed at how one simple recipe can elevate so many other recipes!
Whether you have a sweet tooth craving or hosting dinner for the whole family, you can double or quadruple this recipe to fit your needs.
You'll love this cozy, fresh dessert on chilly fall nights.
Is Poaching Just Boiling?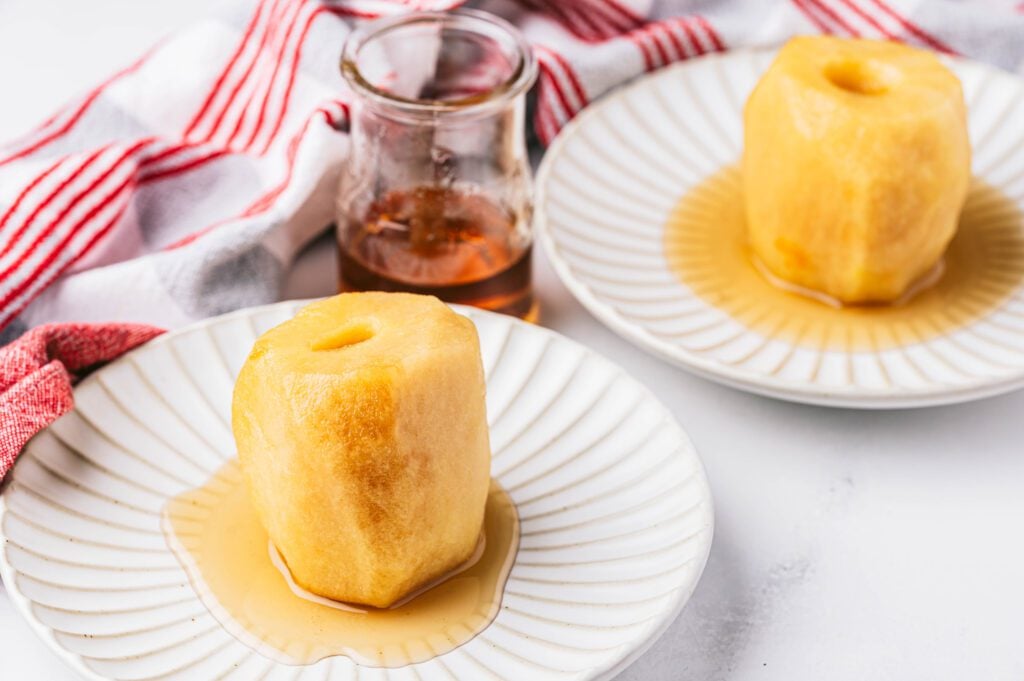 Although both options involve heating liquid in a pot, poaching and boiling are different. Poaching gently cooks delicate foods like meat, fish, veggies, and fruit just under boiling temperature, between 140℉ – 190℉.
Poached foods are cooked at a low temperature, so cooking time is a little longer than other cooking methods. Poaching keeps most of the liquid from the apples in the pan – so you have the base to create your cinnamon and vanilla syrup.
There are a few ways to poach, but we're using the shallow poaching method with a lid to ensure that the apples cook quickly and evenly. The biggest trick to poaching is not to allow the syrup to boil. As soon as bubbles start forming, lower the heat and cover it with a lid.
Are Poached Apples Healthy?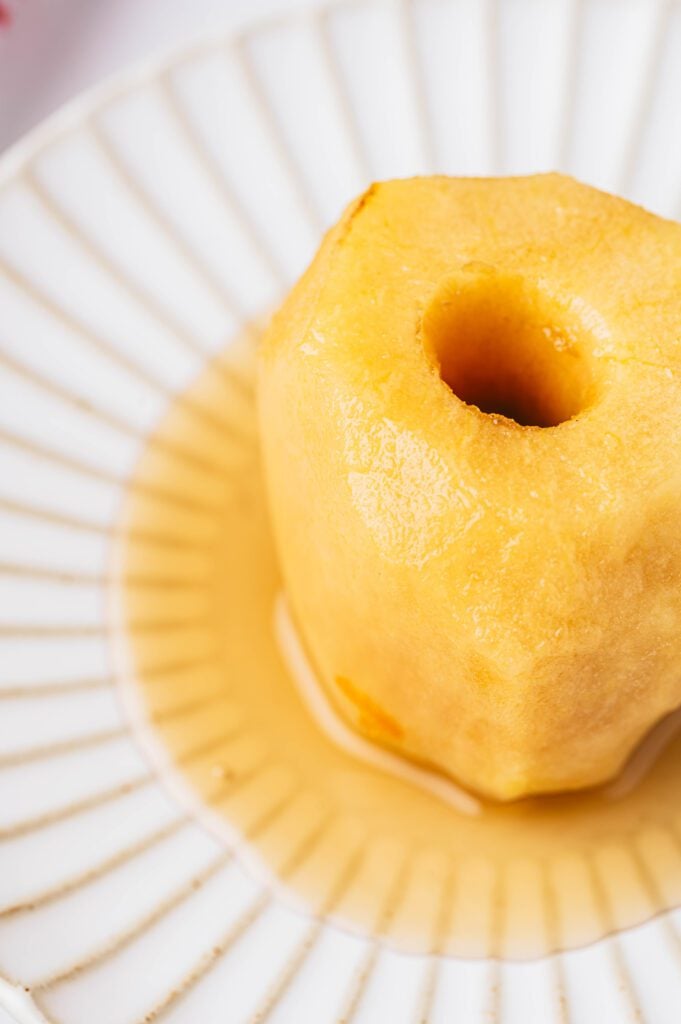 Apples have a ton of health benefits. One medium apple is free of fat, cholesterol, and sodium, with 11 vitamins and minerals. Talk about packing a punch for your and your kid's health!
Not only are they full of nutrients, but they also have antioxidants and anti-inflammatory compounds to aid in brain health and strong bones1. Plus, apples are naturally sweet, so you don't need to add as much sugar as traditional desserts.
How Long Do Poached Apples Last?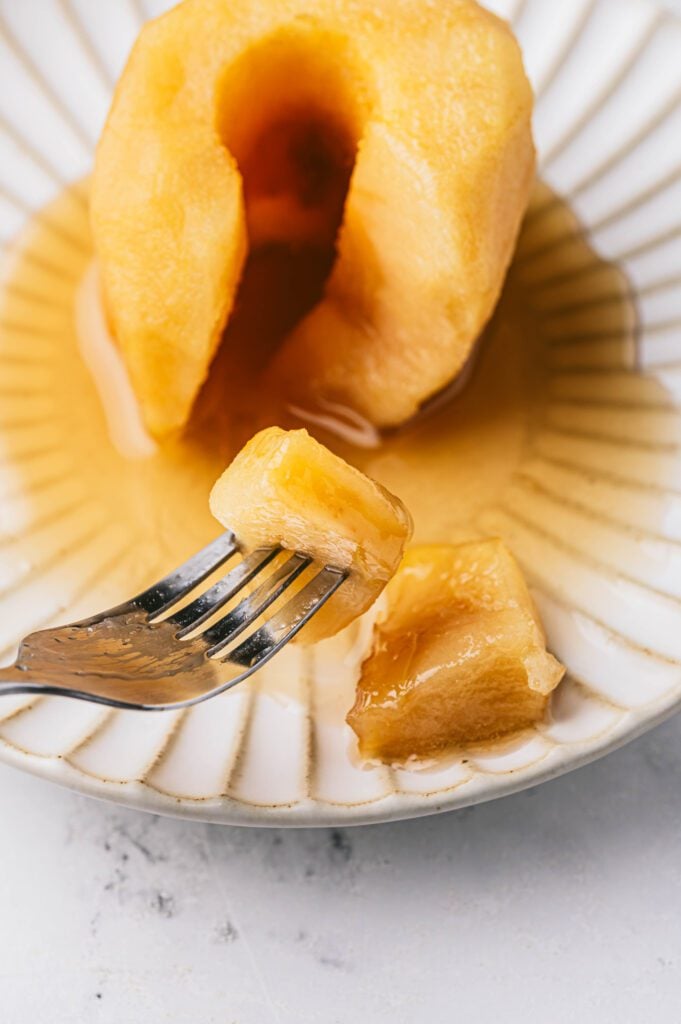 Poached apples last up to 3 days when stored in an airtight container in the fridge.
Make your apples and cinnamon vanilla syrup up to a day before you plan to eat it for a quick, ready-made dessert. Store the apples and syrup in the same container so the apples continue to soak up all the warm, nostalgic flavors. Serve cold or reheat in the microwave for a quick, easy, and nutritious dessert.
Try Poached Apples With…
Ice cream

Pie

Oatmeal

Yogurt

Rice Pudding

French Toast

Pork Chops
Ingredients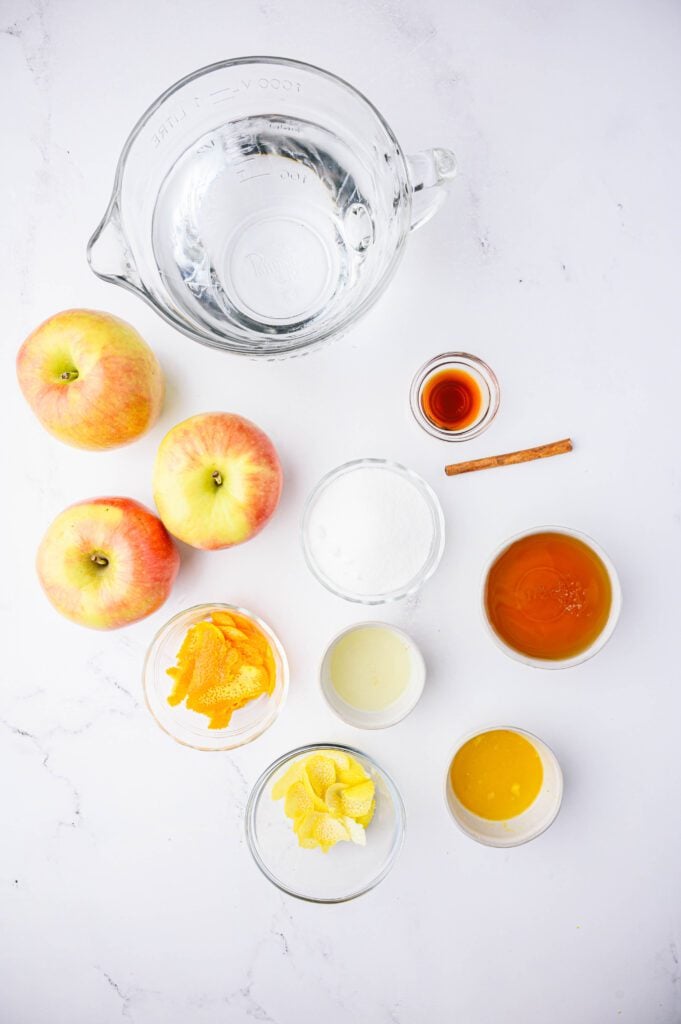 This recipe shines the spotlight on the Ambrosia apple. Ambrosia apples are ideal for pretty much everything you can think of – snacks, salads, pies, baking, and sauces. Use Ambrosia apples for poaching, so you have a naturally sweetened syrup to drizzle over desserts, breakfast, or balance out a savory dish.
3 Ambrosia apples, cored and peeled

½ cup honey

⅓ cup sugar

3 cups water

Zest and juice of ½ orange, skin removed in wide strips with a vegetable peeler

Zest and juice of ½ lemon, skin removed in wide strips with a vegetable peeler

1 piece thin cinnamon stick (about 1½ inches long)

1 Tbsp vanilla extract

2 pieces star anise (optional)
How to Poach Apples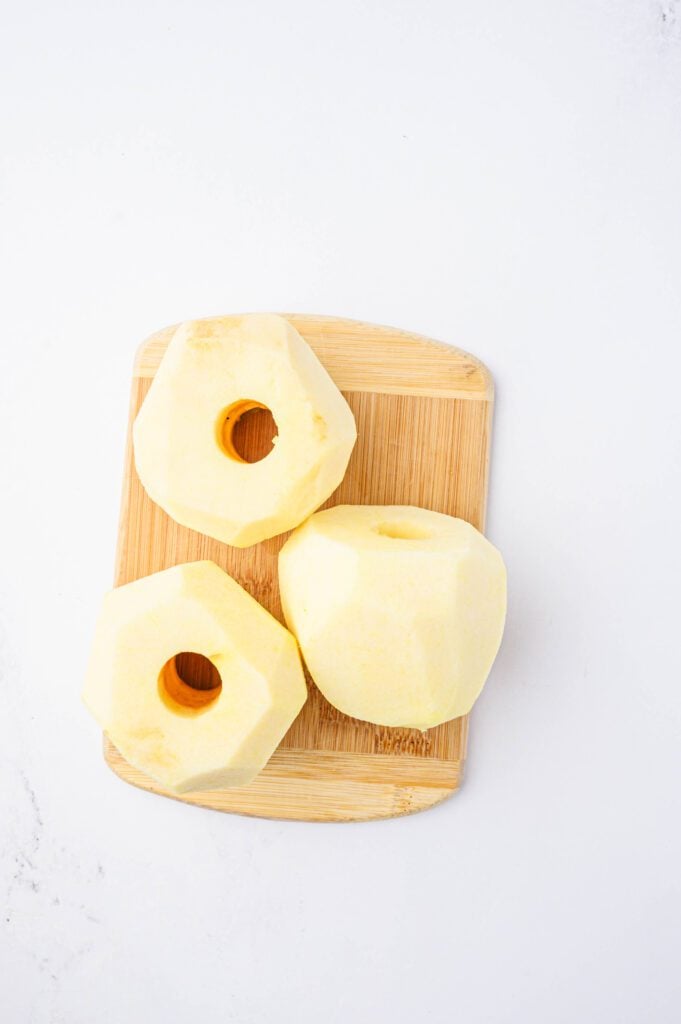 Step 1
Peel and core your apples and set aside.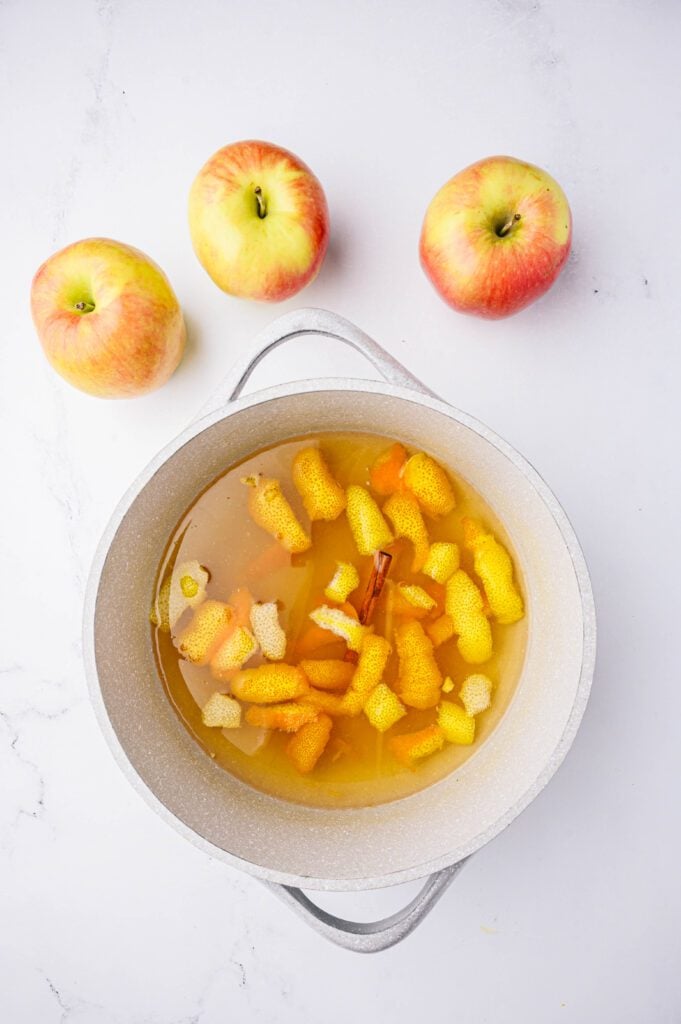 Step 2
Add honey, sugar, water, orange and lemon zest and juice, cinnamon, vanilla, and star anise (if using) to a large saucepan on medium-high heat. After the mixture reaches the boiling point, simmer for 5 minutes.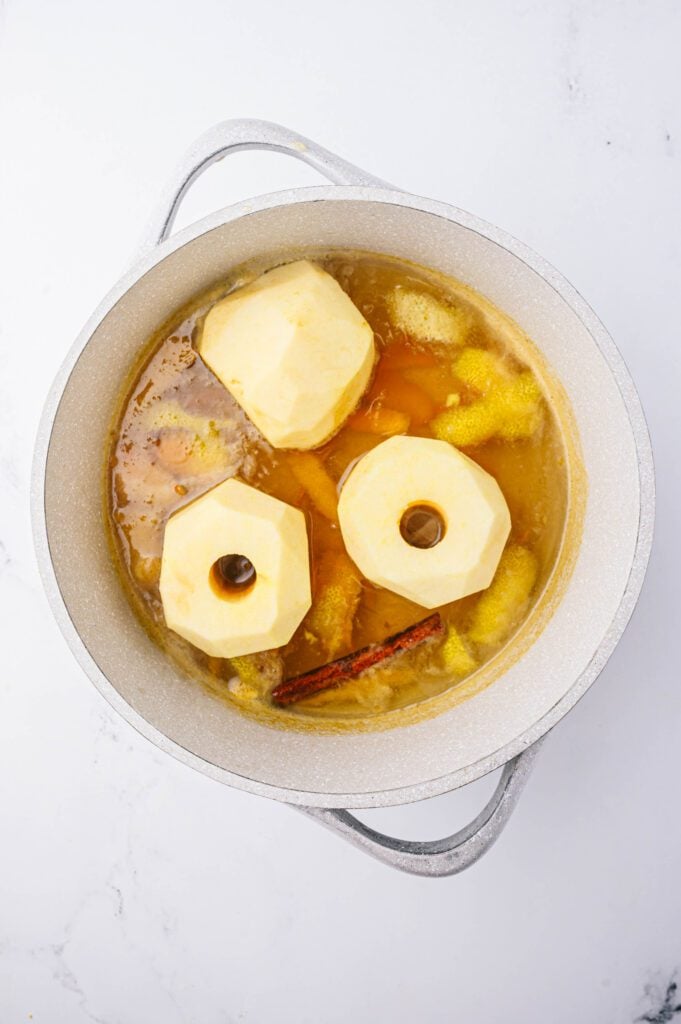 Step 3
Add apples to the saucepan, cover with a lid, and simmer for 10-15 minutes.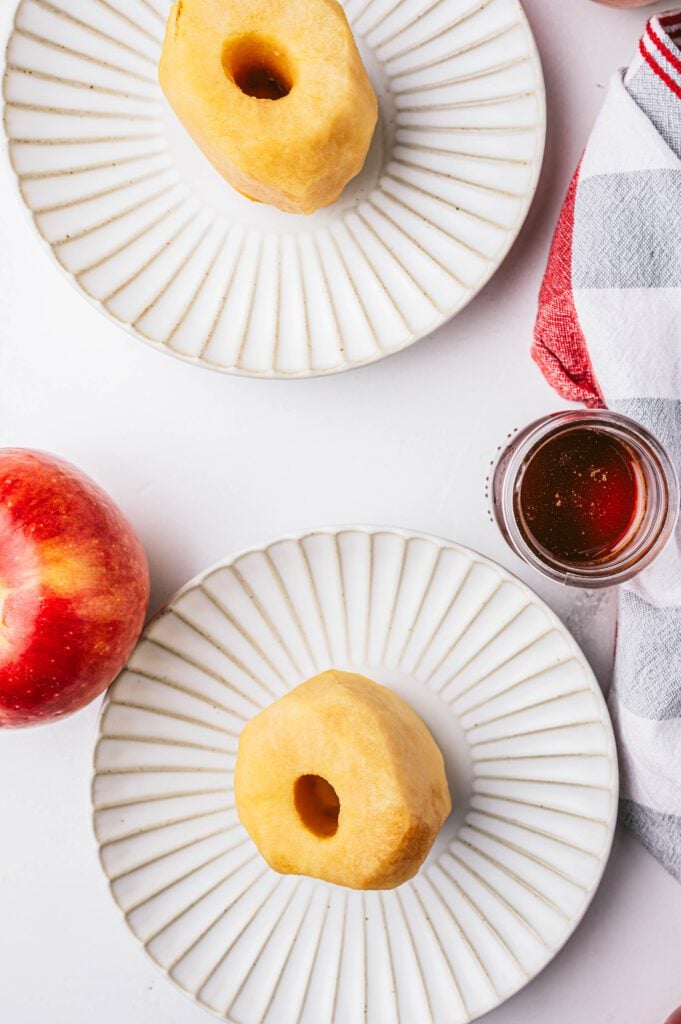 Step 4
Transfer apples to a serving plate.
Step 5
Turn up the heat and boil the syrup for 10 minutes. Then pour over the apples and let cool. Serve either warm or at room temperature.
More Delicious Apple Recipes to Try
Did you make this recipe? Be sure to leave a rating and a comment below! 
Poached Apples
Tender apples with warm and comforting vanilla and cinnamon syrup to spice up your favorite dessert and breakfast foods. This recipe comes together in about 20 minutes and can be eaten warm or cold.
Ingredients
3

Ambrosia apples

cored and peeled

1/2

cup

honey

1/3

cup

sugar

3

cups

water

1/2

orange

skin removed in wide strips with a vegetable peeler

1/2

lemon

skin removed in wide strips with a vegetable peeler

1

piece

thin cinnamon stick

about 1½ inches long

1

Tbsp

vanilla extract

2

pieces

star anise

optional
Instructions
Use a peeler to take the skin off of your apples. then place your apple on a level surface. Put your apple core remover in the center of an apple, above the core. Firmly press down with one hand while you use the other hand to hold the apple in place. Repeat with the other two apples.

Put all the ingredients – except the Ambrosia apples – in a large saucepan: honey, sugar, water, zest and juice of lemon and orange, vanilla, and star anise (if using). Turn the heat to medium-high, and bring to a boil. As soon as the liquid starts to boil, reduce the heat to medium-low and simmer for 5 minutes. It should thicken to a syrup-like consistency.

Gently place the Ambrosia apples into the pan, so the syrup doesn't splatter. Bring the syrup back to a simmer. Cover the pan with a lid and cook for 10-15 minutes, or until a knife can easily be inserted into the apples. Check early and often to avoid overcooking. Use a slotted spoon to transfer the apples to a bowl.

Turn up the heat and boil the syrup for another 10 minutes. You should end up with about 1¼ cups of naturally sweet syrup. Pour the syrup over the apples. Cover, and let the apples cool a bit – until slightly warm or at room temperature. Serve by itself or with your favorite breakfast or dessert!
Notes
Be sure to keep the syrup just under a boil when poaching your apples. This prevents the apples from becoming mushy and turning into applesauce.
Nutrition
Calories:
191
kcal
|
Carbohydrates:
49
g
|
Protein:
1
g
|
Fat:
0.3
g
|
Saturated Fat:
0.03
g
|
Polyunsaturated Fat:
0.1
g
|
Monounsaturated Fat:
0.05
g
|
Sodium:
8
mg
|
Potassium:
152
mg
|
Fiber:
3
g
|
Sugar:
45
g
|
Vitamin A:
77
IU
|
Vitamin C:
15
mg
|
Calcium:
20
mg
|
Iron:
0.4
mg
Nutrition information is automatically calculated, so should only be used as an approximation.
Like this? Leave a comment below!