Educational Activities Using Celery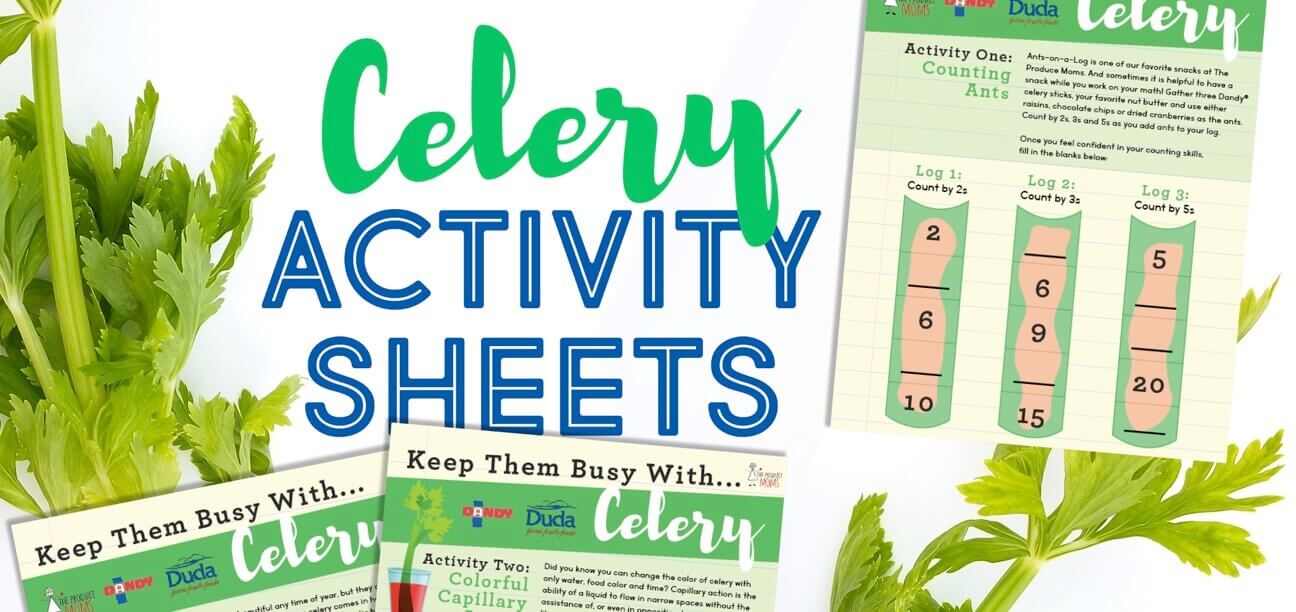 This post is sponsored by the Duda Farm Fresh Foods. 
Parents are always looking for educational resources and activities for their kids to do at home, especially now more than ever!  Educational worksheets and activity sheets are a great way to keep kids learning and entertained at home.  Plus, these activities allow kids the opportunity to "play with their food."
And what's great about the following 3 at-home educational resources is that they familiarize children with the "it" ingredient, CELERY!  In our eyes, celery is practically a superhero in the produce world, "it" is nutrient-dense and can be used so many ways – even as an educational resource.
Activity One: Counting Ants
Our first activity is focused on skip counting using Dandy®celery sticks and your favorite toppings.  Gather the kids around the kitchen table to skip count as you add your "ants" to the log and then have them complete the attached worksheet.  And when they are finished, they have the perfect snack.
Variation:  You can also do addition problems with celery sticks, favorite nut butter and toppings.  Have two celery sticks filled with your favorite nut butter and put on your favorite toppings.  Before your kids enjoy the snack, make them add up the total ants-on-a-log.
Activity Two: Colorful Capillary Action
Let the science experiment begin!  Your kids will enjoy this fun science experiment and watching the celery change colors over time.  It is simple and all you need is a few cups, Dandy® celery and some food coloring.   Let the kids predict what they think will happen, observe the changes overtime and then explain what happened after 24 hours.  Allow them to break the celery stick in half and explore the capillaries.
Activity Three: Celery Stamp Roses
Who knew that celery could turn into a beautiful piece of art?  Another simple activity that will entertain the kids and let their creative juices flow.  All you need for this activity is some, Dandy® celery, a rubber band, some paint and a blank piece of paper or canvas.  Let the kids create some art pieces that they can send to family and friends that are near and far!
Snacking + Cooking with Celery
Celery is packed with flavor, nutrients and low in calories, making it a smart choice for snacking and meals. Below we have listed some of our favorite snack ideas and easy-to-make meals. And the best part, the kids can help out in the kitchen.
Snack Ideas with Celery
Easy-to-Make Celery Meals
Learn more about the Duda legacy here.