Celebrating the 2020 Produce Items You Must Try on Indy Style
If you're constantly buying the same four or five items every week in the produce department, you aren't looking hard enough! Surprisingly, there is a lot of innovation and new products hitting produce departments all the time.
Today on Indy Style, we shared a few produce items you must try in 2020. We also kicked off northwest cherry season with some must-try cherry recipes.
The Produce Moms Crunch Pak® Apple Slices
At the top of the list has to be The Produce Moms Crunch Pak® Apple Slices. Sliced apples make healthy snacking on-the-go a cinch. They also speed up the process of cooking or baking with apples. Below, you'll find an easy make-ahead apple French toast recipe to try.
Look for The Produce Moms logo on 12 oz bags of sweet, tart, and mixed Crunch Pak apple slices and 10 oz bags of peeled and organic slices. They are available now nationwide at Publix, Target, Whole Foods, and more. If you don't see them on the shelf at your store, ask for them by name.
Mango
Did you know mango is the most consumed fruit in the world? Yet here in the States it sometimes goes unnoticed. We are on a mission to change that in 2020! Why? Because mango is too nutritious and delicious to pass up. It's also versatile. Use it in smoothies, on salads, or in desserts. Try it in a cocktail or even in salsa. The uses for mango are limitless.
Be sure to watch the Indy Style segment below for a cool tip on using a GLASS to peel a mango and click here for more mango slicing tips. 
Skinny Souping
Skinny Souping is one of the most convenient items you'll find in the produce department! These drinkable plant-based soups are packed with real veggies and real nutrition. They can be enjoyed hot or cold. It is a must-try for busy moms!
See the full list of the top 20 must-try produce department items to try in 2020.  
Baked Apple French Toast
Use The Produce Moms Crunch Pak® Apple Slices to whip up a French toast breakfast. Using pre-sliced apples makes the prep a breeze. You can assemble this dish the night before and bake in the morning.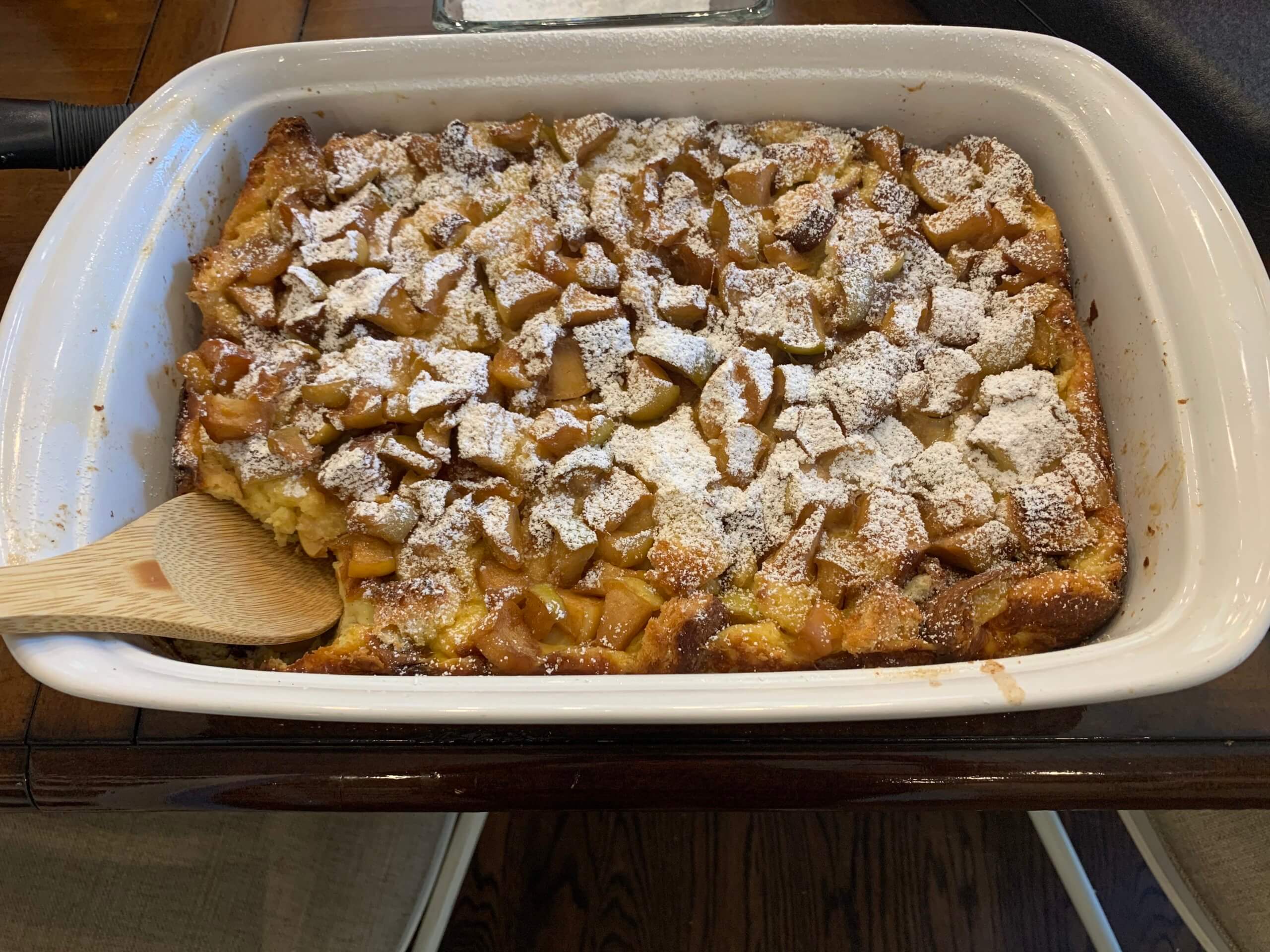 Ingredients
1 loaf brioche or Hawaiian bread, cubed
2 12 oz bags of The Produce Moms Crunch Pak Apple Slices, cut into 2" pieces
2 cups whole milk
3 tbsp pure vanilla extract
2 tbsp cinnamon
Zest of 1 orange
1/2 cup pure maple syrup, plus more for topping
1 stick butter, cubed and divided
8 eggs
1/2 cup packed brown sugar
1/3 cup water
Directions
Add 1/2 stick of butter, diced apples, cinnamon and 1/3 cup of water to a skillet and sauté over medium heat, stirring often on your stovetop for 7-8 minutes. Add the brown sugar to skillet and stir until dissolved, about 1 minute.
Lightly coat a 9×13 baking dish with nonstick spray. Place a layer of bread cubes evenly into the baking dish. Top with the other half of the stick of butter and half the apple mixture in an even layer. Top with remaining bread cubes and remaining apple mixture.
In a large mixing cup, whisk together milk, eggs, maple syrup and the zest of 1 orange. Pour over the bread cube and apple mixture. Cover and refrigerate overnight or for at least 2 hours.
Preheat oven to 350. Remove the dish from the refrigerator for 30 minutes (or at least while your oven heats up!)
Bake slightly covered with tinfoil for 20 minutes, then remove the tinfoil and bake an additional 15 minutes or until golden brown and the center is firm.
Serve immediately and top with powdered sugar and maple syrup!
Celebrating Cherry Season
Cherries are always on our must-try list! This summertime favorite never tires out. And with so many ways to enjoy cherries, it's easy to find new ways to enjoy them year after year.
Northwest cherry season has begun and they are available now nationwide. They are the best cherries in the world! To celebrate, whip up one (or all) of the following recipes.
Baked Brie with Cherries and Apples
This will be your go-to summer appetizer. It's so easy and tasty — make it once and you'll make it 100 times!
Ingredients
Wheel of Brie cheese, sliced down the center
Northwest cherries, washed, pitted, and chopped
The Produce Moms Crunch Pak Apple Slices, chopped
Walnuts, chopped
Honey
Directions
Place the bottom half of the brie on a baking dish.
Top brie with cherries, apples, and walnuts and place the top half of the brie cheese on top, sandwiching the cherries apples, and walnuts between the brie.
Bake for 8-10 minutes. Remove from the oven and garnish with cherries, walnuts, and apples. Drizzle with honey.
Serve with crackers.
Dark Sweet Cherry and Jalapeno Jam
Grilling season is in full swing and this jam is perfect for grilled brats or salmon sliders.
Ingredients
2 cups sugar

 1 1/2 cups water

 2/3 cup cider vinegar

 1 1/2 teaspoons ground ginger

 1/2 teaspoon ground cinnamon

 Dash of salt

 Dash of ground cloves

 Dash of ground nutmeg

 4 jalapeño peppers, sliced

 2 pounds sweet cherries, pitted and coarsely chopped

 1 large Granny Smith apple, cored and chopped
Directions
Combine all ingredients in a large, heavy saucepan; bring to a boil. Reduce heat, and simmer until slightly thick and reduced to 4 cups (about 50 minutes), skimming foam from surface of mixture occasionally. Cool; pour into an airtight container. (Mixture will thicken as it cools.) Cover and chill.
Note: Refrigerate preserves in an airtight container for up to three weeks.
Thanks for watching! Which produce items would you add to our must-try list? What's your favorite way to enjoy northwest cherries? Share your thoughts and ideas in the comments below, or join our Facebook group and share with us there.