California Walnuts: Nutrition, Storage Tips, and Recipes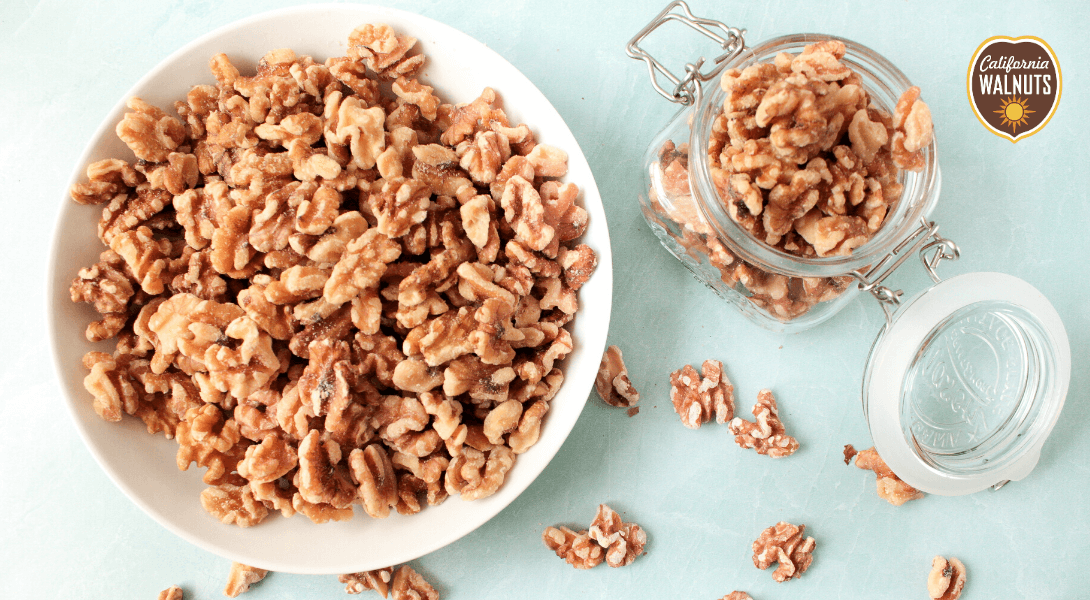 This post is sponsored by California Walnuts. 
The Benefits of California Walnuts
In a world of superfood claims, it's hard to know what's simple goodness and what's seriously super! Well, If nuts wore capes—walnuts would. Packed full of rich nutty flavor and honest nutrition, we love the benefits of walnuts in our daily diet. 
Past and Production
Walnuts are the oldest tree food known to man, dating back to 7000 B.C., originating in ancient Persia. Many of today's walnut cultivars are descendants from these early plantings. In the late 1800s, modern walnut production took off in southern California. Trees flourished in the Mediterranean-like climate zones of California. Today, California produces 99% of US walnuts and two-thirds of the world walnut trade. You can learn more about walnut history here.
Each day over 4,000 growers work skillfully to produce walnuts. Every step of the walnut production process is handled with attention and care — from seed to tree to table. It takes a lot of growers and handlers to deliver your favorite snack, California Walnuts. 
Walnut superpowers take years to develop. Most walnut trees are four to five years old before their first commercial harvest. Orchards remain in the ground for approximately 30 years which is why walnuts are often mainly grown on multi-generational farms. For more nutty facts about growing walnuts click here.
Health Nuts
Walnuts are tasty and super nutritious too! In case you haven't noticed, walnuts are even shaped similar to a heart and brain. Which makes sense since they are certified as a heart-healthy food with the American Heart Association's Heart-Check mark and of course total brain fuel.

With 2.5g of alpha-linolenic acid (ALA) per serving, walnuts have more OMEGA-3s per serving than any other tree nut. They are a powerhouse of vital nutrition offering 4g of protein, 2g of fiber, and a good source of magnesium (45mg) per serving.  
Walnuts find their way into many popular diets including Mediterranean, Keto, Paleo, Clean Eating, and Intermittent Fasting. Walnuts are high in good dietary fats such as polyunsaturated and monounsaturated but low in bad fats like saturated. Dietary fats give your body energy and support cell growth. Good fats help your body absorb key nutrients while lowering your risk of disease. Click here to get the skinny on #teamgoodfat. 
You know, that feeling in your gut, when beneficial bacteria are flourishing. It feels good right? Walnuts have a way of making you feel good inside and out. From increased cognitive function to cancer prevention, balanced gut health to decreased risk for heart disease—learn more about what makes walnuts so wonderful here.  
Store and Serve
75% of Americans store walnuts in the pantry. For optimal freshness, however, walnuts should be stored in air-tight packaging in the refrigerator or freezer. Heat can cause the fat in walnuts to change structure causing rancidity while cold storage yields a long-lasting fresh taste.
Snacking is the top use of walnuts with 70% of consumers using them in that way. So it's perfect that one 1/4 cup serving of approximately 12-14 walnut halves fits just right in the palm of the hand—now that makes for easy measuring. Just three handfuls of walnuts a week is enough to take advantage of their nutritional goodness!
100% happens to be how sure we are that you will love these yummy

walnut recipes:

What is your favorite way to enjoy walnuts? Share with us in the comments below. 
[1]Supportive but not conclusive research shows that eating 1.5 ounces of walnuts per day, as part of a low saturated fat and low cholesterol diet and not resulting in increased caloric intake, may reduce the risk of coronary heart disease. (FDA) One ounce of walnuts offers 18g of total fat, 2.5g of monounsaturated fat, 13g of polyunsaturated fat including 2.5g of alpha-linolenic acid – the plant-based omega-3.