Refreshingly Crisp Blueberry Iced Tea With Lemon for Hot Summer Days
Sweet, tart, and earthy blueberry lemon iced tea is the answer to your summer needs. One gulp of this refreshing iced tea and you'll be hooked. Naturally sweetened with honey, a squeeze of fresh lemon juice, and steeped tea bring traditional iced tea to a whole new level. Garnish with a lemon slice and fresh mint for a cool summer drink.
The summer heat is officially upon us, and a tall cold glass of iced tea always hits the spot.
When you're so hot and tired from the sun beating down as you do yard work and your kids play outside with their friends. And then you go inside and pour some of your blueberry lemon iced tea that you made the day before. You take that first sip (probably more of a gulp) and instantly feel refreshed.
Yeah, you know what we're talking about.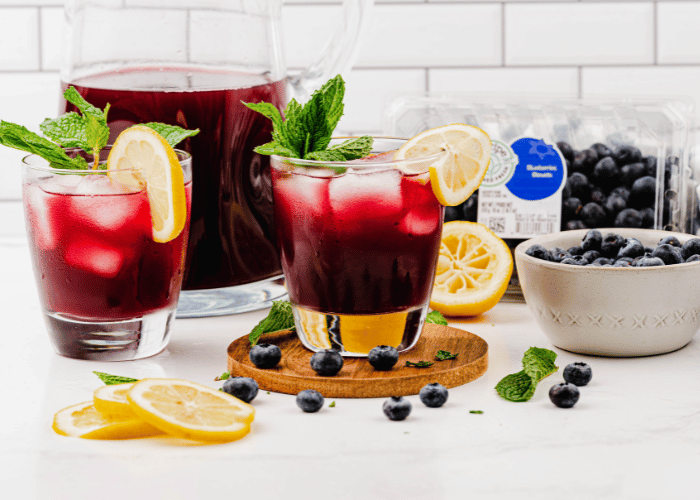 Blueberry lemon iced tea is sponsored by Naturipe®.
You only need four ingredients to make a batch of lemon blueberry iced tea for the multiple "it's so hot outside" moments. Trust us, your family will thank you.
It's quick, easy, affordable, and did we mention refreshing?
Check out how simple this recipe is.
What Is Blueberry Lemon Iced Tea?
Iced tea is a tea usually served with ice. But it can be any type of tea that's been chilled or given time to cool. In this case, we steeped the tea bags in a saucepan and mixed them with a sweet and tart blueberry, honey, and lemon mixture. Both the tea and the fruit mixture are heated separately on the stovetop before being combined in a pitcher and then chilled in the fridge.
Pour it over a glass of ice, and you've got a refreshing glass of blueberry lemon iced tea. You'll want a pitcher of this in your fridge all summer.
Ingredients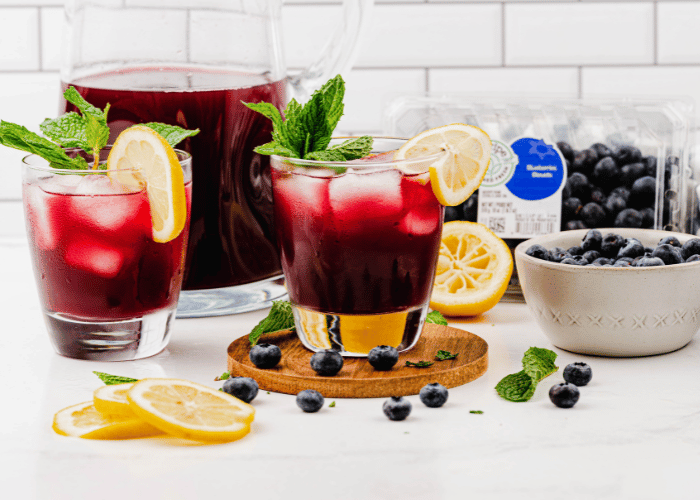 This recipe only calls for four primary ingredients to make your blueberry iced tea with a few extras for garnish.
Simple, delicious, and refreshing.
Tea Bags
Use any kind of tea that you like. Green, black, white, herbal, any kind will do. If you don't want your kids to have a lot of caffeine, be sure to check the label for a caffeine-free sticker on the box. Otherwise, you may end up with a spontaneous, caffeinated all-nighter with your kiddos.
Naturipe® Blueberries
Use fresh blueberries instead of frozen ones for a stronger flavor in your tea. The ice from frozen blueberries can dilute the flavor. Naturipe® has high-quality, fresh, and flavorful blueberries.
Honey
Naturally sweet honey is always tasty in hot tea. Add it while your tea is warm so it easily dissolves and mixes with your iced tea. If you add it after the tea is cooled, it may separate, sink to the bottom, and not properly mix.
Lemon Juice
Acidity, like lemon juice, balances out the bitterness of the tea and the sweetness of the honey and blueberries while brightening up the flavor. Don't skip out on this!
Mint
Garnish your iced tea with fresh mint leaves for a cool (and cute) finish.
Ever Heard of Sun Brewed Iced Tea?
You've probably always heated water over the stove and then let your tea bags sit in the warm water, right? You can also use the sun to "brew" your tea.
Fill a clear pitcher with four cups of water and let it sit in the sun for three or four hours. Then mix your tea with the blueberry mixture, and chill it in the fridge. If the tea sits out longer than four hours, the heat can cause bacteria to grow in your blueberry iced tea base. To prevent this, wait to add any sweetener, like the blueberry mixture, until after your tea is done steeping, and never brew your sun tea for more than five hours.
Sun tea may turn out to be your preferred steeping method because it has a fresh, less bitter taste and it's simple to make. No boiling required, the sun does all of the work for you. Sun tea doesn't reach higher than 130℉ when it sits outside as opposed to when you boil it. The lower steeping temps can create a more mild flavor.
Give it a try and see what you think!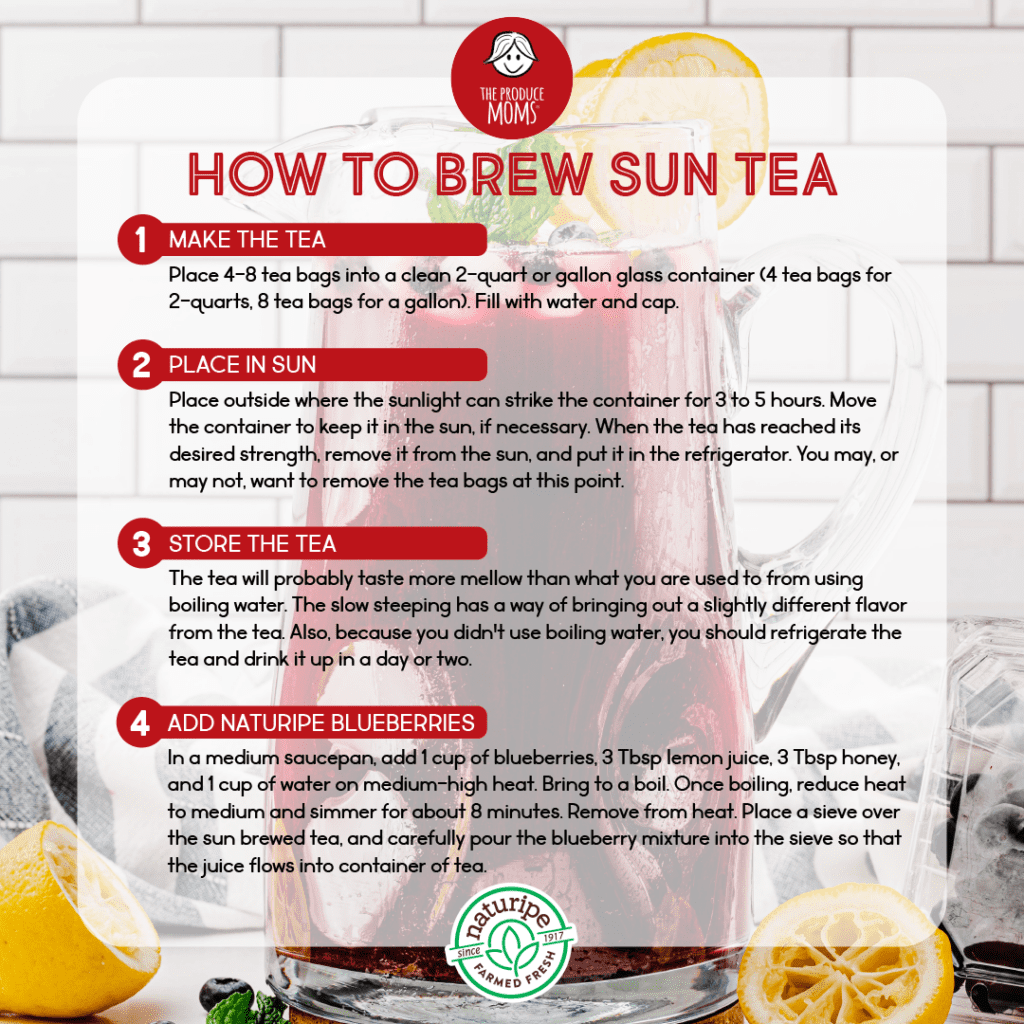 Variations and Substitutions
The best thing about recipes is that ingredients can always be switched, swapped, or left out. If you have a specific fruit or type of tea on hand that you'd like to use, go for it. We can't think of a bad tea and fruit combo that wouldn't work in this recipe.
Here are a few ideas:
Alternate Sweeteners — stevia, cane sugar, coconut sugar,
Switch Up The Fruit — strawberries, raspberries, peaches
Swap Your Garnish — orange, lime, or leave the lemon
Use Your Favorite Tea — black, green, floral, herbal
Add Fresh Fruit — blueberries, blackberries, strawberries
Blueberry lemon iced tea is a blend of spring and summer flavors all in one refreshing glass. When it's chilled and served over ice, dripping with condensation, it's pure bliss of sweet and tart as you take your first gulp.
Ahhhh
How to…
Store
Blueberry iced tea will keep in the fridge for up to five days. Simply store it in the pitcher or jar that you put it in to chill, cover it, and leave it in the fridge. Before you serve it, give a quick stir to mix any tea particles that may have settled on the bottom. Add ice cubes to the glass that you'll be drinking from, instead of the pitcher, to prevent it from getting watered down and drowning out the fresh tea flavor.
Steep
Add the tea bags to the warm water in your pitcher and let them sit there for about three minutes. Just let them sit. Naturally, you may want to squeeze the tea bags. Instead, use a mesh strainer, or a spoon, to scoop out each tea bag and any tea particles. The tea bag will likely drip, so have a plate, paper towel, or trash can nearby for less of a mess. The tea can be easily wiped up.
Tea bags have tannic acid, which can make tea more bitter. When you squeeze the bag, you release more of the acid into your iced tea, making it more bitter, sour, and acidic. It's also possible to tear the tea bag and have more tea leaves to fish out later. If you don't think you like tea because it tastes bitter, it could be because the tea bag was squeezed or steeped too long.
Try steeping, not squeezing, the tea bags for three minutes and adding the blueberry, lemon, and honey mixture and see if you like it more.
How to Make Blueberry Lemon Iced Tea
Step 1
Steep tea bags in a saucepan of warm (almost boiling water) for three minutes. Then let it cool.
Step 2
Bring blueberries, lemon juice, honey, and one cup of water to a boil and let it simmer for about eight minutes. Remove from the heat.
Step 3
Strain the blueberry mixture and let it cool. Then add the blueberry mixture and the tea to a pitcher. Refrigerate for at least an hour.
Step 4
Pour over ice and garnish with lemon, mint, and blueberries for a refreshing gulp of iced tea.
Why We Love Naturipe®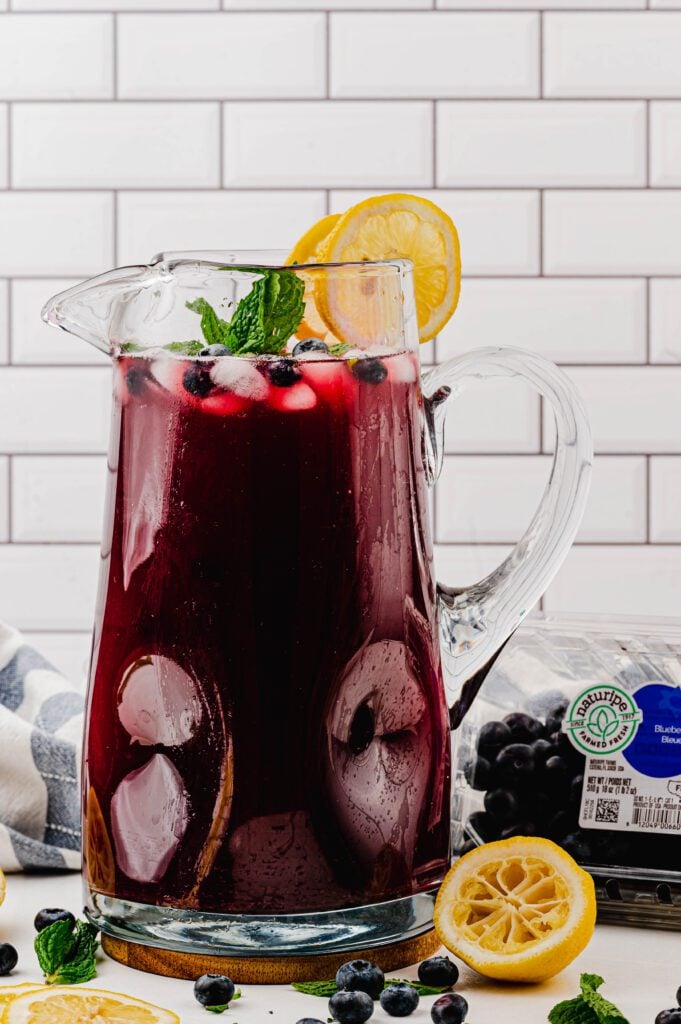 A lead grower of berries and avocados, Naturipe® is passionate about bringing you fresh, high-quality berries. As a grower-owned company of family farmers, each grower puts their heart and soul into the berries they grow for you and your family.
Naturipe® has also joined the snack game.
As moms ourselves, we especially love their Boost Bento snack boxes to keep our kids happy and full. With a balance of fiber, protein, calcium, and vitamin C, their snacks were designed with parents in mind. No prep, high-quality ingredients that you will be happy to give to your kids. Fresh berries, crunchy granola, and protein-packed nuts — you can't go wrong with a bento fruit snack.
Fresh Fruit Drink Recipes
Red, White, and Blueberry Mojito
Fruit and Herb Flavored Ice Cubes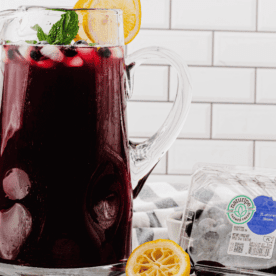 Blueberry Lemon Iced Tea
Blueberry lemon iced tea has all the sweet, sour, and cool flavors that you crave in a summer drink. Only four main ingredients and a saucepan, and you're all set for a refreshing drink on hot days.
Print
Pin
Rate
Ingredients
Tea
5

cups

water

6

tea bags of your choice

1

cup

Naturipe® Blueberries

3

tablespoon

honey

lemon juice

from 2 lemons

ice cubes
Garnish
lemon

sliced

fresh mint sprigs

Naturipe® Blueberries
Instructions
In a large saucepan, heat four cups of water until right before it starts to boil. If the water starts boiling, set it aside for a minute to cool.

Add six tea bags to a covered saucepan and let it steep (sit in the warm water) for three minutes. Remove the tea bags and throw them away. Remember not to squeeze them. Let the tea cool.

In a medium saucepan, add blueberries, lemon juice, honey, and one cup of water over medium-high heat and bring to a boil. Once the blueberry mixture is boiling, reduce the heat to medium and simmer for about eight minutes. Then remove the saucepan from the heat.

Put a strainer over a large bowl and carefully pour the blueberry mixture into the strainer to separate the blueberries from the liquid. The blueberries will catch in the strainer so the liquid can flow into the bowl.

Pour the cool, steeped tea into a large pitcher and add the blueberry juice mixture. Refrigerate for one hour to completely cool your blueberry iced tea.

Serve it in a glass over ice and garnish with some lemon wedges, fresh blueberries, and mint for a refreshing summer drink.
Notes
Add the ice to the glass you'll drink out of and not the pitcher. This keeps the flavors fresh and vibrant instead of watered down. 

Want to add a little spritz? Add some club soda, sparkling water, or champagne for the grown-ups!

Store the blueberry lemon iced tea in the fridge for up to five days, and freeze any leftovers in ice cube trays for a cool drink in the future! Just pop a few in a glass and let them melt.
Nutrition
Calories:
276
kcal
|
Carbohydrates:
73
g
|
Protein:
1
g
|
Fat:
0.5
g
|
Saturated Fat:
0.04
g
|
Polyunsaturated Fat:
0.2
g
|
Monounsaturated Fat:
0.1
g
|
Sodium:
63
mg
|
Potassium:
147
mg
|
Fiber:
4
g
|
Sugar:
66
g
|
Vitamin A:
80
IU
|
Vitamin C:
15
mg
|
Calcium:
48
mg
|
Iron:
1
mg