All Natural Pear Infused Vodka Made From Your Kitchen
Mar 02, 2023, Updated Mar 20, 2023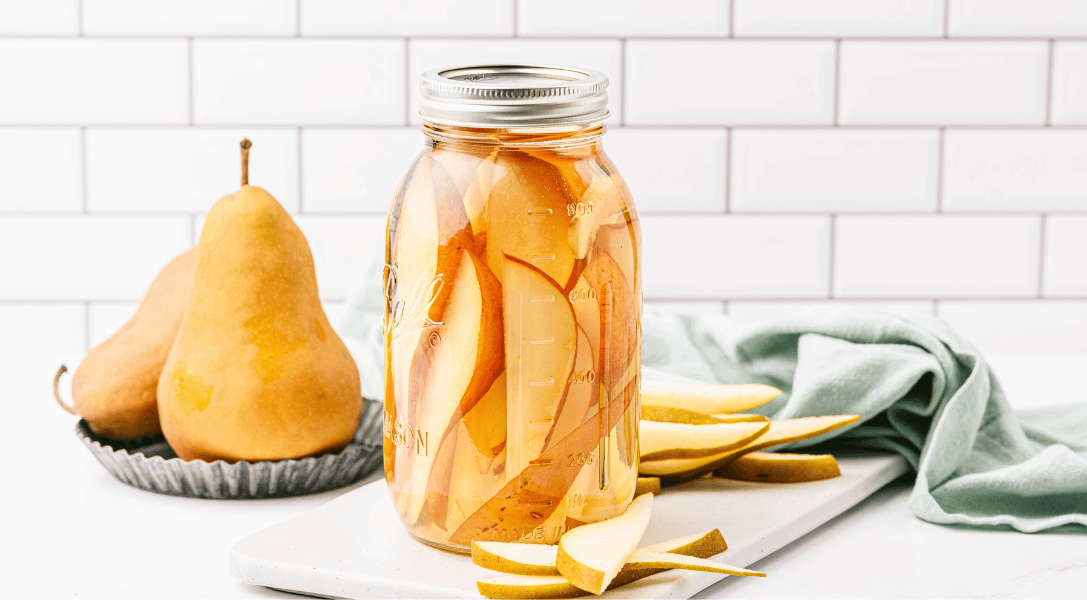 Crisp, spicy, creamy — you can't go wrong with DIY pear infused vodka. With only four ingredients and a few days of patience (if you have some to spare), enjoy your new favorite nightcap right at home. No additives or sugar, and best served with a good book, bubble bath, or your favorite movie. 
Some weeks are just a little crazier than others. Whether you need a bubble bath, a few minutes to escape in your latest book, or want to watch the latest episode of your favorite show after the kids are asleep — there's one thing that can kick your "me time" up a notch.
Pear. Infused. Vodka.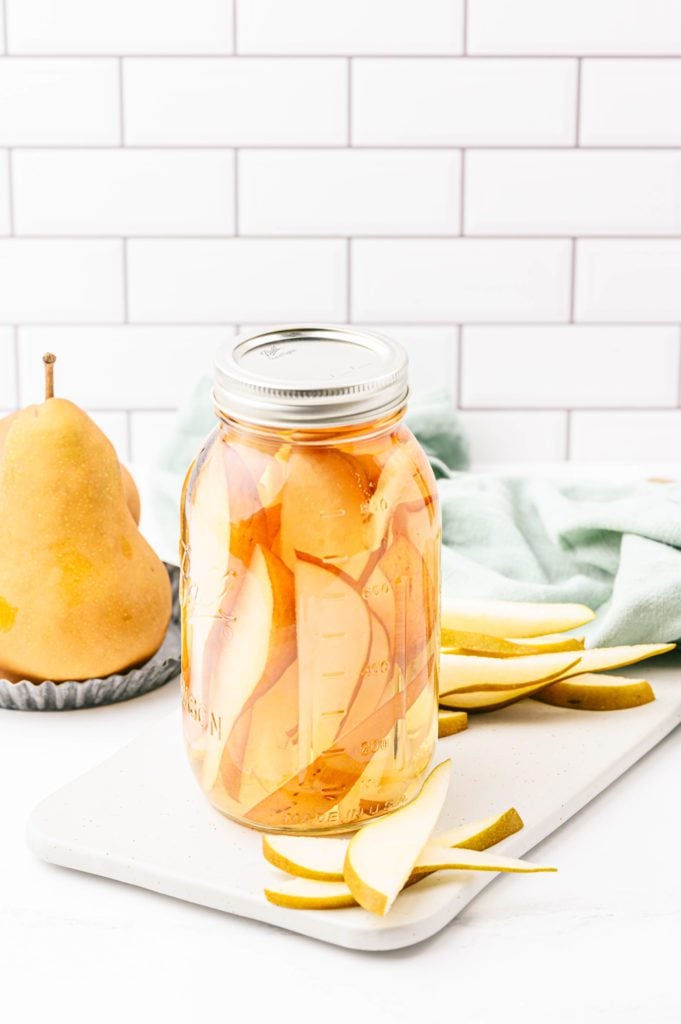 This post is sponsored by Sage Fruit.
All you need are pears, ginger, vanilla bean, and vodka, and you're all set. Simply cut up the fruit, add it to a jar, pour in the vodka, and you've got something to look forward to on Friday night. 
And if you feel like saving the fruit that's dripping in vodka, we won't judge.
You deserve it.
What Is Vodka?
You probably know that vodka is a clear alcoholic beverage that looks just like water. It's also distilled alcohol. That means the alcohol is separated from the water through evaporation and condensation. It gets heated over and over again, so the alcohol gets stronger each time it goes through this process. It's usually made from fermented grains but can also be made with potatoes, fruit, and sugar.
Flavored Versus Infused Vodka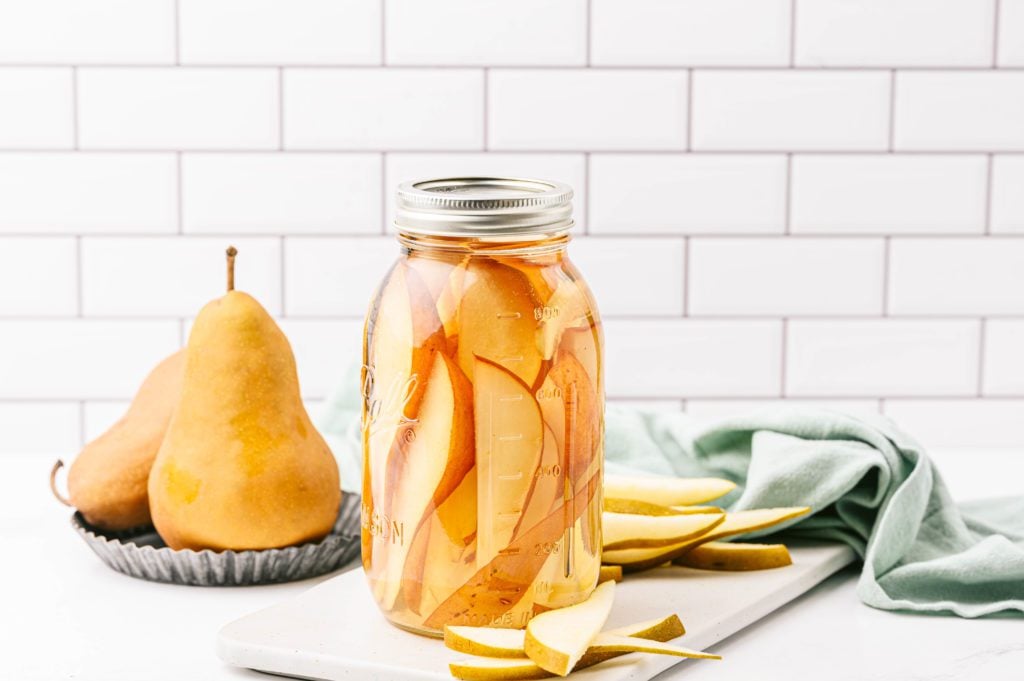 Infused vodka is the alcoholic version of Hint water. When flavor additives are added to vodka, you don't get the real, natural pear flavor. Instead, you're probably drinking the chemical version that was concocted in a lab, so it tastes like pear, but it's not the real deal. When you infuse vodka, you add fruit, spices, or herbs and let the vodka sit for up to three weeks. This gives the vodka plenty of time to absorb tons of natural, sweet, and herby flavors.
But don't worry, you don't have to wait the full three weeks to start enjoying your DIY vodka — unless you want to, of course.
Ingredients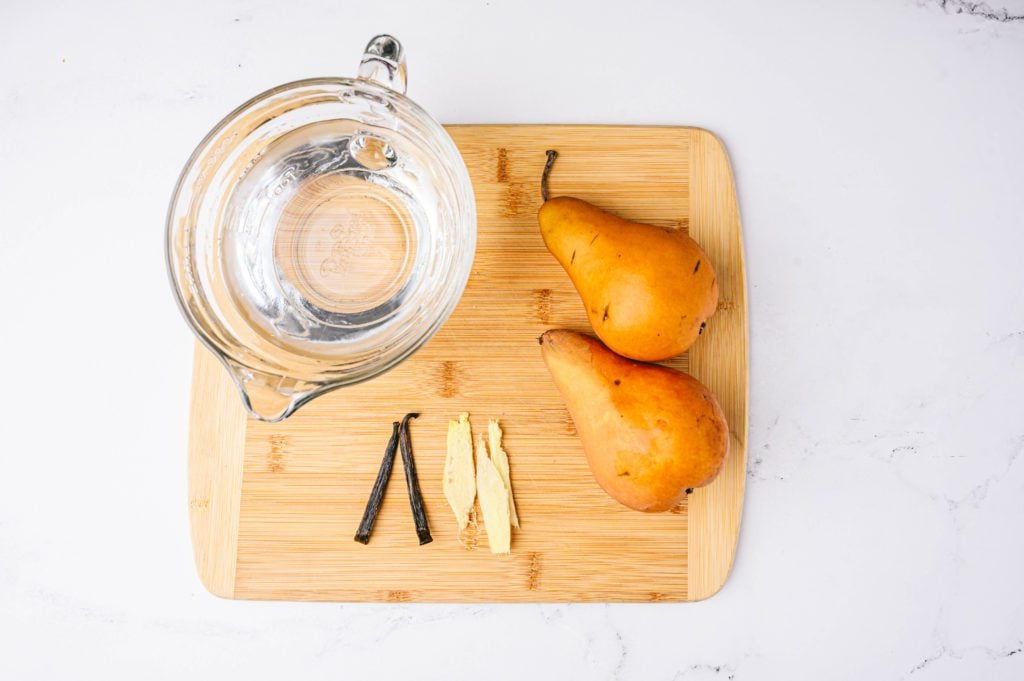 Sage Fruit Pears
If you want that recognizable sweetness of pears absorbed into your vodka, we recommend pears with the Sage Fruit label. Over 80% of our nation's pear crop comes from Oregon and Washington. And Sage Fruit's label says Washington right on it!
You can't get fresher than that.
Known for delivering some of the best pears in the world to you and your family, imagine how crisp, sweet, and tangy your vodka will be with this fresh infusion of flavor. Here's the store locator tool to help you find the best pears near you.
Ginger
With a sort of spicy, peppery, and also sweet flavor, ginger pairs beautifully with pears. This is the secret ingredient that gives your pear vodka a surprise kick. It wakes up your tastebuds for the party that's about to start in your mouth. Ginger is known for settling nausea, easing bloat, and may even be an anti-inflammatory.
We wouldn't go so far as to say you should drink a shot of your pear vodka daily — but it's got some beneficial ingredients, don't you think?
Vanilla Bean
We're going for true-to-flavor vodka, and the vanilla bean brings it to the next level. Vanilla beans have a much more intense flavor than if you use vanilla extract. It adds earthy creaminess to the vodka to give it a little extra body. If you don't have a vanilla bean on hand, you could use vanilla extract. But we highly recommend using the real thing to round out the flavor profile.
Produce Mom Tip: Feel free to add the empty vanilla bean pod to your vodka. The pod is edible too. Just chop or grate it into another recipe.
Vodka
You don't need anything fancy, expensive, or already flavored. In fact, if you use vodka that already has flavoring, it will probably disappear by the end of the infusing process. Look for the cheapest vodka that is 80 or 100 proof. Prices of vodka can range from $12 to upwards of $100. We promise, the cheap stuff won't taste cheap after it's soaked in the essence of fresh pears.
How to Infuse Vodka With Pears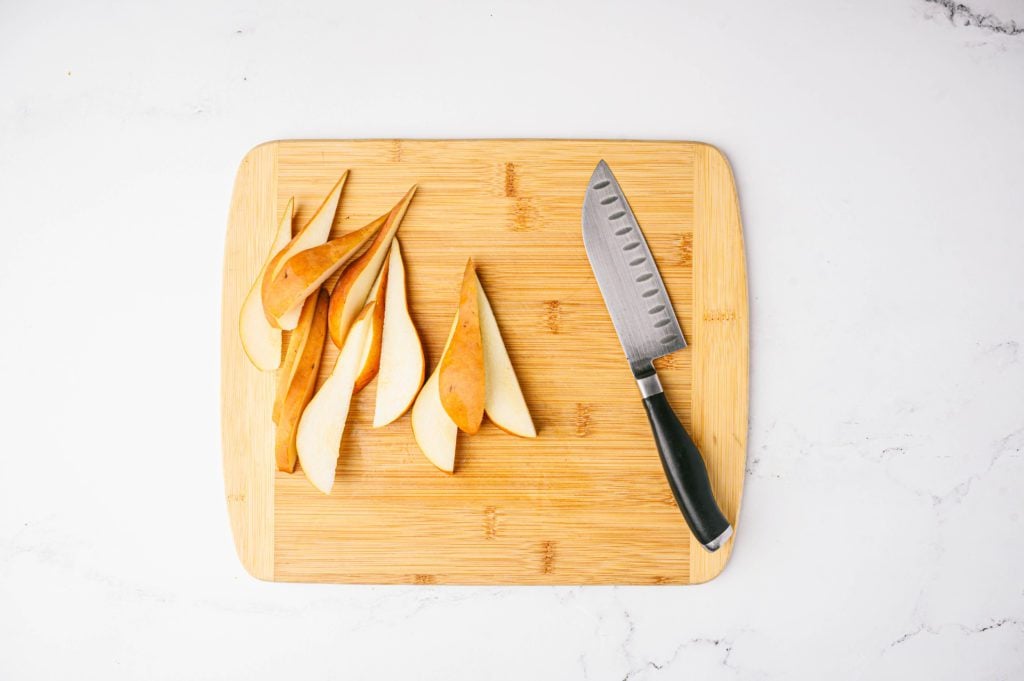 Step 1
Slice the pears and ginger and add to the bottom of a 1-quart mason jar. Use a knife to extract the vanilla bean seeds and add them to the jar.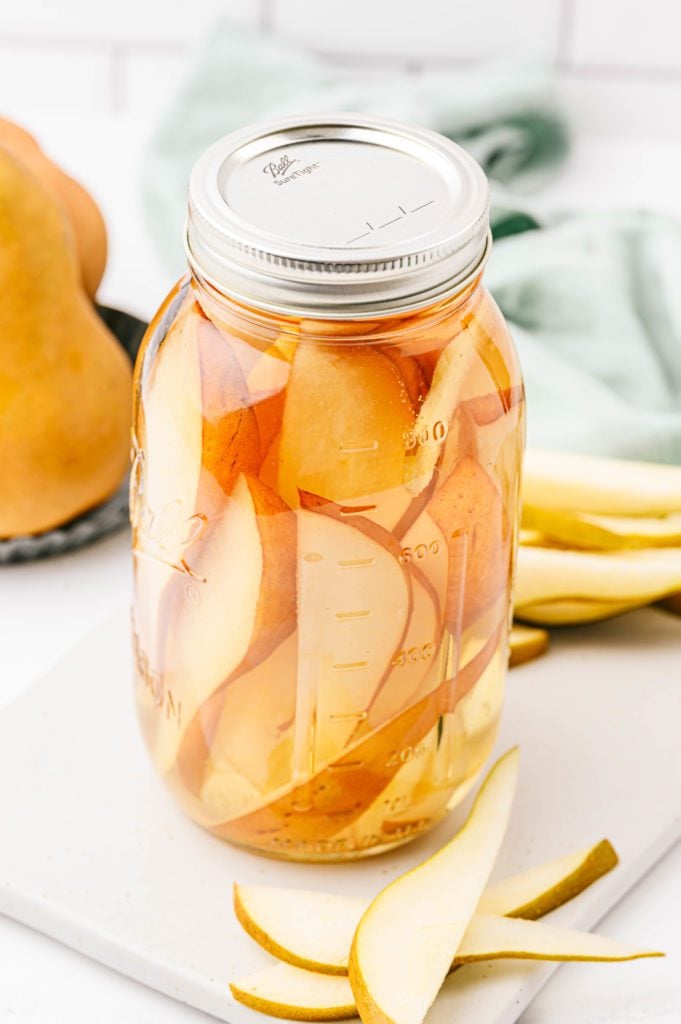 Step 2
Pour vodka over the ingredients until they're submerged in liquid.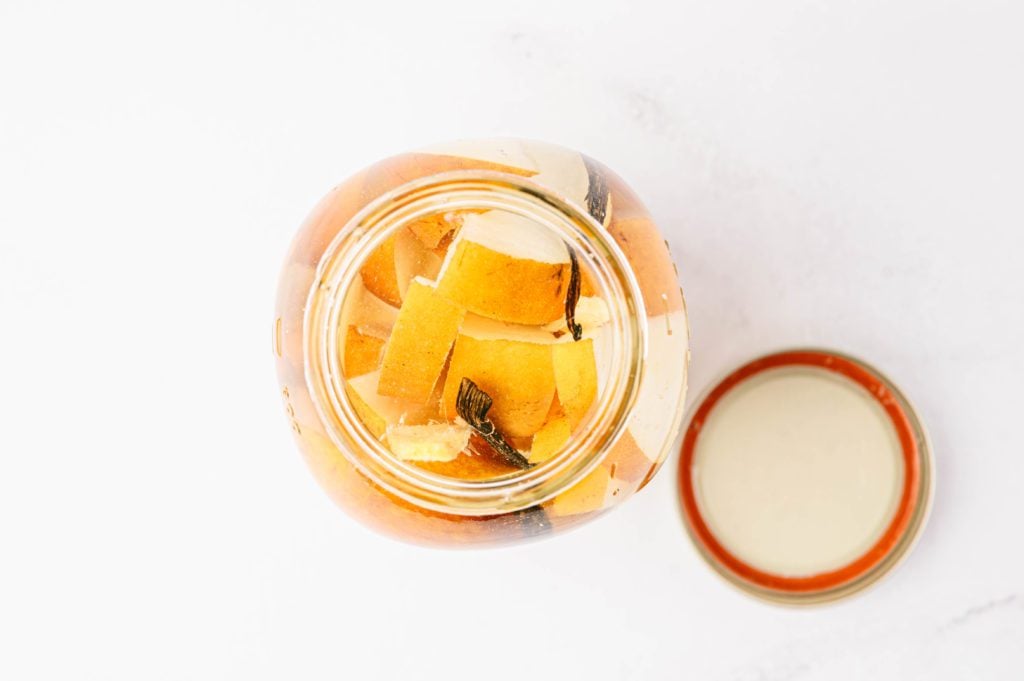 Step 3
Store in a cool, dark place, shaking the jar daily. On day five, strain the vodka into a clean jar and serve or store it for later.
Vodka FAQs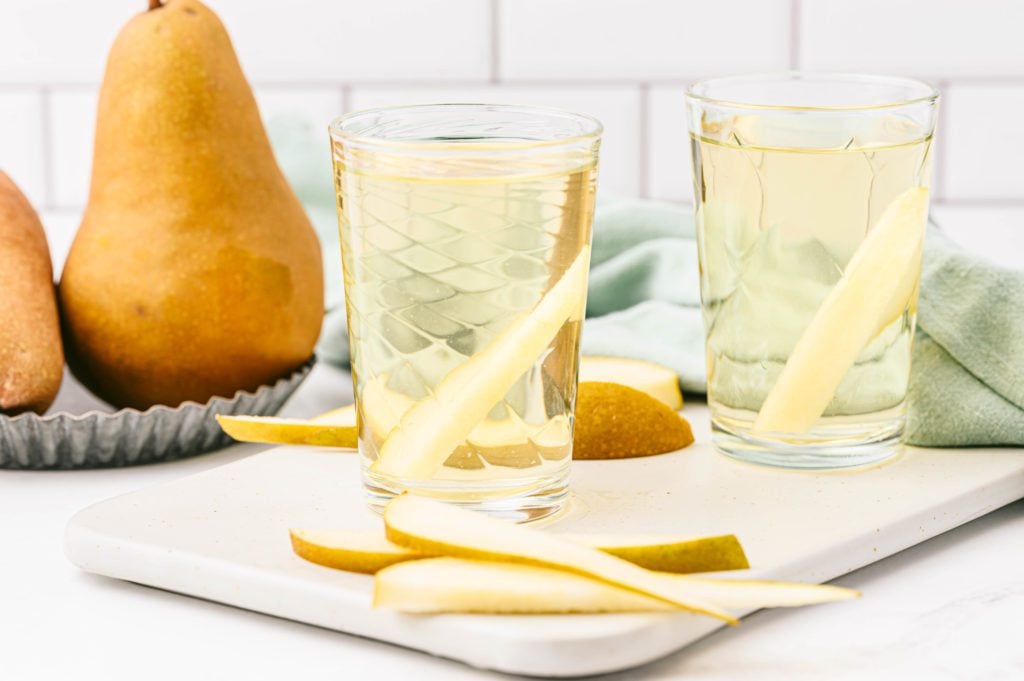 How long does it take to infuse the vodka?
It depends on how strong of a flavor you're looking for. We recommend doing a taste test on the fifth day to see what you think. Feel free to let it infuse for up to three weeks for a more bold and intense flavor.
What does it pair well with?
Add pear vodka to margaritas, serve with fruit juice, or pour it straight over ice. The pear adds a refreshing flavor and tastes crisp anyway you drink it.
Does it need to be refrigerated?
Nope. Alcohol is a natural preservative that prevents bacteria from growing on the fruit. Even if you wait the full three weeks before the vodka is to your desired taste, the fruit will look the same as the day you put it in your mason jar.
Is the fruit edible?
It will be mushy but you can definitely eat it if you'd like. Vodka infused pears are fun, boozy snacks to have around or as toppings on warm baked goods and ice cream. Or turn them into a sweet or savory glaze for meat or cake. No matter what you make with the leftover fruit, it's going to be yummy.
Why We Love Sage Fruit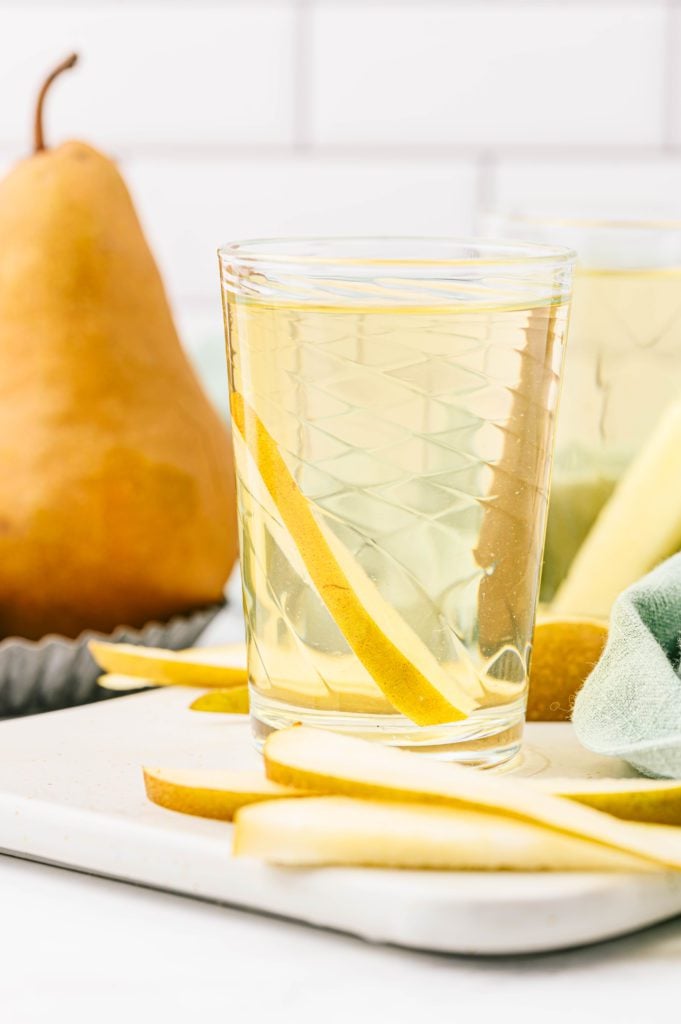 For over 20 years, Washington-based Sage Fruit has spent decades perfecting their pears and apples — making them a leader among growers, packers, and shippers. Their mission to bring you and your family the highest quality fruits has remained their number one priority since day one.
Sage Fruit even has a team of specialists that work with growers to make sure that your produce meets their highest standards and is picked at peak freshness. When your fruits reach the warehouse, they're inspected again to be sure they are fresh, sweet, and juicy. And Sage Fruit still looks for ways to improve their apples, pears, cherries, and stone fruit to deliver on their promise of an "Exceptional Eating Experience".
Be sure to look for them in the produce section at your grocery store!
Get Ready for the Weekend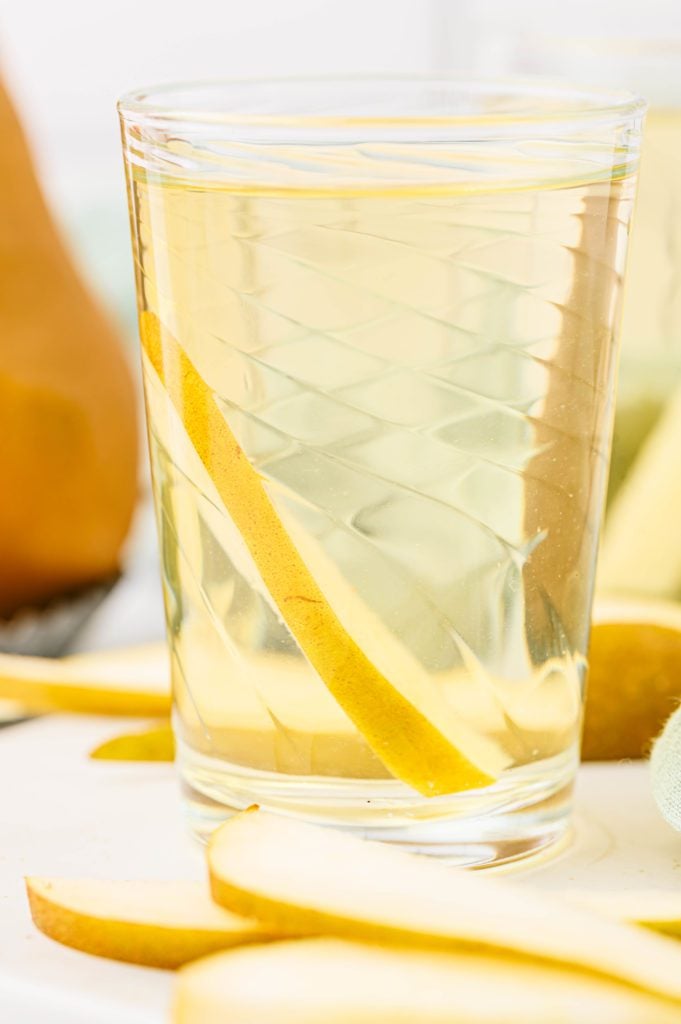 Pear infused vodka is insanely easy to make. The hardest part is letting it sit there all week long. But when Friday rolls around, you'll have vodka that you made yourself with all natural ingredients and a sweet, boozy snack to celebrate. Enjoy!
Want to try a different fresh fruit flavor?
Check out our guide on infusion combos here!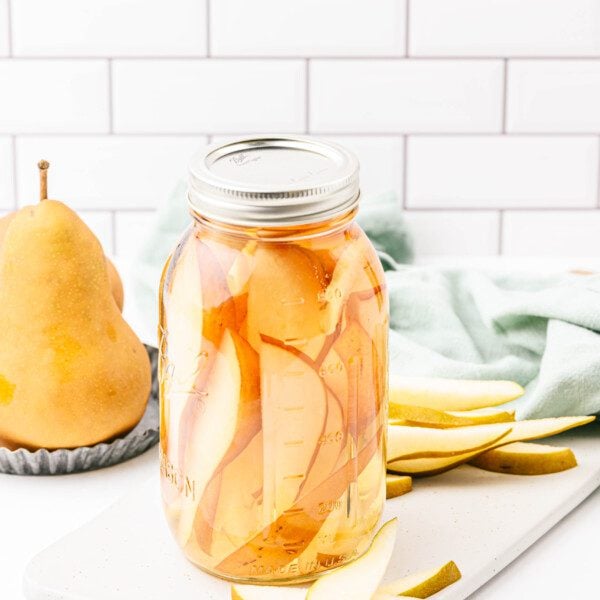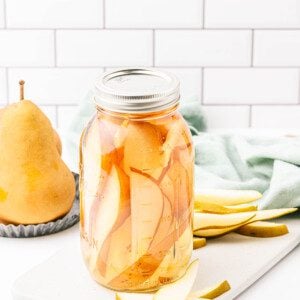 Pear Vodka
Four ingredients and a mason jar are all you need to make your own pear infused vodka that's totally natural. No added sugar or flavor additives make for a tasty adult beverage.
Ingredients
2

Sage Fruit pears

cored and sliced

3

slices

ginger

sliced 1/8 inch thick

1

vanilla bean

2 1/2

cups

vodka
Instructions
Add sliced pears, sliced ginger, and the vanilla bean to the bottom of a 1-quart mason jar.

Use a pairing (or small) knife to cut down the center of the vanilla bean pod, but not all the way through. Lay the pod on your cutting board with the cut side facing up and use your fingers to open it up. Hold the pod in place with one hand and use the knife in the other hand to gently scrape out the tiny black seeds. Then wipe the seeds off the knife and into your mason jar.

Pour the vodka into the mason jar, so all the ingredients are covered.

Seal the vodka and store it in a cool, dark place like a cupboard. Shake it once or twice daily.

Taste test the vodka on day five to see if the flavor is as strong as you'd like it to be. If it is, strain the vodka with a mesh strainer into a clean jar and seal it until using. (If you want more flavor, continue infusing for up to three weeks). Enjoy with your favorite self-care activity.
Notes
If this is your first time making
pear infused vodka,
start by using a 1:1 ratio of vodka to pears. That's a good starting point so you can adjust it to your liking when you make your next batch.
Nutrition
Calories:
1605
kcal
|
Carbohydrates:
56
g
|
Protein:
1
g
|
Fat:
1
g
|
Saturated Fat:
0.1
g
|
Polyunsaturated Fat:
0.3
g
|
Monounsaturated Fat:
0.3
g
|
Sodium:
10
mg
|
Potassium:
444
mg
|
Fiber:
11
g
|
Sugar:
35
g
|
Vitamin A:
89
IU
|
Vitamin C:
16
mg
|
Calcium:
33
mg
|
Iron:
1
mg
Nutrition information is automatically calculated, so should only be used as an approximation.
Like this? Leave a comment below!