April 2021 Indy Style: Celebrating Earth Day with Treats and Tableware
As we celebrate Earth Day on our April 2021 Indy Style appearance, we're getting creative to reduce waste and hide produce in any food we can!
Celebrate Earth Day in style with these delicious recipes! We cooked up Waffle Pops, Apple Doughnuts, Two-Ingredient Banana Pancakes, and Celery Pesto Crusted Chicken and Pasta and served it all in Earth-friendly, plant-based plates and bowls from Matter™.
Whether you're an eco-conscious mom or you're just starting to learn how you can help the planet, there's something in our April 2021 Indy Style segment for everyone!
Waffle Pops
Sometimes our kids are insistent on eating what they want to, when they want to – even if that means they're eating a waffle in the car! Solve that conundrum with these Waffle Pops. They come with all the tasty flavors of a fluffy waffle but are easy to eat on the go.
We covered our Waffle Pop with blueberry butter – an easy three-ingredient recipe! Our favorite juicy blueberries come from Naturipe, but these don't have to be the freshest berries in your kitchen. This is a great way to use ingredients that are a little past their prime but still good enough to eat.
Berry Butter
2 sticks of butter, room temperature
2 tbsp honey
½ cup of berries
Even if it's served on a stick, our kids are still prone to making a bit of a mess. And let's face it: we can be too! To keep the crumbs contained, serve these Waffle Pops in a Matter™ bowl. They're easy to hold in one hand while the other holds the waffle stick. When you're done with the bowl, you can throw it away guilt-free. Their natural plant fiber construction means they'll completely decompose in under a year without harming the environment.
Get the full recipe for Waffle Pops here!
Apple Donuts
The right recipe can solve food waste in your kitchen. For example: If you're like us, you overstock your kitchen with apples. They're just so tasty and they look great in the fruit bowl! But what do you do when your apples start to dehydrate?
We think you'll like our answer: Make some donuts!
Shredded apples are the key ingredient in these homemade Apple Donuts. We think Jazz™ Apples give them the perfect fruity flavor! Use a box shredder to shred an apple that is beginning to dry out. Each apple yields ½ to ¾ cups of shredded apple, so you'll need two to three apples for this recipe.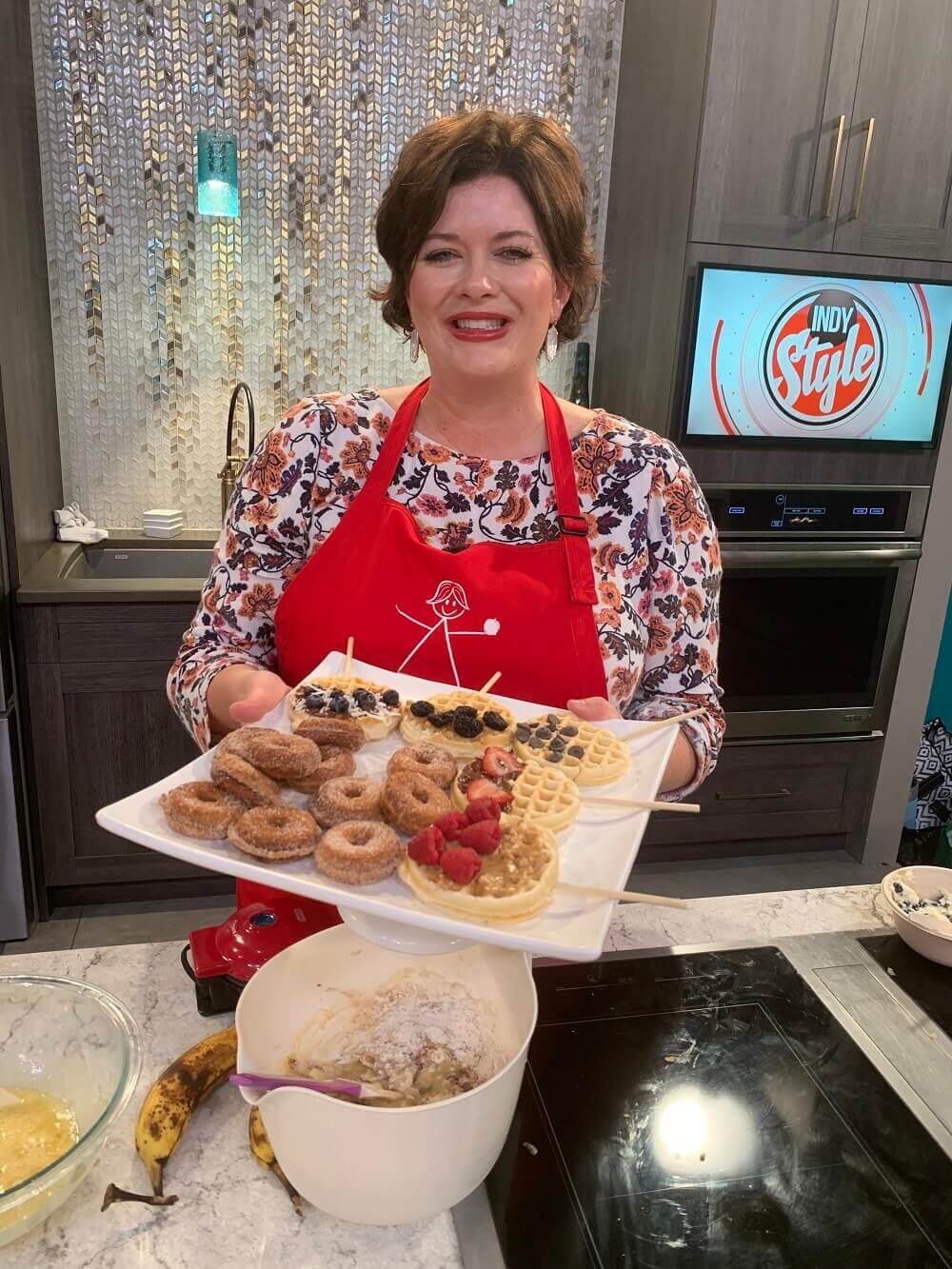 This recipe uses all the classic ingredients you think of when you imagine making donuts. But since it uses freshly shredded apples and applesauce, it uses far less sugar than typical donut recipes.
When your donut batter is ready, use a Matter™ resealable bag to pipe it into your pan. Just fill a gallon-sized Matter bag with the batter, seal it, and cut off one corner. This gives you an easy-to-use piping tool that you don't have to worry about cleaning out, or feel bad for throwing away!
Apple Donuts
Ingredients
4 cups all-purpose flour
4 teaspoons baking powder
1 ½ teaspoon salt
½ teaspoon baking soda
1 ½ tablespoon ground cinnamon
¼ teaspoon ground nutmeg
¼ cup unsalted butter, melted and cooled
2 eggs
1 cup sugar
½ cup buttermilk
1 cup unsweetened applesauce, from a jar
1 ½ cup fresh apple, peeled and grated
For the Coating:
unsweetened applesauce OR melted butter
1 cup sugar
1 tablespoon ground cinnamon
dash of ground nutmeg, optional
Directions
Preheat oven to 375.
In a large bowl, whisk together flour, baking powder, salt, baking soda, cinnamon, and nutmeg.
In another large bowl, stir together melted butter, eggs, sugar, buttermilk and applesauce.  Stir in fresh apple.
Add 1/3 of the flour mixture to the egg mixture.  Stir with a wooden spoon.  Add another 1/3 of the flour mixture and stir.  Add remaining flour and stir just until combined.
Spoon batter into a large Matter bag.  Seal and snip the corner off one end.  Squeeze batter into the cavities of a donut pan sprayed with non-stick baking spray. Fill each cavity 2/3 to 3/4 of the way full. To help donuts keep their pretty shape when baking, use a clean finger to gently even out the batter in each cavity and clean off the center knob of the pan. Bake at 375 for 12 to 14 minutes, until the tops of donuts spring back slightly when touched.  Let cool 5 minutes before removing from pan.
For the outside coating, combine sugar, cinnamon, and nutmeg in a bowl.  Using a pastry brush, cover each donut with a light coating of applesauce, or alternatively, dip quickly into melted butter.  Then dip into cinnamon sugar and toss to coat.  Let cool completely before eating, if possible.  A second dip into the cinnamon sugar creates an extra crunchy coating.
Two-Ingredient Banana Pancakes
If there's one fruit that always seems to grow overripe in our kitchens, it's the banana! They're packed with nutrition and are a naturally convenient and delicious snack, but their short shelf life can be a hassle.
But there's still hope for your overripe bananas! One of our favorite ways to use them is by making Two-Ingredient Banana Pancakes, which is just as easy as it sounds:
Two-Ingredient Banana Pancakes
Ingredients
Directions
Mash bananas and mix with egg in a mixing bowl.
Pour mixture into the pan to create 3-4 inch circles.
Flip to lightly brown both sides.
Serve with whipped cream and your favorite berries.
Depending on how big you make them, these pancakes can also be used as crepes. Try adding some crepe fillings like sweet cream cheese and your favorite berries, or even more slices of banana, then rolling or folding them and topping them with whipped cream.
Celery Pesto-Crusted Chicken and Pasta
So far, we've covered a lot of sweet breakfast dishes. Now let's pivot away from sweets and to a savory dinner your family will love: Celery Pesto Crusted Chicken!
This mouth-watering dish is unique thanks to its bold take on pesto. Traditional pesto is made from basil and pine nuts. For this Earth Day dish, we made pesto using veggie parts many of us throw away: celery leaves and hearts!
Celery leaves don't get the recognition they're due. These leaves are fragrant and flavorful and an affordable way to add some extra flavor to any dish. In this pesto, we mix Dandy® celery leaves with walnuts, garlic, and parmesan cheese in a food processor. If you don't own one, a blender will also work, but a food processor will get you the best pesto consistency.
This pesto is a phenomenal topping for pasta! We also marinated our chicken breasts in it to make them even more flavorful. Toss the pasta in your Celery Pesto mix while you bake your chicken breasts in the oven. We added NatureSweet cherry tomatoes to our baking pan. If your cherry tomatoes have started to wrinkle a little bit and don't look appetizing enough to eat plain, don't throw them away! They're still perfect for roasting.
Celery Pesto Crusted Chicken and Pasta is a delicious dish for family gatherings, which we'll be having more and more of as we head into summer. Save some of the food you might otherwise throw away and help the planet by making this incredibly flavorful dish!
Celery Pesto-Crusted Chicken and Pasta
Ingredients
1 box or bag orecchiette pasta, cooked & drained
Dandy® celery leaves and hearts from 1 bunch celery
4 bone-in skinless chicken breasts
1 container NatureSweet cherry tomatoes
3 cloves peeled garlic
1 cup walnuts
¾ cup grated parmesan cheese
1 tsp kosher salt
1 cup olive oil
Cracked pepper to taste
Crushed red pepper flakes (optional)
Directions
In a food processor combine celery leaves and hearts, garlic, walnuts, parmesan cheese, and salt. Turn on the processor and add olive oil until the mixture is emulsified to "pesto" consistency.
Marinate chicken breasts in pesto mixture.
Add chicken and cherry tomatoes to a baking sheet and bake until chicken is cooked through.
While the chicken is baking, cook pasta according to directions on the box.
Toss pasta in pesto mixture.
Serve family-style by placing chicken breasts and tomatoes on top of pasta in a large serving bowl. Top with walnuts, celery leaves, black pepper, and crushed red pepper. Serve and enjoy!
How Will You Celebrate Earth Day?
Now is as good a time as any to start thinking about new ways you can help the planet. This Earth Day, think about ways you can eliminate plastic and food waste in your kitchen. Eating more of what you buy will save you money, and using less single-use plastics will help keep our planet healthy for future generations!
That's why we've partnered with Matter™, a new line of plastic-free disposable tableware and kitchen products available at Target. Matter™ plates and bowls have been available for some time, but this green company is thinking bigger! Look for their new line of cutlery, food storage containers, and kitchen supplies — all of which are made of natural, renewable fibers and resins.
These items, which include essentials like straws and kitchen trash bags, are all 100 percent compostable and will decompose into soil nutrients, even if they end up in a landfill. They're safer for plants and animals and manufactured with sustainability in mind. If you're looking to make your kitchen more eco-friendly, start with Matter™!
What were your favorite Earth Day recipes from our April 2021 Indy Style segment? Are you taking any other action to live a more Earth-friendly lifestyle? Let us know in the comments!