Cosmic Crisp® and Salad Savoy are members of The Produce Moms' Family of Partners.
Delight your holiday guests with these delightful holiday recipes!
We are smack in the middle of holiday entertaining season. Don't fret about what to bring to your next holiday party or what to cook for your guests. We have you covered!  Today on Indy Style, Lori Taylor shared delicious produce-centric holiday recipes that are perfect for parties.
First up are recipes featuring the newest star of the produce department: the Cosmic Crisp® apple. You've likely already heard about the apple that's sweeping the nation's attention. Everyone from Martha Stewart to Time magazine is talking about them. We're here to tell you… they live up to the hype!
Cosmic Crisp® Breakfast Hash
Begin your holiday with a special breakfast that incorporates one of the most anticipated apples of all time, the Cosmic Crisp®. Sweet and savory ingredients come together in one skillet to create this irresistible breakfast.
Ingredients 
8 slices of bacon, chopped

2 Cosmic Crisp

®

Apples, chopped

1 sweet potato

1 bunch green onions (remove roots, slice all the way to the top)

2 cups spinach

4 Eggs

Salt and Pepper to taste
Directions
Heat a 12 inch ovenproof skillet on the stove over medium-high heat, and preheat your oven to 400 degrees.

Chop your bacon into 1 inch pieces and add to the heated skillet.

Let the bacon cook until a bit crispy but not fully done. Drain off some of the fat, leaving enough to cook sweet potatoes and Cosmic Crisp

®

Apples. 

Add the chopped

Cosmic Crisp

®

Apples

and chopped sweet potatoes in the skillet with bacon. Toss to coat, and sprinkle with salt and pepper to taste.

Turn down the heat to medium.  Cover, and let the sweet potatoes and

Cosmic Crisp

®

Apples

soften. After 2-3 minutes uncover, and stir to evenly brown.

Once the

Cosmic Crisp

®

Apples

and sweet potatoes are browning and soft add the spinach. Toss, and cook for another 3-4 minutes

Remove the skillet from the heat. Carefully crack each egg in a different spot on top of the hash (you want to avoid breaking the yolk). 

Sprinkle salt and pepper over the eggs. Place the entire skillet in preheated oven for 5-10 minutes, depending on how well you like your eggs cooked. 

Once the eggs are cooked to choice, remove the skillet  from the oven. Sprinkle a generous amount of chopped green onions on top.  Let it sit for 5 minutes, serve and enjoy!
Cosmic Crisp® Apples and Sweet Potatoes
This unexpected dish will have all your dinner guests talking. It's the perfect balance of sweet and savory and sure to become a holiday classic.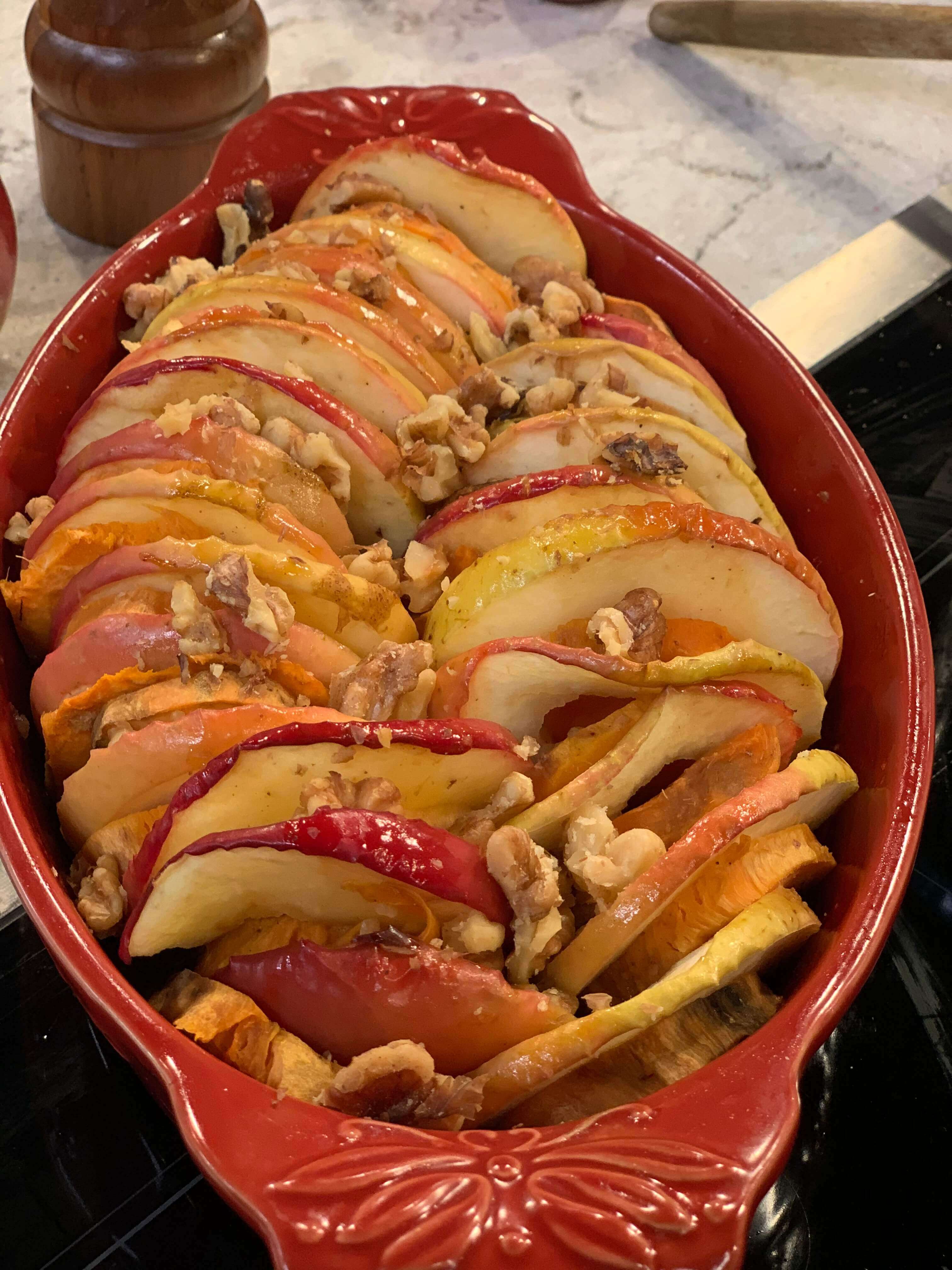 Ingredients
2 large yams or sweet potatoes

2 Cosmic Crisp®, cored and sliced crosswise into 3/8″ to 1/4″ rings

1/4 cup firmly packed brown sugar

1 teaspoon cornstarch

1/8 teaspoon ground cloves

1/2 cup orange juice

2 tablespoons chopped pecans or walnuts
Directions
Because yams (or sweet potatoes) require much longer cooking time than apples, this recipe calls for pre-baking them. This step can be done a day or so ahead, if desired.

Heat oven to 400 degrees F. Bake yams 35-40 minutes or until soft still retain their shape. (This step can also be done in the microwave; microwave yams on high 6-8 minutes, rotating halfway through cooking.) Cool yams until they can be handled. Reduce oven heat to 350 degrees F.

Peel yams and slice crosswise into 3/8″ to 1/4″ rings. In a shallow 1-quart baking dish, alternate apple rings and yam slices, overlapping their edges slightly. In small saucepan, combine sugar, cornstarch, and cloves; stir in orange juice and blend. Heat orange juice mixture, stirring, until thickened; pour over apples and yams. Top casserole with nuts and bake 30-45 minutes or until apples are tender.
Cosmic Crisp® Apple Almond Bites + Build Your Own Cosmic Crisp® Entertaining Bar
Spread holiday joy with a Cosmic Crisp® apple dipper bar. From young to old, all your guests will delight in this fun and festive idea where everyone can build their own apple bites.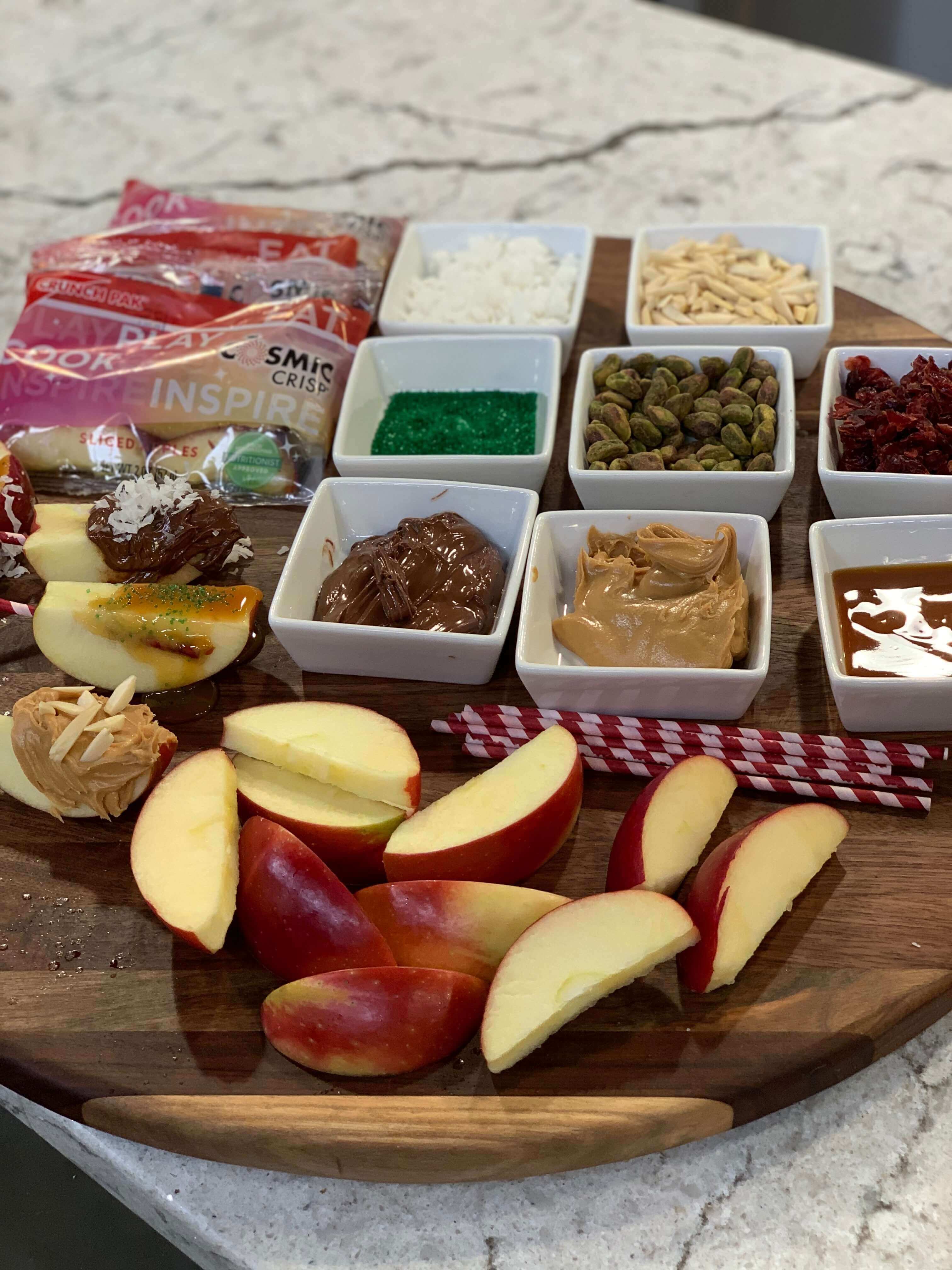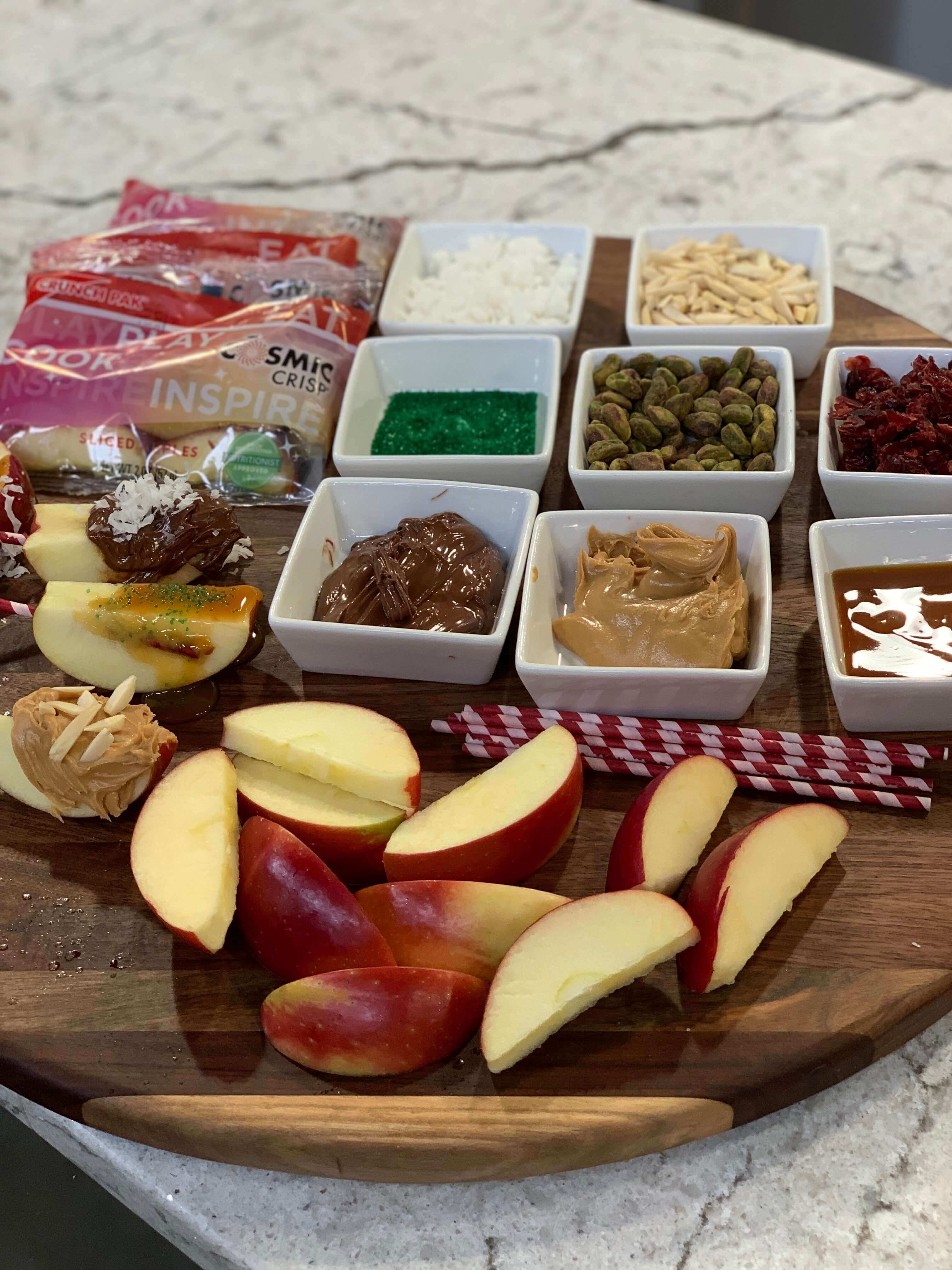 Ingredients
Almond Butter (or your favorite nut butter)

Microwavable chocolate (can find it in the produce section)

Caramel 

1 bag chopped almonds

1 bag chopped pistachios 

1 bag dried cranberries

1 bag shredded coconut

Red and green sprinkles (or holiday sprinkles)

Lollipop sticks
Directions
Slice apples and place a lollipop stick in each.
Arrange apples, dips, and toppings on a table or countertop. Allow guests to dip and top their apples anyway they'd like.
*recipe inspired by Cosmic Crisp®
RELATED: Give The Gift Of Cosmic Crisp® + Printable Gift Tags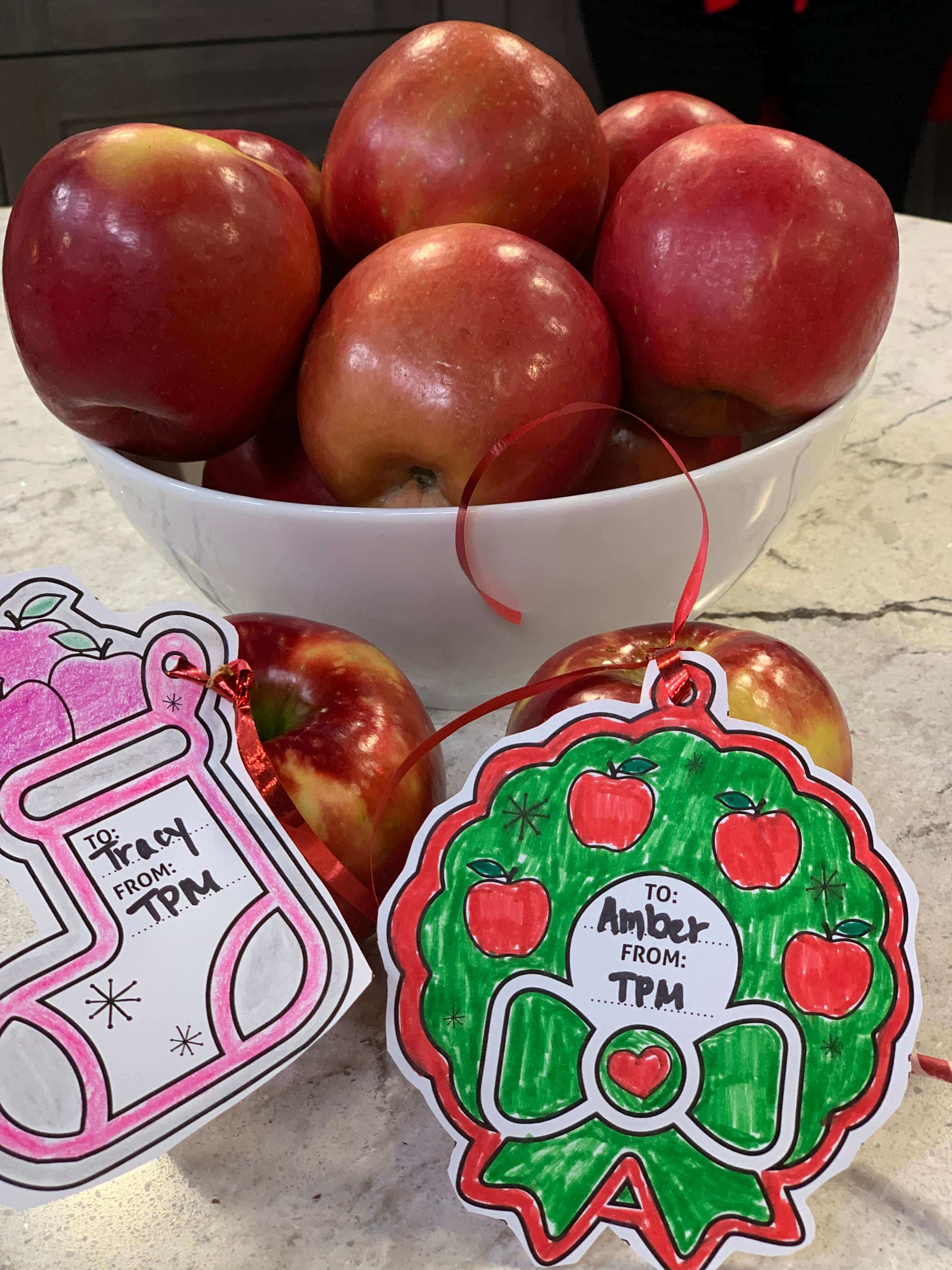 Next up are holiday recipes featuring some of the cutest and most festive ingredients in the produce department: Lollipop® Kale Sprouts and Carnival® Multi-Color Cauliflower from Salad Savoy.
Roasted Lollipop® Shrimp Cocktail
Need an elegant yet simple appetizer to pass around at your holiday gathering? Look no further! This is the recipe you need.
Ingredients
5 ounces Lollipop® Kale sprouts, (about 16) washed and stems trimmed

12 ounces raw, colossal shrimp (about 16), peeled and deveined, with tails left on

Olive oil for drizzling

Juice of 1 lemon

Sea salt for sprinkling
Directions
Preheat oven to 425 degrees F. Coat 2 rimmed baking sheets with cooking spray.

Wrap a shrimp around a Lollipop® kale sprout and secure with a wooden toothpick or bamboo skewer. Repeat with remaining kale sprouts and shrimp and place on baking sheets.

Drizzle olive oil and lemon juice evenly over the shrimp. Lightly sprinkle with sea salt.

Roast on the upper shelf of your oven for 5 to 6 minutes or until the shrimp is cooked through and the kale sprouts begin to get crispy. Serve.
Rainbow Cauliflower Salad
Spread joy this holiday season with colorful dishes. It doesn't get anymore colorful than Carnival® Multi-Color Cauliflower. And recipes don't get any easier than this one! Simply mix the ingredients together and coat evenly with Italian dressing and seasoning.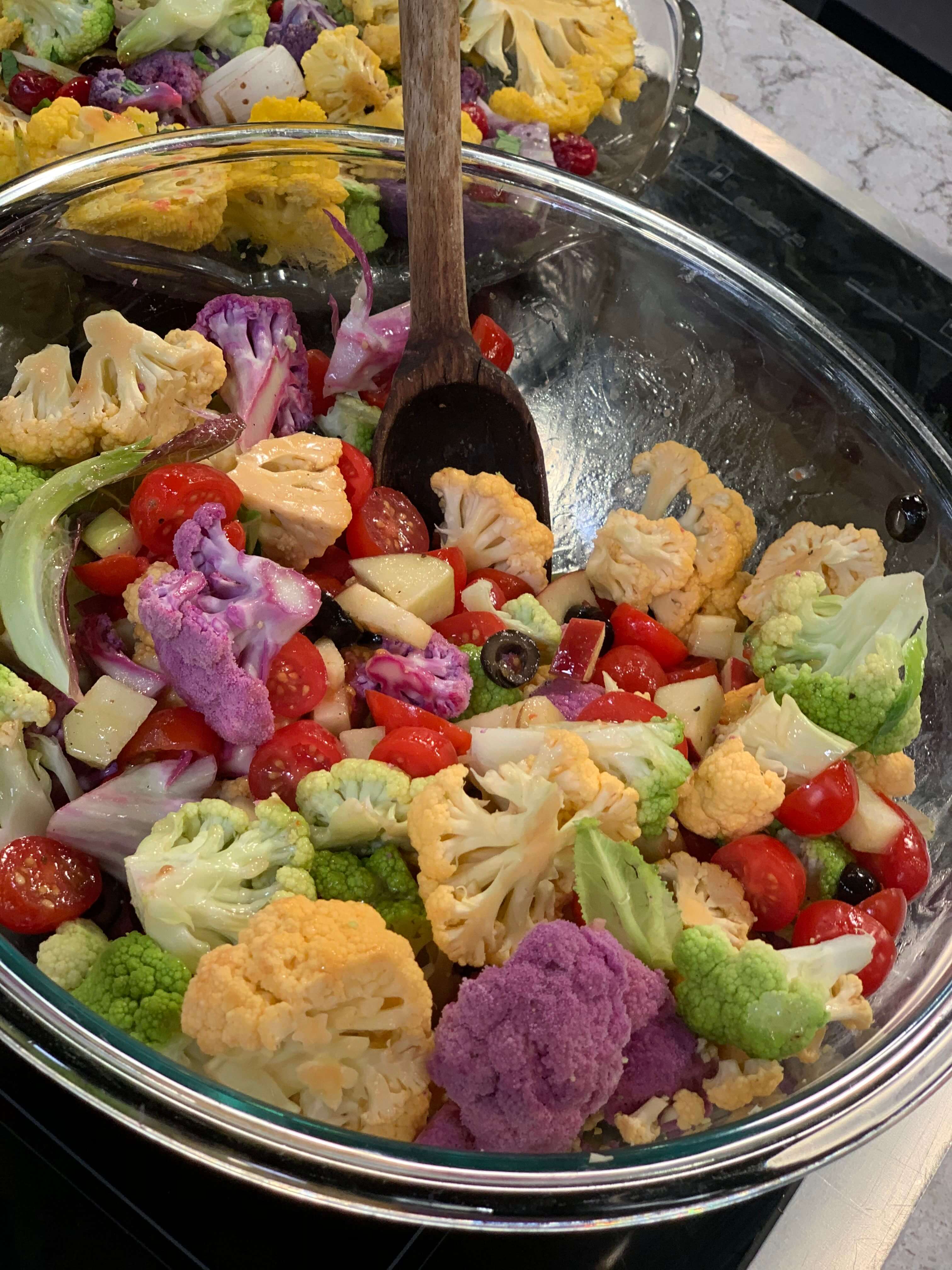 Ingredients
6 cups Carnival® Multi-Color Cauliflower florets 

1 cup cherry tomatoes, halved

1 Cosmic Crisp® apple, sliced

1/2 sweet onion, cut into half-moon strips

1 (6-ounce) can black olives, drained

1-1/2 cups Italian dressing

1 tablespoon sugar

1/2 teaspoon salt

1/2 teaspoon black pepper
Directions
In a large bowl, combine multi-color cauliflower, tomatoes, onion, and olives.

In a medium bowl, whisk together Italian dressing, sugar, salt, and black pepper. Pour over vegetables and toss until evenly coated. Cover and chill until ready to serve.
*recipe inspired by Salad Savoy
Roasted Cauliflower with Cranberries
Here's another great way to bring color to your holiday table. Carnival® Multi-Color Cauliflower turns even more beautiful when roasted and the deep red cranberries complement it perfectly.
Ingredients
2 medium heads multi-color cauliflower (1 1/2 to 2 lbs. each), sliced and broken in florets (8 cups)

1 large sweet yellow or red onion, cut into wedges (2 cups)

3 tablespoons olive oil

1 teaspoon kosher salt, divided

1 ½ cups fresh or frozen cranberries

¼ cup balsamic vinegar

¼ cup honey

¼ teaspoon freshly cracked pepper

1 tablespoon snipped fresh mint
Directions
Preheat oven to 450ºF. Place cauliflower and onion in a shallow baking pan. Drizzle with olive oil and sprinkle with 1/2 tsp. salt. Stir to coat. Spread in an even layer. Roast, uncovered, for 30 minutes or until cauliflower and onion are tender, stirring in cranberries halfway through roasting.

Meanwhile, in a small saucepan whisk together balsamic vinegar, honey, the remaining 1/2 tsp. salt, and pepper. Simmer, uncovered, until sightly thickened, about 10 minutes. Pour balsamic mixture over roasted cauliflower mixture; toss to coat. Transfer mixture to a platter. Sprinkle with mint before serving.
*recipe inspired by Better Homes & Gardens
Lollipop® Bacon Rollups 
Go ahead and double this recipe. These bite-sized Lollipop Bacon Rollups will be the first appetizer run out!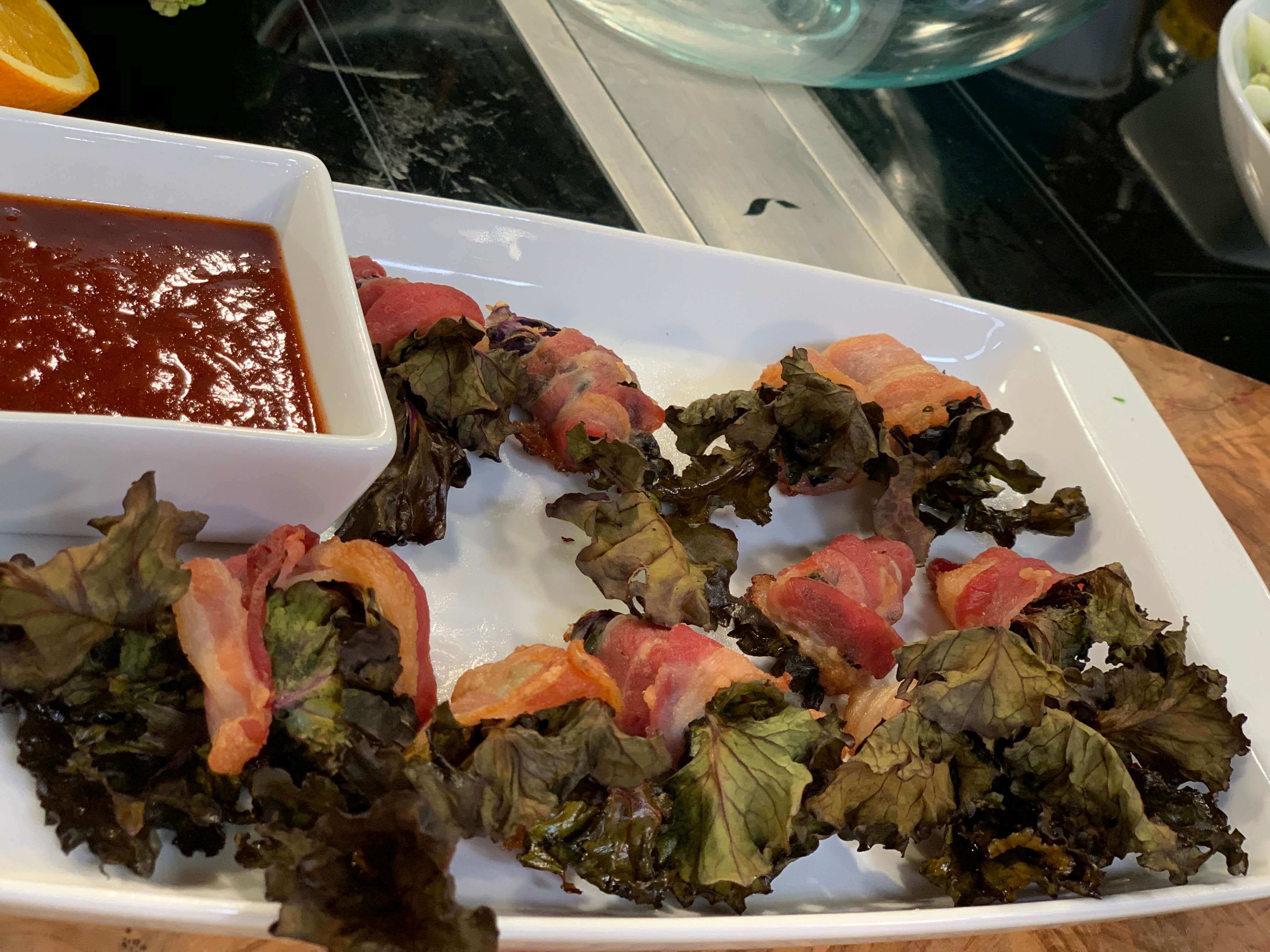 Ingredients
12 slices bacon, cut in half

1/2 pound Lollipops® kale sprouts washed and stems trimmed (about 24)

3/4 cup ketchup

3/4 cup white vinegar

1 cup light brown sugar
Directions
Preheat the oven to 425 degrees F. Coat 2 baking sheets with cooking spray.

Wrap a piece of bacon securely around half of the kale sprout, leaving flowering ends uncovered. Place on a baking sheet and bake 15 to 20 minutes or until bacon is crisp.

Meanwhile, in a small saucepan combine ketchup, vinegar and brown sugar. Bring to a boil over medium heat, stirring occasionally. Remove from heat and drizzle sauce over kale sprouts. Serve immediately.
Which produce items will you incorporate into your holiday celebrations? If you make one of these holiday recipes, share a photo on Instagram. Tag us @theproducemoms and @indystylewish.