2019 Holiday Gift Guide – DIY Gift Baskets, Stocking Stuffers, & More
Nov 29, 2019, Updated Nov 19, 2021
*This Holiday Gift Guide contains affiliate links and products from The Produce Moms' brand partners. 
The Produce Moms' 2019 Holiday Gift Guide
In an age where everyone has too many things, the best gifts to give are experiences. One of the best experiences is a delicious meal or tasty treat. Food has a unique way of touching a person's heart while satisfying their belly.
This holiday season, give gifts that create an experience and long-lasting memories, not waste. The produce department truly has something for everyone on your list. Here is our 2019 Holiday Gift Guide using items from the produce department.
Homemade Gift Baskets
From coworkers to neighbors to friends, personalized gift baskets are thoughtful gifts that can work for anyone on your list. The produce department is a great place to start. Grab a basket and start filling! Here are some creative ideas to get you started:
The Guac Lover's Gift Basket
This is the ultimate gift basket for the guacamole lovers in your life!
What To Include: 
Other Items You Could Include:
A Craft Cocktail Kit
Spread holiday cheer with a custom craft cocktail kit! This kit includes everything one needs to create a Pomegranate & Mandarin Gin Fizz Cocktail.
What To Include: 
RELATED: How To Open a Pomegranate 
Other Craft Cocktail Recipes You Could Use Instead:
Banana Bread Gift Basket
This is the perfect gift basket for that person in your life who loves to bake or goes bananas for banana bread.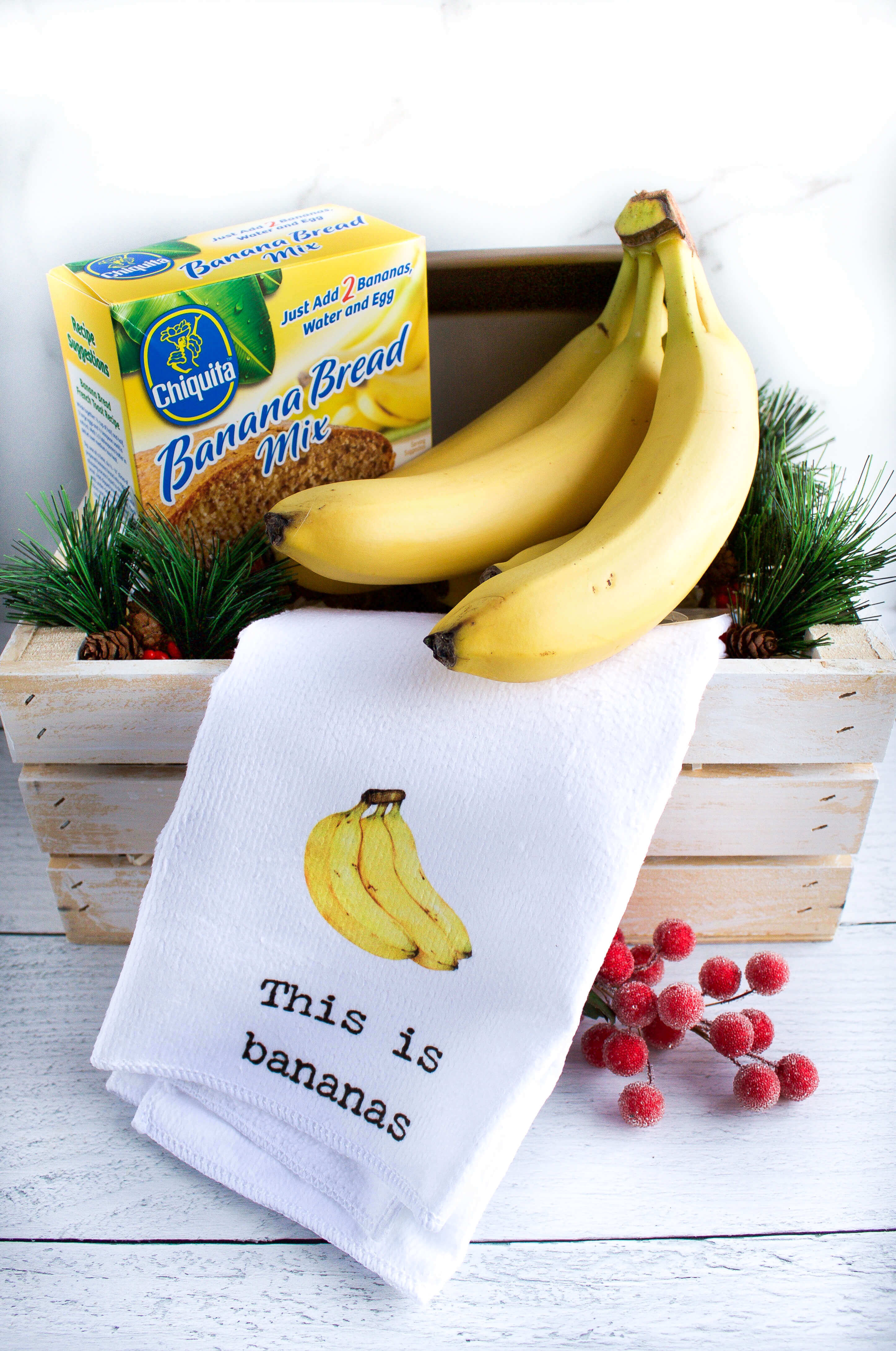 What To Include: 
The Pasta Lover's Gift Basket
Make this gift basket for the gourmet cooks and pasta lovers in your life.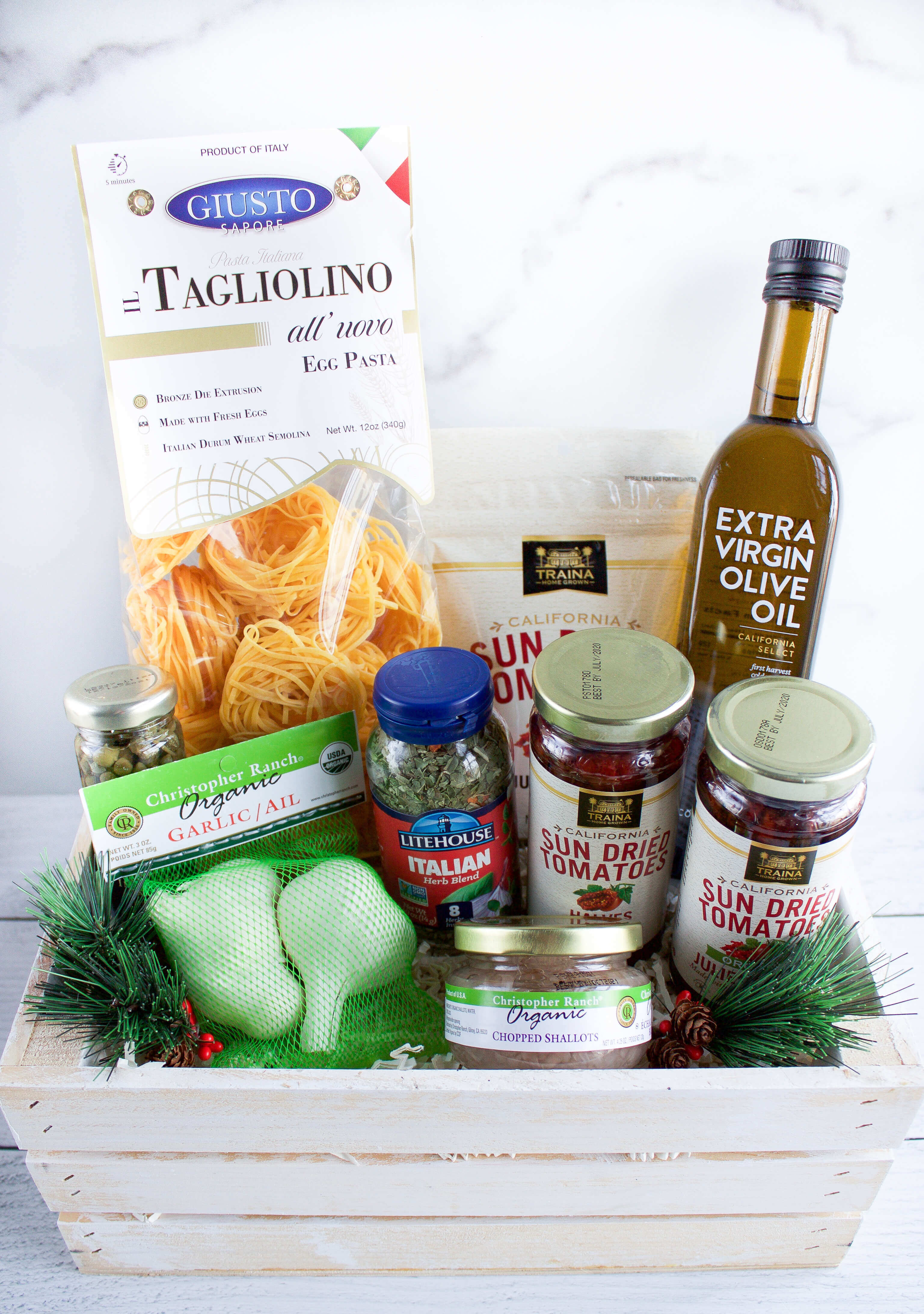 What To Include: 
Other Items You Could Include:
Parmigiano Reggiano Cheese + Cheese Grater
Good Quality Marinara Sauce
Nice Bottle of Red Wine
Fruit Basket
When in doubt, a fruit basket always works! This is an especially great gift for that person in your life who's trying to cut back on artificial sugars but still loves sweet treats since this basket is full of naturally sweet fruits.
What To Include: 
Other Items You Could Include:
RELATED: How To Build a Custom Gift Basket 
Apple Cider Gift Basket
Show the apple of your eye that you appreciate them with an apple cider making kit. This also makes a great teacher gift!
What To Include: 
Apples
Cinnamon Sticks
Mugs
Nut Tray
Know someone who is nuts for nuts? Customize a nut tray with all their favorites.
What To Include: 
Pecans
Cashews
Pistachios
Black Walnuts
California Walnuts (shelled or unshelled)
Other Nut Varieties To Consider Including:
Almonds
Peanuts
Brazil Nuts
Macadamia Nuts
Stocking Stuffers
Skip the candy this year and stuff your stockings with these sweet treats instead.
StickyLickits
StickyLickits are edible stickers that make eating fruits and vegetables more fun. Kids can lick the back of the sticker, stick it on the fruit or veggie of their choice and then eat the whole thing. They contain NO sugar, GMOs, dairy, soy, peanuts, or tree nuts. In fact, they contain NO artificial ingredients whatsoever and are vegan and kosher too!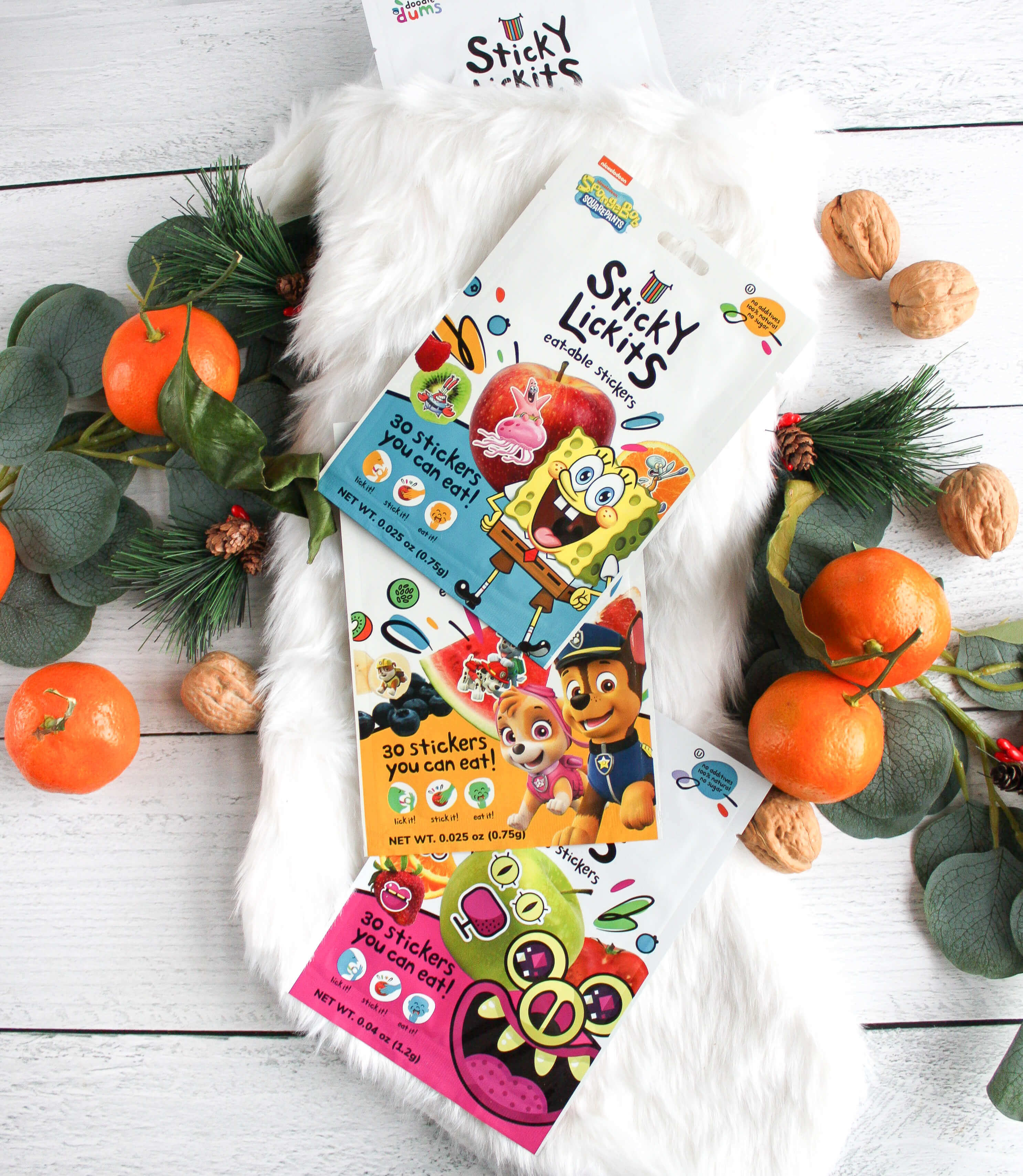 Joolies™ Organic Medjool Dates
Joolies™ Organic Medjool Dates are an excellent candy alternative. Think of them as organic palm tree candy straight from California. They offer three ways to date — whole, pitted, and syrup. Not only are these some of the very best dates in the world, they also come beautifully packaged.
Concord Fresh Success Smoothie Mixes
Have a smoothie lover in your life? Stuff their stockings with these convenient smoothie mixes from Concord Fresh Success. They are available in a variety of flavors including Banana, Blueberry Banana, Tropical Pineapple, Kale and Apple, Strawberry, Tropical Mango, Chocolate Banana, and Orange.
Dried Figs
Finish off your stocking with dried figs. Figs are naturally sweet, making them another great candy alternative. Look for California Black Mission Figs or California Golden Figs.
Sweet Treats
Here are some great gift ideas for that person in your life with a sweet tooth.
Upside Down Apple Cake
This stunning cake takes just 15 minutes of prep. It's the perfect option if you want to gift someone with a homemade dessert but don't have a lot of time to commit to something more labor intensive like decorating cookies or making homemade candy.
Get the recipe for Upside Down Apple Cake 
Chocolate Pear Bread
Have a chocolate-lover on your list? This is the recipe for them! Extra dark cocoa powder complements Sage Fruit's sweet and juicy D'Anjou Pears. It's a bread that eats more like a brownie. Yum!
Get the recipe for Chocolate Pear Bread 
Holiday Fruitcake
Fruitcake is a quintessential holiday food. This one combines sweet fruits, spices, and rum to make a moist, flavorful bundt cake that everyone loves!
Get the recipe for our Holiday Fruitcake
Apple Pie
A delicious apple pie in a beautiful pie pan makes a great gift. Be sure to include freezing directions in case the receiver wants to save it for a later date.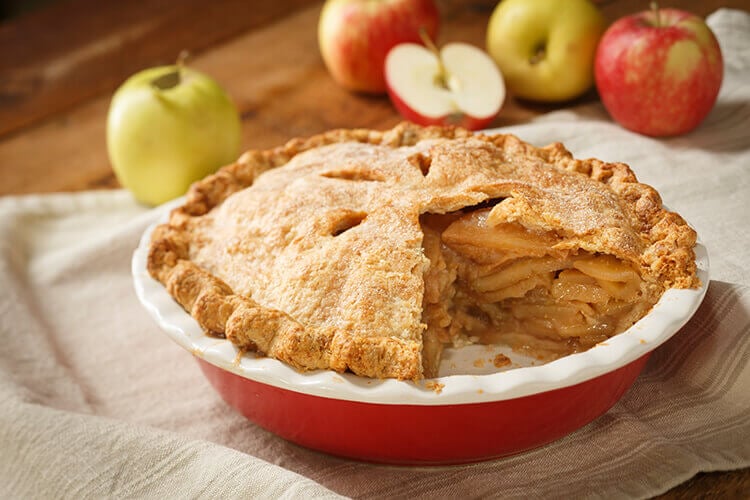 Get the recipe for All-American Apple Pie 
Avocado Strawberry Blueberry Bread with Triple Berry Jam
This recipe is lower in sugar and higher in fiber than most traditional quick breads. Berries lend their natural sweetness, cutting back on added sugar. It's a great gift for anyone in your life who loves a sweet treat but also wants to cut back on added sugars.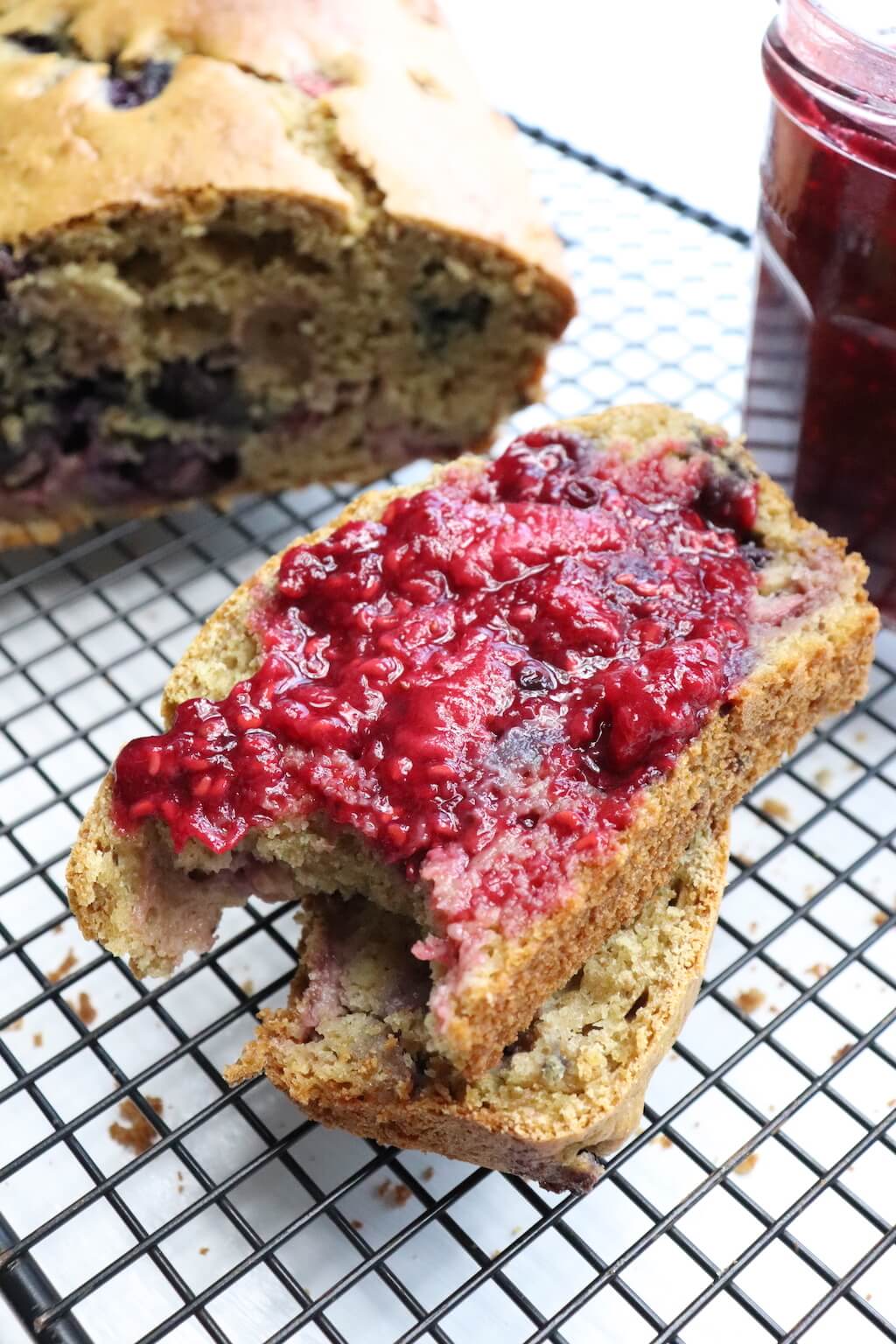 Get the recipe for Avocado Strawberry Blueberry Bread with Triple Berry Jam
Cosmic Crisp® Apples
Desserts and baked goods aren't the only sweet treats you can give this holiday season. Cosmic Crisp® apples are sweet and tart with the perfect amount of crunch and texture. This apple variety has been so highly-anticipated it's been featured in Time Magazine, Martha Stewart Living, the BBC, the TODAY Show, and more… even before hitting retail shelves. If you're lucky enough to spot Cosmic Crisp® apples in your grocery store, grab enough to hand out as gifts. Tag them with these adorable homemade gift tags.
Gifts For Your Furry Friends
Don't forget your furry friends and your friends' furry friends this holiday season! Gift them with homemade dog treats and a dog toy (we are partial to produce-themed dog toys, of course!). Be sure to include the treat recipe so your friends can make more if they'd like.
Dog Treat Recipes: 
Produce Donations For Those In Need
Making a donation in your friend's name is also a wonderful way to celebrate the holiday season. Brighter Bites is a nonprofit that delivers fresh fruits and vegetables directly into the hands of families in underserved communities and teaches them how to use it.
Learn more about Brighter Bites and make a donation here. 
You can also hear more from Brighter Bites on The Produce Moms' podcast episode 2 and episode 75.
What edible gifts from the produce department will you be giving this holiday season? What would you add to our holiday gift guide? Share in the comments below or tag us in your holiday gift-giving photos on Instagram @theproducemoms.