What's in Season April: Fruits & Vegetables
Dec 15, 2022, Updated May 02, 2023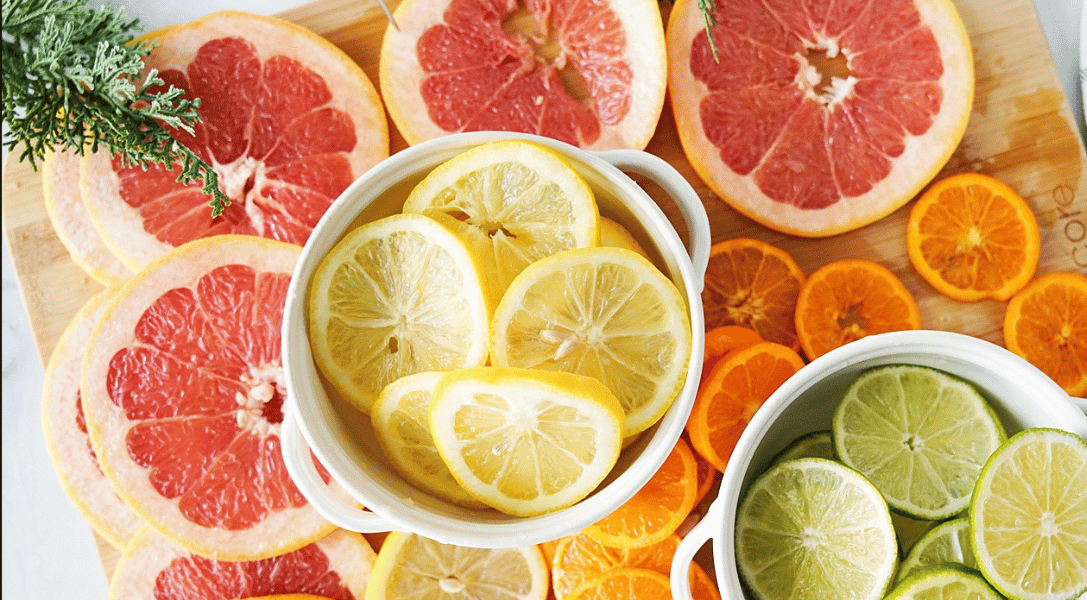 April is a great time to load up on fruits and vegetables and create many delicious homemade dishes. As always, we recommend sticking with fruits and vegetables that are in season as much as possible.
In-season produce tends to be fresher, taste better, and ripen better. What fruits and vegetables should you buy during April? Read this guide from the Produce Moms to learn about the top fruits and veggies for April.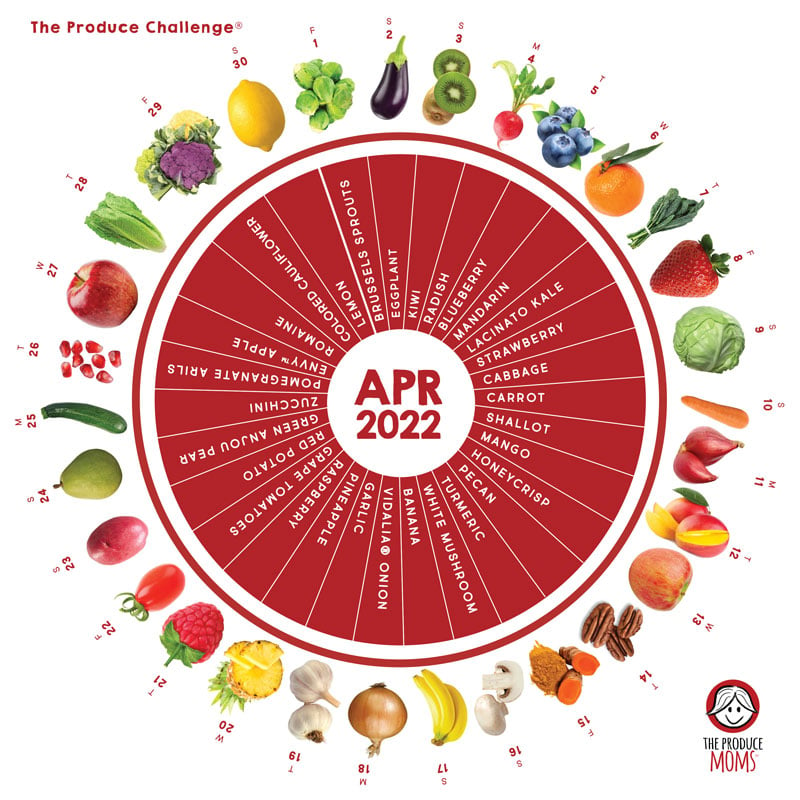 Fruits in Season April
Fruit is the perfect snack when you're craving something sweet but want to stay away from chocolate or other processed foods. Here are the top fruits to check out during this month.
Envy™ Apple
Envy apples have beautiful splashes of yellow and red. They have a delightfully crisp texture, juicy sweet flavor, and a fresh aroma. The apples hale from New Zealand and belong to the Rosaceae family. These apples taste great plain, or you can pair them with other vegetables to make a salad, like Brussels sprouts or sweet potatoes.
Banana
Rich in nutrients, bananas may improve your blood sugar levels. A banana is a perfect snack to munch on while on the go, and they also make an excellent topping for cereal, yogurt, or oatmeal. If you bought too many bananas, throw them in your freezer and use them later to make banana bread.
Related: Air Fryer Banana Split Recipe
Blueberry
Blueberries are a powerhouse of a fruit, as they're loaded with antioxidants. With the weather warming up in April, you can sprinkle some blueberries on top of a salad with goat cheese, nuts, and lean meat. Of course, you can also use blueberries to make sweet treats, like blueberry muffins, blueberry pie, or blueberry scones.
Click here for a delicious cranberry, blueberry, and strawberry sauce!
Grape Tomatoes
Also known as cherry tomatoes, grape tomatoes are tiny tomatoes that pack a burst of flavor in each bite. You can get creative with a pint of cherry tomatoes. Try adding your tomatoes to salads, sprinkling them on top of homemade flatbread, or adding them to your favorite quiche recipe.
Green Anjou Pear
Did you know that there are over 3,000 varieties of pears? The green Anjou pear is one of the most popular varieties, primarily due to its delicious flavor and versatility. Green anjou pairs taste great plain, but you can also poach, grill, bake, or roast them. You can sprinkle a bit of honey and cinnamon atop your cooked pear for the perfect post-dinner dessert.
Honeycrisp Apples
You may not expect a place with cold temperatures to produce such delicious apples, but believe it or not, Honeycrisp apples hale from the chilly Northern state of Minnesota. While the apples are popular during autumn, they're also in season during April. As the name suggests, the apple has a honey-sweet flavor and is extra juicy.
Kiwi
Kiwis can add a burst of flavor and color to your dishes. Because their flavor is so mild, they're easy to incorporate into various recipes. Use kiwis to make a fruit salad, salsa, or cucumber salad. While most people busy themselves making zucchini or banana bread, we recommend trying your hand at kiwi bread for something truly unique.
Lemon
Don't let your lemons rot in the fruit bowl this April! Many people don't realize that lemons are a very versatile fruit. Perhaps the easiest way to enjoy a lemon is to squeeze a bit of the juice into your water for some extra flavor. But you can also use lemons to make lemon bars, citrus salads, and more. You can also use lemon juice as a cleaning agent!
Mandarin fruit
Similar to oranges, mandarins are sweeter, smaller, and easier to peel than traditional oranges. For this reason, they make an excellent snack for kids, but you can also use mandarin oranges to make marmalade, freshly-squeezed juice, or a vinaigrette salad dressing.
Related: Mandarin Cocktail
Mango
Mangos are the perfect snack for anyone who has a strong sweet tooth. While the sugar content in mangoes is high, remember that it's natural, which is much better for you than processed sugar. One dish we suggest making is mango sticky rice, which is very popular in Asian countries. You can also try making a peach mango salsa, or, if you're craving something sweet and cool, mango popsicles or mango sorbet.
Pineapple
Pineapple is another versatile fruit that is in season during April! You can make salsa, pineapple upside-down cake, pineapple smoothies, or a simple pineapple whip. And don't let those pineapple peels go to waste. You can use the peels to brew tea or make a face mask.
Pomegranate Arils
Pomegranate arils are the tiny, pink, edible seeds inside the pomegranate fruit. While removing pomegranate seeds from their skin can be labor-intensive, it's worth the extra effort. You can sprinkle pomegranate seeds on a salad, oatmeal, chia seed pudding, or smoothie bowl. Their tart taste will add a unique flavor profile to your dish.
Raspberry
Like blueberries, raspberries are also loaded with antioxidants. The small, red fruit makes an excellent healthy snack, as one cup contains about 60 calories. You can also sprinkle raspberries on top of your yogurt or smoothie bowls. Or, try making a raspberry crumble or raspberry breakfast bar.
Strawberry
Strawberries make for the perfect refreshing treat on a warm spring afternoon. If you're looking for an easy dish to bring to a party, you can cut up some strawberries and make a delicious dip by combining marshmallow fluff and cream cheese. Or, you can make some chocolate-covered strawberries if you want something extra decadent.
Vegetables in Season April
There are just as many delicious vegetables in season during April as there are strawberries. We'd argue that vegetables are even more versatile than fruit, as you can easily incorporate them into side dishes and main dishes. Here are the vegetables in season during April.
Brussels Sprouts
Don't let the smell of Brussels sprouts turn you off. Roasted Brussels sprouts are one of the best side dishes out there, and it's effortless to make. You can keep things simple by sprinkling on olive oil, salt, and pepper. For extra flavor, add balsamic vinegar and garlic. If you eat meat, you can also sprinkle some chopped bacon on your roasted Brussels sprouts.
Cabbage
Cabbage sometimes gets a bad rap, as many people think of cabbage soup when they think of cabbage. While cabbage soup can keep you warm on a chilly April day, you can also use cabbage to make egg rolls, corned beef, coleslaw, casserole, and more.
Carrot
Carrots are affordable, tasty, and versatile. Dip your carrots in homemade hummus or ranch dressing for a quick and easy snack. For an elevated dinner side dish, you can make roasted carrots or carrots glazed in brown sugar. And, of course, you can't go wrong with some dense carrot cake!
Colored Cauliflower
Colored cauliflower is available in purple, orange, and green varieties. While colored cauliflower looks different from regular white cauliflower, it tastes the same: mild, sweet, and slightly nutty. You can do the same things with colored cauliflower as regular cauliflower: roast it, steam it, grill it, or turn it into a pizza crust!
Eggplant
Eggplant is not a vegetable that people usually munch on raw. Not to worry, however, as there are many things you can do with cooked eggplant. For example, you can make healthy eggplant pizzas by slicing up the eggplant and baking it with some marinara sauce and shredded mozzarella. Or, you can make a stuffed Mediterranean eggplant with bulgur, basil, pecorino cheese, and fresh veggies.
Garlic
Garlic is the perfect vegetable for elevating any dish. You can use garlic to season your veggies, curries, soups, flatbreads, casseroles, and more. Plus, there's nothing better than the aroma of sauteed garlic and onions! You can also combine garlic with mayo or mustard for a delicious sandwich spread!
Lacinato Kale
Lacinato kale goes by many names, including Tuscan kale, dinosaur kale, Italian kale, and palm tree kale. This type of kale is dark and leafy and popular in Italian dishes. Lacinato kale tastes great in grain bowls with other veggies. It can also stand alone as a side dish if you sautee it and add some seasoning.
Related: Apple, Cranberry, and Kale Salad
Radish
Red radishes are spicy, zesty, and crispy. If you're looking for something milder, then you can opt for a Daikon radish. While you can enjoy radishes raw, you can also roast them and season them with garlic, sea salt, and pepper. You can also thinly slice your radishes and use them as a topping on nachos or tacos.
Red Potato
Roasted red potatoes taste delicious with olive oil, cheese, sour cream, and garlic. You can also use your potatoes to make a loaded potato casserole or baked potato wedges as a side dish for your morning eggs. To make your potatoes extra crispy, sprinkle on some baking soda!
Romaine
Romaine lettuce is the perfect green for making a salad, as it's crunchy and affordable. If you have a lot of romaine lettuce to use up, you can toss the extra lettuce in your juicer or blender to make a smoothie. Romain lettuce is also perfect for making lettuce wraps – toss in a protein like chicken or tofu and some veggies for a quick and easy meal!
Shallot
Similar to garlic, shallots grow in clusters. They have a mild, sweet flavor that's less pungent and sharp than regular onions. You can carmelize shallots to make a delicious side dish, or you can toss the shallots into your pasta or casserole dishes. You can also pickle shallots and add them to your burgers, tacos, or sandwiches.
Turmeric
Raw turmeric looks a lot like ginger. However, you'll usually find turmeric ground up and sold as a spice. Bright yellow in color, turmeric is the star ingredient in a lot of Indian dishes. You can also use turmeric to spice up your curries, egg dishes, or meat dishes. Turmeric lattes have also become popular in recent years, as turmeric has many health benefits.
Vidalia® Onion
Vidalia onions are white onions that have a sweet, mild flavor. Vidalia onions are great for making onion rings, onion soup, and salsa. This type of onion is also the perfect topping for hamburgers and sandwiches.
White Mushroom
White mushrooms are also known as button, common, or table mushrooms. For a delicious side dish, try sauteeing your white mushrooms with white wine, olive oil, garlic, and fresh thyme. You can alslo turn your white mushrooms into a creamy and delicious mushroom soup.
Zucchini
Zucchini is a very versatile and tasty vegetable. If you're looking for something on the sweeter side, you can try making zucchini bread or muffins. You can also spiralize your zucchini and add it to some sauce to turn it into a healthy pasta dish. You can also make zucchini boats by splitting open your zucchini, stuffing it with your favorite ingredients, and baking it in the oven.
Nuts in Season April
Believe it or not, nuts can also be seasonal!
Pecan
The best nut to buy during April is the pecan nut. Pecans have a buttery sweet flavor, which is why they're so popular in baked goods, like pies and cookies. You can also make candied pecans with cinnamon, brown sugar, cayenne pepper, orange zest, and sea salt.
Final Thoughts on April Produce
As you can see, there are many delicious fruits and vegetables in season during April. Now, it's time to start shopping for the above-mentioned produce so you can whip up some delicious dishes!
Click here to find a delicious apple, farro, and gouda salad recipe!