Upside Down Apple Cake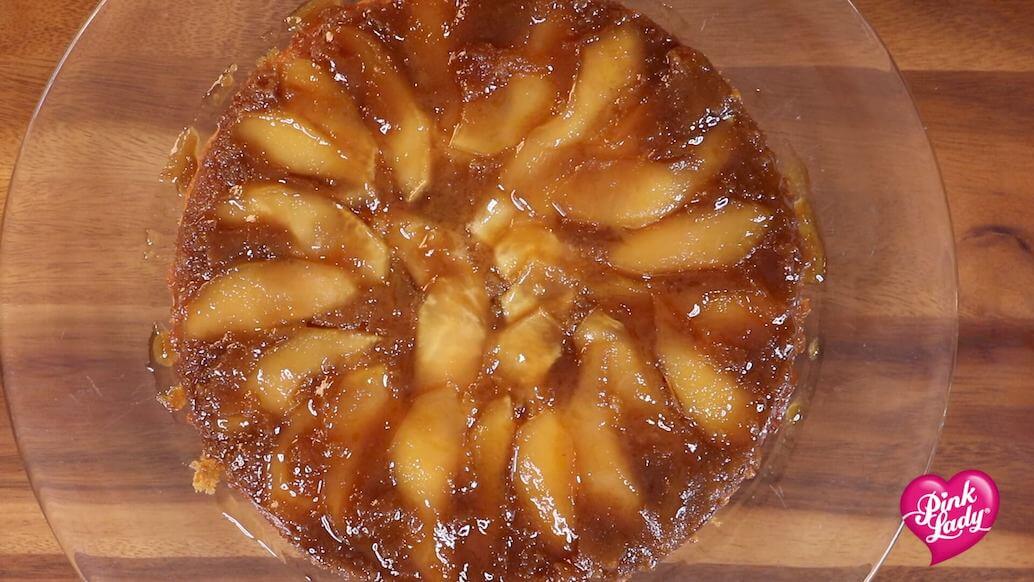 A beautiful cake that takes only 15 minutes of prep? Yes, please!
Say hello to your new favorite dessert, Upside Down Apple Cake. Trust us, once your family gets a taste of this cake, they'll be asking for it all the time. And since it requires just 15 minutes of prep, it's one that you can happily make for them when they ask.
Why use These Apples?
This dessert features one of our very favorite apple varieties, Pink Lady®. They're the perfect texture after spending extra time in the sun, soaking in the rays and developing their blush color and sweet, tangy flavor.
It's important to pick the right variety of apple when baking. These have a nice crunch to them, so they can withstand the baking process without becoming too mushy.
How to make an Upside Down Apple Cake
Don't be fooled by the name. This cake really is easy to make. And it's fast too! Just 15 minutes of prep time and then it's ready for the oven.
The trick to limiting prep time is to use a store-bought cake mix. Don't worry, you're going to doctor it up so no one will know it's not 100% homemade. It'll be our little secret!
Begin by heating butter and brown sugar in a saucepan. After about 5-10 minutes over medium heat, stir in some cinnamon and vanilla. Pour the mixture into a greased cake pan.
While keeping an eye on your butter and sugar mixture, peel and slice two apples.
Once the butter and sugar mixture is in the cake pan, arrange the apple slices on top.
Next, prepare the cake mix as directed on the box. Pour it on top of the apples in the cake pan. Lightly tap the pan on the countertop to remove any air bubbles.
Now your cake is prepped and ready to go into the oven! Bake it at 325 degrees for about 50 minutes, or until it is golden brown and and toothpick comes out clean.
Once it has cooled slightly, place a serving plate over the cake pan and turn it over to remove the cake. You may need to loosen the sides of the cake with a knife first.
Now the apples are on top and the cake is ready to eat!
Related: Caramel Apples with Chocolate Witch Hats
Watch this video and see just how easy it is to whip up your own Upside Down Apple Cake.
Watch Produce Mom, Lori Taylor, make Upside Down Apple Cake on IndyStyle.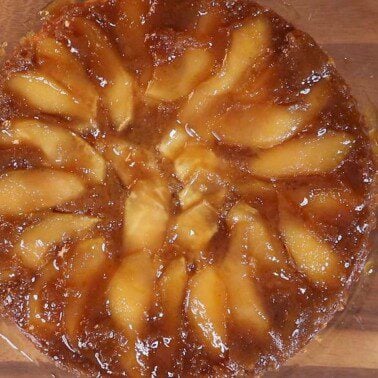 Ingredients
1/2

cup

unsalted butter

3/4

cup

brown sugar

1/2

tsp

cinnamon

1/2

tsp

vanilla

2

large

Pink Lady Apples

thinly sliced

yellow cake mix

plus ingredients listed on cake mix box

whipped cream
Instructions
Heat the butter & brown sugar in a saucepan over medium heat for 5-10 minutes. Remove from heat and stir in the cinnamon and vanilla. Butter a cake pan and pour in sugar mixture.

Peel and slice 2 Pink Lady® Apples.

Arrange the apple slices on top of the sugar mixture.

Prepare the cake mix as directed on the box. Pour on top of apples, and tap to remove air bubbles.

Bake at 325 degrees for 50 minutes.

Let cool slightly, and remove from pan.

Serve, and top with whipped cream.
Notes
*Squeeze half a lemon over the apples before baking to prevent oxidation. You can also use 100% pineapple juice to prevent oxidation.
*You can substitute yellow cake mix for a spiced cake mix for extra fall flavors.
*You may not need to use all of your boxed cake mix. If you have extra, save it to make a microwave mug cake.
Can you believe a cake this beautiful can be made so quickly? It's so good, it'll rival grandma's apple cake. Enjoy!
What's your favorite way to enjoy Pink Lady® apples? Tell us in the comments below.