Refreshing, Light, and Easy Summer Strawberry Caprese Salad 
May 02, 2023, Updated Oct 04, 2023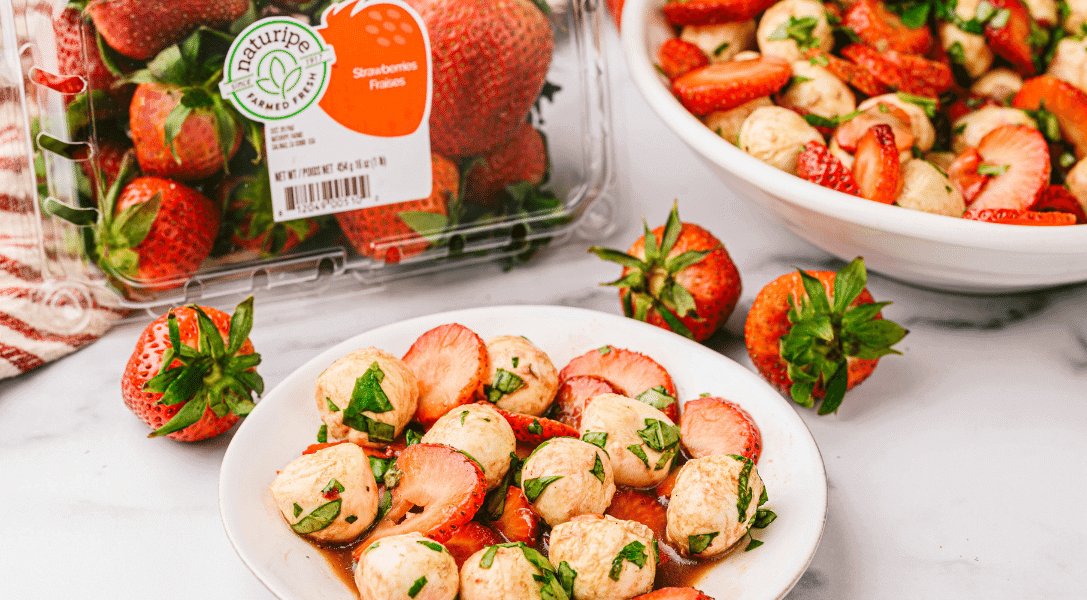 Swap tomatoes for strawberries in this strawberry caprese salad. With juicy strawberries, soft mozzarella, fresh basil, and a homemade balsamic and honey dressing, this light summer salad will be a hit at your house too. Just three salad ingredients and a few minutes of chopping, and you've got an easy snack or meal ready in minutes.
One of the things we love about summer is eating fresh produce. An easy way to do that is with salad variations that feel refreshing and light after you eat them.
There's nothing worse than feeling hot and sticky only to eat heavy food that makes you feel weighed down.
That's why we've made a swap in one of our favorite salads — strawberry caprese salad.
Strawberry Caprese Salad is sponsored by Naturipe®.
Three ingredients; light, delicious, flavorful, colorful, and refreshing. And it comes together in about 10 minutes. You can even add some protein like shrimp or chicken to make it an easy, weeknight summer meal for entertaining.
Let's see how simple this recipe is.
Where Did Caprese Salad Come From?
You may have seen it on an Italian menu as "Insalata Caprese," which means salad of Capri. It was made in homage to Italy before the first world war to include the flag's colors — red, white, and green. It was first served at a hotel, but it didn't gain popularity even though people liked it. A few decades later, King Farouk asked for a light snack and was served a caprese salad.
Then Capri became known for this staple recipe.
What Is Caprese Salad?
This salad is usually made by layering slices of mozzarella cheese, tomatoes, and basil. Now, there are all sorts of variations where you can put each ingredient on a toothpick for a cute appetizer, make it as a chopped salad, or swap ingredients. You may have had it with a balsamic reduction drizzled on top, which is just… *chef's kiss*.
It's sweet, aromatic, fresh, and acidic all at the same time, especially when you get a bite with each ingredient. If you can't have acidic foods or your littles just don't like tomatoes, you're in luck. We swapped out the tomatoes in this recipe for strawberries.
And it might just be our new favorite recipe.
Ingredients
You only need three ingredients to make your Caprese Strawberry Salad a hit for your guests and family at home. And you can find everything you need at your local grocery store.
Naturipe® Strawberries
When you think of fruit, you may think it has sugar. And that's true. Fruit has natural sugar that's better for you than your favorite candy bar. But one serving (one cup) of strawberries has 94% daily value of antioxidant vitamin C. That means that about eight strawberries give your body more vitamin C than a medium orange1.
If you load up your strawberry caprese salad with a few extra strawberries, you won't get any complaints here — it's extra vitamin C.
Mozzarella Cheese
This is a soft white cheese with lots of moisture that's made from Italian Buffalo milk or cow's milk. You can find mozzarella in the shape of a log, in one large ball, or in pearls (mini mozzarella balls). Mozzarella is low in carbs which makes it a favorite for light salads and snacks. It also has bacteria that act as probiotics for better gut health, a stronger immune system, and less inflammation2.
Look for the mozzarella pearls in the dairy aisle or by the deli section at your local grocery store.
Fresh Basil
Have you ever met anyone who doesn't love basil? Me either. Not only does basil look, smell, and taste minty and peppery in a caprese strawberry salad, but it also has calcium, protein, and iron for a well-balanced snack or lunch.
If you have leftover basil, freeze it and use it when you're ready.
How to Make Strawberry Caprese Salad
Step 1
Rinse your Naturipe Strawberries and thinly slice them. Next, roll your basil and cut it into ribbons.
Step 2
Toss the Naturipe Strawberries, mozzarella pearls, and basil in a mixing bowl.
Step 3
Add the balsamic vinegar, olive oil, honey, and pepper to a mason jar and shake to mix.
Step 4
Evenly pour the dressing over the top of the salad, toss, and serve.
Can I Use Balsamic Glaze Instead of Dressing?
You should always feel free to switch up a recipe. I mean, we switched tomatoes for strawberries, and we're not mad about it. We made a balsamic honey dressing because we wanted this to be more of a salad than an appetizer. We used a dressing because it's thinner, so it lightly coats each ingredient.
You can absolutely use a balsamic glaze, but remember that it will be thicker and heavier on your ingredients.
Can I Make It Ahead of Time?
You can certainly cut up the ingredients ahead of time. But we suggest waiting until right before you're about to eat to assemble your strawberry caprese salad. When the ingredients sit together, the juices from the strawberries end up at the bottom of the salad bowl. So if you prepare your salad too early, the moisture from the mozzarella and the strawberry juice will make the basil wilt.
Strawberry Know How
You've heard all kinds of things about how to wash strawberries with salt water, vinegar, or baking soda.
But honestly, it's not that complicated.
Let's cover the basics so you get the best strawberries as the star of your caprese salad.
Related: How to Wash Your Fruits and Vegetables
How To Select the Best Strawberries
Strawberries should be refrigerated at the store. Look for ones that are clean, dry, firm, and red all over with a nice leafy green cap on top. Look for the Naturipe® label. Their growers take great pride in growing a berry that bursts with flavor and is available year-round.
How To Store Strawberries
Keep your strawberries in the container that you bought them in. Put them in your fridge as soon as you can without washing them. Gently rinse your strawberries right before you are ready to make your Caprese salad. Your strawberries should last three to seven days when stored correctly in the fridge.
Related: How to Freeze Berries
Why We Love Naturipe®
Naturipe is on a mission to be berry sustainable. Through their Cultivate With Care™ program, the berry sustainable partners are mindful of the economic, environmental, and social effects on their employees, farms, and communities as a whole. One of the many ways that they operate sustainably is by packaging their berries recyclable clamshells.
Naturipe's passion to give you juicy, sweet, and firm berries all year long, while putting people first, is what drives their business practices and innovation. You are their motivation to continue their mission of getting fresh berries to you and taking care of our planet — at the same time.
Look for Naturipe Strawberries in the produce section to support sustainable berry farming and make the best strawberry caprese salad.
More Great Strawberry Recipes
Strawberry Caprese Salad
Strawberry Caprese Salad is always a summer hit at BBQs, as a quick weeknight meal, or as a light snack at peak heat. With just three ingredients, dinner can be ready in 10 minutes.
Ingredients
For the Salad
2

cups

Naturipe® Strawberries

thinly sliced

16

oz

fresh mozzarella pearls

1/2

cup

fresh chopped basil
For the Dressing
3

Tbsp

balsamic vinegar

1

Tbsp

extra virgin olive oil

1

Tbsp

honey

1/8

tsp

pepper
Instructions
For the Salad
Gently rinse your Naturipe® Strawberries and cut off the caps (the leaves). Use a paring knife to slice your strawberries as thin as you can.

Stack your basil leaves on top of each other and then tightly roll them. Use a knife to cut thin slivers until all of the basil is cut.

Combine the strawberries, mozzarella, and basil in a medium mixing bowl and set aside.
For the Dressing
Add the balsamic vinegar, olive oil, honey, and pepper to your mason jar. Put the lid on tightly and use your hands to shake the jar.

Drizzle the dressing over the top of your salad ingredients and use two large serving utensils to coat your Strawberry Caprese Salad with dressing and serve.
Nutrition
Calories:
81
kcal
|
Carbohydrates:
12
g
|
Protein:
1
g
|
Fat:
4
g
|
Saturated Fat:
0.5
g
|
Polyunsaturated Fat:
0.5
g
|
Monounsaturated Fat:
3
g
|
Sodium:
4
mg
|
Potassium:
127
mg
|
Fiber:
1
g
|
Sugar:
10
g
|
Vitamin A:
9
IU
|
Vitamin C:
42
mg
|
Calcium:
15
mg
|
Iron:
0.4
mg
Nutrition information is automatically calculated, so should only be used as an approximation.
Like this? Leave a comment below!