Salad Savoy Signature Salad: 4 Colorful Variations
Dec 17, 2018, Updated Apr 01, 2022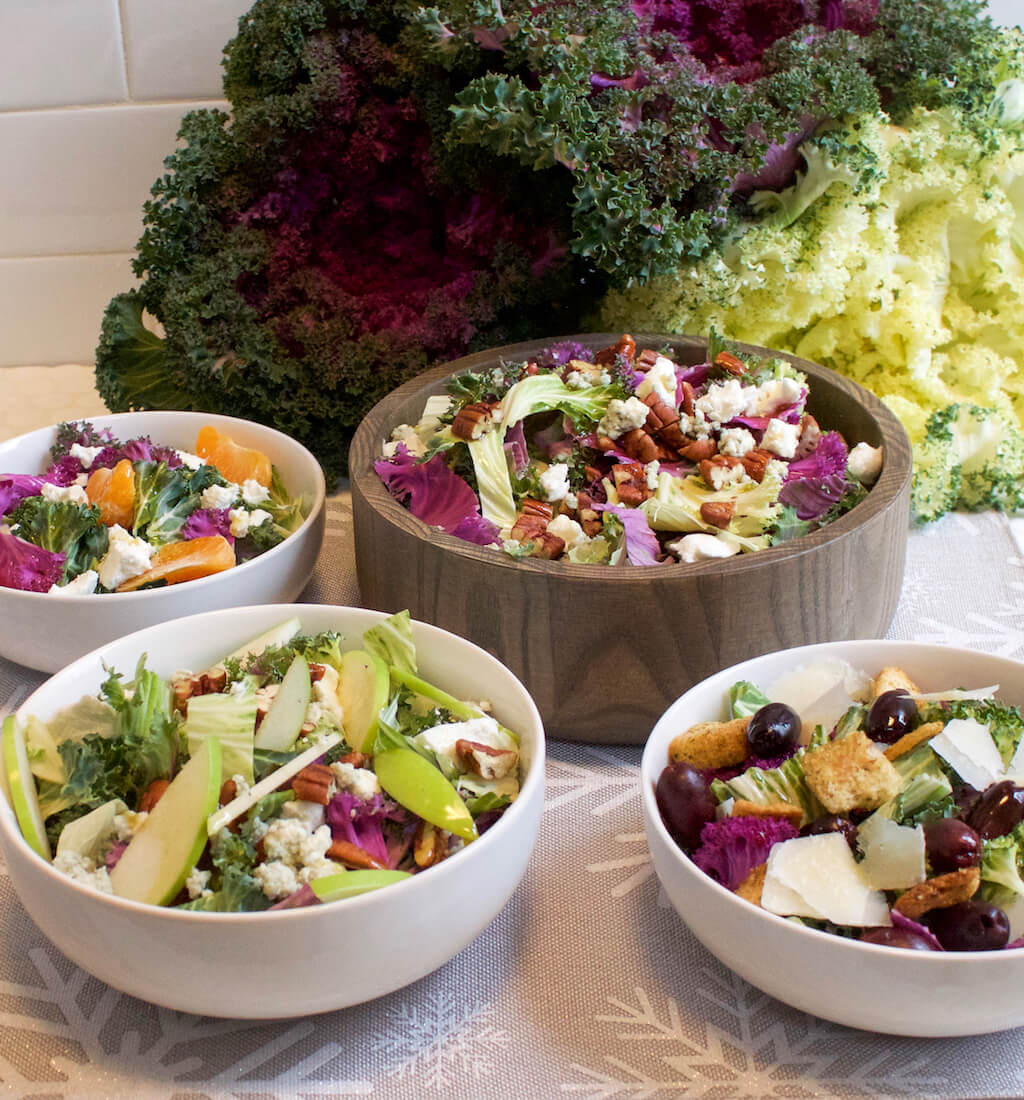 These salads are bursting with vibrant colors and flavors! Which will you love best?
This post is sponsored by Salad Savoy Corp.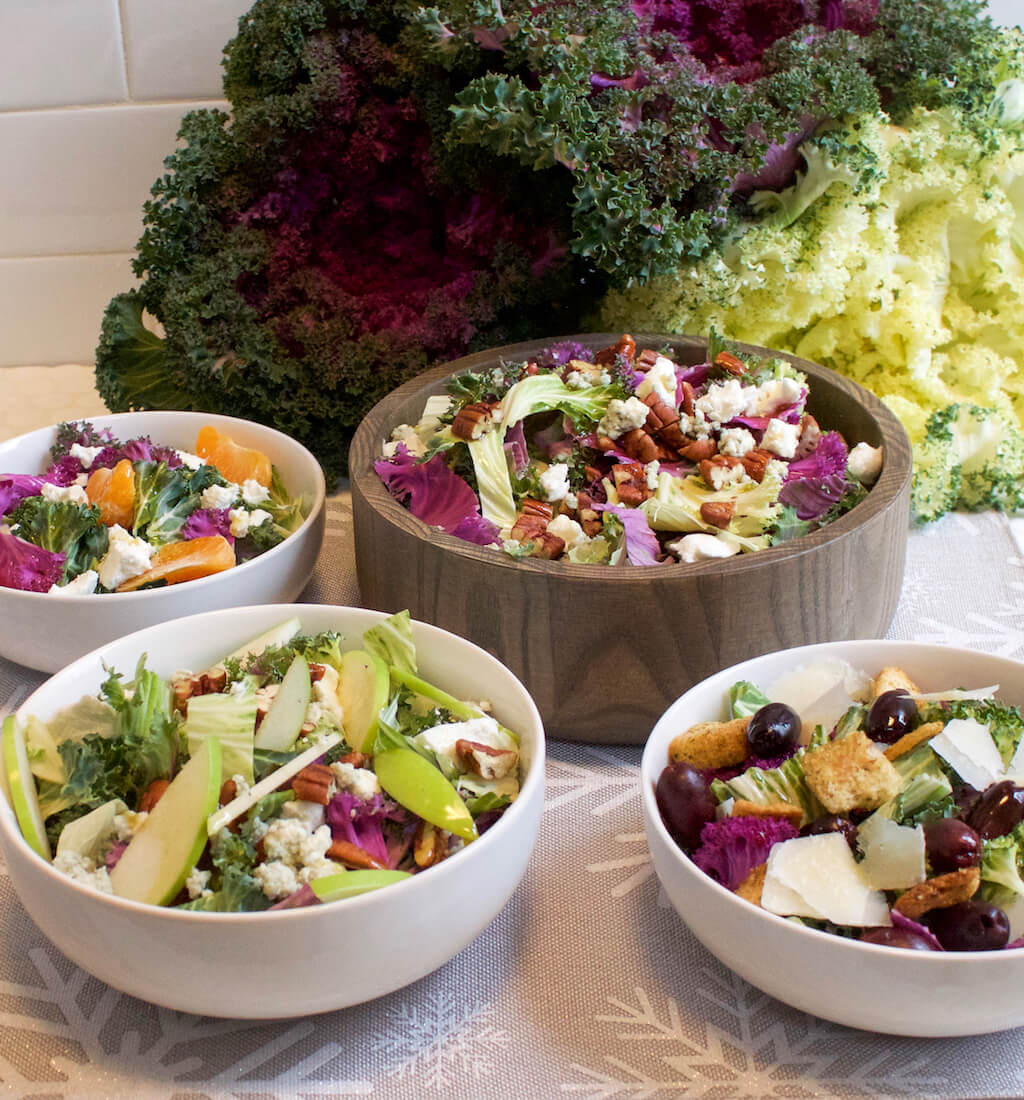 Salad Savoy® is a one-of-a-kind vegetable that grows in beautiful bright violet and white heads. Its nickname is "the versatile vegetable" because of all the ways you can use it (like this slaw or these air-fried chips). We're nicknaming the Salad Savoy Signature Salad "the versatile salad" because of the many variations you can make of it… each one more delicious than the next!
Learn more about Salad Savoy here!
First, let's talk about how to make the Salad Savoy Signature Salad. Like Salad Savoy, each of the ingredients in the Signature Salad can be found year-round. The dressing that accompanies this salad is extremely versatile too. We've yet to find a salad variation that it doesn't go great with!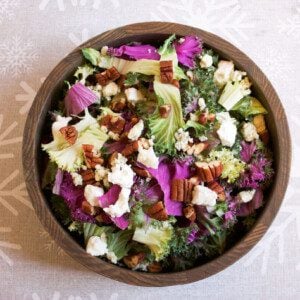 Salad Savoy Signature Salad
Ingredients
Dressing
3/4

cups

olive oil

3

Tbsp

balsamic vinegar

1

clove

garlic

pressed

4

tsp

dijon mustard

4

tsp

fresh chives

snipped

salt and pepper

to taste
Salad
2-3

heads

Salad Savoy

a mixture of white and violet leaves

2

oz

blue cheese

2

oz

goat cheese

2

oz

pecan pieces

toasted
Instructions
In a medium bowl, whisk together the oil, vinegar, lemon juice, garlic, mustard, chives, salt, and pepper. Let stand 1 hour or longer to blend flavors.

In a large bowl, combine remaining ingredient. Toss with the salad dressing and serve.
Notes
*See post for variations to this recipe.
Nutrition information is automatically calculated, so should only be used as an approximation.
Like this? Leave a comment below!
Now that you've got the Signature Salad down, don't be afraid to customize it with your favorite salad toppings, or put a seasonal spin on it.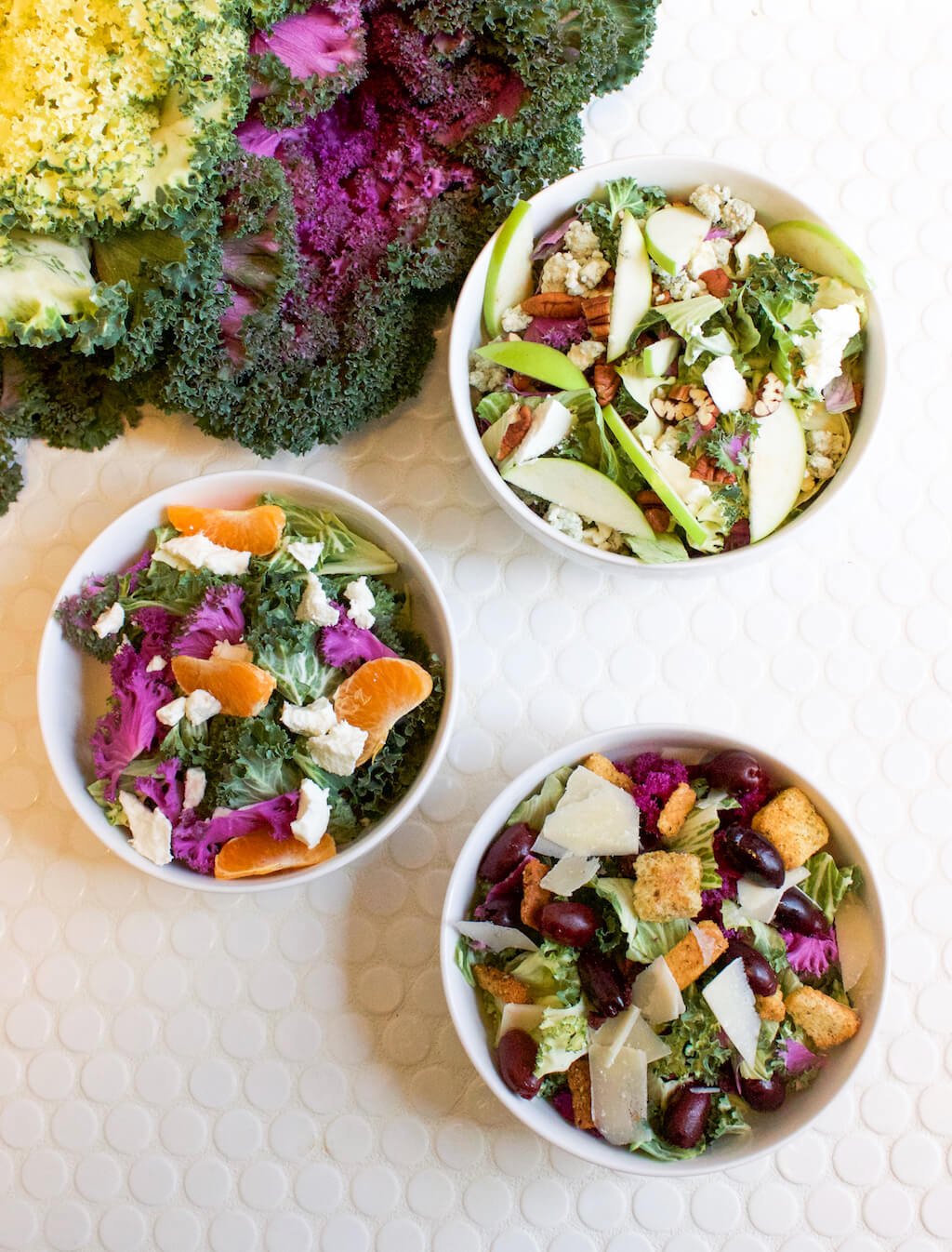 Salad Savoy Signature Salad with Winter Citrus
One of the best parts of winter is the citrus. It's at its sweetest and juiciest this time of year. We removed the blue cheese and pecan pieces and added mandarin oranges to create a winter version of the Signature Salad. It's light and refreshing and a much needed break from the heavier foods of the season. This winter variation of the Signature Salad would be a stunning contribution to your holiday table. The vibrant colors will entice all your dinner guests so make extra!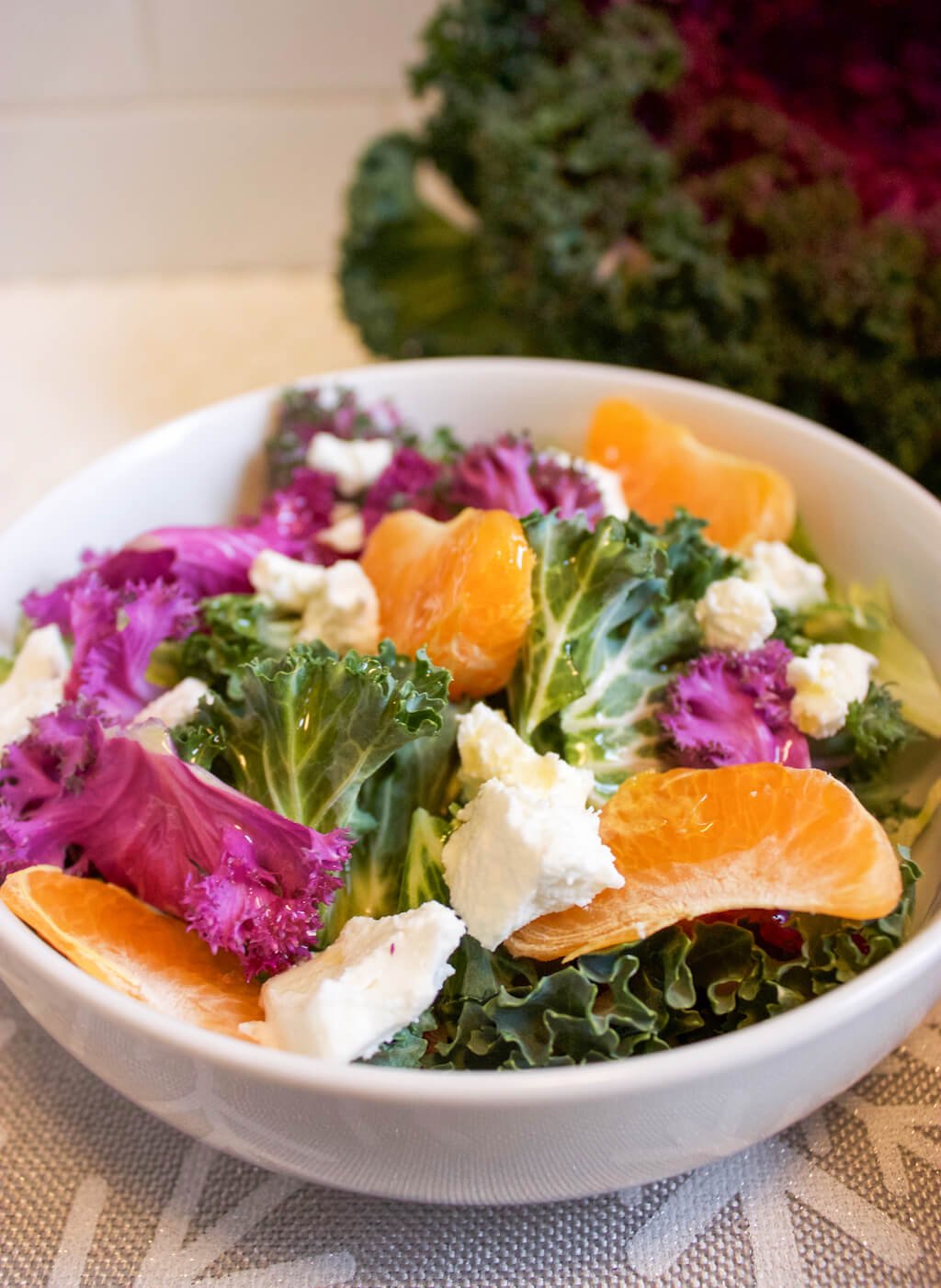 Salad Savoy Signature Salad with Mediterranean Vibes
Mediterranean food-lovers will love this next salad variation! We added kalamata olives and replaced the goat and blue cheese with parmesan cheese to give the salad a Mediterranean flair. We replaced the pecan pieces with croutons. The dressing remains the same.
Salad Savoy Signature Salad with Green Apples
Tart and juicy, Granny Smith apples bring great flavors and texture to the Signature Salad. We removed the blue cheese but kept in the goat cheese. Everything else remains the same.
This salad variation is a great one for kids. Kids already love the bright colors of Salad Savoy. Allowing them to choose the apple variety gets them involved in the creation process. Children are much more likely to give something a try that they had a hand in.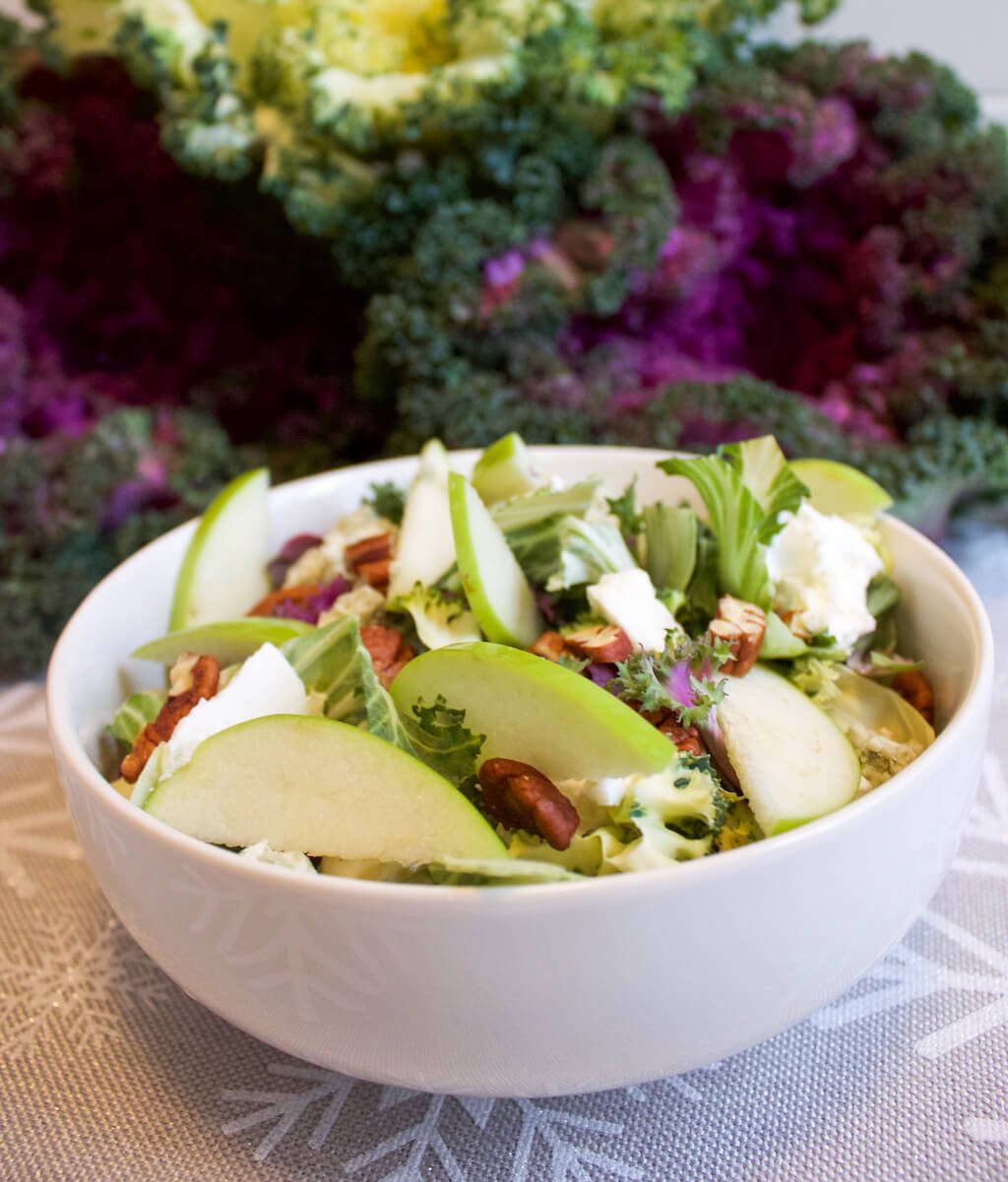 Any dish made with Salad Savoy, Salad Savoy Corporation's namesake veggie, is a showstopper. It adds a mellow flavor, whether raw or cooked, and is loaded with vitamins A and C, calcium, and iron. It's truly a one-of-a-kind veggie that is as gorgeous as it is nutritious and delicious!
Listen to The Produce Moms Podcast episode 11 to hear Seth Karm of Salad Savoy discuss the process of developing new vegetables without any type of genetic editing!
Which of these salad variations looks most delicious to you? Let us know in the comments below!