Episode 62: The Rise of Women in Agriculture with Julie Escobar
The Produce Moms Podcast
Episode 62: The Rise of Women in Agriculture
with Julie Escobar
"If we integrate more women and balance the boardroom, then we can have a huge impact on the environment." – Julie Escobar (11:34 – 11:46)

The International Mission of Global Women Fresh
Julie Escobar has worked on an international scale with growers, consumers, and retailers in the agricultural industry for the past 20 years. Throughout her business expeditions in Latin America, Europe, and the Pacific Rim, one factor remained constant: There were rarely any other female representatives present at sit-down meetings. 
Where were all the women? This question led Julie and two close friends, Viviane Schappo and Monica Bratuti, to establish Global Women Fresh. Their goal is to help women, like you, take stronger positions in the industry for a better future in fresh produce.
"We really wanted to take it to the next level and unite people from Latin America, Europe, the U.S.A., and Asia together on one platform." – Julie Escobar (3:40 – 3:50)
Connecting, Inspiring, and Empowering Women Across the World in Agriculture
Global Women Fresh is the first global network created by women and for women in agriculture. 
Connect. Lack of capital is the biggest reason women-led businesses fail to succeed in agriculture. Global Women Fresh overcomes this obstacle by strategically networking and connecting investors. They bring in private equity groups and partner with financial institutions that educate, guide, and provide loans. Global Women Fresh also utilizes recruiting agencies and talent incubators to generate more jobs and opportunities for women everywhere.
Inspire. Global Women Fresh fosters open conversations on urgent current events. The non-profit organization specifically focuses on five pillars: Food Waste, Sustainability, Social Impact, Technology, and Innovation. Discussions are inclusive to every tier of the industry, from farmers to executives. Together, we can build a better economy and face the issues of our industry.
Empower. When you walk into a grocery store, you're likely to see more mothers than fathers pushing carts down the aisle. Between 80% to 90% of shoppers are women. That's right! We make most of the consumer-based decisions in our homes. Imagine what would happen if you, and more women, directly stepped into a place of responsibility and power in the produce supply chain?
"Food is there for women, whether you're sitting in Indianapolis, Indiana, Los Angeles, California or South Africa. It's the common denominator and love language around the world." – Lori Taylor (17:24 – 17:40)
Food brings us together in times of celebration and grief. But the vegetables and fruits brought to the table need to be handled and monitored more responsibly. You can have a direct impact on and in the produce supply chain. 
Are you ready to join Julie and her team? Don't be shy! The industry needs women like you. Head over to www.globalwomenfresh.com to send an email and learn more about how you can get involved. 
Represent and lead. The future of agriculture is counting on you.
How to get involved with The Produce Moms
The Produce Moms Podcast is live on iTunes, Google Play, Stitcher and Spotify.  If you like what you are hearing on the podcast, reviews, subscriptions & ratings will help us keep this going!  It would mean the world to hear your feedback, and we'd love for you to help us spread the word!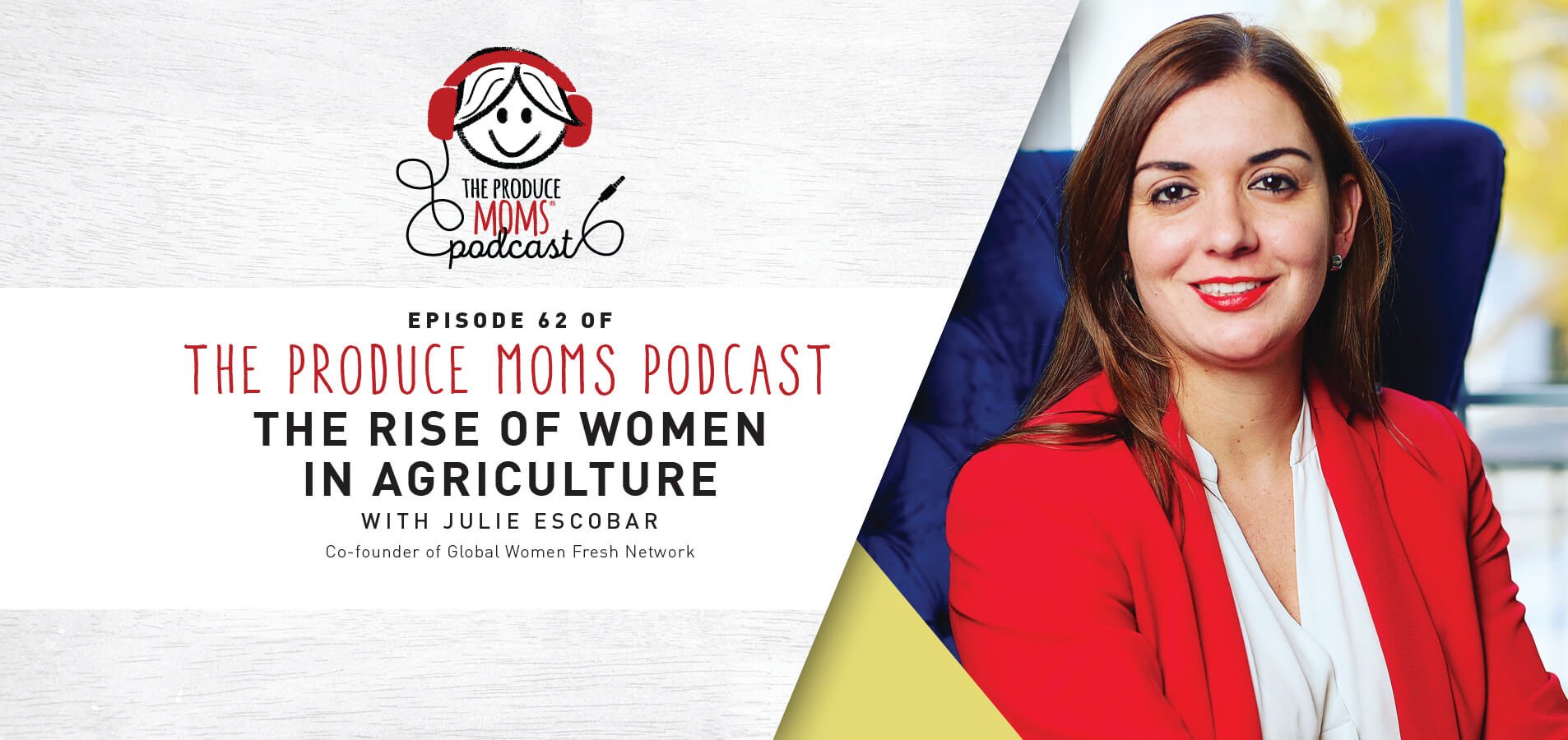 [bctt tweet="Episode 62 of #TheProduceMoms #Podcast features Julie Escobar of  as she talks about the mission of #GlobalWomenFresh – the first global network created by #women, for women in #agriculture " username="theproducemom"]
Other Episodes You May Like
Episode 61: Connecting Consumers to the Sourcs of Their Food
Episode 60: The Women Who Rule the Superfoods of Peru
Episode 59: How to Eliminate Plastic Waste for a Cleaner Planet
Episode 58: Celebrating National Mango Day
Episode 57: Produce Tips from Kroger Product Devlopment Chef, Brandon Fortener