November 2020: The Produce Moms Podcast Month in Review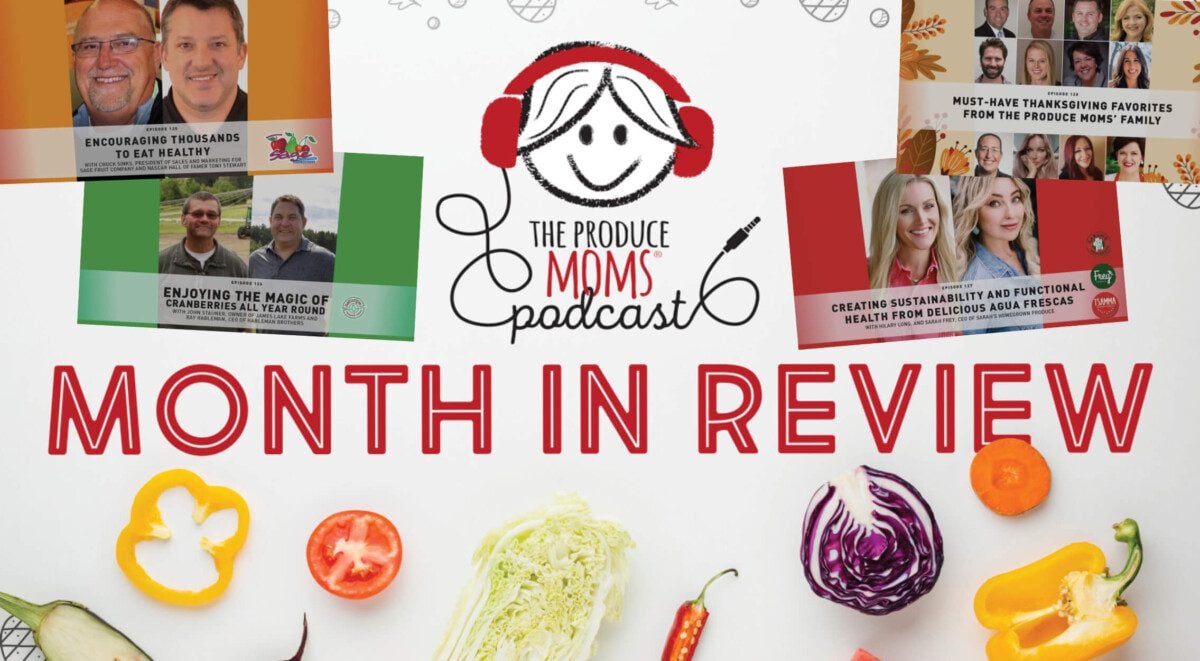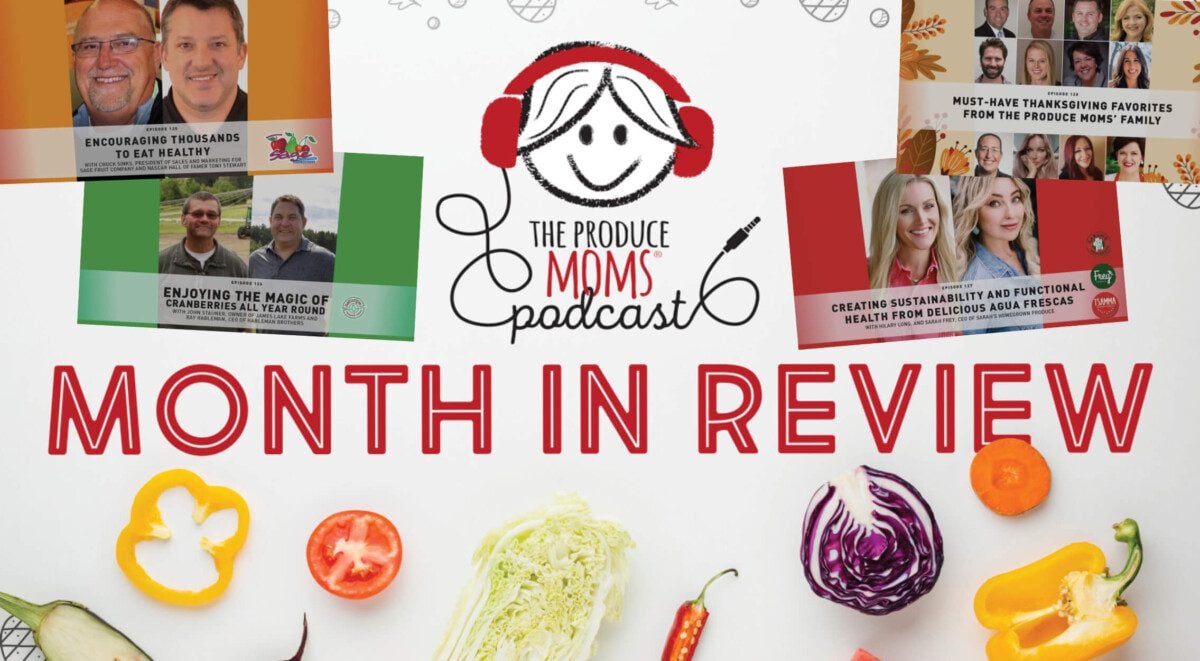 November 2020: The Produce Moms Podcast Month in Review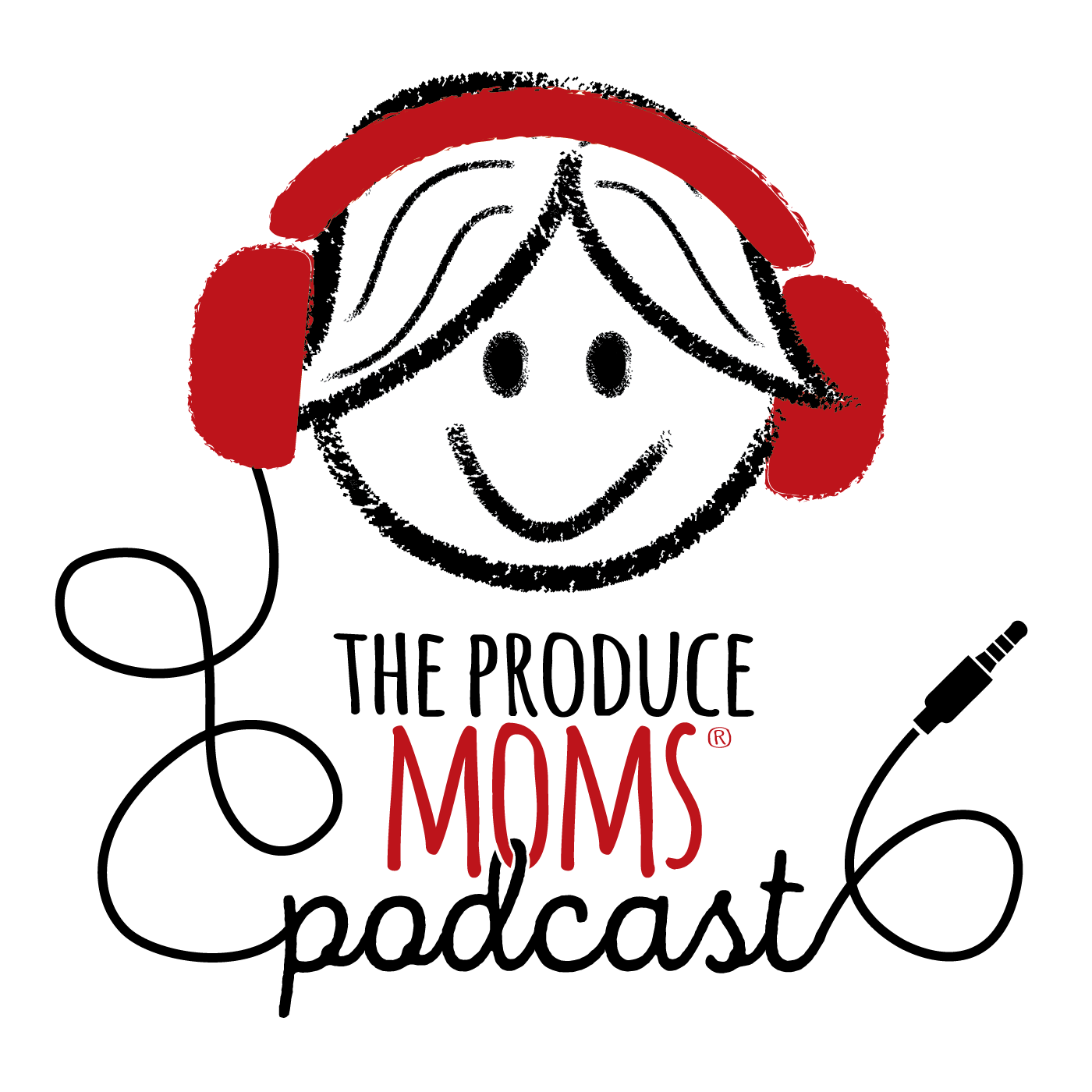 Let's take a look back at our November 2020 Podcast Episodes.
November was a month filled with great guests, connections and celebrations of what we love most: healthy produce! We've had some new and previous Produce Moms podcast favorites back on the show, while bringing together our family to give gratitude on Thanksgiving and learn about some incredible recipes for the holidays. 
Chuck Sinks is the President of Sales and Marketing at Sage Fruit Company, the grower, packer and shipper of the world's finest apples, pears and cherries. Chuck connected with NASCAR Hall of Famer Tony Stewart a few years ago to create a beautiful partnership that has helped impact the health of thousands. Tony's been proudly representing Sage Fruit company and not only seeing the ripple effect it's had on his fans, but also on his own life. Tony's become healthier and happier thanks to his partnership with Sage Fruit and hopes to continue the movement they've started.
 John Stauner of James Lake Farms and Ray Hableman of Hableman Brothers sat down with us to share how they bring you fresh, ripe, delicious cranberries year after year under the Naturipe brand. These little berries are powerhouses packed with antioxidants and go through quite an interesting growing process! John and Ray share their favorite dishes for cranberries, including a cranberry relish mixed with horseradish and your favorite meat, cranberry muffins, and in smoothies.
Sarah Frey of Sarah's Homegrown Produce is a returning, Produce Moms favorite, sharing with us her line of fresh, healthy, clean agua frescas. These drinks provide you nutritious, immunity-boosting benefits that you can enjoy post-work out or in mocktails or cocktails this holiday season. Plus, Sarah shares about their upcoming functional products that will help you improve your gut health, immunity, energy, hydration and cognitive function, all in a beverage that's tasty and delicious!
For Thanksgiving, The Produce Moms brought you a delightful episode that included some of our favorite guests, partners and family who have helped drive our mission across the US. Listen to individuals from all areas of the produce industry share their holiday favorite recipes, new and old traditions, past times and exciting ways you can bring your holiday dinner table to life. Try a new recipe, save it for a different holiday dinner, and learn about what makes certain produce items successful around the holidays.
Read below and discover November's interesting, entertaining and helpful guests we brought you on The Produce Moms podcast.
November 2020 Podcast Episode 125: Encouraging Thousands To Eat Healthy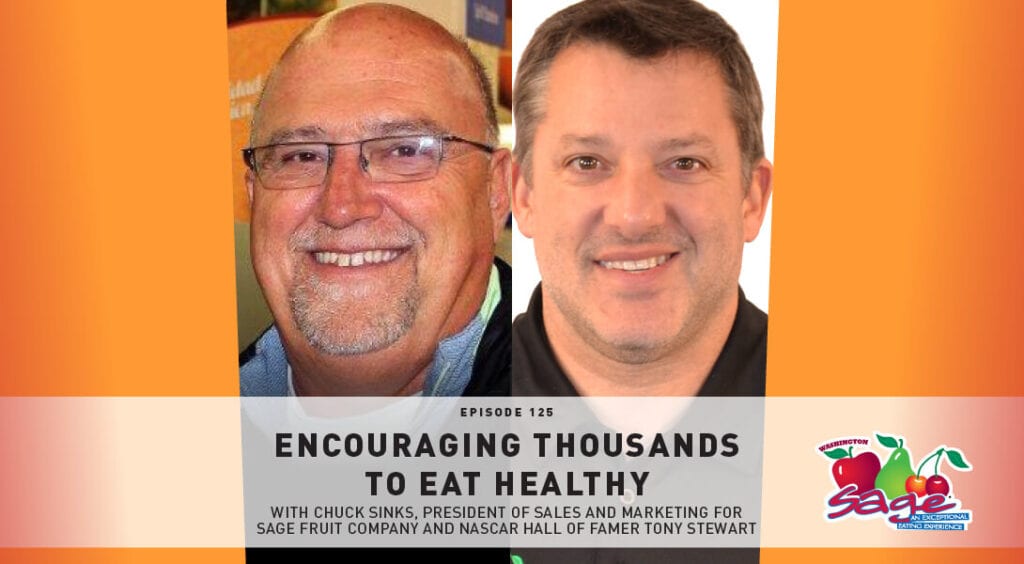 Spreading delicious, healthy fruit around the nation
Chuck Sinks has been in the produce industry his entire life, and took his 18 years with Sage Fruit Company and his passion for racing to NASCAR Hall of Famer Tony Stewart in hopes of doing something great together. Chuck recalls, "within two minutes of sitting down with Tony I knew that this was where we wanted to be."
It must've been meant to be because Sage Fruit Company and Tony Stewart have had a powerful, impactful partnership ever since. Tony's got that great personality where he speaks his mind, yet remains grounded and humble that Chuck was looking for in a Sage Fruit Company partner. 
Not only has Tony lost weight and begun to eat healthier thanks to Sage Fruit, so have his fans. Sage Fruit's apples, cherries and pears are a staple item for Tony everytime he hits the grocery store and many of his fans come up to him at the grocery store and mention Sage Fruit. They'll ask if Tony's picking up apples or cherries and they rave about the produce themselves. Listen to this episode and find out how Tony and Sage Fruit's partnership came to fruition and what the two are doing to keep people healthy despite COVID-19.
November 2020 Podcast Episode 126: Enjoying the Magic of Cranberries All Year Round
The magic that brings cranberries to your holiday table
Have you ever wondered what goes into bringing the magic of cranberries to your holiday table? The process is actually quite interesting and, contrary to popular belief, cranberries don't actually grow in water! The delicious, tart, juicy berry is actually grown in very acidic soil, usually peat or sand based, and are filled with air which makes them naturally buoyant. This buoyancy is what allows farmers to flood the cranberry beds so the berries float right to the top of their vines, making it easy to pick them.
 John Stauner of James Lake Farms and Ray Hableman of Hableman Brothers bring you fresh, ripe, delicious cranberries year after year under the Naturipe brand. John's production is 100% certified USDA organic, a process that takes over 36 months to complete. Ray Hableman of Hableman Brothers, the world's largest, fresh cranberry grower, has cranberry farming in his blood. His great grandfather started their farm in 1907, originally only 13 acres and now spanning across three separate cranberry marshes totalling 700 acres today. 
Not only do these two bring you some of the best cranberries there are, they're both equally as passionate about taking care of the land that supports their cranberry marshes. They always try to leave the land a better place than how it was started, taking care of the weeds, having bird and duck houses on the property, fostering pollinator gardens and cleaning the ponds regularly to help the land thrive. Listen to this episode and find out the magic behind cranberries as well as some delicious recipes you can incorporate in your holiday meal planning! 
November 2020 Podcast Episode 127: Creating Sustainability and Functional Health from Delicious Agua Frescas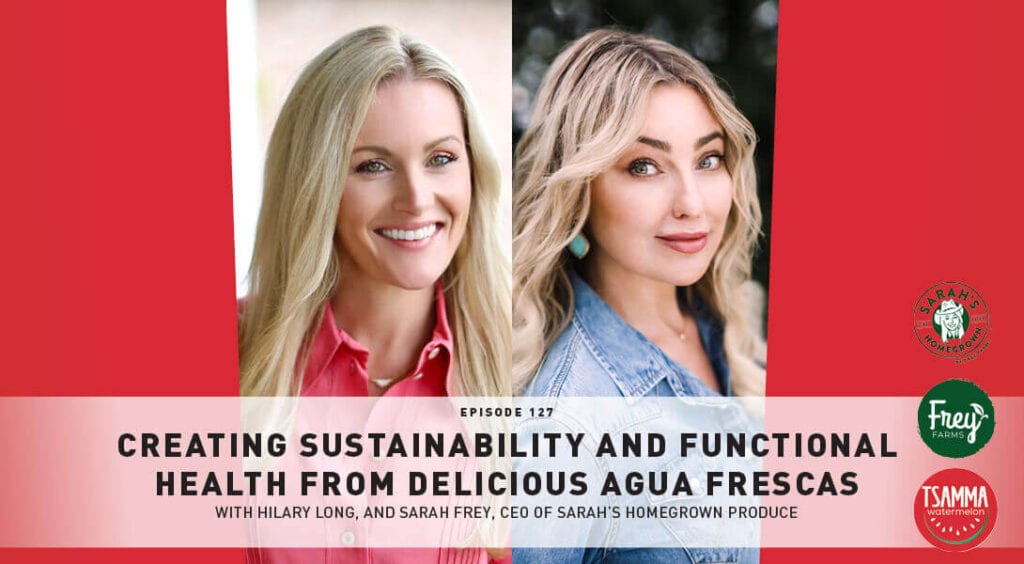 Fresh, healthy, immunity-boosting beverages that promote sustainability
Sarah Frey, CEO of Sarah's Homegrown Produce experienced making agua frescas on her family farm growing up that she now owns and operates today. After picking blackberries, they'd take the leftovers back home, muddle them, add pure cane sugar, pour water over the mixture, stir it up and drink it fresh. You probably know Sarah from previous episodes where she shared her journey with her family's Frey Farms and her most popular product, Tsamma watermelon juice. Now, Sarah's Homegrown has expanded into delicious agua frescas, teas, lemonades and functional products. 
One of the first companies in produce to start selling beverages, Sarah's Homegrown makes delicious, fresh, healthy agua frescas in mango, strawberry and watermelon, and the company is working on a line of functional flavors and a flavorless vitamin pack too. 
This beverage line is at the heart of sustainability because all of their products are made from clean ingredients and every part of the process is purposeful. Instead of throwing out produce that didn't meet retail specs, Sarah's farm and the farmers they partner with are able to use great produce for items like Sarah's Homegrown agua frescas. They're extremely healthy too! Packed with antioxidants, hydration and immunity-boosting benefits, these are the perfect post-workout drink or preventative, refreshing beverage.
November 2020 Podcast Episode 128: Must-Have Thanksgiving Favorites from The Produce Moms' Family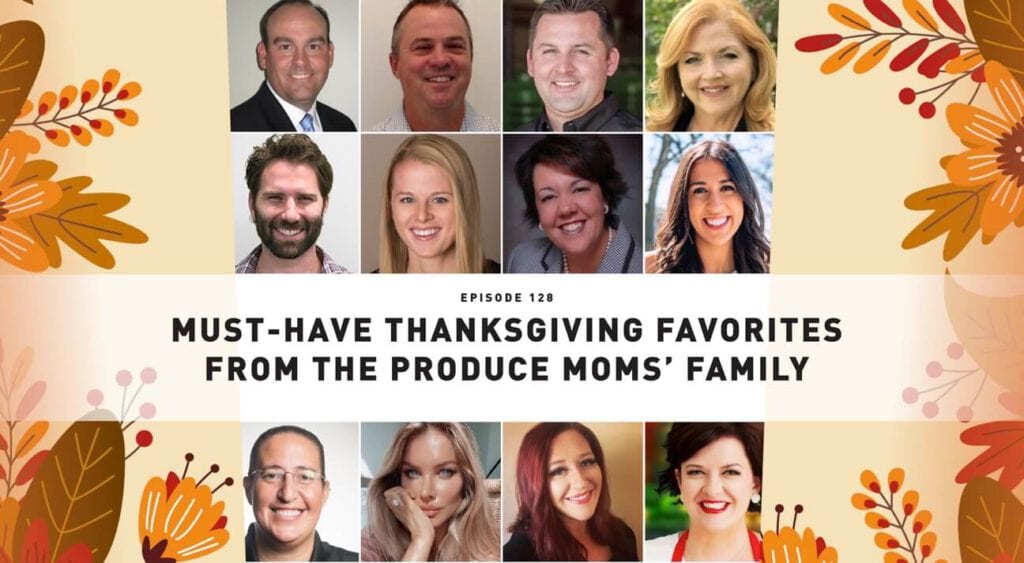 Favorite Thanksgiving recipes from all across the produce industry!
How exciting is it to hear from passionate experts all across the produce industry talk about their personal and family favorites for Thanksgiving dinner? We have guests covering all Thanksgiving table items, from drinks, to sides, to palette cleansers, dessert and more!
We heard from Brian Jenny with Monterey Mushrooms on how to include mushrooms (chock full of Vitamin D) into your green bean casserole. Don Helms from That's Tasty Herbs gave us details on how to make your turkey a flavorful, mouth watering hit. Eric Beck, aka "Spud Love" with Wada Farms educated us on which potatoes work best depending on your style of mashed potatoes. Kim Flores from Pro Citrus Network encouraged us to include fresh squeezed juice in our holiday punch or sangria.
Mason Arnold with Cece's Veggie Company has started a new delicata squash dish that's become a major hit! Megan Mitchell from Fielding Hills Winery shared what wines are a must have at the dinner table, along with her great grandmother's palette cleansing recipe. Nichole Towell from Duda Farm Fresh Foods reminds us how important celery is on Thanksgiving and her husband's favorite, southern dish to cook. 
Stefani Sassos is also obsessed with delicata squash and introduces us to healthy, flavorful ways to cook it. Stefanie Katzman with S. Katzman Produce is part of the hustle and bustle of the holidays, and enjoys her family's staples of sweet potato casserole and a delicious noodle kugel. Tiffany Rose, a Scottish-UK transplant, has fallen in love with Thanksgiving and gives us some Italian tips for eating! Lastly, Tricia Bramley shares how to include mango in your stuffing for a sweet and savory twist.
Our select guests give details on family recipes that have crossed through three to four generations as well as innovative dishes that are just starting to make a buzz. Discover something new to bring joy to your family, and feel warmed with gratitude while listening to our special Thanksgiving episode.
To see a list of all our past episodes, visit www.theproducemoms.com/podcast/
[bctt tweet="#TheProduceMoms November #Podcast episodes are filled with great guests, connections and celebrations of what we love most: healthy produce!! Listen now ????" username="theproducemom"]

Related:
October 2020: The Produce Moms Podcast Month in Review
September 2020: The Produce Moms Podcast Month in Review
August 2020: The Produce Moms Podcast Month in Review