No-Mess Travel Snacks For Kids
Jul 05, 2017, Updated Jul 11, 2022
Family vacations are wonderful but traveling with children has its challenges. We can't help you locate lost luggage or treat a bad sunburn, but we can help with the travel snacks!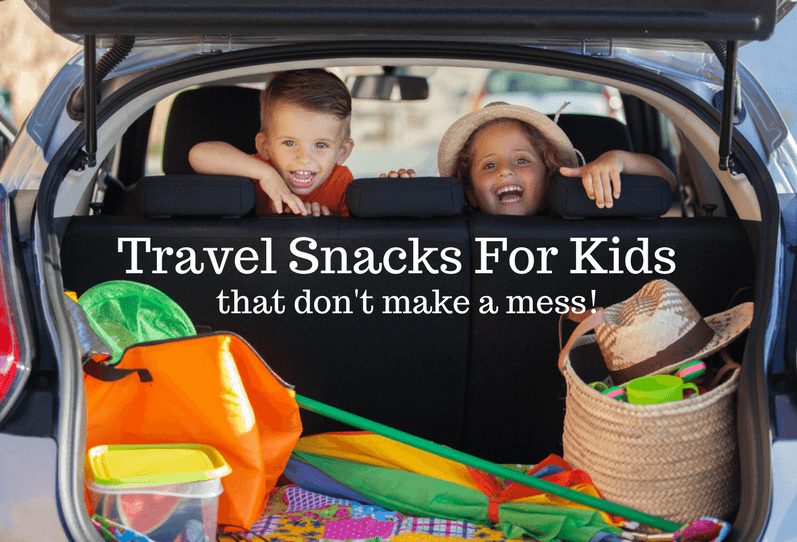 Family vacations are wonderful but travel days are exhausting! Add hunger to the equation and suddenly you have some very grumpy kids (and parents)! Having snacks available will help keep the whole family in a better mood. Whether you're taking a long car ride or a short flight, you'll want to plan ahead and have some no-mess travel snacks ready.
These are some of our favorite no-mess travel snacks for kids. Parents love them too!
Granola Bars
Grocery stores carry many varieties of granola bars—pick up your family's favorite. Or if you're looking to save a little money or you want full control of the ingredients, make your own granola bars. It's actually quite easy! Check out this recipe for Raspberry Apple Granola Bars. It's sure to be a family favorite!
Trail Mix
Like granola bars, you can either pick trail mix up at the grocery store or make your own. If you're making your own, some ingredients to consider are: dried fruit (banana chips, pineapple chunks, raisins, apricots, dates), whole-grain cereal, nuts (almonds, pistachios, cashews, pine nuts, pecans), pretzels, chocolate chips, seeds (pumpkin, sunflower), popcorn, mini-marshmallows. Choose 4-5 of these items and you'll have a delicious trail mix!
Travel Tip: Provide each child their own zipper bag of homemade trail mix or store in a large mason jar. Pass the jar around the car and then seal it with a lid to prevent spills.
Apples and Bananas
Apples and bananas are great travelers! You can stick them in a backpack or carry-on without much worry. They don't bruise easily and don't need to be kept cold. There's no sticky mess with either of these hand-held fruits.
Celery and Peanut Butter Fun Snacks from Dandy®
Dandy® has a lot of great snacking options. Kids love their fun baseball packaging and parents love the convenience of this grab-and-go snack. Dandy® Celery is naturally sweeter and crispier than other celery and it has less strings. That's something the whole family will appreciate!
Berries
Berries are a great no-mess travel snack. They're especially great for car trips because they can be stored in the cooler along with your drinks. They're a sweet alternative to candy and there are no peels or cores to throw away at the end. Once they're gone, there won't be any evidence they were ever there!
Nuts
Nuts provide energy-boosting nutrients which will help your family get through a long day of travel. They provide a satisfying crunch without the crumbs that chips leave behind.
Fruit Leather
Fruit leather is a sweet treat that the whole family will enjoy. It's another great substitute for messy, melting candy. Fruit leather is a little bit sticky, but older kids will have no problem enjoying this snack without making a mess.
Clementines
Clementines are a wonderful travel snack! They are easy to peel and all the juice is contained within each bite-sized segment. They don't need to be kept cold on travel day, so packing them is a breeze!
Carrot Sticks / Baby Carrots
Carrots are a nice crunchy snack that leaves behind no crumbs! Older children will find it easy to dip carrots in hummus, guacamole, or ranch dressing without spilling. Single serve dip containers are our choice for travel days.
Dried Fruit
Banana chips, raisins, dried apricots, apple rings… the options are endless! Better yet, dried fruit won't leave little hands sticky.
String Cheese
String cheese is filling, delicious, and fun to eat! If you're traveling by plane, you can find string cheese at most airports. Grab a few before boarding and your family will thank you! If you're traveling by car, look for string cheese at the gas station when you stop to fuel up.
Grapes
Grapes are another great no-mess fruit option. They are sweet and juicy but all that juice is neatly contained within this bite-sized fruit.
Snap Peas
Mann's is a women-owned business so it's no wonder they know exactly what moms want! We especially love their Stringless Sugar Snap Peas. Not only are they delicious, the packaging makes them super convenient for travel. Eat them straight out of the bag!
What are some of your favorite no-mess travel snacks? Please share with The Produce Mom community in the comments below!