Must-Have Back To School Snacks
Online or in the classroom, our kids are on their way back to school! Help them succeed this year with the nutrition they need. These school snacks are perfect for packing in lunchboxes or for when they get home after a long day.
We've split our list into packable sides for school lunches and snacks your kids can enjoy after they get home from school. Fruits and veggies make tasty sides or snacks anytime and can help encourage your kids to seek out a nutritious diet.
Produce-Packed Lunch Sides
Apple Slices

Crunch Pak apple slices take the work out of packing lunches. They're easy to eat, too! These pre sliced apples are ideal for moms with busy mornings. With several flavors ranging from sweet to tart as well as snack packs that feature dips, nuts, and other extras, your kids will never get tired of seeing a Crunch Pak in their lunch!
Blueberries

Blueberries make a nutritious side to any lunch. Pack some in a reusable container to eat plain or add them to some yogurt and granola for a more substantial school snack. You can also bake them into these delicious Avocado Blueberry Muffins. You can also extend the life of your blueberries with a delicious on-the-go snack that is perfect for the lunchbox. Our fruit leather recipe is easy-to-make and your kids will love the special "treat."
Celery Sticks
We believe that every lunch should come with some kind of crunch. That's why we love these celery sticks from Dandy! Precut and prewashed celery sticks are a no-brainer when it comes to lunchtime sides. Pack them with some peanut butter, hummus, or other dip to give your kid's school meal some flavor. Dandy Celery Sticks come in several sizes so you'll always have options.
Clementines
The little siblings of oranges are a lunchbox staple and for good reason. Pack these tasty treats for a nutrient-filled, easy-to-peel school snack. Their natural skin means you can just pluck them out of the fruit bowl or refrigerator and put them right into a packed lunch. Because they're easy to peel, clementines are also a good fruit to keep someplace in your kitchen that your kids can access to encourage healthy snacking. Our favorite easy-peeling clementines come from our partners at PCN.
StickyLickits
Your kids will be lunch table stars when they bring StickyLickits to school! These safe and edible stickers can turn a plain apple into snackable art. With fun faces, SpongeBob SquarePants, and Paw Patrol packs, your kids can endlessly customize their food… until they eat it, that is!
After School Snacks
Walnuts

Do you find your kids are exhausted when they get off the bus after school? Nuts make for satisfying and energizing snacks, great for an after-school pick-me-up. And few nuts are as versatile as walnuts! Make California Walnuts a regular part of your pantry for all kinds of snacking options, from sweet to savory. Check out these Toasted Walnut and Blackberry Jam Bites and get some storage and serving insight from California Walnuts here.
Snacking Tomatoes
Small tomatoes are perfect for snacking! NatureSweet offers several snackable tomato options. From the rich Twilights to sweet Comets, there's a tomato for everyone. Have a bowl ready and waiting for your kids to get off the bus – they'll appreciate the juicy school snack. It's fairly common knowledge that the tomato is a fruit, not a vegetable, but did you know that it's technically classified as a berry?
After your kids are done snacking, encourage them to turn their NatureSweet containers into something creative! 
Pears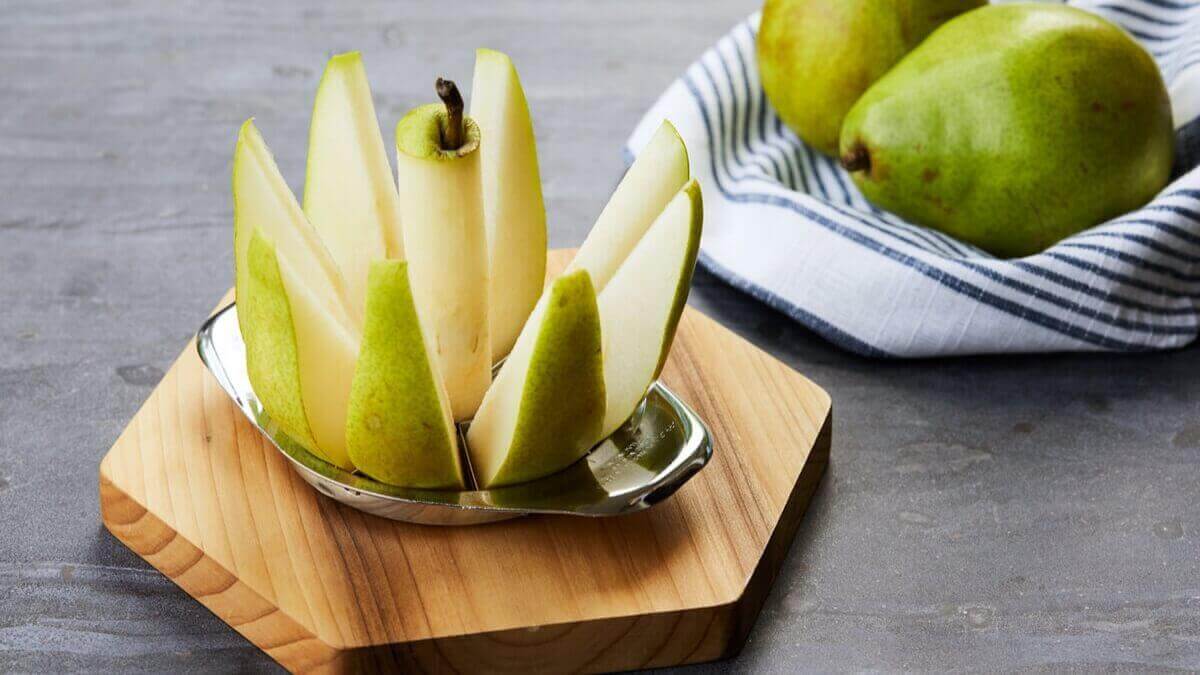 Pears are an underrated fruit, but they work well in all kinds of dishes and snacks! Start your kids' afternoon off right by giving them some sweet pear slices. Whip up these delicious pear quesadillas or try throwing them on the grill. Look for USA Pears at your favorite grocery store!
Apples

Perhaps apples are so closely associated with the classroom because of how convenient they are to eat during and after school. Apple slices are great for lunchboxes, but whole apples make an easy after-school snack. Keep some in your fruit bowl in a place your kids can see and reach to help encourage nutritious snacking habits. Or slice them up and create an appetizing charcuterie board with cheese cubes and dips. You can also keep an apple or two in the car if you pick up your kids from school or if you're driving them to soccer practice to help give them some extra energy after a long day.
Watermelon

Bring some summer fun with you into the school year with watermelon! Slice it, cube it, or get creative with it and give your kids an exciting after school snack. Try watermelon pizza or watermelon s'mores. Watermelon Board has some of our favorite recipes for this juicy fruit, including watermelon jerky and watermelon ice cream cone sundaes. Snacking on watermelon will also help your kids stay hydrated during a busy evening.
Do you have a favorite snack to pack in your kids' lunches? What are their top after-school snacks? Share with us in the comments below or tag us on Instagram @theproducemoms!