This post is sponsored by California Walnuts, a Produce Moms brand partner.
Truly, hors d'oeuvres don't get any easier than Toasted Walnuts and Blackberry Jam Bites! Four simple ingredients and a few minutes in the oven and suddenly you have elegant bites perfect for parties but effortless enough to moonlight as a midnight snack.
While these luxurious jam bites are a delicious addition to any special occasion (think baby showers, wedding showers, engagement parties, or bachelorette brunches), don't wait for a celebration to enjoy!
This is a great recipe to get the kids involved — even young children can help with this one. They'll love filling up the phyllo cups. And it's a great opportunity to introduce them to one of life's other small delights — California walnuts!
If you've NEVER made a recipe using these cute little phyllo cups, I'm going to tell you….once you do, you're going to be OBSESSED with phyllo cups recipes! You'll be finding reasons to stuff them full of yummy goodness! We actually have a few recipes coming up with phyllo cups, so STAY TUNED.
California walnuts are packed full of rich nutty flavor and honest nutrition. They are a heart-healthy food[1] and major brain fuel. And who couldn't use a little extra brain power during long homeschool days?
Kids get a kick out of seeing that walnuts are shaped similarly to the heart and brain. It's a great reminder to kids and parents alike that walnuts are a treat for your body, not just your taste buds.

Learn more about the health benefits of California walnuts here.
How to Make
1

C

California walnuts

12

pre-made phyllo cups

12

TSP

Camembert cheese

12

TSP

Blackberry jam
1

C

California walnuts

12

pre-made phyllo cups

12

TSP

Camembert cheese

12

TSP

Blackberry jam
Spread walnuts on a baking sheet in a single layer. Toast in the oven at 350 degrees for 7-10 minutes, shaking the pan a few times to even out the walnuts, ensuring they are overlapping and will toast evenly.

Place phyllo cups on a lined baking sheet. Place a cube of camembert cheese into each one. Bake in the oven at 350 until the cheese melts and edges begin to brown.

Place a spoonful of blackberry jam on top of the camembert cheese. Top with toasted walnuts.
Add California walnuts to this week's grocery list and treat yourself to jam bites. You deserve it!
If you're on the search for more walnut recipes, head to walnuts.org. There, you'll find dozens of delicious recipes full of wonderfully nutty flavors! Here are a few of our favorites to indulge with:
Be sure to also follow along on Pinterest for the latest recipes!
What are your favorite little treats these days?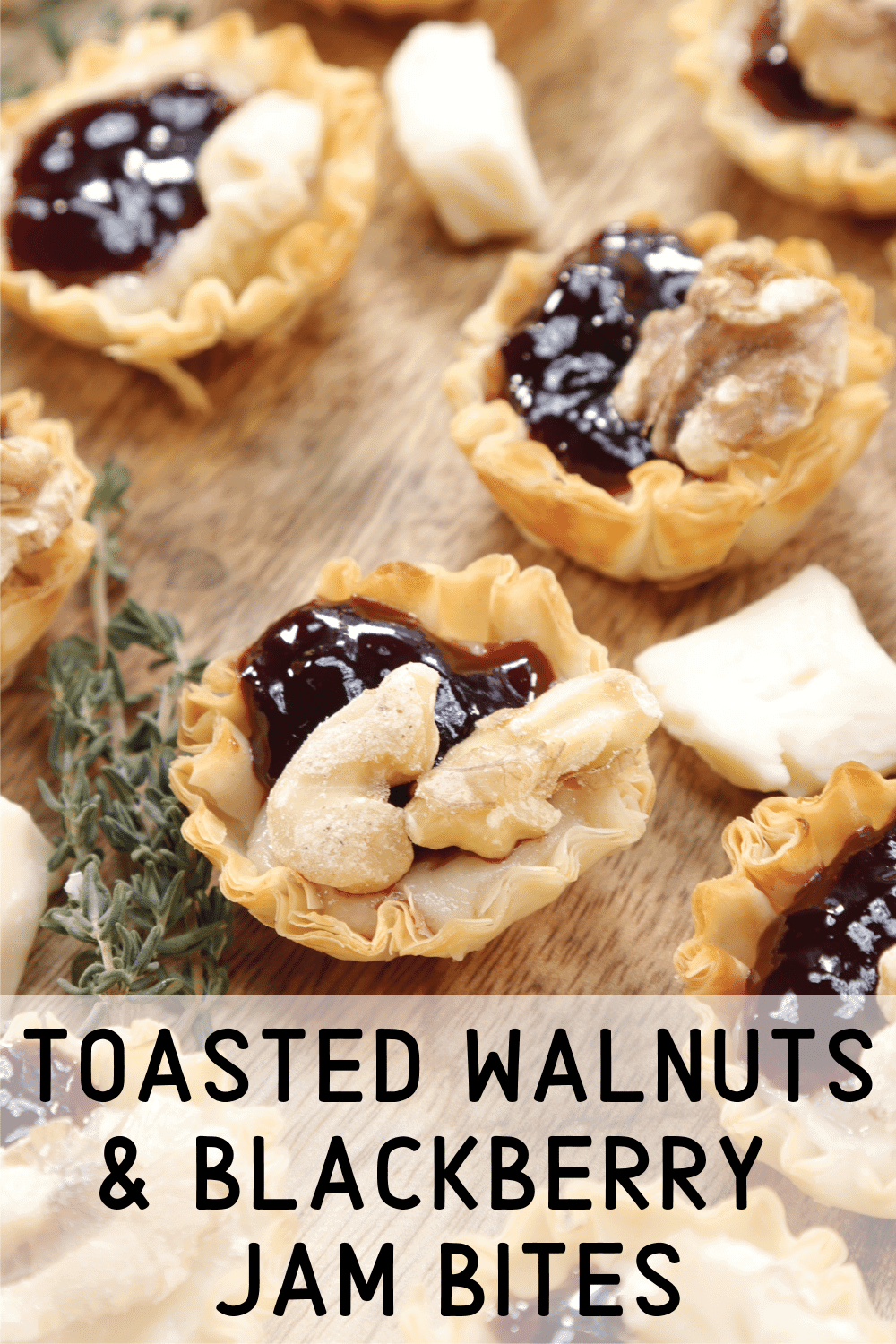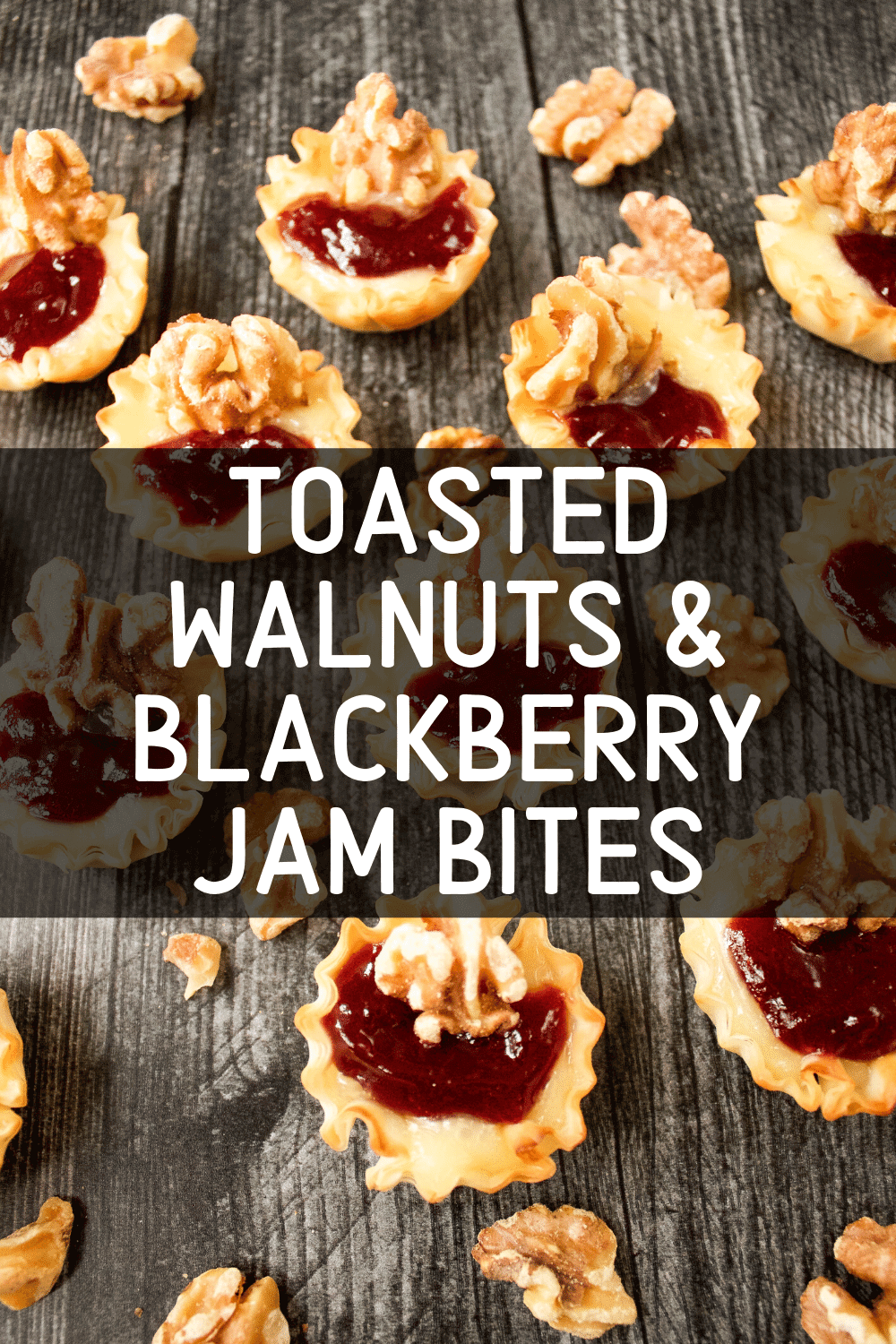 [1] Supportive but not conclusive research shows that eating 1.5 ounces of walnuts per day, as part of a low saturated fat and low cholesterol diet and not resulting in increased caloric intake, may reduce the risk of coronary heart disease. (FDA) One ounce of walnuts offers 18g of total fat, 2.5g of monounsaturated fat, 13g of polyunsaturated fat including 2.5g of alpha-linolenic acid – the plant-based omega-3.