May 2022 Life.Style.Live!: Celebrating Salads and Strawberries
May 13, 2022, Updated Jan 13, 2023
It's National Salad Month and National Strawberry Month, which means it's time to break out some of our favorite green and fruity ingredients for creative, delicious recipes. To celebrate, we brought some crisp, flavorful greens from Tanimura & Antle and sweet, juicy strawberries from Naturipe to the Life.Style.Live! kitchen. We'll whip up some dishes made with salads and strawberries that you'll love to serve at home.
Succulent Salads with Tanimura & Antle
The family farms of Tanimura & Antle helped make artisan salads mainstream with fresh field-packed greens. Bring some home to your kitchen and you'll be tossing up incredible salads in no time!
Tanimura & Antle Artisan® Lettuce comes with four different varieties of lettuce, each with varied shapes, colors, and textures. Start your salad prep by washing each whole head of lettuce under cold running water. Next, chop all four heads to the size of leaves you want in your salad. Place all the leaves in a colander and wash them under cold water one more time.
Finally, cover the top of the colander with a paper towel and the bottom with a kitchen towel and place it in the refrigerator for about 15 minutes. This makes the leaves a little crisper when you're ready to mix your salad. Now you're ready to make one of these tasty recipes:
Artisan® Lettuce Greek Salad
If you don't know what to serve at your next meal, remember this: everyone likes Greek salads! Crunchy and colorful ingredients make this salad both attention-grabbing and substantial. We used red bell peppers, seedless cucumbers, and Tanimura & Antle Artisan® Sweet Italian Red Onion to add crunchy consistency. Kalamata olives and feta cheese provide a rich Mediterranean flavor that your family will love. Top it off with a homemade Greek vinaigrette!
Artisan® Lettuce Greek Salad
Ingredients
2 Heads Tanimura & Antle Artisan® Lettuce
1⁄2 Tanimura & Antle Artisan® Sweet Italian Red Onion, thinly sliced
1 1/3 Cups Red or yellow teardrop tomatoes, halve
1 Cup Sliced cucumber
1 Bell pepper, cut into slices
1⁄2 Cup Pitted Kalamata olives, halved
1⁄4 Cup Crumbled feta cheese
Salt & pepper, to taste
Grilled pita bread, optional
For the Dressing:
1⁄4 Cup Red wine vinegar
1 1⁄2 tsp. Minced garlic
1 1⁄2 tsp. Fresh lemon juice
1 tsp. Dried oregano leaves
1⁄4 tsp. Salt
1⁄2 Cup Olive oil
Directions
Cut core end of lettuce heads to release leaves; cut leaves crosswise in half. Rinse and then drain well.
Combine lettuce, tomatoes, cucumber, olives and sweet red onion in large salad bowl.
Combine vinegar, garlic, lemon juice, oregano and salt in bowl. Gradually whisk in oil until blended. Season with salt and pepper.
Add vinaigrette, as desired, before serving; toss well.
Top with feta cheese.
Serve with pita bread and grilled chicken or beef skewers (optional).
Classic Blue Cheese Wedge Salad
Using Tanimura & Antle Artisan® Baby Iceberg Lettuce, we made a hearty family-style wedge salad that works as an appetizer, a side, or a whole meal. To make this salad, start by washing the whole head of lettuce, chopping it into halves or quarters, and washing it again.
Now you're ready to add the savory ingredients! Place all the lettuce wedges on a large serving dish and drizzle with either ranch or blue cheese dressing. If you like tomatoes, add halved cherry tomatoes across the salad. Diced Tanimura & Antle Artisan® Sweet Italian Red Onion adds sweetness and crisp texture while hard-boiled eggs and crumbled bacon give this salad a hearty homestyle flavor.
Classic Blue Cheese Wedge Salad
Ingredients
2 Heads Tanimura & Antle Artisan® Baby Iceberg
1/2 Tanimura & Antle Artisan® Sweet Italian Red Onion, diced
1/3 cups bacon, cooked & crumbled
10 cherry tomatoes, halved
2 Hard-boiled eggs, chopped
1⁄4 cup blue cheese crumbles
Ranch or Blue Cheese Dressing to serve
Directions
Halve each head of Artisan Baby Iceberg and rinse then pat dry
Plate the wedges on a serving platter or plate
Top with blue cheese crumbles, bacon, tomato, eggs and red onion
Add dressing of choice.
Serve & enjoy!
Creative Snacks with Naturipe Strawberries
As we get into graduation party season and summer barbecues take over our weekends, strawberries are the perfect ingredient for make-ahead snacks and desserts. And what better time to talk about tasty strawberry recipes than National Strawberry Month? This is peak strawberry season, the best time of year to find big, juicy berries to use in your recipes.
The Naturipe strawberries we brought to the Life.Style.Live! kitchen are from Watsonville, California, the "strawberry capital of the world." If you're looking for the biggest and best strawberries available, now is the time to find them at your local grocery store!
When you bring your strawberries home, always wash them before eating them or using them in recipes. All you need to wash your produce is cold running water – it's that simple!
Strawberry Shortcake Donuts
These Strawberry Shortcake Donuts, thought up by the minds at California Strawberries, make tasty treats or desserts any time of year. But we think you'll love them as the weather grows hotter and you spend more time outside! They make a sweet and fruity end to a barbecue or a treat for sharing while you sit beside the pool. While you could bake your own donuts for these Strawberry Shortcake Donuts, you can also save some time by buying some cake donuts at the grocery store or your local bakery.
Begin by slicing the donuts in half like sandwich buns. Dip the outside of each half in melted butter, then into a mixture of cinnamon and sugar to make a sweet coating for the donuts. Now you're ready for the fun part: the filling! Use store-bought or homemade whip cream to cover the inside of the donut halves. Place sliced strawberries on top of the whip cream. These Strawberry Shortcake Donuts are ready to serve now, but you can make them even better by adding a little bit more whip cream to another donut half and placing it on top to make a sweet sandwich!
Strawberry Shortcake Donuts
Ingredients
For the donut batter:
1 cup all-purpose flour
1 tsp baking powder
1/4 tsp baking soda
1/4 tsp ground nutmeg
1/4 tsp salt
1/3 cup sugar
1/4 cup milk
1/4 cup Greek yogurt
1 egg
2 Tbsp unsalted butter melted
For topping and filling:
1/4 cup unsalted butter melted
1/2 cup sugar
1 tsp cinnamon
1 cup homemade or store bought whipped cream
5-6 large strawberries sliced
Directions
Preheat oven to 350°F. Grease a donut pan with non-stick spray and set aside.
In a medium bowl whisk together the flour, baking powder, baking soda, nutmeg, salt and sugar together. Set aside.
Whisk the milk, yogurt, and egg together until combined. Add the melted butter and vanilla and whisk until combined. Pour the wet ingredients into the dry ingredients and stir with a spatula until just combined.
Transfer the mixture to a plastic zip-top bag and cut a corner off the bottom of the bag. Pipe the batter into the donut molds, filling each one about 3/4 full.
Bake for 10-15 minutes, rotating the pan halfway through, until the edges turn golden brown and a toothpick inserted in the batter comes out clean. Remove the pan from the oven. Let cool for a few minutes in the pan then transfer donuts to a wire rack to cool completely.
Add 1/4 cup of melted butter to a shallow bowl large enough to fit a donut. In a separate bowl of the same size, add the sugar and cinnamon and stir to combine. Lightly dip each donut in the melted butter, coating all sides. Dip in the cinnamon sugar immediately afterward, tossing until evenly coated.
Slice each donut in half horizontally. Spoon or pipe whipped cream on the bottom half of each donut. Top with sliced strawberries followed by the top half of the donut.
Strawberry Fig Pinwheels
This is one of our favorite recipes on our website! It's a fresh and fruity take on sushi night that will please even your seafood-averse kids. These Strawberry Fig Pinwheels are wrapped in tortillas and filled with strawberry slices, brie cheese, and fig jam to help it all stick together. Caramelized onions and balsamic glaze give them a sweet and savory flavor that's perfect for enjoying before or after a meal or as a tasty snack.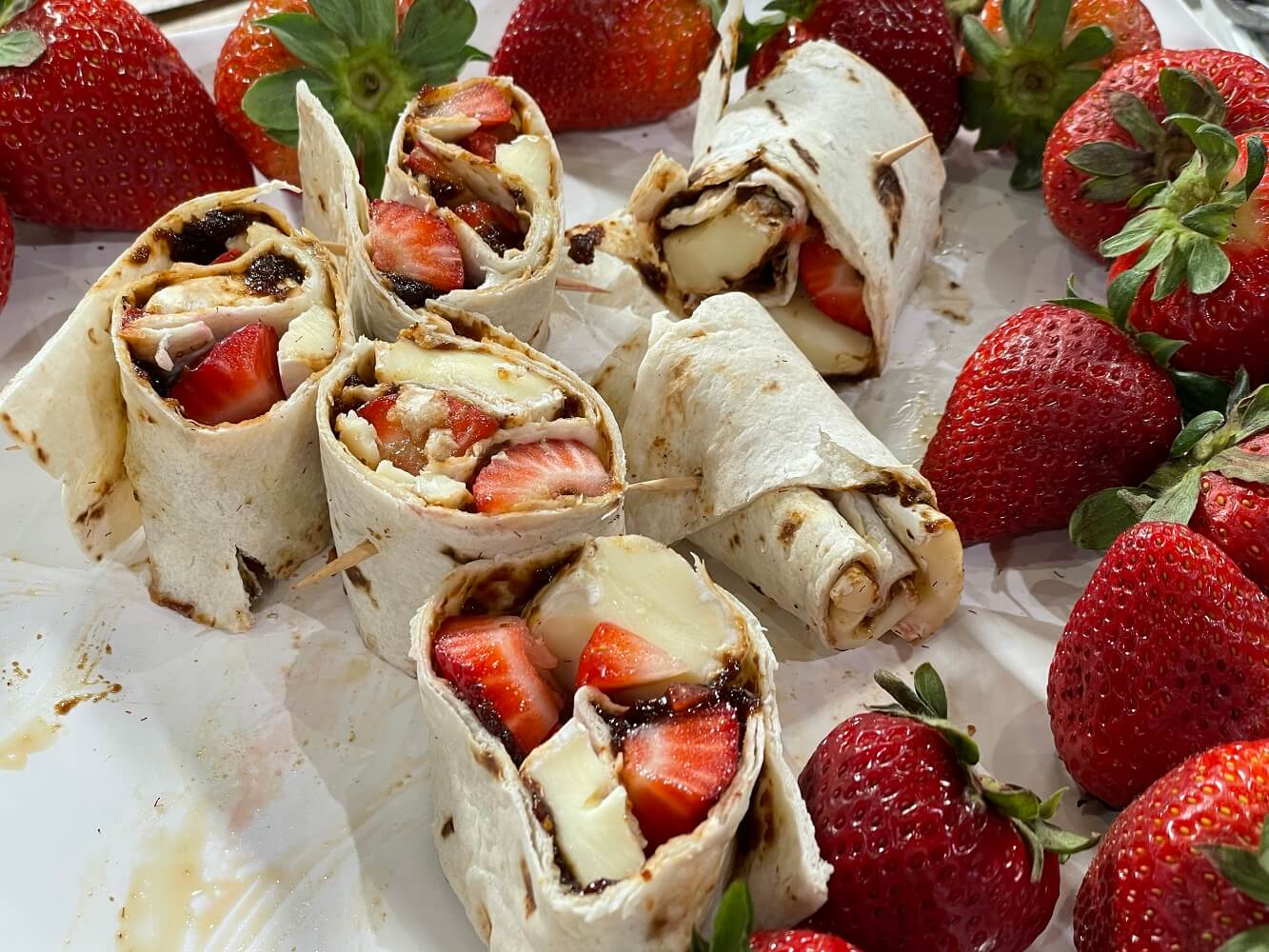 Once they've been rolled and sliced, these pinwheels are ready to serve – no baking required! We recommend arranging them tightly on a plate or tray to help them maintain their fun spiral shapes. You can also skewer them with toothpicks to make them easy to hold and eat.
Strawberry Graduation Caps
We've created the cutest graduation dessert that will be the hit of the party. You can easily create these chocolate strawberry graduation caps and show off the biggest, sweetest strawberries with just a few ingredients and 15 minutes in the kitchen!
These Strawberry Graduation Caps offer an opportunity to get creative and celebrate your graduate's accomplishments. Add a tassel with melted white chocolate in their school's colors using food coloring. You can also experiment with different flavor combinations by using different kinds of chocolate squares for the cap.
How are you celebrating salads and strawberries?
This is the best time of year to enjoy crisp greens and ripe strawberries – that's why this month is National Salad Month and National Strawberry Month! What dishes will you make to celebrate salads and strawberries with your friends and family? Are there any dishes you love to make at this time of year? Let us know in the comments!