Mary Lynn Rajskub joins The Produce Mom on Indy Style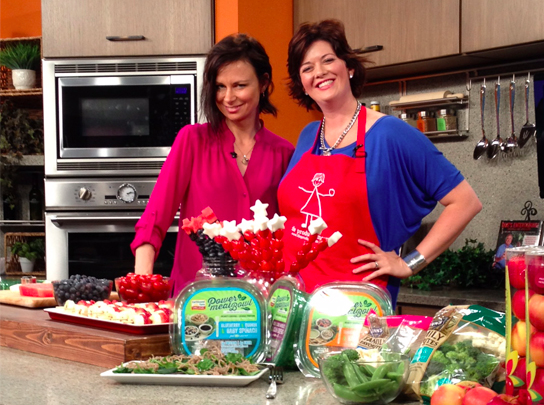 You might know her as Chloe…
I know her as Mary Lynn.
Matt's wife.
Val's mom.
My friend.
We met just a few years ago – in Disneyland actually. Mary Lynn is married to my husband's friend & high school classmate. She's a genuine person. When our paths cross, we get the families together & our boys always have fun doing the things that little boys love to do. Usually, that means lots of running, screaming, toy sword fights & sleepovers 🙂
I cannot thank Mary Lynn enough for her friendship and support as my career continues to evolve and grow. She's a total Produce Mom and she's been a blessing to me during this journey. She helps me understand that big things are possible & that I can still be a normal person with a real life despite having a public life.
I'm thankful for the support, but I'm mostly just thankful for our friendship. If you missed our segments you need to watch them now!
In our 1st segment we talked about 3 Produce Department Items that I'm really loving right now for busy on-the-go lifestyles. As hard working women with young boys, Mary Lynn & I are both very busy.
Check out Segment 1, featuring
Rockit Apples from Chelan Fresh
Family Favorites from Mann Packing
Power Meal Bowls from Earthbound Farm
And Segment 2… Featuring some great Pinterest-inspired (hah!) ideas for your 4th of July Celebrations!

And if you are a Mary Lynn fan… or maybe you just like to laugh – you must check out her North America Stand Up Tour which kicked off this weekend in Indianapolis. It's a hilarious show! Visit MaryLynnStandup.com for more details. And follow her on twitter too. She's great.
As always, thanks to Indy Style for having me on the show… and thanks to Mary Lynn for taking the time out of her Indianapolis PR to appear on the show with me. I'll be back in the Indy Style kitchen on July 21st! Set your DVRs 🙂
There is a Produce Mom in ALL of Us!
xoxo Produce Mom