Lollipop Smoothie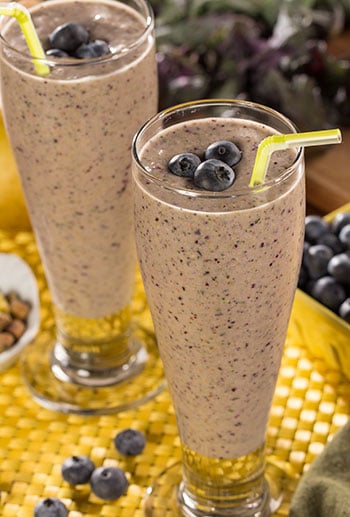 Lollipops®, grown by our friends at Salad Savoy, is a fork-sized vegetable that is a cross between red kale and Brussels sprouts. Just 4 ounces of Lollipops contain twice the amount of vitamin C and b6 than standard Brussels sprouts.
Lollipops are often found on the menu of high-end restaurants and are especially appreciated by those with discriminating tastes. While you might appreciate Lollipops as a side dish or served as a salad, your kids may not. Let's be honest… kids just don't flip for green veggies.
But one thing kids do flip for? A cold, creamy smoothie! Lollipop Smoothie has a fun name that kids get excited about, and it can be our little secret that the lollipops in this smoothie are actually nutritious green veggies!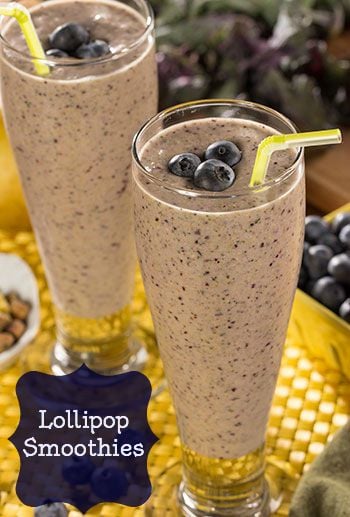 Ingredients
3

tbsp

yogurt

plain, nonfat

1

pear

cored & cut into chunks

1/2

cup

blueberries

1/2

cup

coconut milk

(see notes)

1

cup

kale sprouts

(Lollipops) washed & stems trimmed

1

cup

ice

1/4

cup

pistachios

can substitute walnuts (optional)
Instructions
In a blender, combine all ingredients and blend until smooth and creamy. Pour into glasses and serve immediately.
Notes
If you prefer to leave out the coconut milk, you can substitute with water.
Recipe and photo provided by Salad Savoy.
This smoothie recipe makes 2 servings. So pour one for you and your child and enjoy together!