Kiwi Muffins
Nov 16, 2012, Updated Jun 08, 2021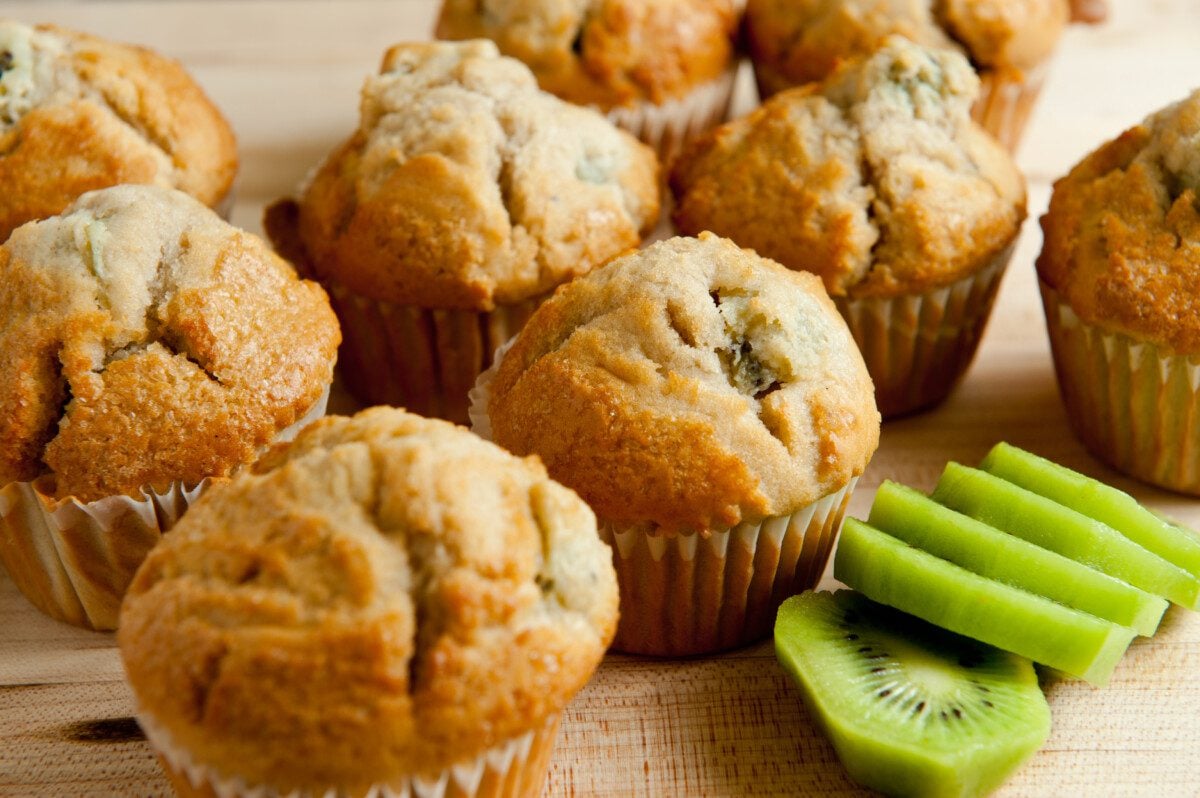 Kiwi Muffins are a sweet breakfast treat!
Did you know kiwi is the most nutrient-dense fruit you can eat? Bite-for-bite, it has more vitamins, minerals, and nutritional benefits than any other fruit in the world. It's a true superfood!
Kiwi Nutritional Facts
Kiwi is a leader in vitamin C, potassium, and folate.  Just one serving of kiwi has 240% of the recommended daily value of vitamin C!
Kiwi is a potassium superstar! It boasts more than a banana. It's the perfect recovery food for endurance athletes.
Looking to boost your fiber intake? Kiwi can help with that too! Just two kiwi has more fiber content than a bowl of bran cereal. It tastes better too!
Additionally, kiwi contains important antioxidants, zinc, magnesium, lutein, and vitamin E. It is fat-free, low-carb, and has a low glycemic index of only 52. You can always feel good about choosing kiwi!
Produce Moms Tip: The fuzzy brown skin of a kiwi is edible! Enjoy it like you would an apple or peach!
Making Kiwi Muffins
Have you ever tried Kiwi Muffins before? They're a delicious way to eat more kiwi! They're great to make ahead for breakfast on-the-go or enjoy them as a mid-day snack.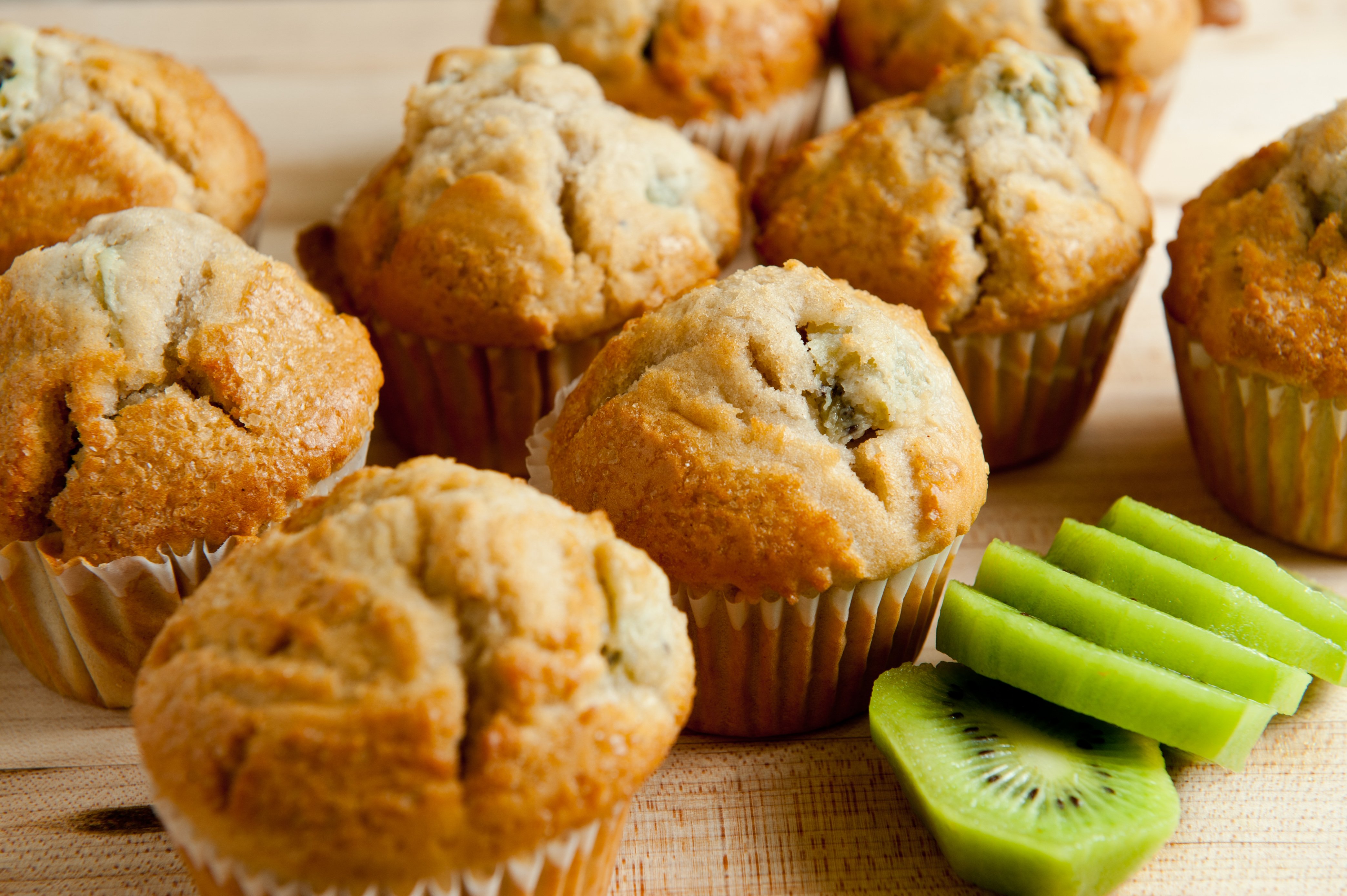 Begin by preheating the oven to 400 degrees and lining your muffin tins with paper cupcake liners. This will prevent the muffins from sticking to your tins.
Sift together the flour, salt, sugar, cinnamon, and baking powder in a medium-sized bowl. Mix it well with a fork.
Next, beat together two eggs, milk, oil, and vanilla in a large bowl. Slowly mix in the dry ingredients to the wet ingredients. When combined, fold in the chopped kiwi.
Now your muffin mixture is ready to be poured into the lined muffin tins and baked in the oven. We like to sprinkle the tops with a little turbinado sugar, but this is optional. Make sure not to overfill your muffin tins or they will overflow in the oven.
Bake the muffins for about 25 minutes, or until they are slightly brown. To be certain they are done, use the toothpick test. Insert a toothpick into the center of a muffin. If the toothpick comes out clean, they are finished baking.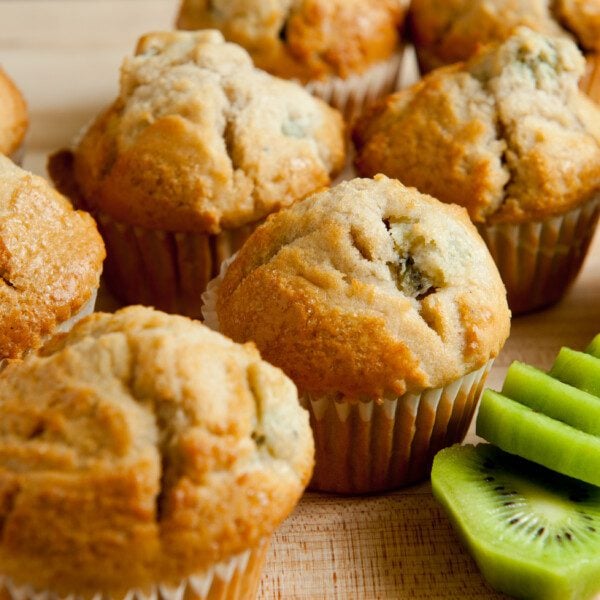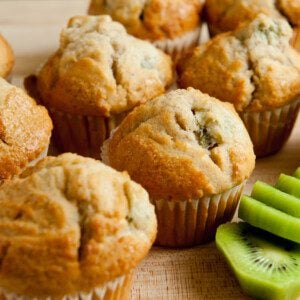 Ingredients
4

kiwi (medium size)

peeled and diced to 1/2" size, approximately 1 cup total

4

cups

all-purpose flour

2

tbsp

baking powder

1

tsp

salt

1

cup

granulated sugar

1/2

tsp

cinnamon

2

egg

slightly beaten

2

cups

milk

*can substitute cow's milk with almond milk, coconut milk, or oat milk

2

tsp

vanilla extract

1/2

cup

canola oil

turbinado sugar

for dusting
Instructions
Preheat oven to 400 degrees. Line muffin tins with paper cupcake liners.

Sift flour, salt, sugar, cinnamon & baking power in a bowl and mix well.

Beat together egg, milk, oil & vanilla in a large bowl. Slowly mix in the dry ingredients. Fold in the chopped kiwi.

Spoon mixture into a cupcake liner & fill them to the top. Sprinkle with the raw/turbinado sugar.

Bake for approx 25 minutes. Muffins are done when slightly brown & a toothpick inserted into the center comes out clean.
Nutrition information is automatically calculated, so should only be used as an approximation.
Like this? Leave a comment below!
Add kiwi to this week's grocery list and give these Kiwi Muffins a try! Let us know what you think in the comments below!