Make Food Fun With This Kid-Friendly Blueberry Snack Recipe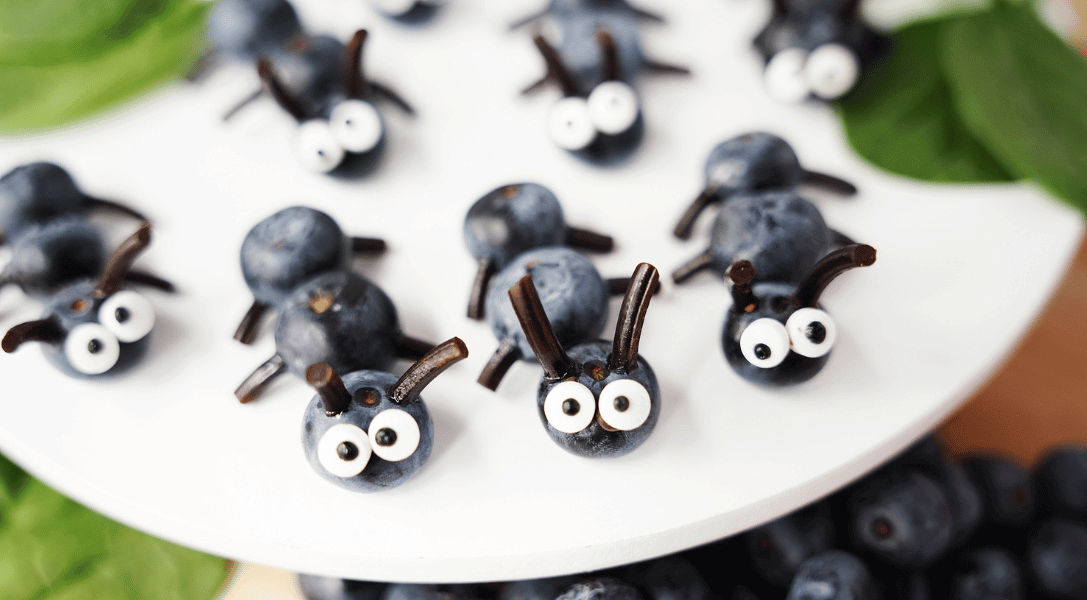 Blueberry snacks that look like ants are a fun, creepy crawly snack perfect for summer. You only need three ingredients, and your kids are sure to love this fruit recipe. Sweet, juicy blueberries and salty licorice, this flavor combo surprises you…in a good way. Don't forget the candy eyes for the full "ant look" effect.
Sometimes it's hard to get your kids to eat nutritious fruits and veggies. Food art is one way you can make eating a balanced diet more fun and engaging.
We've got another fun food recipe using blueberries and licorice to make blueberry ants.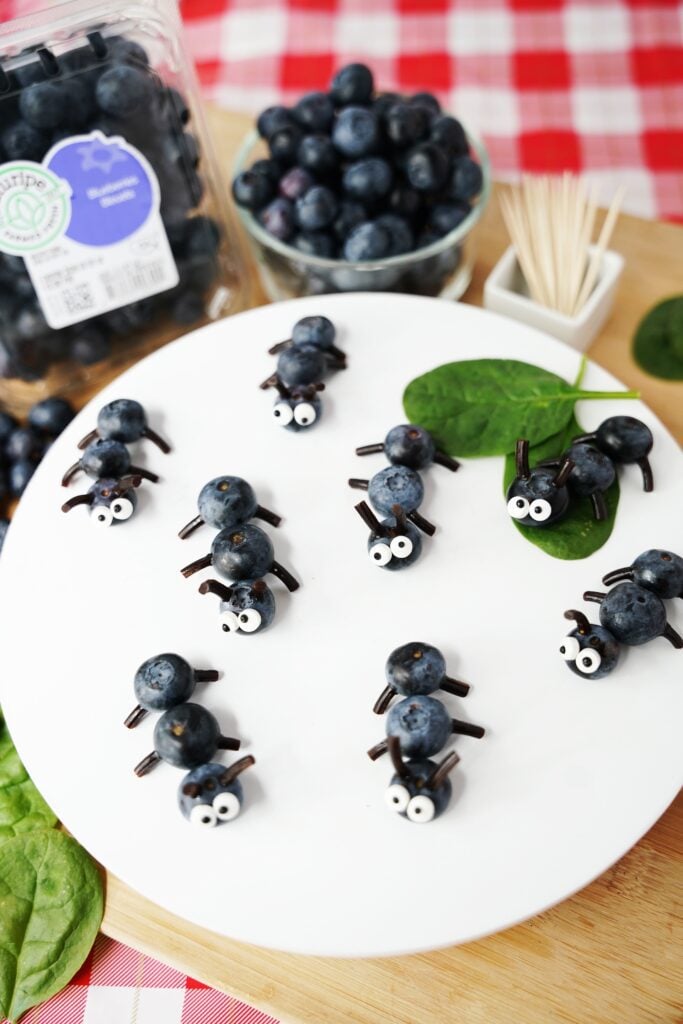 This blueberry ants blog is sponsored by Naturipe®.
Blueberries are accessible and affordable during the summer months, so we knew we had to make something fun with them. Plus, your kids will love helping you in the kitchen.
Whether you're making a fun blueberry snack at home, going on a family picnic at your local park, or feeling like trying something new — your whole family will enjoy blueberries in a whole new way.
C'mon, give it a try!
What Are Blueberry Ants?
At first, the name might sound strange. Who wants to eat ants? But it's actually a really fun blueberry snack idea. We're making ants out of blueberries. The blueberries act as the body and head, the bitter licorice is perfect as the antennae and legs, then glue the candy eyes on with melted chocolate. If you're not too sure about blueberries, licorice, and chocolate, you have to give this recipe a try before you completely write it off.
It. Is. So. GOOD!
We chose to make a fun blueberry snack for the summer with this recipe. It seemed like the perfect addition to any outdoor function you have coming up this season. And when everyone sees how adorable your blueberry ants are, everyone will want to dig in. And if you love blueberry ants, you can also try our Strawberry Ladybugs.
How to Select Blueberries
Blueberries should be plump, smooth, and well…blue. When you see blueberries that have a red or dark purple color, they're not ripe yet. Blueberries don't continue to ripen after they are harvested, so the red ones would be a waste of money. You may notice that blueberries have a silvery, white shininess on the outside. Don't worry, that's good, it's called "bloom," and this is how the blueberries protect themselves from the sun.
Blueberries are usually sold in packages with small air vents to help keep them dry during storage, so they last longer. Try to look for blueberries stored in a refrigerator and leave them in the container they came in.
How to Properly Store Blueberries
Blueberries are best when stored in your fridge between 33℉ and 34°F. When stored in these temperatures, your blueberries can last up to two weeks! Make sure you don't rinse your blueberries before you store them. They are best stored when dry to prevent spoilage. If you already rinsed your blueberries, use a paper towel to dry them off completely before you put them in the fridge to extend the shelf life of your blueberry snack.
Blueberries are widely available and affordable during the summer months. It's one of the most refreshing and nutritious snacks that's easy to pop into your mouth on hot days.
Ingredients
Here's what you will need:
Naturipe® Blueberries
Blueberries are one of the few foods that are actually blue, naturally. Blueberries have been called an All-American berry because they actually start out white, then turn red before transitioning to their famous blue color. Health professionals recommend blueberries because they are considered a superfood due to their antioxidants. Plus, blueberries are the perfect size for snacking instead of chips or candy.
Look for the green and white Naturipe® label for juicy, subtly sweet blueberries. All the kids will devour your blueberry ants at your next picnic.
Licorice
We used black licorice for our ants to create the legs and antennae. This is how you bring the whole thing together. Get a wheel of licorice from the candy section. It should be rolled up and look similar to a yarn or string reel. It's in a plastic bag with multiple wheels in it. The wheels come in red and black. Black is more realistic, but if your kids want to use red, go ahead. This is meant to be a fun blueberry snack, after all.
This recipe is all about having fun with food. The goal is for your kids to love this recipe as much, if not more than you do, so they ask for it again and again.
Chocolate
You will be melting your chocolate to use as an edible glue to put the candy eyes on your ants. You can use chocolate chips, discs, or a bar. If you use a bar of chocolate, be sure to chop it up into similar sizes so it melts evenly. Dark chocolate melts quicker because it has more cocoa butter and fat. The flavor is richer and darker when you use chocolate with 70% cocoa or higher.
If you don't use all your chocolate, store it in a cool, dry place to prevent discoloring.
Candy Eyes
You may have some leftover candy eyes from holiday recipes, so a kid-friendly blueberry snack is a great way to use those up. If you don't have any or you've never used them before — candy eyes are small, white, round candies with a black dot in the middle. They're available in the candy section at most grocery stores, online, and at craft stores. This is an easy shortcut to making your ants look more real, and kids love to eat candy.
It's a win all the way around.
All of the ingredients to make blueberry ants are easy to find and affordable, so you can make this recipe over and over again.
How to Make Your Blueberry Snack Into Ants
Step 1
Open the licorice package, take out the wheel, and unroll it. Use a pair of scissors to cut small pieces about half an inch long. These are going to be the legs and antennae of your ants.
Step 2
Use your toothpick to poke two holes from the top of one of your blueberries and angle toward the center, like you're making a "V" shape with the pokes. These will be for your antennas, so make them as close together as you'd like. Then stick a piece of licorice into each hole.
Step 3
Use your toothpick to poke two holes on opposite sides, toward the bottom, on two blueberries. Put a piece of licorice into the holes, and now you have ant legs.
Step 4
Add about an inch of water to a pot and heat to low-medium. Put the chocolate in a heat-proof bowl and place it on top of the pot. The bowl should be big enough to sit in the pot without the bottom touching the water. Stir with a spatula until the chocolate is silky and melted, without any chunks.
Step 5
Add the chocolate to a piping bag and put a small amount on the back of two candy eyes. Place the candy eyes on the blueberry with the antennas to finish the blueberry ant head.
Step 6
Place the head on the plate and put the two blueberries with legs in a row behind the head. Now you have your first blueberry ant.
Repeat steps two through six until you have as many blueberry ants as you'd like and serve as a snack.
Expert Tips
Did you run into a few messes? It happens to the best of us, and there's an easy fix.
Completely dry your blueberries before you stick your candy eyes on the head of your blueberry ants.
When traveling with your blueberry ants, put a small amount of melted chocolate on the bottom of each blueberry and then stick it on the plate. This helps prevent the ants from becoming a pile of blueberries and licorice during transport to your picnic.
Your blueberries may stay in place better if you use the calyx, where the blueberry blossoms (looks similar to a star), to mark the bottom. This may help if you're making blueberry ants at home and don't want to "glue" your blueberries to the serving plate.
Remember to have fun with this blueberry snack recipe. Ultimately, it's getting eaten anyway, so don't put too much pressure on yourself to make the plating perfect. Your family is going to love it.
Why We Love Naturipe®
More and more discoveries about the health benefits of berries are happening all the time. And when they are grown with care and attention to detail, you get a truly nutritious and tasty berry. Naturipe® is a trusted partner because of their commitment to sustainability.
Their family of farmers is passionate about working together in harmony with nature instead of against it. As they share resources, skills, knowledge, and continue to pave their way as a leader in the berry industry, their blueberries only get better and better.
Look for the green and white label for high-quality blueberries when you make your ants. Quality ingredients make all the difference in your blueberry snacks.
Unique Blueberry Recipes
Blueberry Ants
Fresh, juicy blueberry snacks scream summer. Add some chocolate and candy eyes to create a fun treat that looks like ants. This one is kid-friendly and mom approved.
Print
Pin
Rate
Ingredients
1

pint

Naturipe® Blueberries

rinsed and dried

2

Black licorice wheels

1

bag

Melting chocolate

1

pkg

Candy eyes
Instructions
Pull apart the licorice wheel and use sciccors to cut small pieces, about half of an inch long, for the legs and antenna.

Use a toothpick to poke two holes into a blueberry, one on the top left and one on the top right.

Add a licorice piece onto the lower sides of two blueberries to form the legs.

Melt a small amount of chocolate (in a double boiler or microwave) and add it to a piping bag. Pipe a small amount of chocolate onto the candy eyes and place the eyes on the blueberry with the antennas.

Lay the head on a plate and place the blueberry pieces with legs behind the head.

Repeat until you use up all of your blueberries or you run out of space on your serving plate.
Nutrition
Calories:
270
kcal
|
Carbohydrates:
69
g
|
Protein:
4
g
|
Fat:
2
g
|
Saturated Fat:
0.1
g
|
Polyunsaturated Fat:
1
g
|
Monounsaturated Fat:
0.2
g
|
Sodium:
5
mg
|
Potassium:
364
mg
|
Fiber:
11
g
|
Sugar:
47
g
|
Vitamin A:
256
IU
|
Vitamin C:
46
mg
|
Calcium:
28
mg
|
Iron:
1
mg