Celebrating Plums and Watermelon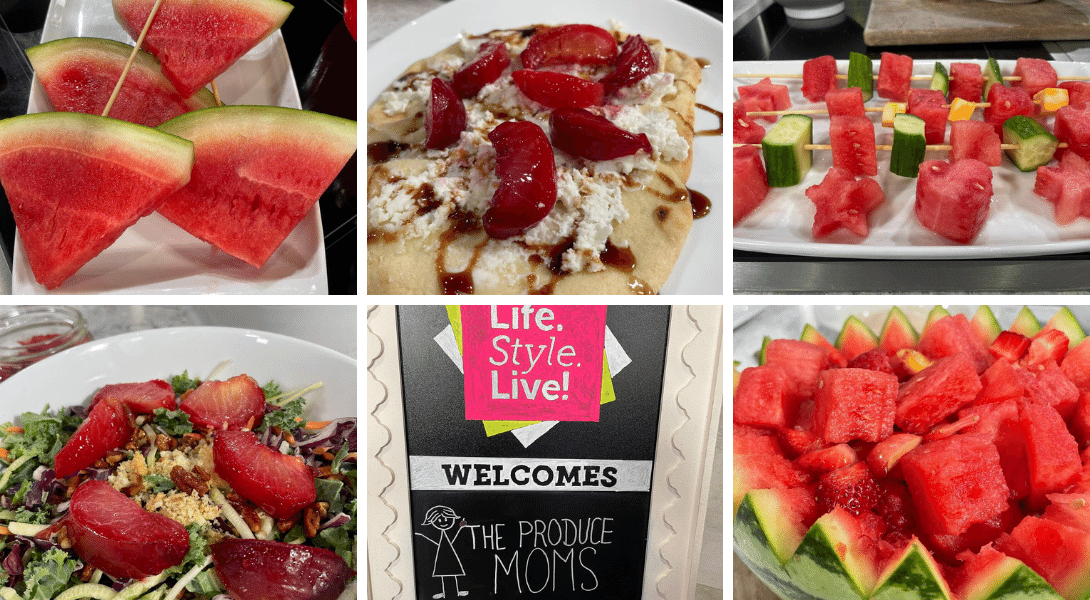 It's the middle of summer, and you know what that means: heat, heat, and more heat! Fortunately, we have some tasty ways to stay cool this season with some of our favorite summer fruits. Plums and watermelon are in season right now and make nutritious, hydrating snacks that are perfect for this hot weather. With the help of our partners at HMC Farms and Watermelon Board, we'll share some unique recipes from the Life.Style.Live! kitchen to help you make the most of these juicy fruits.
Make It A Plumsicle™ Summer
Sweet and juicy just like your favorite popsicle, Plumsicles™ are one of our favorite summer treats. You can enjoy them in tasty recipes or eat them out of hand – no stick required! You may want some napkins, though, because they are very juicy.
Plumsicles™ are an HMC Farms specialty grown in the heart of California, where the climate is ideal for plum variety orchards. These farmers specialize in growing the perfect plums, which we think they've nailed with their Plumsicle™ variety. Pick some up at your local grocery store and try them for yourself!
Roasted Plums
For a one-of-a-kind treat that's sweet, soft, and juicy, try roasted plums! Plumsicles™ are great for roasted since they're already bursting with natural sweetness. And roasting doesn't need to be complicated: just put your air fryer to work and you'll have perfectly roasted Plumsicles™ in about 10 minutes.
Roasted plums are great on their own, but they're even better with friends. Use them as a topping for your favorite complementary dishes like pizza or salads or top them with another treat. To complete your roasted Plumsicle™ spread, try these delectable toppings and garnishes:
Summer Salad kit
Small vanilla ice cream
Greek Yogurt
Pita pizza bread + goat cheese
Roasted Plumsicles™ are ripe for creativity. With such sweet and juicy flavor, they'll be a hit however you serve them on a hot summer day. How will you slice and serve your roasted Plumsicles™?
How to Pick a Watermelon
Watermelon is a classic treat during the summer months, but how do you pick the right one? We'll share our tips and tricks here!
When you enter the produce department this season, you'll almost certainly be greeted by a bin full of huge watermelons. To master melon section, start by picking up a watermelon that is bright green with visible stripes. Because these melons are over 90 percent water, it should feel very heavy for its size. If it passes that test, turn it over and look for a creamy yellow patch on one side. This is the bottom of the watermelon, where it rested on the ground while it was growing on the vine. This patch indicates a healthy, sun-ripened watermelon – it's an important thing to look for!
Our last tip goes for every kind of produce you enjoy. Even if you don't plan on using the rind of your watermelon (which is edible – we'll explain that soon!), always wash your watermelon with cold running water. You may not be eating the skin of the melon, but the knife you use to slice it will still pass through the rind and can pick up dirt and contaminants on the skin on its way through.
Watermelon can be enjoyed plain in slices, cubes, or any other form. It has great natural flavor and is a good way to stay hydrated in the heat. We put some slices on skewers to make them easy and fun to enjoy. You can also use a cookie cutter to make fun, snackable shapes or skewer cubes along with other fruits and veggies to make creative kebabs.
Using the Whole Watermelon
Our partners at Watermelon.org are experts at making the most of the incredible watermelon, and as such they've figured out ways to put every part of it to use! The next time you buy a watermelon, don't let any of it go to waste. Instead, use the whole watermelon with these handy, easy-to-make recipes:
Juice: Watermelon Shirley Temple
Enjoy the drinks we had on set with the Watermelon Shirley Temple. This simple drink makes a fruity, fizzy, and refreshing way to cool off. Have one by the pool or when you're taking a break from yard work and put all that water in your watermelon to use.
Watermelon Shirley Temple
Ingredients
6 ounces watermelon juice, strained
6 ounces lemon lime soda
Maraschino cherries, for garnish
Directions
Pour watermelon juice in glass of crushed ice.
Top with lemon lime soda and add maraschino cherries to garnish.
Flesh: Red Fruit Salad in Watermelon Bowl
You won't need to make any extra dirty dishes when you make this Red Fruit Salad. It uses the watermelon rind as a bowl for flavor, style, and convenience! With other seasonal favorites like strawberries, cherries, and raspberries as well as some mint for flavor, this unique fruit salad is sure to be a hit at any summer gathering.
Red Fruit Salad in Watermelon Bowl
Ingredients
1 cup cubed watermelon
1 cup halved strawberries
1 cup sliced cherries
1 cup raspberries
Mint, to taste
1 mini watermelon
Directions
Add all ingredients to a bowl and mix.
Enjoy!
Rind: Air Fryer Watermelon Rind Churros
Did you know that you can eat the entire watermelon? Maybe not in one bite… But each part of the watermelon has its own unique flavors and uses, including the rind! Think of watermelon rind as a bonus ingredient when you have a whole watermelon. It's a blank canvas that can be seasoned and cooked in many ways: pickled rind may be the most widely known, but it can also be candied, juiced, stewed, or baked!
We think our Air Fryer Watermelon Rind Churros are a unique and delicious way to use this oft-forgotten ingredient. Churros make a tasty and fun snack, and by using watermelon rinds you can add some produce to this otherwise doughy treat. Our churros are air fried and then covered in cinnamon sugar for that classic crunchy and sweet taste.
How do you enjoy plums and watermelon?
Beat the heat this year by bringing plums and watermelon to your table. Whether you're on a trip or staying close to home, these juicy fruits will help you and your family stay hydrated and cool during your summer activities. What are your favorite ways to enjoy plums and watermelon? Do you have any favorite fruity recipes to make during the summer? Let us know in the comments!