July 2021 Indy Style: Celebrating Summer Fruits
We're celebrating our favorite summer fruits in our July Indy Style appearance!
Got some leftover watermelon from your Independence Day barbeque? We know just what to do with it! If you find yourself avoiding watermelon because you think it's too big for your family to eat, we'll show you how to use it all in creative ways so you can add it to your diet regularly. We'll also share some of our favorite stone fruit recipes to help you take advantage of this season's bounty of plums and peaches.
We've brought along juicy fruits from our partners at Watermelon Board and HMC Farms, as well as tasty cherries from Sage Fruit Company and a frozen surprise from Crunch Pak. No matter what summer fruits you're craving, find a way to fill your summer's dog days with produce in our July 2021 Indy Style segment!
Grilled Watermelon and Italian Sausage Kabobs
It may be known for cooking savory meats, but the grill works summertime magic on all kinds of fruits and veggies! Is there a particular kind of produce that you're just not into? Do your kids always turn their nose up at a fresh and nutritious part of their meal? Try grilling it! Many fruits and veggies gain delicious new flavors and textures when grilled.
One of our favorite fruits to grill is a sweet, juicy watermelon. This fruit gains new dimensions on the grill! Put your leftover watermelon to use by making these sweet, savory, and spicy Grilled Watermelon and Italian Sausage Kabobs. We used Italian sausage to give this recipe a little kick, but you can use any kind of sausage to make these kabobs.
We've said it before and we'll say it again: kids love any meal you can serve on a stick. Adults do too, for that matter! Serve grilled watermelon and Italian sausage kabobs on top of a bed of lettuce or alongside any salad. Kabobs add a fun element to any meal and will make it memorable, enjoyable, and easy to eat.
Watermelon and Cucumber Cubed Salad
Mosaic salads are all the rage and for good reason! They're delicious, shareable, and make a unique addition to any meal. For this recipe, we simply cubed cucumbers and watermelon and arranged them into an eye-catching pattern. This salad is a great example of how you can serve familiar foods in a fresh new way simply by cutting them differently.
We think both cucumbers and watermelon are good plain, but they're even better with a little help from mint and feta cheese! After you arrange your cubed fruits, sprinkle some lime juice and sea salt over them and top them with torn mint leaves and crumbled feta.
Watermelon and Cucumber Cubed Salad
Ingredients
1/2 seedless watermelon cubed
1 cucumber cut into half moons
1 tbsp lime juice freshly squeezed
5 leaves mint torn into strips
1/4 cup feta cheese
1 pinch Himalayan pink salt or sea salt
Directions
Cut watermelon into 1 inch cubes.
Cut cucumber to 1 inch slices, then use watermelon cubes as a guide to cut the slices into similar-size cubes.
Arrange cubes on plate. Top with lime and salt.
Tear mint leaves into strips. Top cubes with mint and feta cheese.
Serve and enjoy!
Watermelon Ice Cubes
Did you know that every part of the watermelon is edible – even the rind? Don't throw it away! Take a step toward a zero-waste kitchen by blending and freezing watermelon into these light and flavorful ice cubes. Watermelon is a great source of vitamin C and water, making it an excellent way to stay hydrated in the summer. These ice cubes put its hydrating benefits to work and will help you add some nutrition to any drink.
Watermelon ice cubes are simple to make! Just chop up any leftover watermelon (rind included) and put it in a blender or food processor. Blend it to a fine consistency and pour it into an ice cube tray. In a matter of hours you'll have frozen watermelon cubes that add fresh flavor to any drink. Add them to a tall glass of water for an instant agua fresca!
Watermelon and Blueberry Popsicles
What snack says summer more than popsicles? Kids and adults alike love this frozen treat, especially on a hot day! But you don't have to buy the sugar-filled popsicles available in the freezer section to enjoy this snack – you can make your own!
Use a food processor or blender to create a smooth mixture out of your leftover watermelon. As in the Watermelon Ice recipe, don't be afraid to include the rind! Then just pour the blended watermelon into popsicle molds and freeze to create a cool treat you and your family can enjoy later.
Check out this recipe idea from our partners at Watermelon Board:
Watermelon Berry Popsicles
Ingredients
6 cups watermelon
1 cup blueberries
1 cup raspberries
3 tablespoons honey
Instructions
Add watermelon, ½ cup of blueberries, ½ cup of raspberries, and honey to a blender. Blend until smooth. Press through a fine mesh strainer to remove pulp and seeds.
Fill popsicle molds ¾ full with liquid. Add whole blueberries and raspberries to each mold. Insert sticks and freeze for at least 4 hours or until completely frozen.
If you're looking for an even easier way to make popsicles or want a second flavor option, fill your popsicle molds with Apple Blueberry Blendz from Crunch Pak! These juice pouches are made out of 100% fruit puree with no sugar added. While they're refreshing on their own, these convenient pouches are the perfect way to make quick, easy, and tasty popsicles!
The Plumsicle™: The Sweetest Plum You'll Ever Taste
We promised stone fruit and with some delicious recipes using summer fruits, and we delivered! We used the one-of-a-kind Plumsicle™ to craft some tasty recipes that your friends and family will love.
The Plumsicle is exclusively grown by HMC Farms, who have earned their renown in the industry as the Plum People. This plum variety is so named because it's that sweet – just like a popsicle! Pick up a package at your local grocery store today and see why everyone is raving about this incredible plum. We love to use it in our recipes, but it's also perfect for snacking out of hand.
Plumsicle BBQ Sauce
Sure, you can buy all kinds of BBQ sauce varieties in the store. But you won't get the exact flavor you're looking for unless you make it yourself! Fortunately, this cookout essential is easy to make in your own kitchen.
Featuring Plumsicles along with garlic, red pepper, and other flavorful ingredients, this BBQ sauce is a treat for the taste buds and a great way to use overripe summer fruits. Ketchup and brown sugar provide a simple base for this sauce, but it's the Plumsicles that give it a standout flavor.
Plumsicle BBQ Sauce starts in the blender. Chop the plums into smaller, blendable pieces and add them to your food processor or blender along with the rest of the ingredients. Homemade BBQ sauce has a bit more texture than the typical store-bought variety, but your blender will make it smooth enough to slather on ribs, burgers, or pizza.
Plumsicle BBQ Sauce
Ingredients
3 HMC Farms Plumsicles™, pitted and chopped (skin stays on)
2 garlic cloves, minced
½ cup ketchup
⅓ cup brown sugar
2 T Apple cider vinegars
1 tsp Worcestershire sauce
1 tsp red pepper flakes
Salt and pepper to taste
Directions
Chop plums.
Put all ingredients in food processor or blender.  Blend until smooth
Put in a cast iron skillet, reduce over medium heat.  It should take about 10 minutes.
Peach Margherita Pizza
Peaches deserve some attention, too! After all, who doesn't love biting into a sweet peach on a warm summer evening? The peach is one of the classic summer fruits, but here's a fresh new way to use it.
Peaches may not be the first topping that comes to mind when you think of pizza, but this Peach Margherita Pizza is one that your kids will ask for again and again! In the Indy Style kitchen, we used flatbread instead of pizza dough to make mini personal-sized pizzas.
This pizza can be made in the oven or the grill. Using your grill to make pizza will give it a smokey flavor, which this Peach Margherita Pizza really benefits from. If you make it in the oven, you can cook it directly on the rack to get it extra crispy. Try placing a backing sheet on the rack below it to catch any ingredients that drip off and keep your oven clean.
Peach Margherita Pizza
Ingredients
Premade pizza dough or flat bread
2 tsp olive oil
1 tsp of crushed garlic
1 fresh peach, thinly sliced
4 oz fresh mozzarella, sliced
1/3 cup basil, julienned
Balsamic glaze
Directions
Preheat oven or grill.
Mix oil and garlic in a small bowl.
Brush the mixture on the premade dough or flat bread.
Place on a pizza stone or directly on rack for a crispier crust.
Bake/grill the crust for 5 minutes.
Add mozzarella and sliced peaches.
Bake/grill for 10 minutes or until the cheese is bubbling.
Remove from oven/grill and sprinkle with basil on top.
Drizzle balsamic glaze or serve on the side as a dipper.
Whipped Cherry Goat Cheese
The most popular recipe on our website during our July 2021 Indy Style appearance was Whipped Cherry Goat Cheese. And if you've tried it, you're likely not surprised! This creamy dip is made with just two ingredients: whipped goat cheese and diced cherries. There's no room for added sugar or preservatives in this flavorful recipe!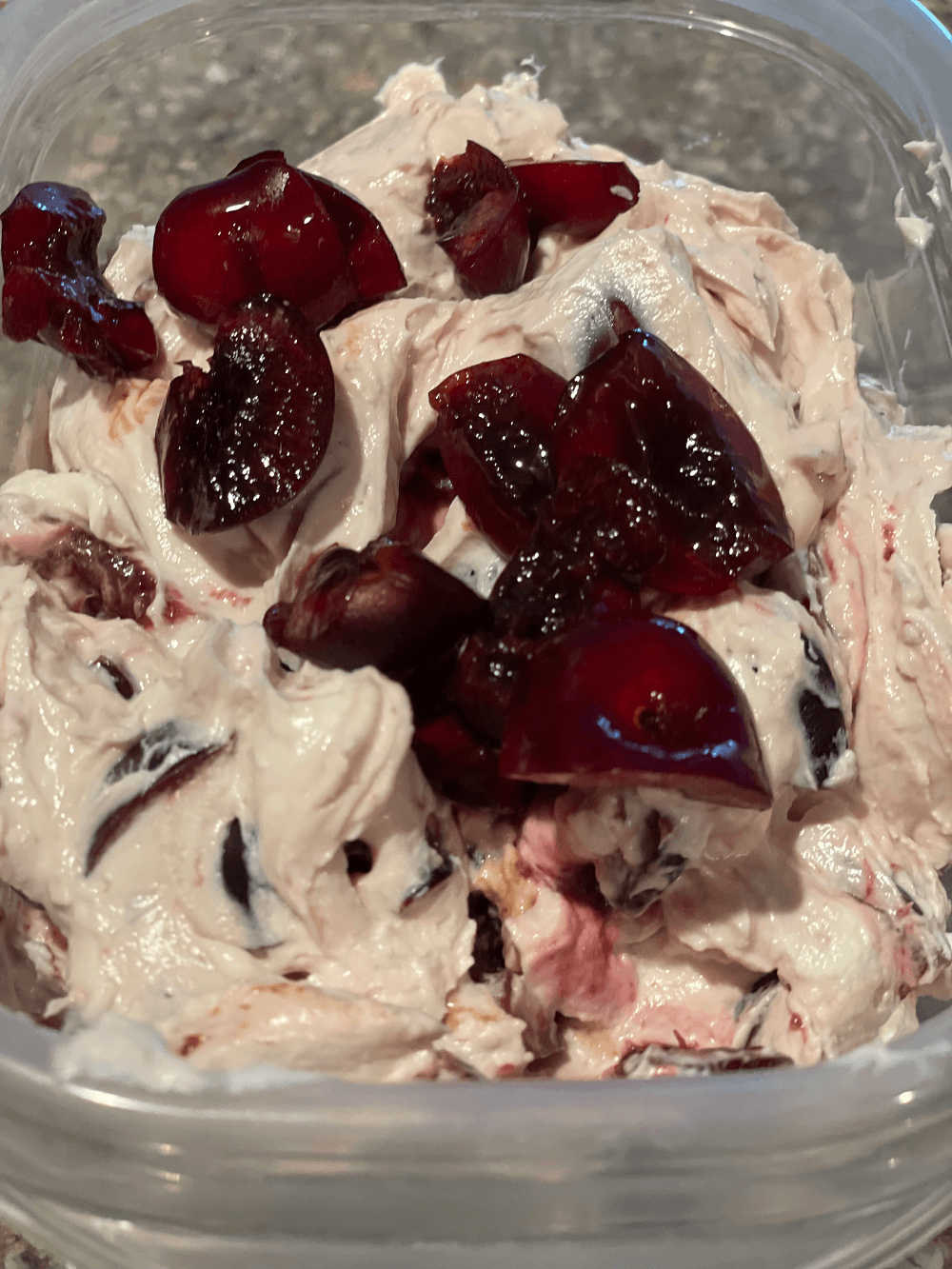 We recommend investing in a cherry pitter to help you enjoy this special summer fruit with less hassle. Use one to easily pit your fresh Sage Fruit Company cherries. Then take a sharp knife and carefully dice them into quarters or eighths. Now just add them to the whipped goat cheese and stir it up.
Whipped Cherry Goat Cheese is the perfect way to enjoy summer fruits: not only does it feature tasty cherries, but you can spread it on other fresh fruits as well! In the Indy Style kitchen, we made up a charcuterie board using meats, cheeses, and crackers, as well as fruits like peaches and dried figs. We also included Crunch Pak apple slices, an easy, pre-sliced addition that pairs perfectly with Whipped Cherry Goat Cheese.
How will you celebrate summer fruits this year? What are your favorite ways to use them in your recipes and serve them at the picnic table? Let us know in the comments!