January 2022 Life.Style.Live!: Produce To Enjoy in 2022
It's a new year, the perfect time for a new start in your kitchen! We joined Life.Style.Live! (formerly Indy Style) to showcase some of our favorite items in the produce section. Along with some of the standouts from our list of 22 Must-Try Produce Items In 2022, we brought some delicious recipes for you to serve for your family and friends this year. Of our Produce to Enjoy in 2022, which will you enjoy first?
A Healthy Start to 2022 with Probiotics
To start off our January 2022 Life.Style.Live! segment, we tried a tasty, health-focused drink: Bolthouse Farms BOLTS®! These two-ounce shots are packed with vitamins, minerals, and other ingredients that help boost your body. You'll find them in several varieties like Immunity and Digestion in your local produce section. You can also subscribe on their website and have them delivered right to your door.
Sustainability and Improvisation
We've been paying attention to the kinds of produce people are buying, the kinds of recipes they're cooking, and the amount of money they have to spend to do it all. In 2022, we think simple recipes will be the ones you'll love to make!
Supply chain issues and inflation have put a strain on both grocery stores and wallets around the country, so the less ingredients you have to buy, the better. And as climate change and sustainability become more important to more households, simple recipes can give you the chance to find greener ingredients – environmentally speaking!
Indoor-grown produce from growers like 80 Acres Farms are high-quality, delicious, locally grown. But they're also grown using renewable energy, significantly less water, and no pesticides. And they do it all while producing more fruits and veggies than conventional farms! We think being a part of the future of farming is pretty cool, and tasty, too.
Here's the Produce To Enjoy in 2022
If you're looking for simple recipes, two ingredients will take you a long way in many different dishes: mushrooms and raspberries! We think these two produce items are the next big thing in your local produce section. They're easy to serve in many different kinds of meals and are great bases for simple, elegant recipes.
While many cooking trends are driven by social media and popular chefs, raspberries owe their surging popularity to farmers. Today's raspberries have great taste and shelf life because farmers worked together to find seeds that promoted quality and longevity both at the grocery store and in your refrigerator. Try using raspberries in your next meal with a tasty salad. Just toss raspberries with indoor-grown greens, sliced red onion, chopped celery, and bits of American Cheddar cheese.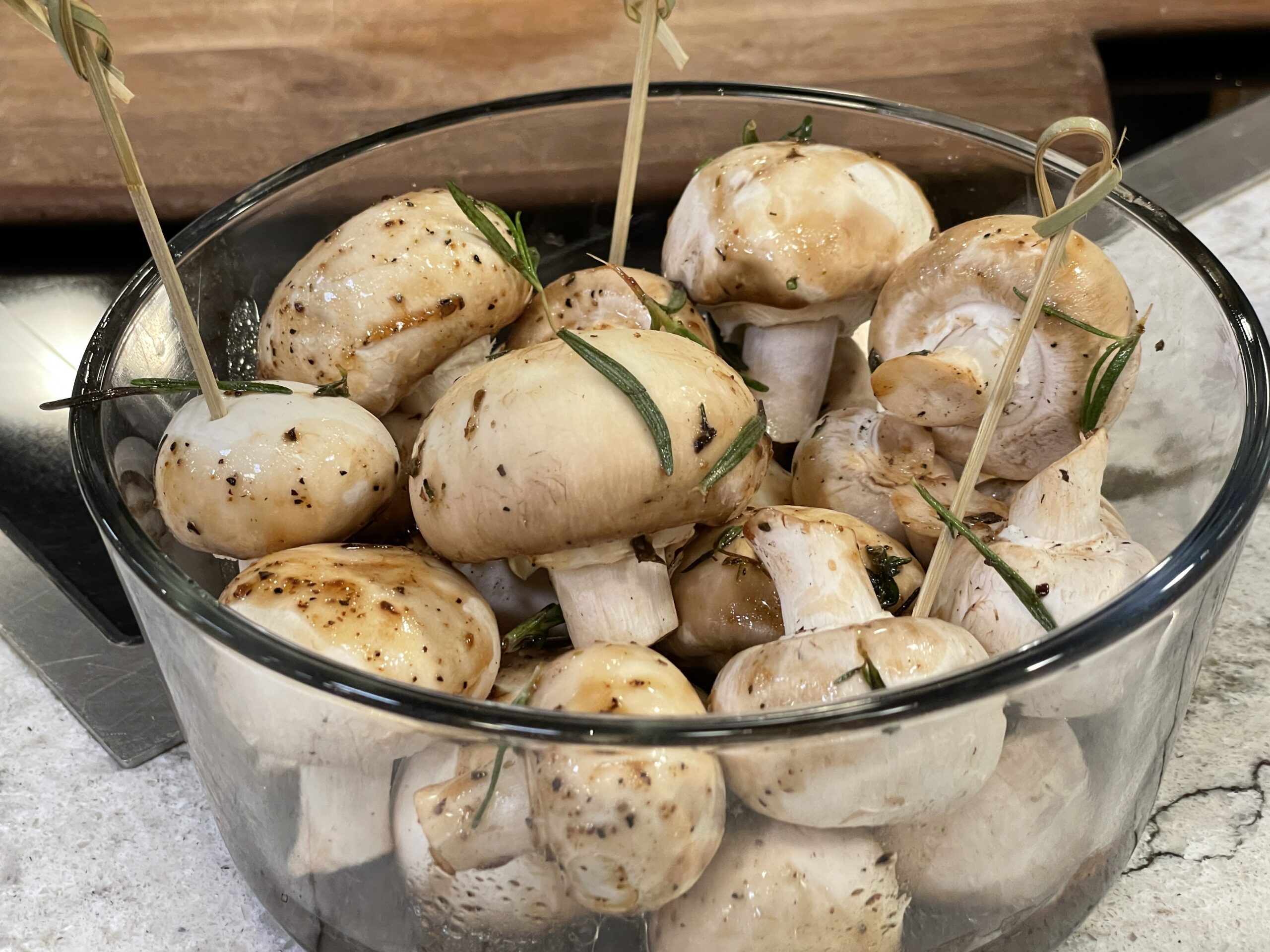 Mushrooms are a great source of vitamin D and a filling ingredient to center a recipe around. Serve them up at your next gathering or college gameday with some Balsamic Mushroom Bites. All you need to do is marinate Monterey Mushrooms® "High Vitamin D" mushrooms in balsamic vinaigrette and some fresh herbs. Put picks in some of the 'shrooms and place the rest on the side for your guests to skewer their own. With just a couple of ingredients and few minutes of prep, this is near the top of our list of produce to enjoy in 2022!
Eating Produce Three Meals a Day
Want to find more produce to enjoy in 2022? We've made it easy with three apple-centric recipes you can make for breakfast, lunch, and dinner:
Apple + Dragon Fruit Smoothie Bowl
Dragon fruit is a tasty piece of produce that's perfect for blending into a smoothie. Try it and it's sure to become a staple in your kitchen!
We combined frozen cubes of dragon fruit with apple slices, greens, and Greek yogurt to make this rich and filling Apple + Dragon Fruit Smoothie Bowl. It's easy to whip up in your blender on a busy morning and is packed with the nutrition you need to start your day.
Apple + Celery Endive Salad
A good salad makes the perfect lunch. It's fresh and filling, helping you can get through the rest of the work or school day with a boost of energy. This Apple + Endive Salad is full of crunchy, flavorful, and nutritious ingredients that you'll love.
To make these apple recipes, we're using pre-sliced apples from Crunch Pak. Their fresh sliced apples are available in different sizes and flavors and take all the hassle out of eating apples. For our Apple + Celery Endive Salad, we're using their Tart Apple Slices to get the perfect balance of flavor.
Here's a trick to making salad with celery and getting your kids to eat it: change how you cut it! For this salad, we cut our celery at an angle, giving it a thin and twisty appearance. It's still the same celery, but at this angle, your kids might decide they want to give it a try!
Ingredients
1 bag Crunch Pak Tart Apple Slices
1/4 cup plus 1 tablespoon Champagne or white wine vinegar
2 teaspoons whole-grain Dijon mustard
1/3 cup extra-virgin olive oil
8 medium endives, cut into 1/2″-thick slices, cores thinly sliced
1 head of celery, stalks very thinly sliced
1/2 pound shaved cheddar
1/2 cup chives, chopped
3/4 cup coarsely chopped salted, smoked almonds, divided
Black pepper
1/4 salt
Directions
Combine 1 tbsp vinegar and 3 cups cold water in a medium bowl. Add apple slices and let soak.
Meanwhile, whisk mustard, salt, and remaining 1/4 cup vinegar in a medium bowl, then whisk in oil in slowly.
Drain and pat apple slices dry. Combine apples, endives, celery stalks, cheese, and half of the almonds in a large bowl.
Drizzle dressing over salad and gently toss. Season with salt and pepper as desired. Top with chives and more almonds. Enjoy!
Apple + Chicken Sausage Sheet Pan Dinner
On busy weekdays, everyone wants a delicious and hearty meal to end the day. If you're short on time, a sheet pan dinner is just the thing you're looking for. The apple experts at Crunch Pak came up with this incredible Apple + Chicken Sausage Sheet Pan Dinner. It's full of smokey, fruity flavors that your family will love, and best of all it's a snap to make!
Sheet pan recipes are meals that you can make your own. Add the mix of ingredients that you want or use what you have on hand. With just a little time in the oven, you'll make a delectable meal that tastes like you put a lot more effort into it!
This Apple + Chicken Sausage Sheet Pan Dinner puts the flavor of roasted apples on display. If you've never tried roasted apples, add it to your list of produce to enjoy in 2022! It pairs well with all kinds of meat products, like the chicken sausage used in this sheet pan meal.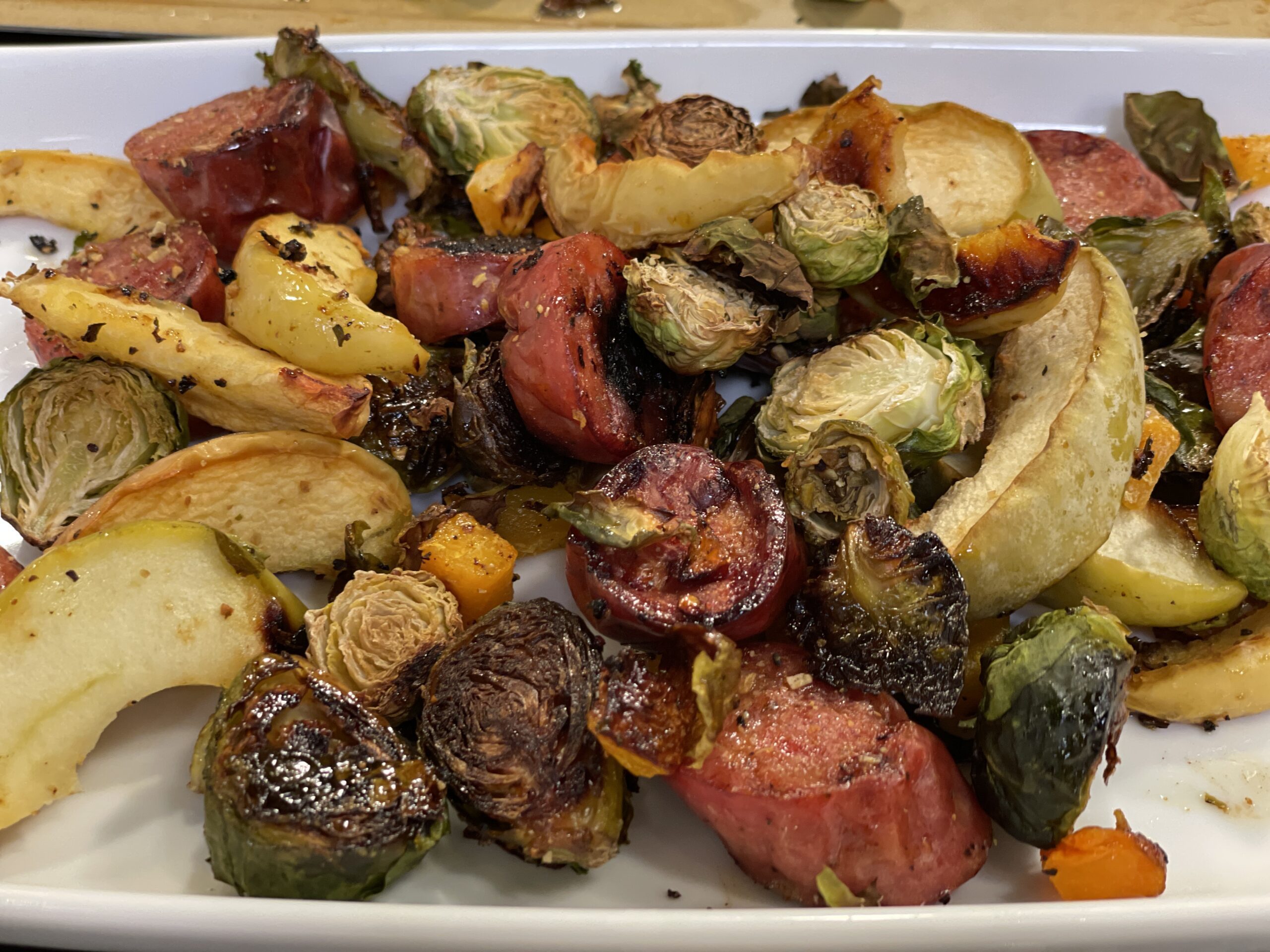 Ingredients
1 Pack (4 sausages) chicken sausages, cut into 1" slices
2 cups, cubed butternut squash
2 cups Brussels Sprouts, halved
1 Pack Crunch Pak Mixed Apple Slices
1 tbsp rosemary, minced
2 tsp garlic powder
2 tsp onion powder
olive oil
Kosher salt
Cracked black pepper
Directions
Preheat the oven to 425 degrees F.
Place sausages, butternut squash, Brussels Sprouts, and apples onto one large sheet pan
Sprinkle evenly with garlic powder, onion powder, olive oil, salt and cracked black pepper.
Bake for 25-30 minutes or until the vegetables are tender and golden brown.
What Are You Cooking in 2022?
We've covered some of our favorite produce trends for the new year, from simple recipes to probiotics to sustainably-grown ingredients. What are you looking forward to making this year? Let us know in the comments!