Radicchio: How to Select, Store & Serve
May 19, 2015, Updated Jun 08, 2021
Who has heard of radicchio? Commonly, people refer to the vegetable as "that reddish colored leafy stuff" found in salads, pastas, and other various dishes. "That reddish colored leafy stuff" is so much more that just a topping for salad, it is a GREAT source of antioxidants. The deep red color is the indicator of its high antioxidant activity. Radicchio is also packed full of fiber, vitamins, and minerals, making it the perfect ingredient in salads and other recipes. However, it is important to know how to select, store, and serve your radicchio before heading to your local grocery store to pick one up this week!
How to Select Radicchio
Look for bright, reddish colored leaves that are moist, tender & fresh.
Leaves that are dull colored, limp, or damaged indicate a bad radicchio.
How to Store Radicchio
Do NOT wash it before storing (wait until you are ready to serve).
Keep in coldest section of the refrigerator for up to 3 days.
How to Serve Radicchio
Rinse the radicchio before serving for food safety reasons.
Roast it & serve as a side dish at your next family/friend gathering.
Add radicchio to any salad recipe to change the appearance & flavor. These recipes are just three of the many salad recipes that add radicchio as an ingredient.
Mediterranean Salad
Beet Salad with Radicchio
Tuscan Spinach Salad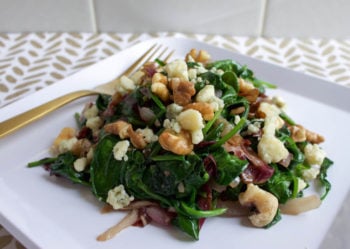 Now that you know how to select, store, and serve radicchio, it is time to impress your family & friends by adding a little fresh crunch to their favorite dishes.  Keep being an inspiration to all the other Produce Moms out there & share your delicious recipes with us today! Good luck with your meals this week!