A warm spinach salad with rich, Tuscan flavors.
There are some salads that seem more decadent than others. Tuscan Spinach Salad is one of those salads. Warm spinach and radicchio topped with gorgonzola cheese, garlic, yellow onions, and toasted walnuts will have your taste buds singing with every bite.
Pair this salad with Pasta Alla Norma for a truly delightful dinner that'll have you thinking you're in the Italian countryside.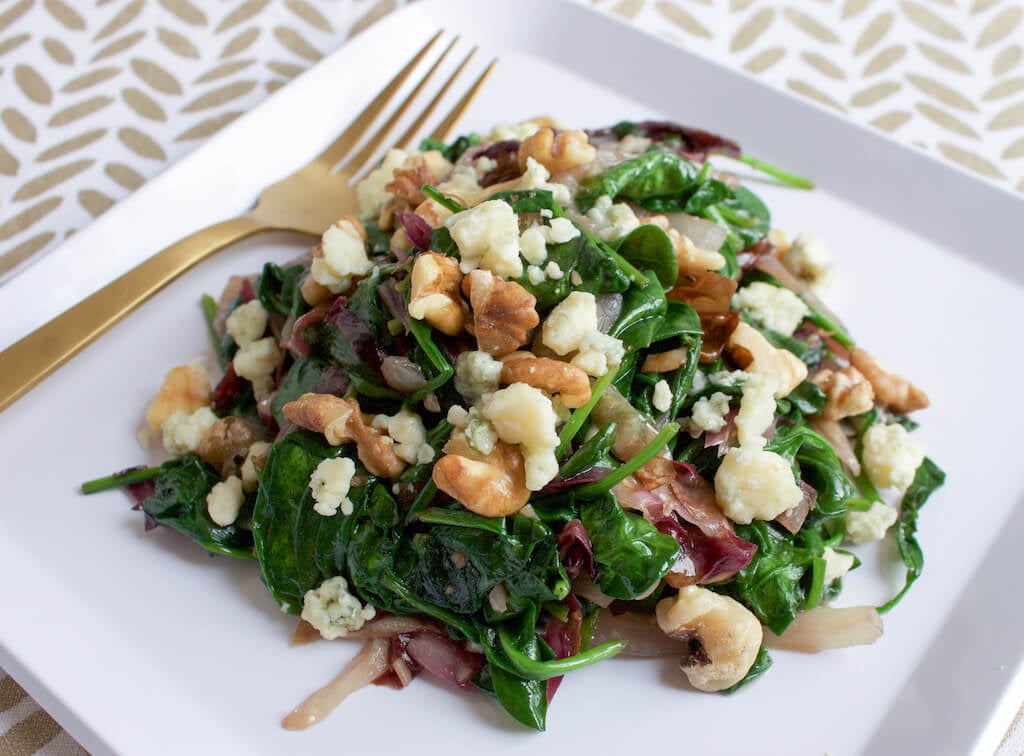 | | |
| --- | --- |
| | |
Cut the radicchio in half through the stem end and cut out the core. Slice the leaves crosswise into a 1/4-inch julienne; you should have about 2-1/2 cups.

Place the oil in a large skillet and heat over medium heat. Add the onion and cook, stirring frequently, until the onion is soft and tender and has begun to color lightly, 10 to 15 minutes. Add the garlic and cook, stirring constantly, until fragrant, 1 to 2 minutes.

Add the radicchio and spinach to the skillet and increase the heat to medium-high. Cook, stirring frequently, until the mixture wilts, then remove the pan from the heat immediately. Season to taste with salt and pepper. Transfer the mixture to a platter and top with the walnuts and Gorgonzola. Serve hot.
Enjoy!