How to Make This Jacket Potatoes Recipe Veggie Style — Crispy, Fluffy, and Perfect
Jan 25, 2023, Updated Feb 15, 2023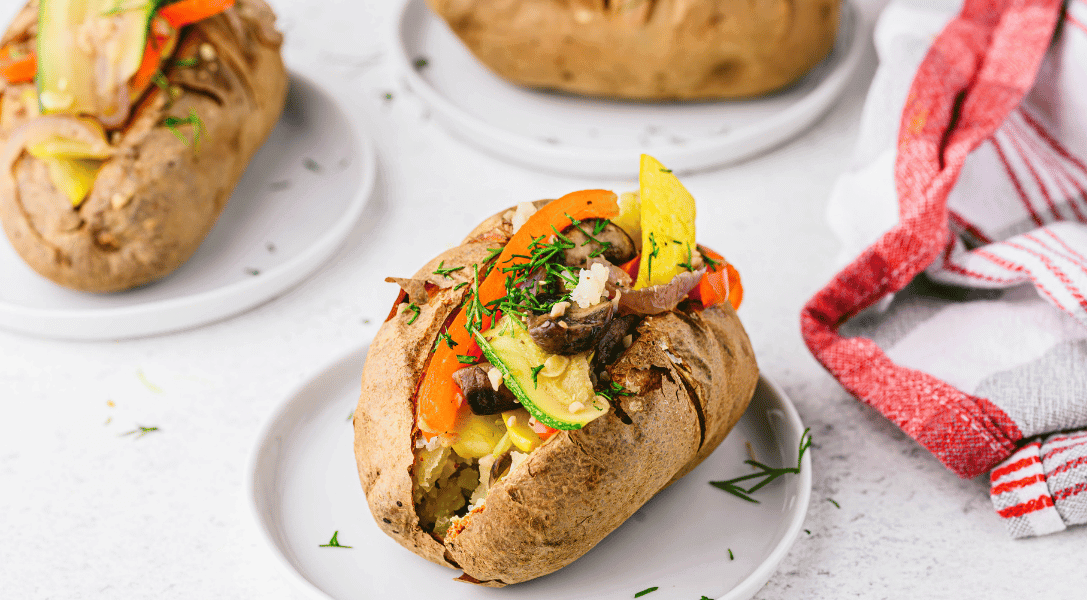 Craving some comfort food that won't leave you in a food coma afterward? This jacket potatoes recipe has the crisp crunch you love about chips with a delightfully sweet and filling veggie topping. The best way to make a perfect baked potato topped with sweet red bell peppers, hearty mushrooms, mild zucchini and squash, and aromatic garlic for a quick, feel-good meal.
After a delicious holiday season filled with Caramel Apples, Stuffing Muffins, and Holiday Fruitcake, now your body is actually craving nutritious, whole ingredients. But it's still winter, so something comforting would be nice too.
We've got just the thing for you with this Jacket Potatoes Recipe.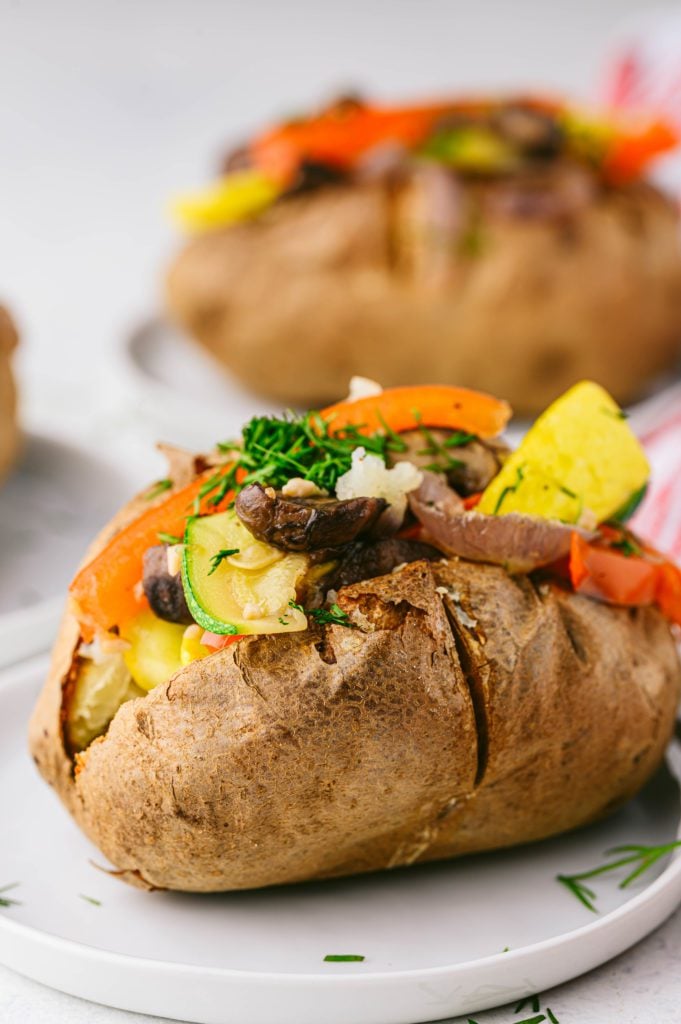 This post is sponsored by Wada Farms.
It has ingredients you can find at your local grocery store, it's packed with veggies, and only requires a little bit of chopping and slicing for prep. With a crisp crunch on the outside, your hankering for nutritious comfort food is about to be satisfied.
Let's get crackin'!
What Are Jacket Potatoes?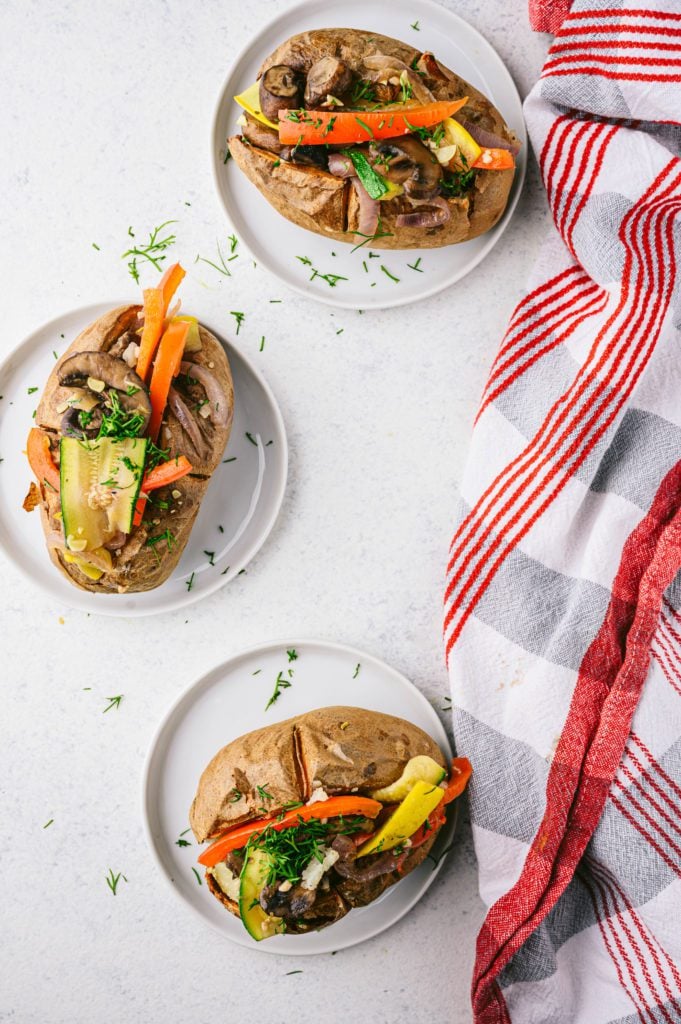 "Jacket potato" is an English term that refers to baked potatoes with the crispiest skin you'll ever eat. Back in the 1900's baked potatoes were so popular that about 10 tons of potatoes were sold daily during fall and winter. People would buy potatoes from street vendors and put the hot potatoes in their pockets to stay warm before eating them later.
Who knows, maybe that's where they got the name from.
What's the Difference Between Baked and Jacket Potatoes?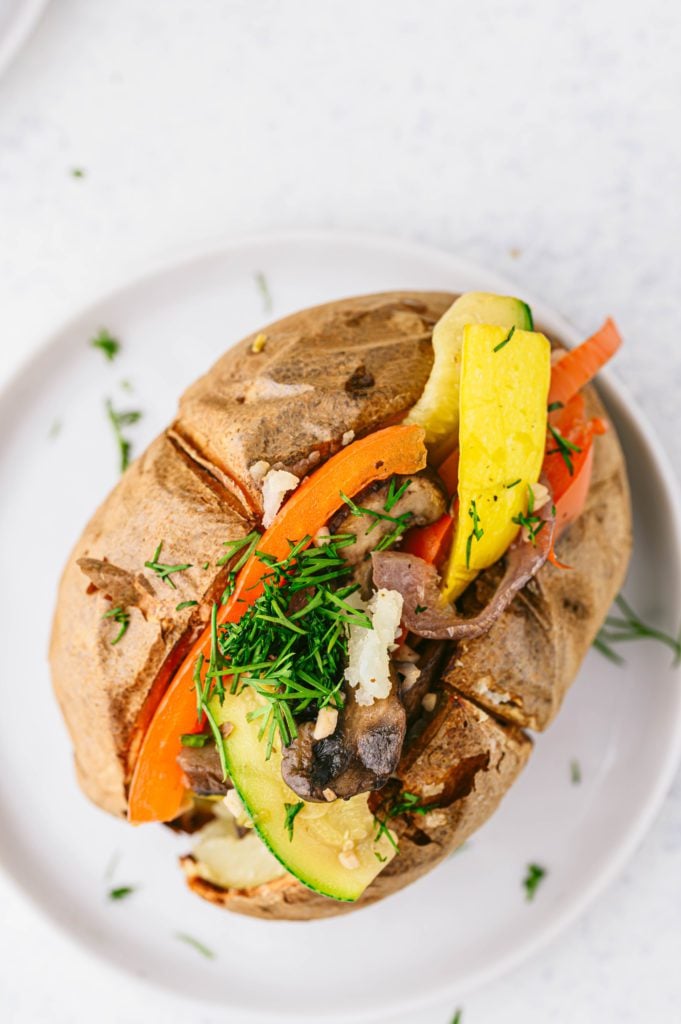 The short answer… both are baked potatoes.
But the difference is in the way they're prepared. In America, when you make a baked potato, you stab it a bunch with a fork (it's a great way to let off some stress), wrap it in foil, and toss it in the oven.
Related: 3 Ways to Cook Steakhouse Baked Potatoes
Jacket potatoes have slits cut crosswise into the flesh of the potato, and then they're baked for two hours, right on the oven rack. That may sound like a long time, but that's how you get a crisp crunch on the skin. It's almost like a potato chip on the outside with a soft and fluffy center.
And that means it's mom and kid-approved.
Simple and Tasty Ingredients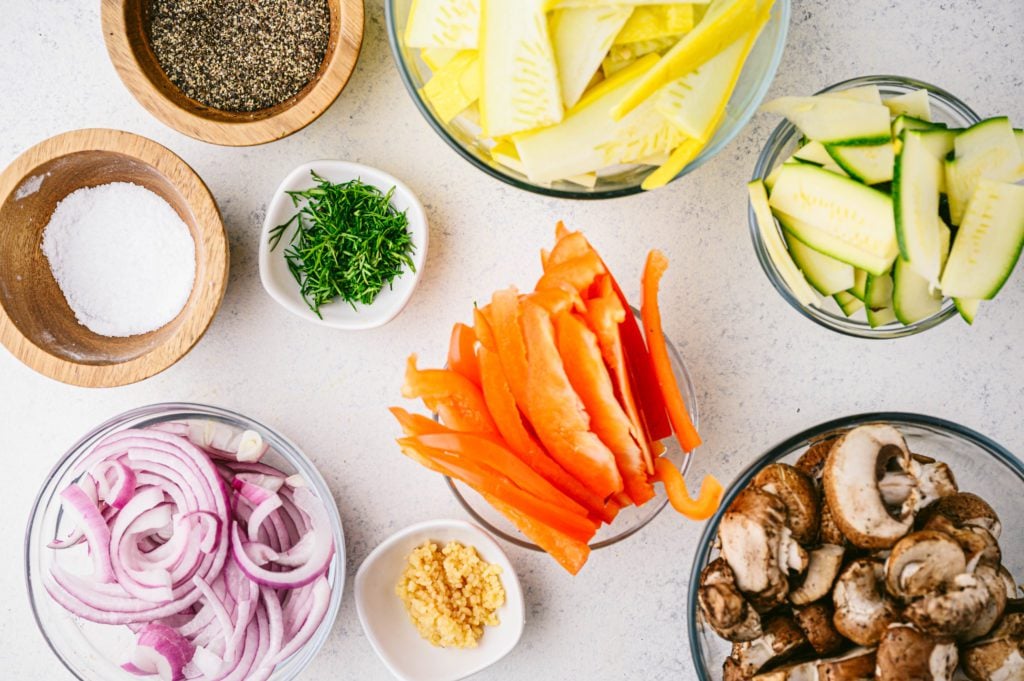 4 Wada Farms Russet Potatoes

½ red onion, thinly sliced

1 cup baby portabella mushrooms, sliced

2 cloves garlic, pressed through a garlic press

1 small red bell pepper, cored, seeded and thinly sliced

1 small zucchini, thinly sliced — about 2" long strips

1 small yellow squash, thinly sliced — about 2" long strips

Salt and pepper to taste

1 T fresh dill, chopped
The star of this recipe is the baked potato. Instead of being used as a side dish to steak or hashbrowns for breakfast, it hugs all the ingredients together. With its chip-like outside, it's sure to be requested again and again.
Wada Farms Potatoes
We use potatoes from Wada Farms because, as of this year, they've been sustainably growing potatoes for 70 years! As a family of growers, they take pride in giving you the best, most nutritious potatoes so you can feel confident in what you feed your family.
With a focus on sustainable growing practices like conserving water and reducing the amount of electricity, they're working toward a better future without compromising on quality. And that makes a mama happy.
We love Wada Farms potatoes so much that we have a co-branded Easy Baker Potato that you can find them Nationwide at WalMart.
How to Make the Best Jacket Potatoes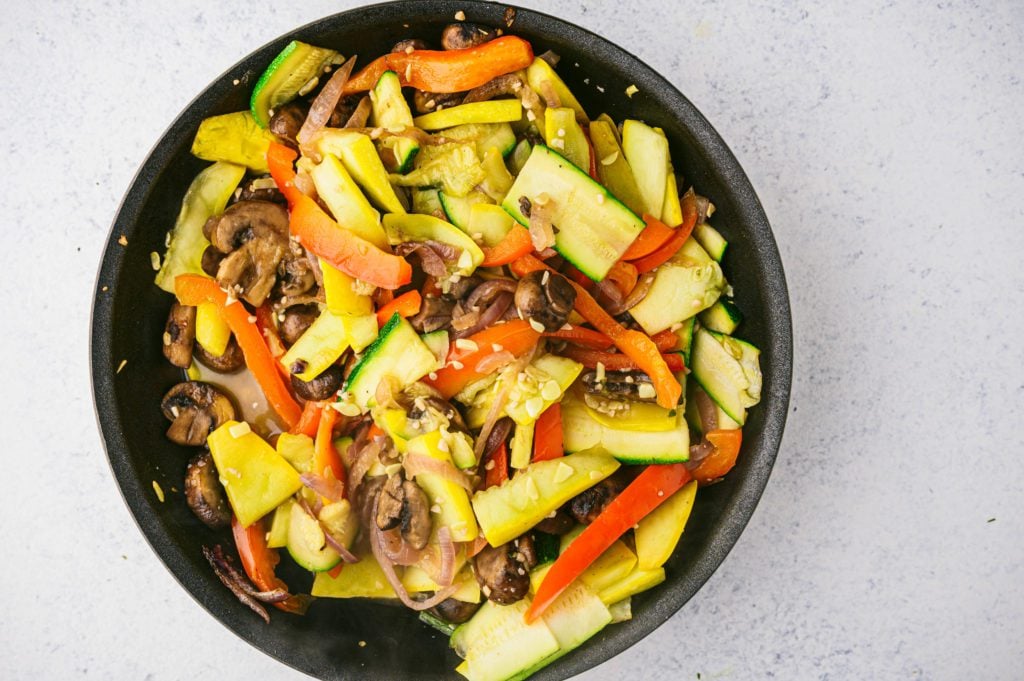 Step 1
First, slice your onion, mushrooms, red bell pepper, zucchini, and yellow squash, and mince the garlic. Then set aside.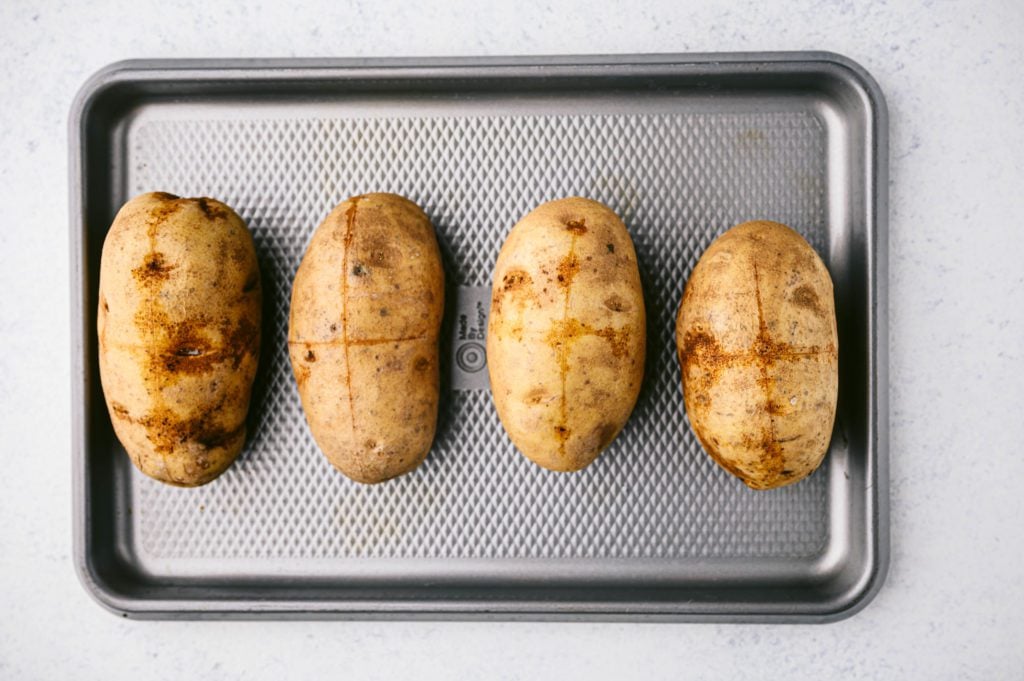 Step 2
Next, cut a slit ¼ inch deep, crosswise, in your potatoes. Bake at 400℉ for two hours, flipping halfway through.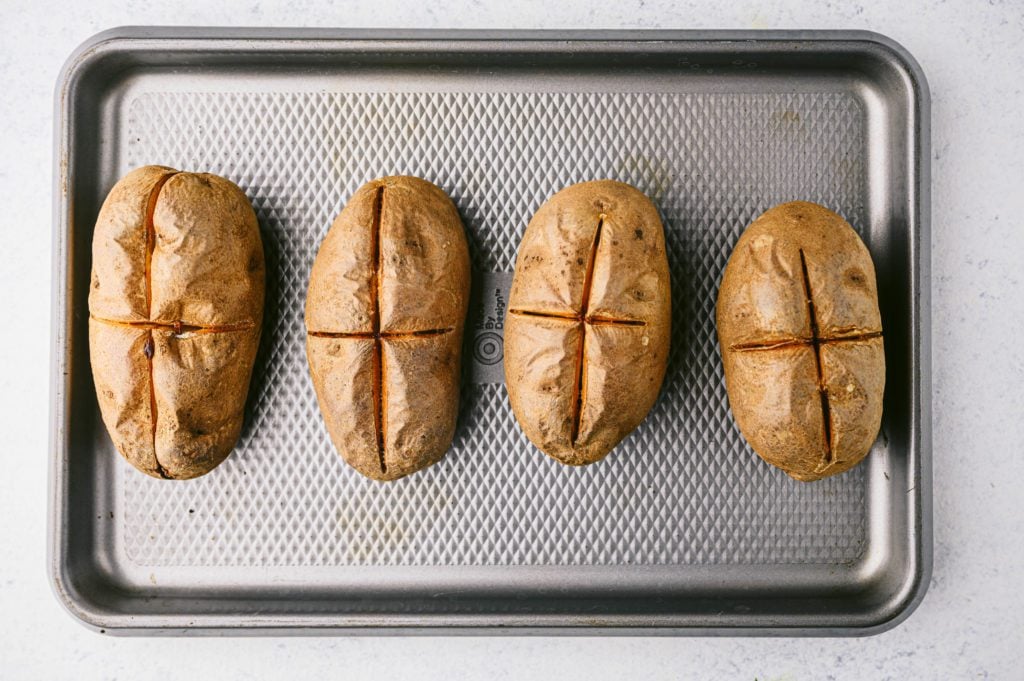 Step 3
Then, when the potatoes are done, cut deeper into each potato and bake for another 10 minutes.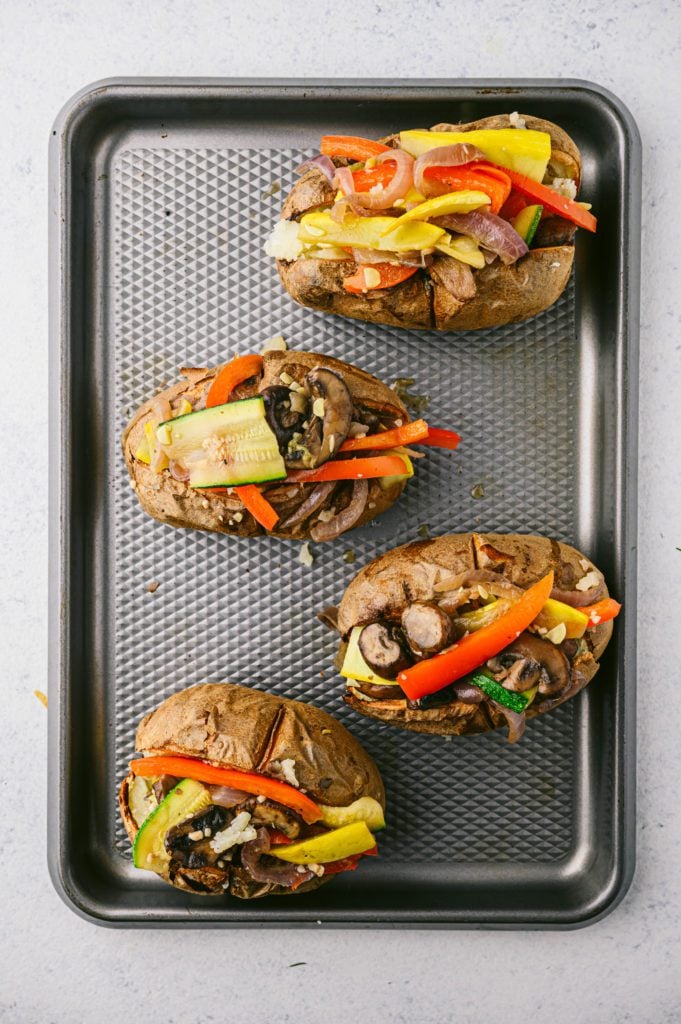 Step 4
Finally, cook the veggies until seared, top off your jacket potatoes, and serve.
Baked Potato Filling Variations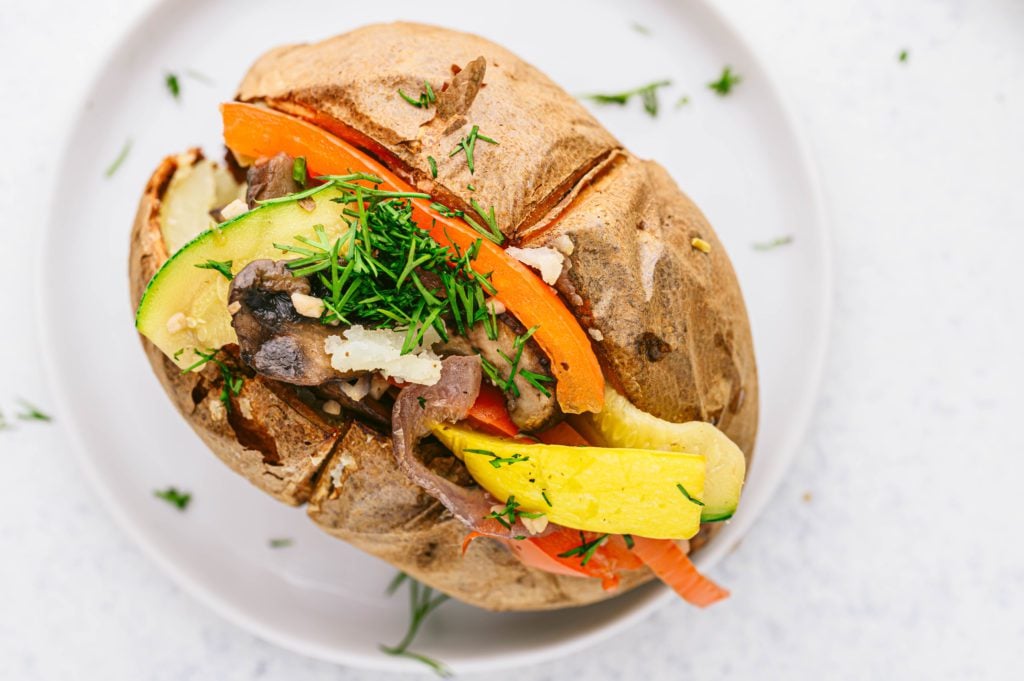 You know we are passionate about all things produce, so we might be a little biased about filling your jacket potatoes with something other than veggies. But you can fill your potatoes with anything you'd like, from leftovers to classic toppings like sour cream, bacon, and chives.
Here are a few more ideas to fill your jacket potatoes:
Chili

Baked Beans

Tuna Salad

Coleslaw
Related: Baked Potato Bar
Crispy Tips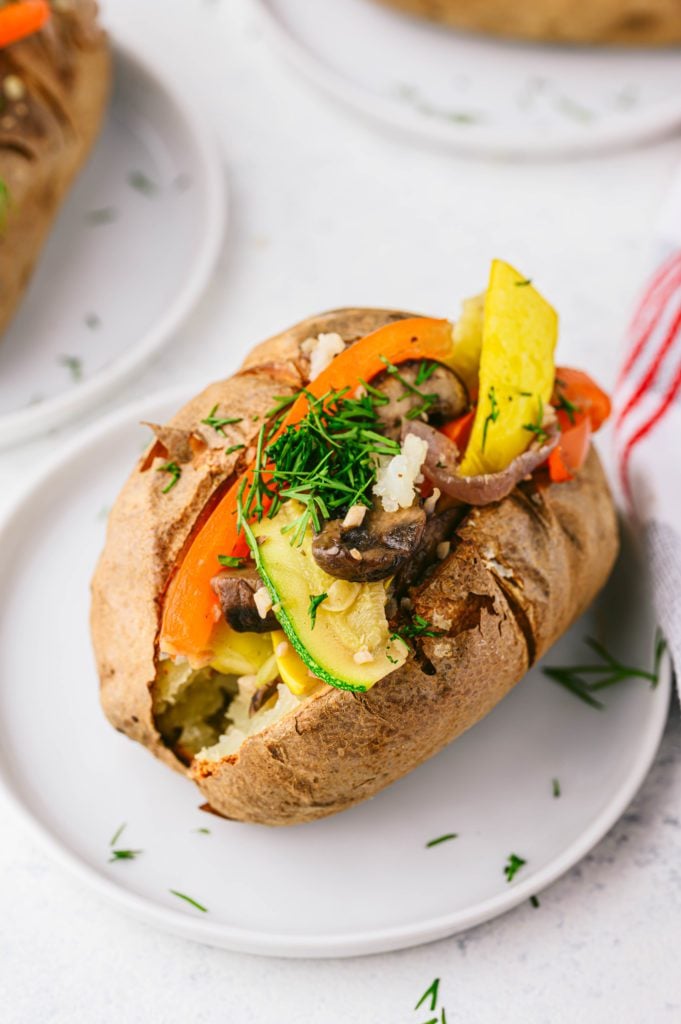 ¼ inch slit. Remember, the cooking method is the difference between a regular baked potato and a jacket potato. The shallow, crosswise cuts before baking let out steam from the inside of the potatoes so they're extra fluffy on the inside. And they're a little easier to slice when they're piping hot, fresh out of the oven.
400℉ for two hours. This is the real trick to getting super crispy potatoes on the outside. You may be used to baking potatoes for about an hour, but do you get a crunch when eating them? You may not even eat the skin. The crispy skin is a hit with my kids, and I know using this method will make this recipe a hit at your house too.
Ten extra minutes. When you cut deeper into your potatoes and bake them a little extra, their skin becomes even more brittle and crackly. It's seriously the best part of this recipe, and makes the potatoes shine. With the seared veggies on top, you get fluffy, crustlike, and crunchy textures loaded with a fresh flavor all in one beautiful bite.
Comfort Food Without the Hangover
Are you convinced that you need jacket potatoes in your life? The moment you take your first bite of these and hear the crunch, you'll be so glad you made this recipe. The seared veggies, chip-like potato skin, and fluffy interior — it's like a warm cup of hot cocoa after you've been playing with your kids in the snow for an hour. It feels good for the soul.
Did you make this recipe?
Let us know how it turned out in the comments below.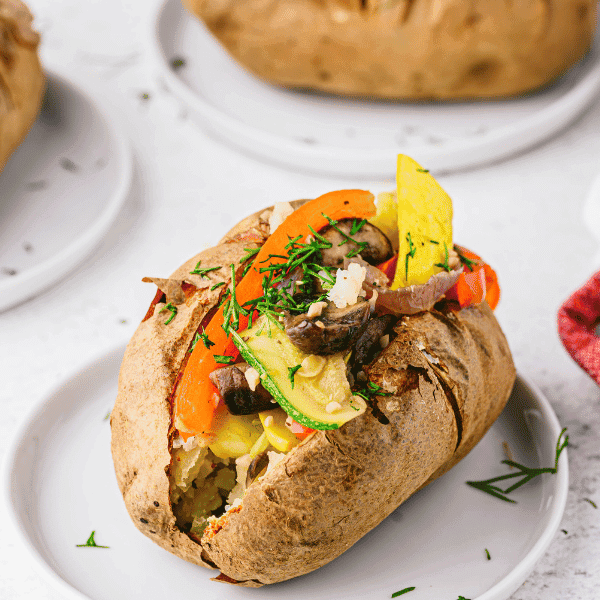 Jacket Potatoes
Craving some comfort food but don't want a foodie hangover afterward? Jacket potatoes filled with seared veggies are the ultimate recipe for a filling, nutritious, and easy dinner or lunch. 
Ingredients
4

Wada Farms Russet Potatoes

1/2

red onion

thinly sliced

1

cup

baby portobella mushrooms

sliced

2

cloves

garlic

pressed through a garlic press

1

small

red bell pepper

cored, seeded, and thinly sliced

1

small

zucchini

thinly sliced (about 2" long strips)

1

small

yellow squash

thinly sliced (about 2" long strips)

salt and pepper

to taste

1

T

fresh dill

chopped
Instructions
Use a knife to cut a slit in your potato lengthwise, then widthwise, so it looks like a cross. Each slit should be about ¼ -inch deep into the potato. Repeat until all of your potatoes have a cross on top.

Bake at 400°F for two hours right on the oven rack, without foil, for extra crispy skin. Remember to flip the potatoes halfway through cooking.

While the potatoes bake, let's make the grilled veggie filling. Put a large grill pan or skillet (whichever you have on hand) over medium-high heat. When the pan is hot, add about 2T of olive oil. Add the red onions and cook until they begin to brown. Next, add the garlic and cook for about 20 seconds, or until you start to smell it cooking. Then, add the red bell pepper, zucchini, yellow squash, and a pinch or two of salt and pepper. Use your tongs to toss your veggies, coating them in seasonings. Cook all the veggies together for about 2 minutes, until they are slightly seared.

Add the fresh dill and toss the veggies again with your tongs. Let the filling cook for another two minutes and turn off the heat and keep warm.

Take the potatoes out of the oven after two hours. Use your dominant hand to cut deeper into the potatoes. Be sure to put an oven mitt on the other hand, to protect yourself from any burns. Then put the potatoes back in the oven for 10 minutes to get the skin extra crispy and the inside fluffy.

When the potatoes are done, put on a pair of oven mitts to push opposite ends of the potatoes toward each other for a bigger "jacket" to hold more veggies. Add the grilled veggies to the potatoes and serve warm!
Notes
If you don't have a garlic press, use a knife to mince your garlic.
Nutrition
Calories:
192
kcal
|
Carbohydrates:
43
g
|
Protein:
6
g
|
Fat:
0.4
g
|
Saturated Fat:
0.1
g
|
Polyunsaturated Fat:
0.2
g
|
Monounsaturated Fat:
0.02
g
|
Sodium:
143
mg
|
Potassium:
1161
mg
|
Fiber:
4
g
|
Sugar:
4
g
|
Vitamin A:
176
IU
|
Vitamin C:
28
mg
|
Calcium:
47
mg
|
Iron:
2
mg
Nutrition information is automatically calculated, so should only be used as an approximation.
Like this? Leave a comment below!