Holiday Snack Boards, Festive Pear Recipes, and Last Minute Gift Ideas
The holiday season is the perfect time to go all out in the kitchen! We love this time of year – it's an excuse to make all kinds of cozy and creative drinks and dishes. This month, we brought some of our festive favorites to the Indy Style kitchen. Our holiday snack trays include gooey brie melts, treat-laden hot chocolate trays, and savory delicata squash fries.
We also shared elegant pear recipes and special ways to gift and decorate with pears. Let these ideas inspire you to fill your holidays with fresh produce!
Holiday Hot Chocolate Tray
There's no winter treat quite like a steaming mug of hot chocolate! Hot chocolate bombs are all the rage now (so much so that they can be hard to find!) but they're not necessary to make your hot chocolate turn from a drink into an experience. Try making a cheery holiday hot chocolate tray for a new take on this age-old drink!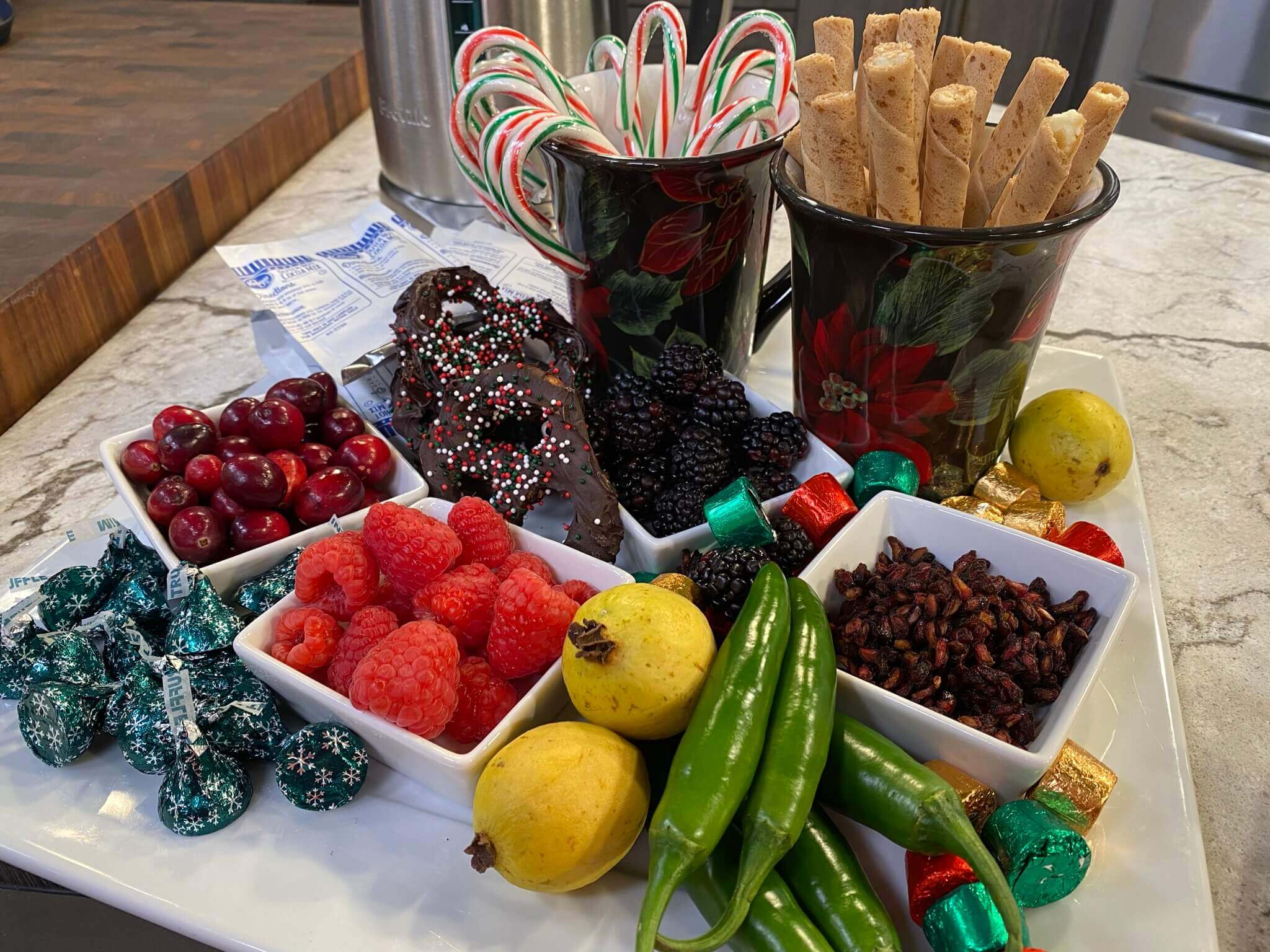 Make your hot chocolate just the way you like it, then add snacks and ingredients to your tray. We suggest using Naturipe cranberries, blackberries, and raspberries along with apple slices, candy canes, and chocolates. Hot chocolate has a rich multicultural history: it's been enjoyed in Central America for centuries! We've added Covilli chili peppers and guava to our tray as well for a taste of this drink's Latin American roots.
Charcuterie Board with Delicata Squash Fries
Delight your friends and family with a gorgeous spread of veggies and cheeses – without spending hours working on it! Our charcuterie board came together quickly and easily on the set of Indy Style but still looked incredibly appetizing. It's a great way to celebrate the holidays with fresh produce.
We loved our Covilli delicata squash fries so much that we brought them back from our Thanksgiving appearance for round two! They make a simple and flavorful addition to this charcuterie board.
To make, start by slicing your delicata squash into medallions. Your knife should glide right through the squash. Cut each medallion in half and scoop the middle out with a spoon to make a C-shaped fry. Spread the fries out evenly on a baking sheet and bake at 350 degrees for about 20 minutes.
Our charcuterie board also included zucchini chips, green beans, apples, berries, and heirloom tomato slices. And of course, it wouldn't be complete without cheese!
Sweet & Savory Brie Appetizers
We made our Apple-Walnut Baked Brie to fill out our charcuterie board – and it fit right in! But because brie is a versatile and inexpensive cheese, we didn't stop there. We completed our board with a chili jam on melted brie. Both are dippably gooey and mouth-wateringly delicious! With both a sweet and savory option, they're perfect for scooping with crackers or fruit and vegetable slices.
Apple-Walnut Baked Brie
Ingredients
1wheel brie cheese
2 SweeTango apples, diced with skin on
1/2cup walnuts, chopped
Honey to drizzle
Directions
Cross-section brie (slice in half).
On top of the exposed wheel of brie, place 1 cup of SweeTango® apples (about half), ¼ cup walnuts).
Cover with the top half of brie. Put the remaining SweeTango® apples and walnuts.
Bake at 350 degrees F for 7 minutes (cheese should be soft but not runny).
Remove from oven, use a spatula to move it to a serving platter.
Drizzle with honey.
Serve with SweeTango® apple wedges and crackers.
For delicious variety, pair this sweet melted Brie dip with a savory one using a this relish-like spread:
Chili Pepper Jam
Ingredients
8 ounces/250 g hot chili pepper, halved and seeded
1 1/2 pounds/750 g yellow and red bell peppers, halved and seeded
2 cups/500 ml apple cider vinegar
4 cups/1 L sugar
Directions
In a pot, combine the chili peppers, red bell peppers, and apple cider vinegar. Cover the pot with a lid and cook for about 20 minutes or until the peppers have softened. In a colander, drain the pepper mixture and with the back of a wooden spoon, press on the peppers to extract any excess liquid.
Transfer the peppers to a food mill or a blender and puree. Press the puree through a sieve to remove the pepper skin. Discard the skin. In a saucepot, over medium heat, add the pepper puree and add the sugar a little at a time and mix until the sugar has dissolved. Continue to cook the mixture for about 40 minutes, stirring occasionally. Remove from the heat when the mixture resembles a jam texture. Allow to cool and transfer into jars.
Pears Are Perfect for Centerpieces and Gift Baskets
The pear is an elegant yet underrated fruit. Many people have only had canned pears and have never even tasted a fresh pear. But trust us, it's worth it! It has a taste that "pears" well with many different sweet and savory flavors. Start bringing them into your kitchen and you'll find no end of uses for this juicy fruit!
Want to know which pear is right for you? Our partners at USA Pears have all the details! Check out their pear profiles to find the perfect pear for your next recipe.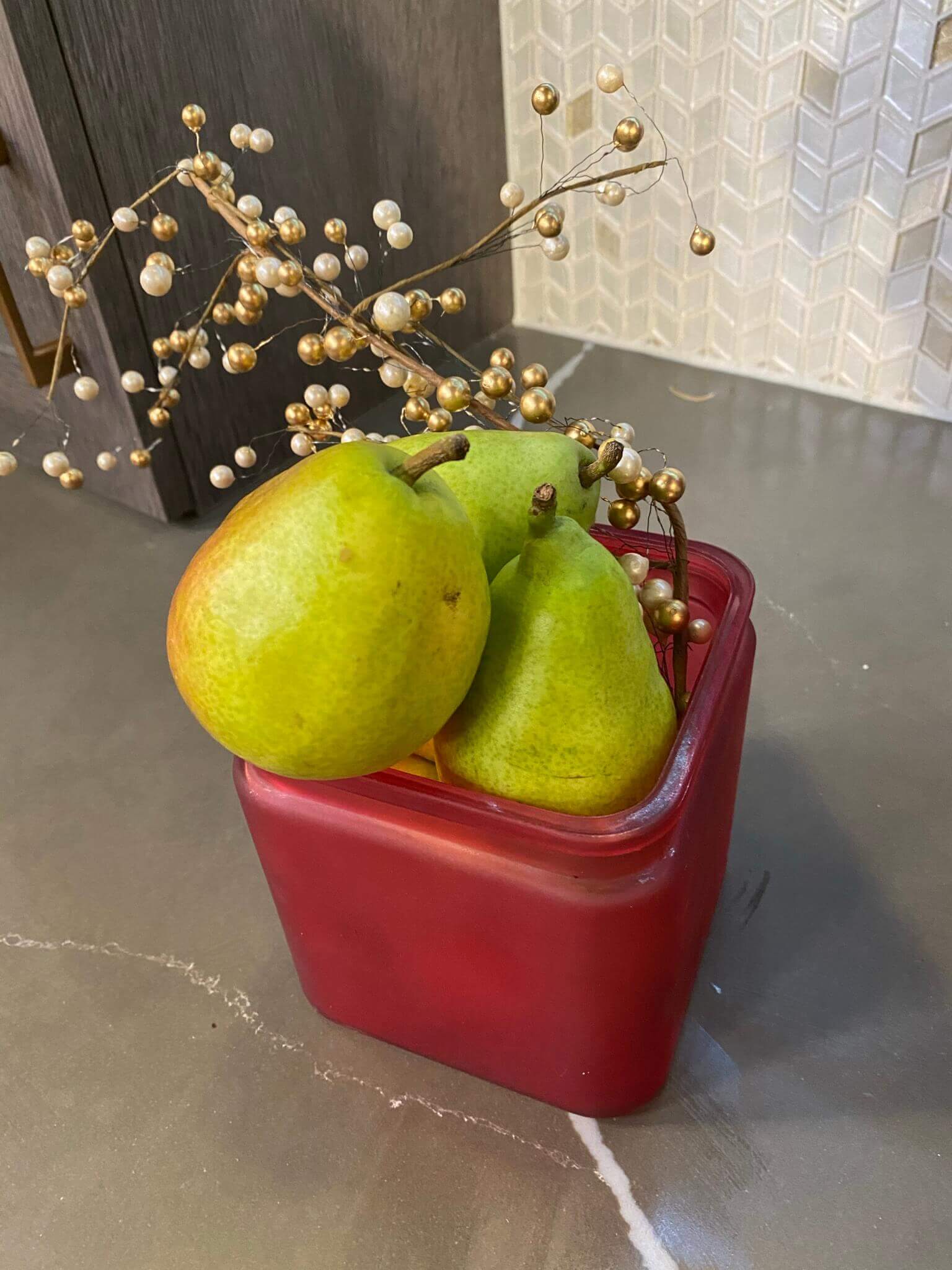 Pears don't just make for tasty ingredients; they can be decorative, too. A vase filled with pears and festive decor is a great way to deck the halls for the holidays with fresh produce.
Many of us won't get the opportunity to celebrate the holidays with friends, neighbors, and family this year. But just because you're stopping the spread doesn't mean you have to stop spreading cheer! Gift baskets are the perfect way to give festive, nutritious gifts to loved ones while remaining socially distanced.
View this post on Instagram
We brought one such gift basket to the Indy Style set. It features ripe green pears that set the tone for a festive, fresh, and elegant gift. This basket also includes bottles of wine and balsamic vinegar, a wedge of parmesan cheese, sundried tomatoes, walnuts, honey, That's Tasty Mulling Spices, and Trinity Fruit SweetHeart Dried Pomegranate Seeds. Our 2020 Holiday Gift Guide is filled with even more ideas to help inspire the gift-giver in you!
Poached Pears
Poached eggs are hard to make, but poached pears are easy! With just a few ingredients and spices and a bit of peeling, you can make a delicious, gorgeous treat that goes well will all kinds of flavors. Poached pears are a great way to celebrate the holidays with fresh produce.
These poached pears should come out a pleasant maroon or purple color, making them a striking snack! Try them out as individual desserts after your holiday feast.
Poached Pears
Ingredients
1 ¼ cups packed brown sugar
2 ½ cups dry red wine
1 ½ cups water
3 whole cloves
1 stick cinnamon
6 ripe Bosc USA Pears, peeled and cored
Directions
Dissolve sugar into wine and water. Add cloves and cinnamon stick.
Pears may be poached whole or cut in half and poached. Add pears to wine mixture and heat until just simmering.*
Lower heat and poach gently for 20 to 25 minutes.
Remove from heat and allow to stand in poaching liquid overnight.
Gently remove them from the poaching liquid and drain briefly on paper towels.
Serve with crème anglaise, whipped cream, or a reduction of the poaching liquid. Garnish with fresh mint. To reduce poaching liquid, boil until liquid is reduced by ⅔ or becomes a light syrup.
*You may poach 2 or 3 pears at a time, removing when poached and adding rest of pears or halves.
Ricotta Stuffed Pears

Take your pears to the next level with a culinary favorite: cheese! By adding ricotta cheese to the natural sweetness of pears, you'll bring out irresistible flavors and make a dessert your family will crave year after year. If you're looking for a new tradition to mix the holidays with fresh produce, look no further than these delicious stuffed pears!
Ricotta Stuffed Pears
Ingredients
1 green Anjou pear
1 red Anjou pear
2 tbsp butter, melted
¾ cup ricotta
1 tsp cinnamon
2 tbsp honey
¼ cup walnuts, chopped
Directions
Preheat the oven to 425 degrees Fahrenheit.
Slice both pears lengthwise and remove the cores with a spoon. Brush pear halves with butter on all sides.
In a small bowl, mix together the ricotta cheese, cinnamon, and honey. Scoop or pipe mixture into pear halves. Top pears with chopped walnuts.
Bake pears in the oven for 15-20 minutes or until tender when they are poked with a fork. Sprinkle with additional cinnamon if desired.
We know the holidays may look different this year for a lot of families. But they can still be filled with good memories, tasty meals, and festive fun! We hope the recipes and ideas we shared on Indy Style inspire you to spread some cheer during these holidays with fresh produce!