Halloween Treats on Indy Style
Fall is one of our favorite times of year. We love the cool weather, the beautiful leaves… and of course, the delicious fruits and vegetables that hit the produce section! Apples, pumpkins, berries, and many more delights are in season now and ready to be enjoyed at bonfires, on crisp mornings, or at spooky Halloween parties. We joined Indy Style to share some creative ways to use this season's produce harvest and make some tasty Halloween treats.
Cooking with Pumpkins
We kicked off our segment with a fall icon: the pumpkin! Our favorite pumpkins and mini pumpkins come from Frey Farms. Sarah Frey, its founding farmer, joined us on our podcast recently to tell her story and talk about the innovation of Frey Farms and her other brands, including Sarah's Homegrown and Tsamma™ Watermelon Juice. We also brought a copy of her new book to the show! If you want to learn more about her, check out The Growing Season: How I built a new life and saved an American farm. 
So how can you put Frey Farms' pumpkins to use in your Halloween treats? Start with pumpkin puree! On Indy Style, we shared two ways to make it: the instant pot method and the oven method.
Making Pumpkin Puree: Instant Pot Method
Ingredients
Directions
Wash pumpkin and cut off stem
Place inside Instant Pot on top of trivet and pour in water
Secure lids and cook on manual setting for 12 minutes
Let Instant Pot naturally release for around 12 minutes
Open lid and let cook
Pull up on trivet to remove pumpkin and pour out water
Peel away the skin, cut the pumpkin in half, remove seed sand place pumpkin back in the pot.  Puree with hand blender or mash well with a potato masher
Keep refrigerated in covered container for up to 7 days or in the freezer for up to 6-8 months
Making Pumpkin Puree: Oven Method
Ingredients
Directions
Preheat your oven to 400 degrees Fahrenheit. Line a sheet pan with parchment paper or foil.
Carefully slice the pumpkin in half lengthwise, scoop out and set aside the seeds (you can clean and roast them for a healthy snack!). Place the pumpkin halves cut-side down on the sheet pan.
Roast for 35 to 45 minutes, or until the pumpkins have partially collapsed, and the flesh is very soft and is beginning to pull away from the skin.
Scoop out the flesh and puree until smooth in a food processor. Store in the fridge for up to a week or freeze for later.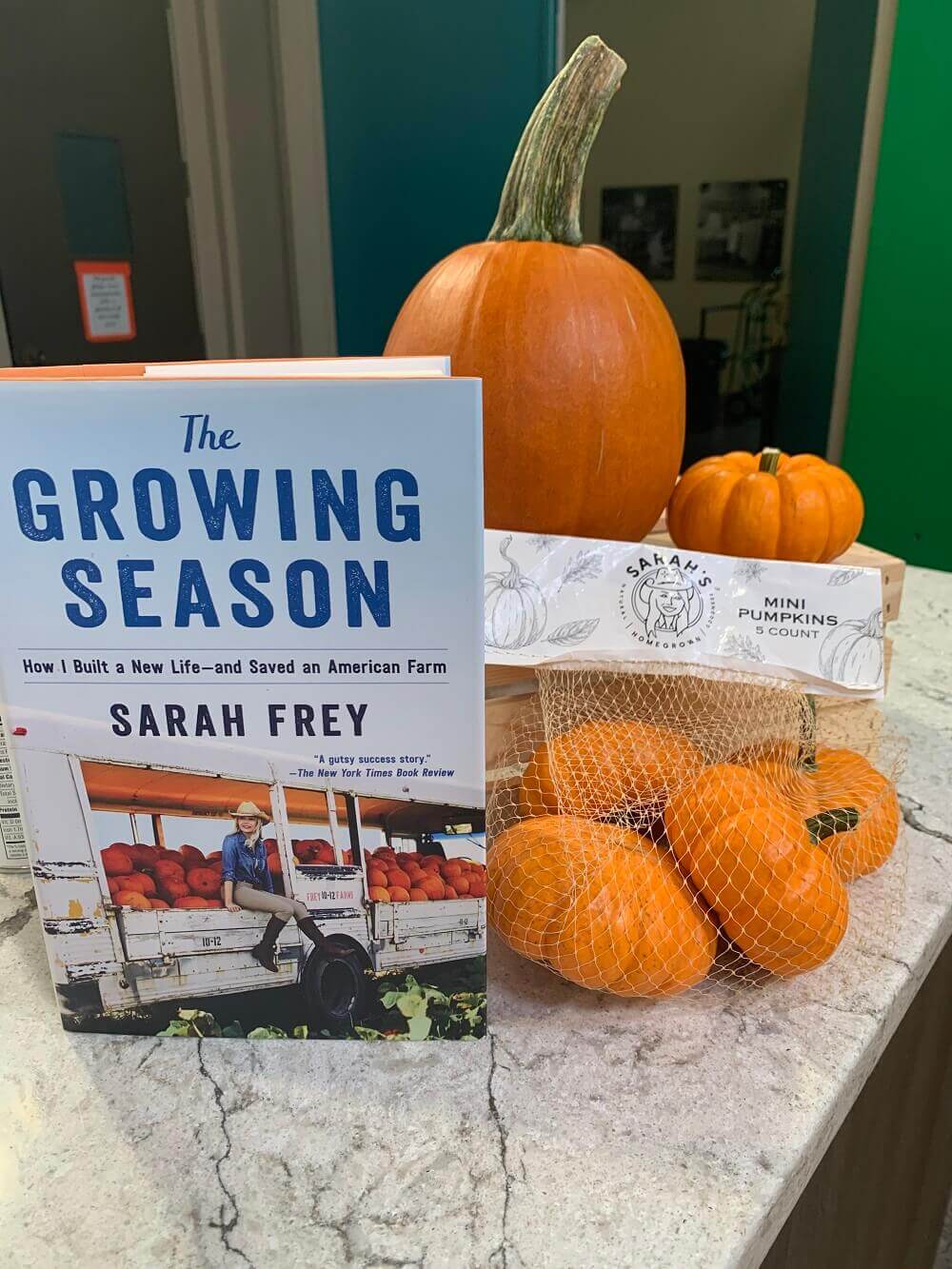 What should you do with all that pumpkin puree you just made? We suggest this tempting Pumpkin Spice Cake. It really only takes two ingredients – and it's really good!
Two-ingredient Pumpkin Spice Cake
Ingredients
1 (18.25 ounce) package spice cake mix
15 oz pumpkin puree
Directions
Preheat the oven to 350 degrees F (175 degrees C). Generously grease a 9×13 inch baking pan.
In a large bowl, mix together the spice cake mix and canned pumpkin until well blended. Spread evenly into the prepared pan.
Bake for 25 to 30 minutes in the preheated oven, or until a knife inserted into the center comes out clean. Cool and serve, or store in the refrigerator. This tastes even better the next day.
*Recipe courtesy of AllRecipes. 
A Halloween Treat a Day
Fall isn't just for pumpkin picking. Apples are in season now too! And you can find some of the best apple varieties at this time of year including one of our favorites, the SweeTango apple®. These apples are remarkably crunchy and full of juicy flavor, featuring hints of citrus and honey. They're perfect for snacking out of hand, cooking in your autumn recipes, or dipping into caramel as we did on Indy Style. Here's a classic Produce Moms recipe from the archive that we shared on the show:
Caramel and Sea Salt Apple-tizers
Ingredients
1 stick butter
3/4 cup brown sugar
1/2 cup honey
14 oz sweetened condensed milk
sea salt coarse
SweeTango® apples, sliced
Directions
Melt butter, brown sugar & honey in a sauce pot over medium-high heat.
Stir until blended & fully melted.
Increase heat & bring caramel to a boil. Stirring constantly, allow it to boil for 2 minutes.
Stir in sweetened condensed milk & reduce heat to medium.
Stir for approximately 2 minutes, until you have a smooth, milky caramel. Sauce will thicken upon sitting.
Dip apple slices into caramel sauce, sprinkle with sea salt. Enjoy!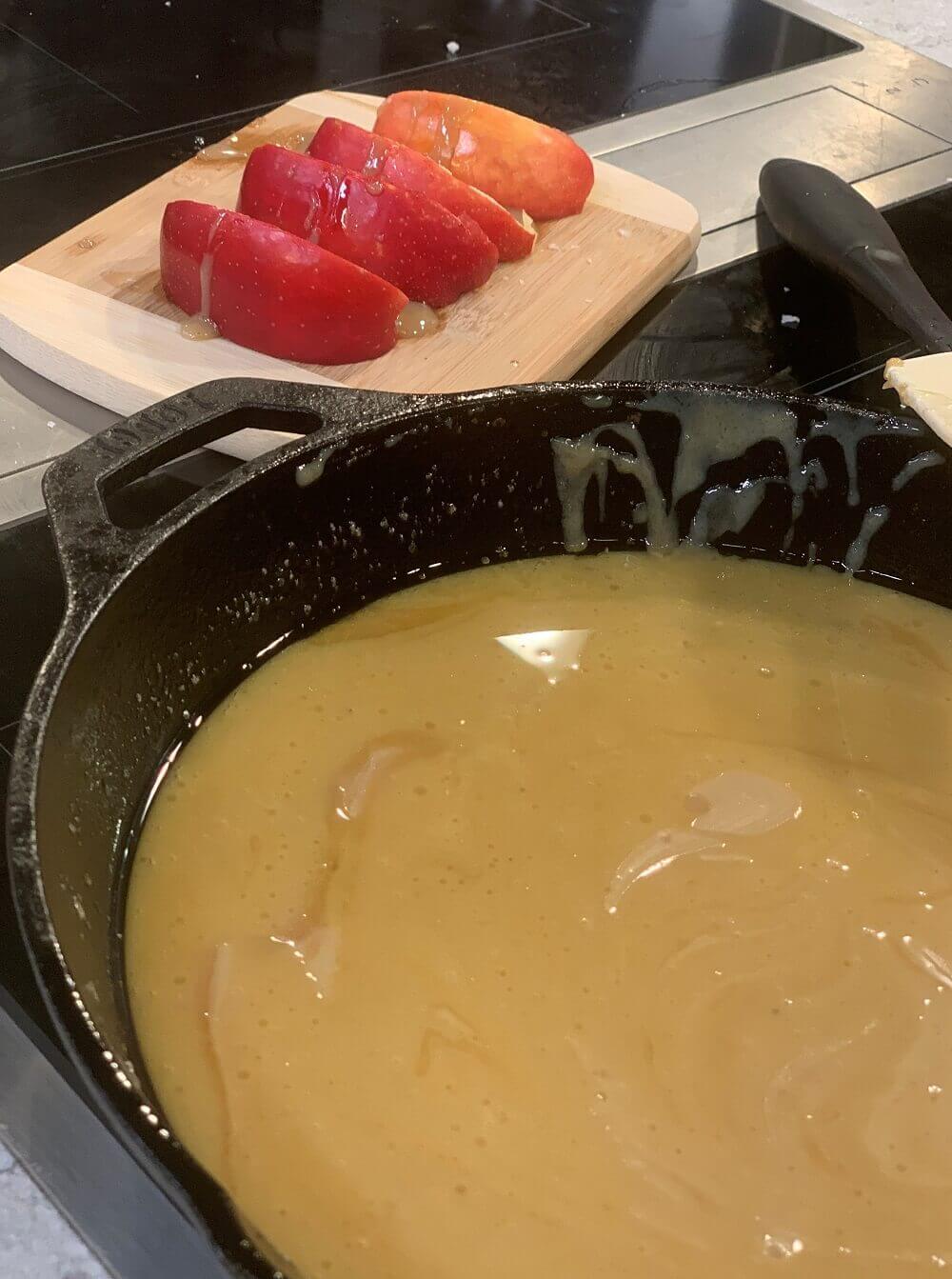 Find SweeTango® apples in your local grocery store, where they're sold many quantities to suit your needs. Want to pack an apple in your kids' lunchboxes every day this week? Need some nutritious Halloween treats? Buy them in bulk so you won't run out! Use the store locator here. 
Fall Is Our Berry Favorite Season
You autumn enjoy some fresh berries while they're in season! Fall is the perfect time to incorporate more blackberries, raspberries, and other berries into your recipes or to simply enjoy them as snacks. Our favorite berries come from Naturipe, where they're grown with care and sustainability in mind.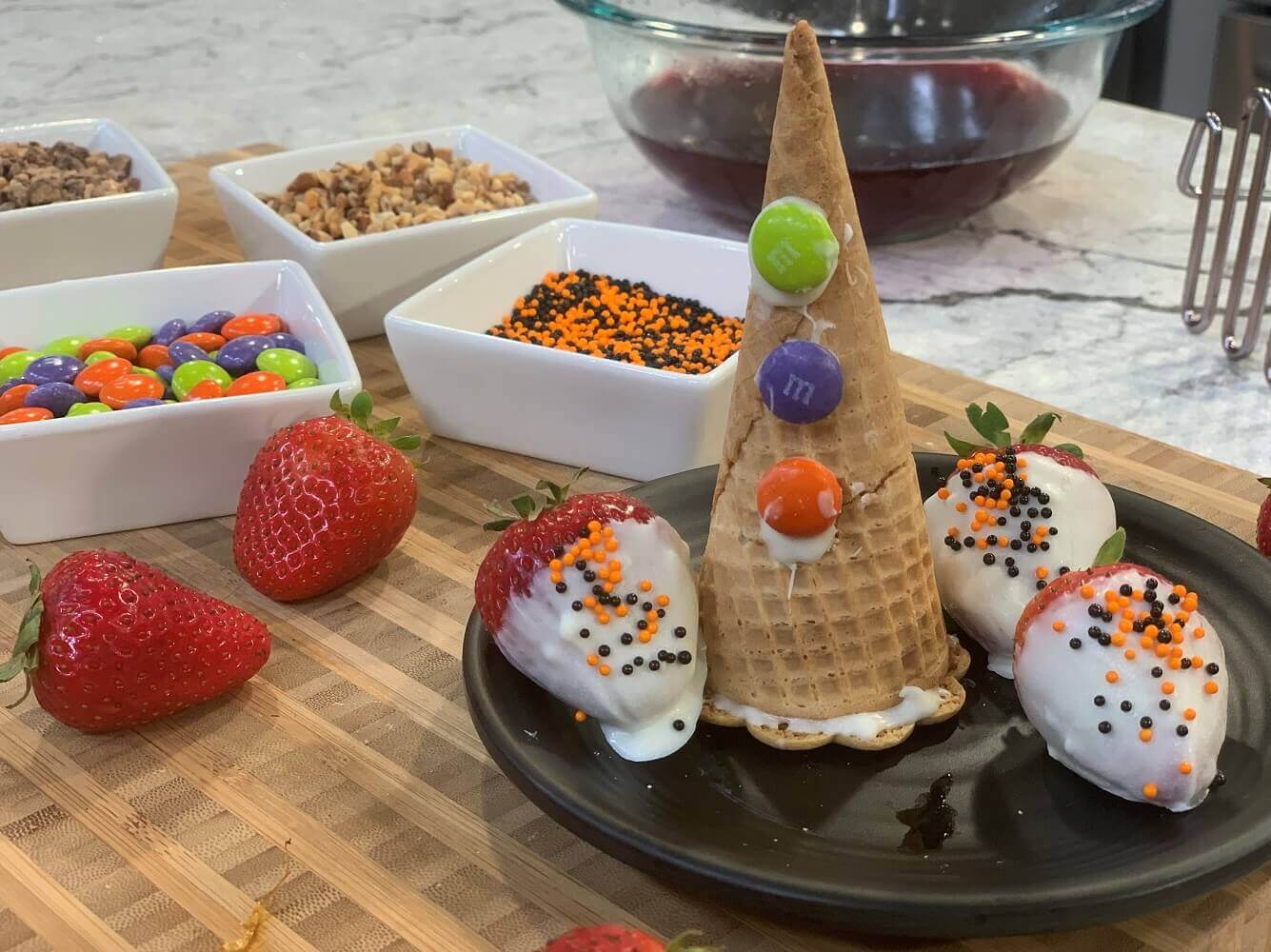 We brought some berry-based recipes to Indy Style, including these chilling concoctions:
Witch Hat Berries
Ingredients
 1/2 cup chocolate chips
 6 thin round cookies, larger than the cone base
 6 sugar cones
 1/2 cup blackberries
 1/2 cup raspberries
 1/4 cup sprinkles, optional
Directions
Place chocolate chips in a microwave-safe bowl and heat for 30 second intervals, stirring between intervals, until smooth. Let cool but not harden. Transfer to a piping or plastic baggie with the corner snipped off.
Place a few berries inside a cone. Pipe a ring of chocolate on the edge of the cone.
Place a cookie on top to cover and seal the cone.
Turn cone over and place cookie side down. Decorate with chocolate and sprinkles if desired.
*Recipe courtesy of Yummy Mummy Kitchen.
Tiny, tasty witch hats will turn your next party into a harrowing Halloween hootenanny, even more so if they're paired with these spooky strawberries! We used white chocolate, food coloring, and icing to decorate these edible entities that are ready to haunt your snack table.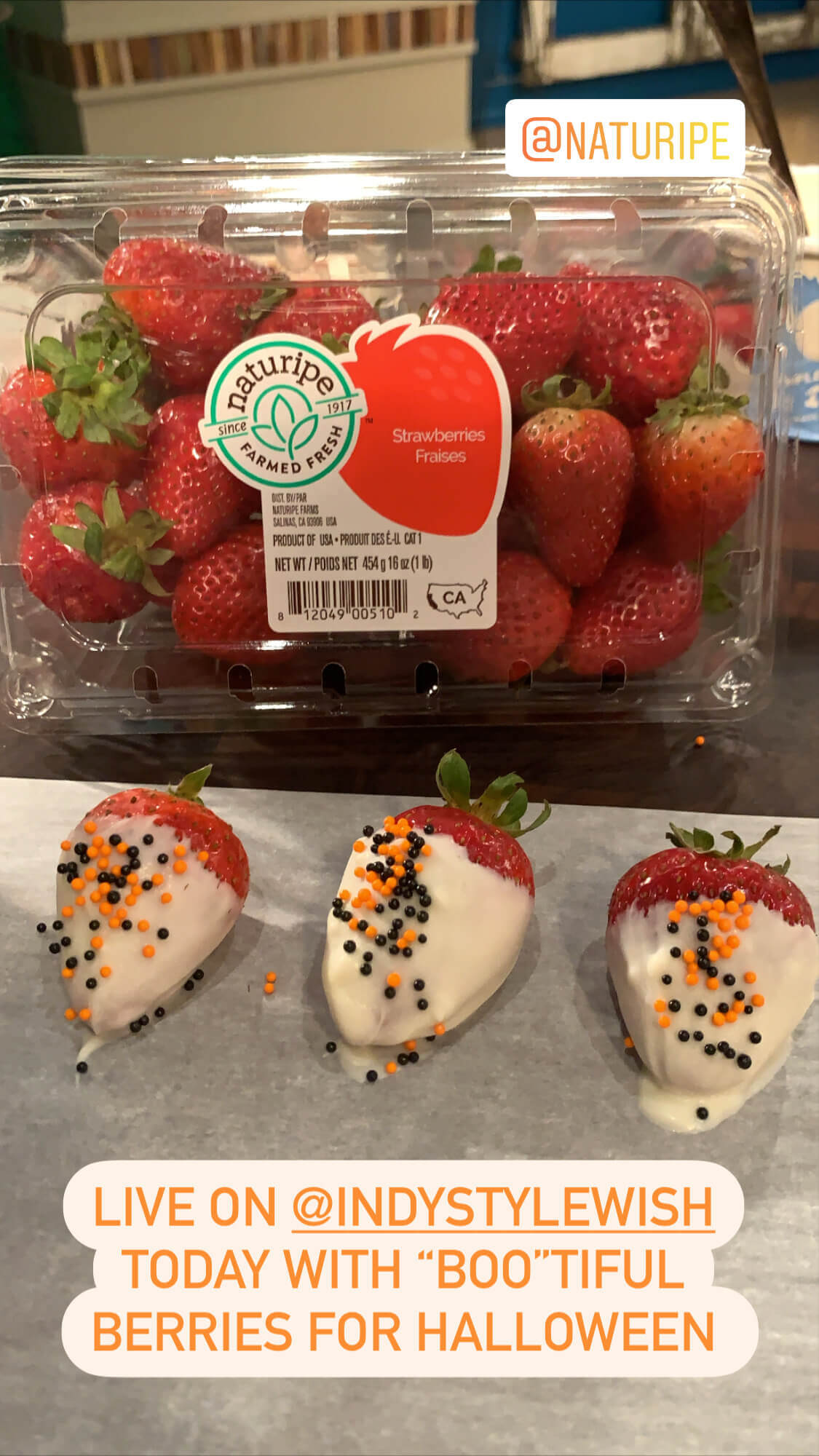 Chocolate Dipped Halloween Decorated Strawberries
Ingredients
Nautripe Strawberries
White Chocolate Dip
Food coloring: orange + green
Black icing for eyes, mouths, etc.
If you're looking to entertain the adults as well as the kids, stock the bar with this Blackberry Simple Syrup. This spine-tingling syrup is a great ingredient for your liquid Halloween treats, whether they're cocktails or mocktails. Fresh ingredients always make for better drinks. We used whiskey, lime juice, and this Blackberry Simple Syrup for a Halloween at Home Cocktail.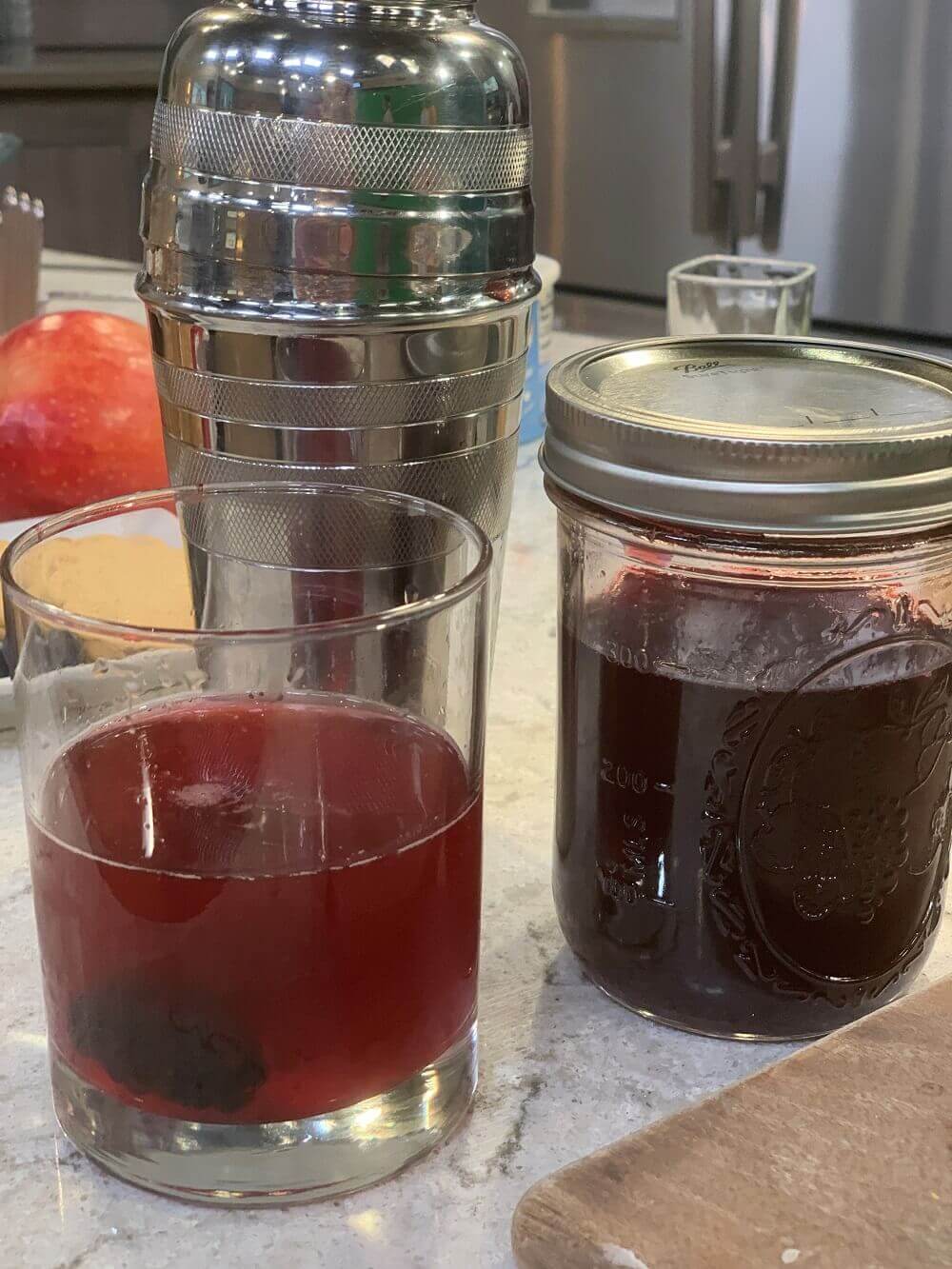 Blackberry Simple Syrup for Cocktails
Ingredients
2 cups fresh blackberries
1 cup water
1 cup sugar
1 tsp lemon juice
Directions
Combine the blackberries, water, sugar, and lemon juice together in a saucepan over medium-high heat.
Bring to a boil and mash the berries with a potato masher.
Turn the stove off and allow the flavors to mingle for 10 minutes.
Pour the mixture through a very fine strainer into a glass jar.
Store sealed in the refrigerator. Enjoy.
What were your favorite Indy Style Halloween treats? We'd love to know what this season is bringing to your kitchen! Share in the comments below or tag us in your food photos on Instagram @theproducemoms.