Episode 87: Jonathon Wolfson, Founder and CEO of Brainiac Kids
Feb 26, 2020, Updated Aug 09, 2022
The Produce Moms Podcast

Necessity is the mother of invention.
When Jonathon Wolfson, Founder and CEO of Brainac Kids, began asking researching nutrition for his children, he quickly realized that there was much more he could be doing to make sure they had proper nutrition to support their quickly developing brains.
We often focus on our little ones' calcium and protein intake to support healthy bones and muscles, but what about DHA? EPA? ALA? Choline?
These are nutrients that we often focus on during pregnancy and the first year of a child's life, but the brain is rapidly developing through adolescence. Both breastmilk and formula provide babies with these essential nutrients, but after that children's diets often fall short of the recommended intake.
The more information Jonathon gathered, the more he realized that he needed to do something for the health of his children and yours.
In the light of this research, Brainiac Kids products came to life.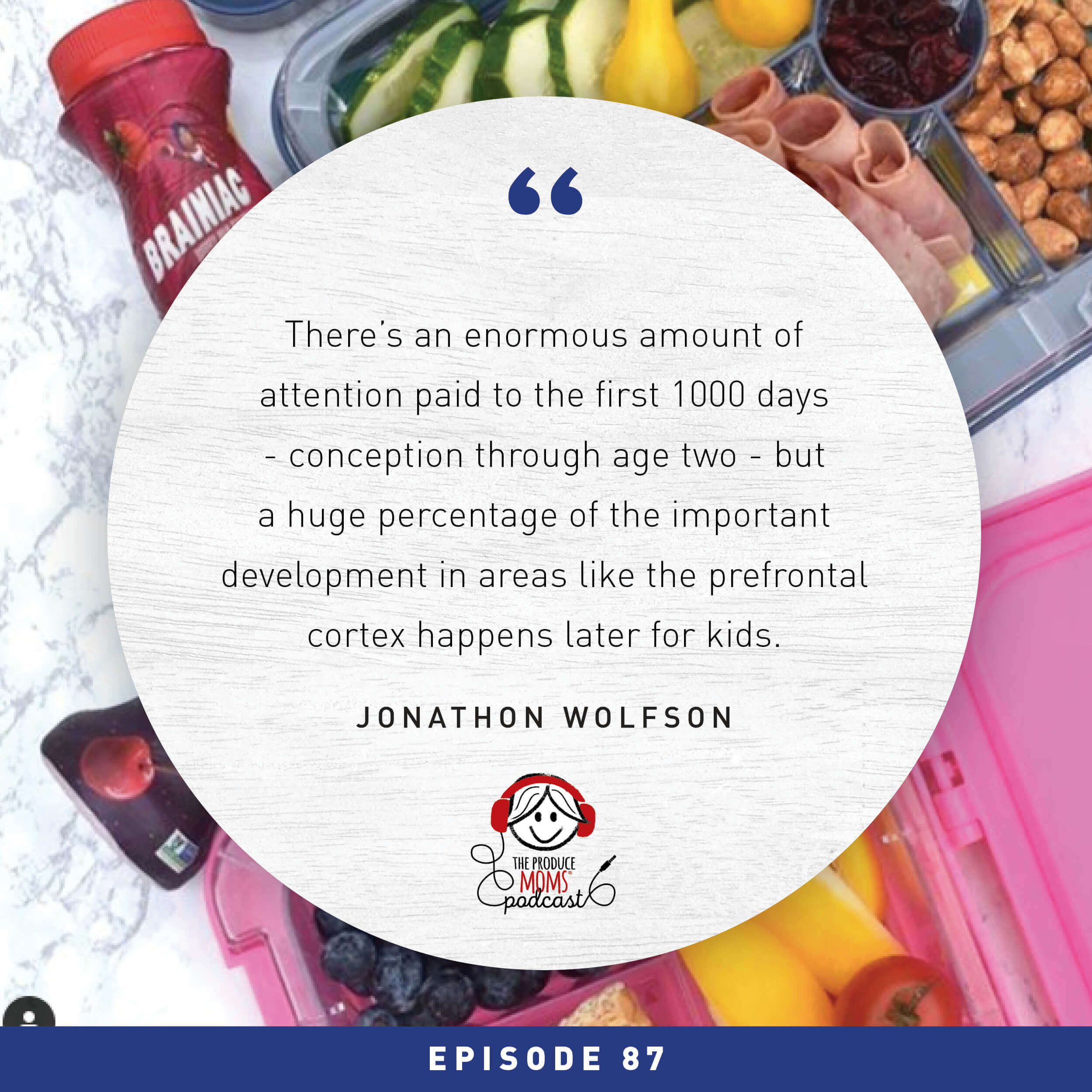 Startling Statistics.
Perhaps your children love their vegetables. We encourage our children to try everything, and The Produce Moms has some fantastic resources to help you find new ways to get your children to explore the world of produce.
Braniac Kids is a strong proponent of reaching nutrient requirements through whole foods, but this can be a challenge with the nutrients that support brain development.
Do your children love salmon, walnuts, broccoli, flax seeds, trout, and brussels sprouts?
Are they eating them on a weekly basis?
American children, on average, are only getting 20% of the recommended daily amount of DHA, and only about 66% of the recommended amount of Choline.
All of these are essential for healthy brain development and function.
"DHA and EPA are critical nutrients… making up close to 15% of a child's brain. It provides the infrastructure on which the whole brain is built." – Jonathon Wolfson (8:03)
Before you spend the rest of your day trying to figure out how to get your toddler to enjoy trout, read on to hear about how Jonathon and his team has used innovation to help children everywhere get the nutrients they need through healthy, delicious snacks!
Brainiac Kids products are delicious and nutritious!
The team at Brainiac Kids have developed a line of yogurt and applesauce products, and are working on a whole host of snack products. Their Science and Nutrition Advisory Board researched the nutrients and amounts that were most crucial to support a child's growing brain.
The yogurt is offered in both tube and drink format, and in delicious flavors like cherry vanilla, strawberry banana, and strawberry.
The applesauce comes in strawberry, cinnamon, and apple, a variety of different flavors tested thoroughly with children to find the right formula to taste delicious, while staying low in sugar and nutrient dense.
In fact, the yogurt tubes contain 40% less sugar than leading kids' yogurt brands, and the yogurt drinks 50% less!
"I'm a big fan because my son is a big fan… What a moment it is when the product my child chooses is a product that's actually really healthy for them!" – Lori Taylor (19:03)
All of the products include the "Brain Pack," essential brain nutrients blended into tasty snacks for your children.
130mg of Omega 3 -DHA/EPA

120 mg of Choline

160mg of Omega 3 ALA
Brainiac Kids has worked hard to make sure they are providing the most important nutrients at the right levels to provide optimal health for your child's developing brain.
Brainiac Kids is good for your child's health, and for the environment.
Despite being under one year old, Brainiac Kids is B Corp Certified, meeting the highest standards for overall social and environmental standards for health. There isn't a higher certification that businesses can get.
Their team has sourced the yogurt from pasture-raised, non-GMO verified, grass fed cows, doing their part to ensure the products they deliver to you are the highest quality, and are sustainably sourced.
Find Brainiac Kids Products
Brainiac Kids strives to make their products accessible in both availability and cost, healthier and better, while delivering a delicious product that nourishes your growing child's brain.
You can find their products online on their website, on Amazon, at Whole Foods, Target, or a host of other regional grocery stores. Use the Location Finder on their website to find a location near you!
It can be challenging and overwhelming as we think about making sure our children, especially the picky ones, are getting all of the nutrients needed to support their growing bodies.
We are so thankful to have found Brainiac Kids. Our children can snack away on delicious foods they love, while taking in the nutrients needed for their rapidly developing brain!
How to get involved
For more information visit Brainiac™ Kids.

Join The Produce Moms Group on

Facebook

and continue the discussion every week!

Reach out to us – we'd love to hear more about where you are in life and business! Find out more

here

.
If you liked this episode, be sure to subscribe and leave a quick review on iTunes. It would mean the world to hear your feedback and we'd love for you to help us spread the word!
Other Episodes You May Like